Unusual places to stay in Ireland
something a little different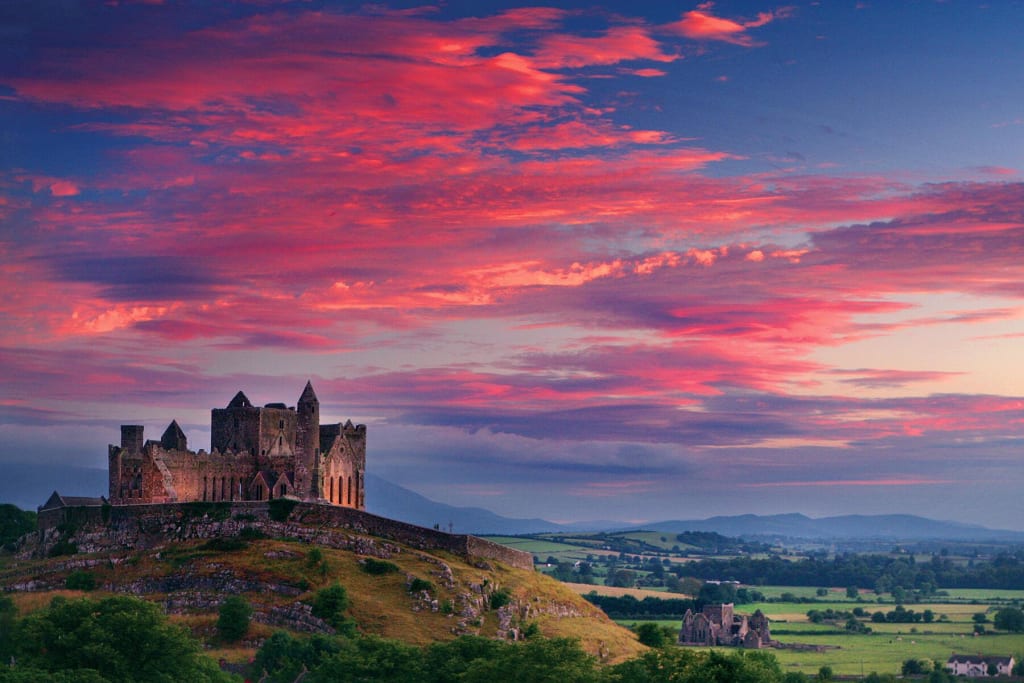 The Rock of Cashel in Ireland
Unusual places to stay in Ireland
There is no shortage of options when you are looking for holiday accommodation in Ireland. In addition to the large chain hotels as well as many independent hotels and hostels there is also no shortage of Air BnB options and of course the traditional Irish Bed and Breakfast. However there is also no shortage of more unusual options if you fancy something a bit different and I hope this just gives you a flavour for what Ireland has to offer
1: Quirky Glamping Village
Enniscrone in Sligo in the North East of Ireland is a small country village and home to one of Ireland's loveliest beaches. It's also home to perhaps Ireland's newest and most unusual place to stay, the Quirky Glamping Village. This is a transport themed accommodation park where you can stay in everything from a Boeing 767 to a London Dublin decker bus a boat or a taxi cab or simply have a cup of tea in a train carriage. It hit the international news headlines a couple of years back when the 767, which had been bought in England and which no longer was capable of flight was brought up on a barge along the entire coast of Ireland before being landed on Enniscrone beach and put in positions. It's a must for anyone with an interest in transport
2: Wildflower Glamping Cavan
Wildflower Glamping is set in the county of Cavan at the heart of Ireland's Lake District and within easy reach of Cavan town. It has some great options for places to stay including a yurt, a beautiful bow top traditional gypsy style caravan and a hobbit style hut. It also has great self-catering facilities and a children's playground for the smaller people. It's a great location for anyone with an interest in fishing or hiking.
3: Teapot Lane Leitrim
Again situated in the North East of Ireland, Teapot Lane has been voted one of Europe's 10 best Glamping sites. Here you can stay in a tree house, yurts or even an old-style 1960's caravan. If Glamping is a step too far from you then there is always the option of a traditional Irish cottage which has 3 bedrooms and 2 bathrooms. Teapot Lane even has its own spa treatment room
4: Wicklow Head Lighthouse
If glamping is not you style then why not stay in a lighthouse? There is up to a dozen lighthouse keepers cottages dotted around the coast where you can stay but the Wicklow Head Lighthouse is somewhat different in that you can stay in the actual lighthouse itself and enjoys its stunning views. The lighthouse has 6 octagonal rooms including 2 double bedrooms and a bathroom and is a perfect location for visiting the stunning Glendalough which is just 45 minutes away or if you have any interest in hiking. It's also a convenient base for travelling anywhere on the east coast or into Dublin itself
5: Martello Tower Sutton
Martello Towers were built around the island in the early 1800's to guard against a Napoleonic invasion. They were originally designed to be bomb-proof and are small with very thick walls. This tower has been completely and sympathetically refurbished and offers a great self-catering option on the coast for anyone looking for a somewhat more unusual place to stay in Dublin. It has 2 bedrooms and you are unlikely to get a better view of Dublin Harbour anywhere.
6: Blackstairs Eco Tours, Borris Co Carlow
Set in the scenic Blackstairs Mountains in Ireland's undiscovered South East, Blackstairs Eco tours run a series of guided hikes, foraging tours and workshops. They also provide a number of unusual accommodation options including a converted barn and 2 small but perfectly formed shepherds' huts. The huts have central heating and are suitable for 2 people and are surrounded by a wild-flower meadow.
7: Clomantagh Castle Freshford Co. Kilkenny
This is a fully restored castle situated just 20 minutes from the historic medieval city of Kilkenny
It is a perfect setting for anyone wishing to be 'King' or 'Queen' of the castle. Clomantagh Castle is part of a unique settlement of tower house and farmhouse. The tower, built almost 600 years ago and it's more modern adjoining farmhouse built in the 1800's are linked by doors allowing guests to wander freely between two periods of history. With 5 bedrooms and 2 bathrooms its ideal for larger groups looking to get away from it all.
8: Merrion Mews in Dublin
The mews building at the rear of No.63 Merrion Square is in the heart of Dublin City Centre. Built in the 1790's the house retains much of its historic character and fabric. Situated on Fitzwilliam Lane the Mews is a quaint and charming property.
The Mews also has a private garden, coach yard coach house and stables and it is the stables that give this its unique feature. The stables are used by the Mounted Unit of the local police force, An Garda Siochana to rest and water their horses when they are on duty in the city centre and the accommodation is over these stables so don't be surprised if you see horses and riders coming and going at various stages
9: Castletown Round House Celbridge County Kildare
Celbridge is a lovely small market town on the outskirts of Dublin. Situated at the pedestrian entrance to Castletown House, the largest and most significant Palladian country house in Ireland and prominently positioned at the top of the main street in Celbridge, the Round House is located across from the quaint Church of Ireland Christ Church, built in 1884, which retains the majestic tower of an earlier church. This beautiful house provides the opportunity for a delightful getaway from the hustle and bustle of everyday life.
It's one of 3 adjoining houses, known separately as the Round House, the Pottery and the Gate House. The Round house has 3 bedrooms, a bathroom and shower room as well as a full kitchen
10: Booken Hall Co. Galway
Bookeen Hall is a 200 year old church about 20 minutes from Galway City and within easy reach of the Cliffs of Moher, The Burren and Connemara. It has a private room as you will be staying with the owners. It's a former Protestant Church of Ireland Church built in the 1820's and is built in the Gothic style with large windows. It also comes surrounded by its own small graveyard so you won't be short of company!!. The Bell Tower makes a great sport for quiet reading and reflection