Two Rainy Days in New York City
Broadway is Back!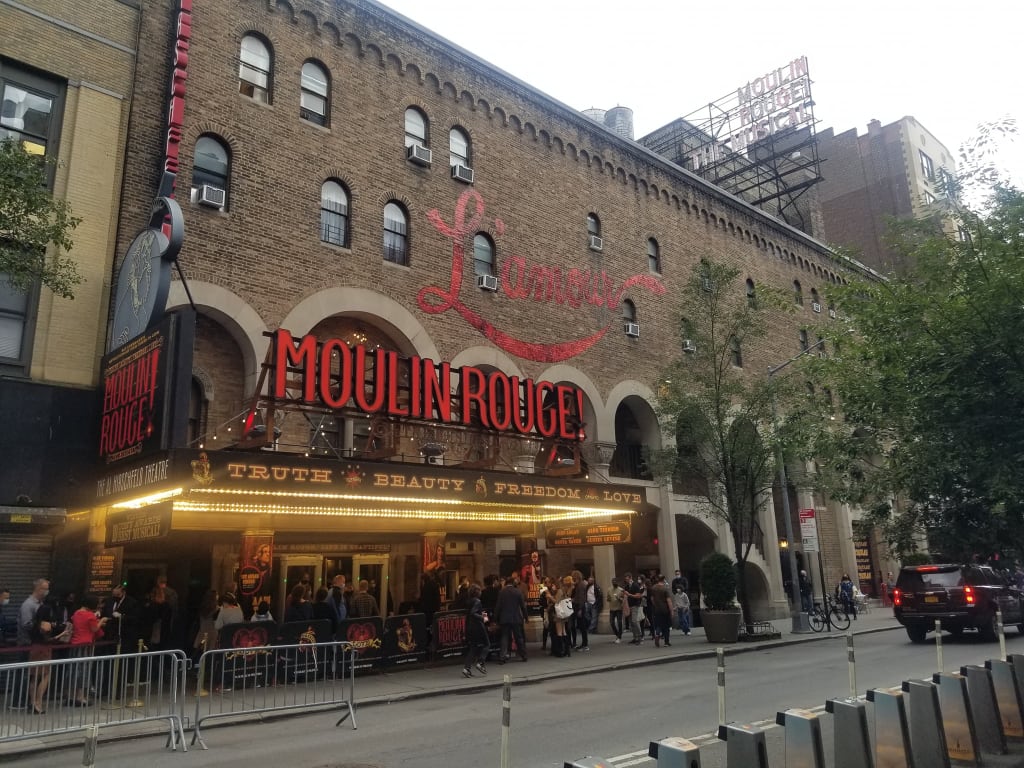 Broadway is back! And, boy, how I have missed it.
"Even the darkest night will end and the sun will rise." - Les Miserables
New York City is a special place for me. Living in South Jersey, about three hours away, I have a vague childhood memory of my father taking my sister and me near the holidays. Hazy images range from my father buying roasted chestnuts –my sister and I thought they tasted disgusting – by the ice-skating rink at Rockefeller Center to my father comedically muttering curses under his breath and swearing he would never visit again as we sat in our car -standstill- inside the Lincoln Tunnel. More recent memories include meeting my sister and brother-in-law in the city over the years, catching shows like Chicago and Beautiful. Perhaps the most precious New York memory to me is the one given to me by my husband, Peter. We met in Florida, where we lived at the time, in October 2004. For our first Christmas, he presented me with the perfect gift. He crafted a LEGO plane and added two small papers beneath each wing. One was an airline ticket to New York and the other was tickets to see Mamma Mia.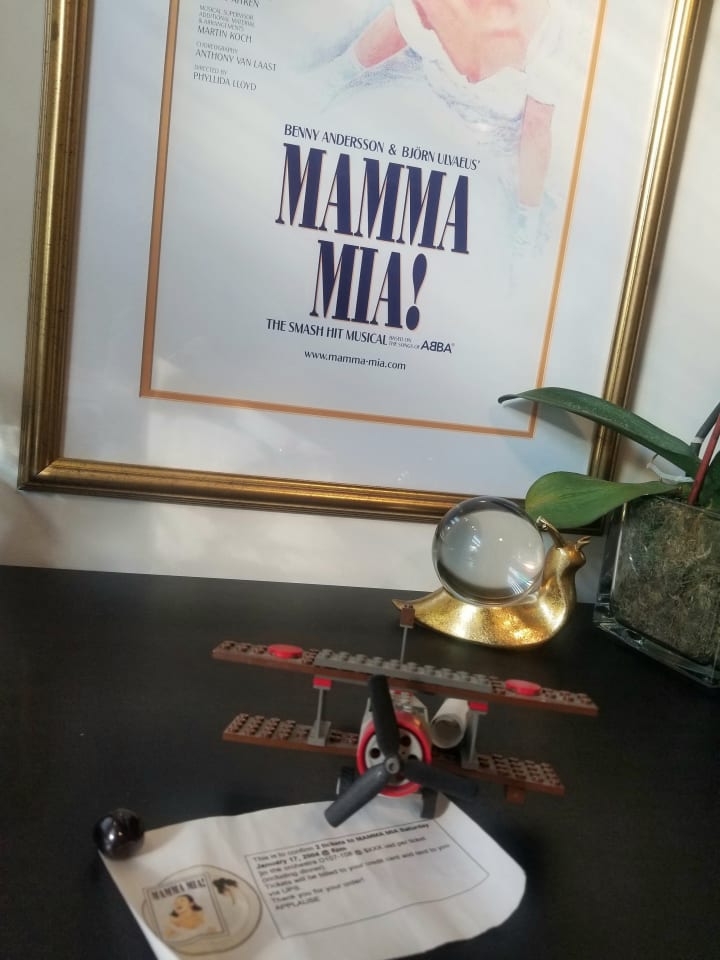 As it was our first trip together, it brings back so many precious memories. Freezing cold in February, I bought earmuffs from a street vendor. We walked down the streets, bundled up and holding hands, looking into the cozy restaurants and bars, until our feet ached. I shorted out the electricity in our hotel with the hairdryer, and it was so cold that the old radiators that ting-ting-tinged all night weren't enough. They brought up a space heater for us as well. We couldn't remember the name of the hotel, but we found it again during our visit last weekend. The Ameritania. We plan on staying there again next time, for old time's sake.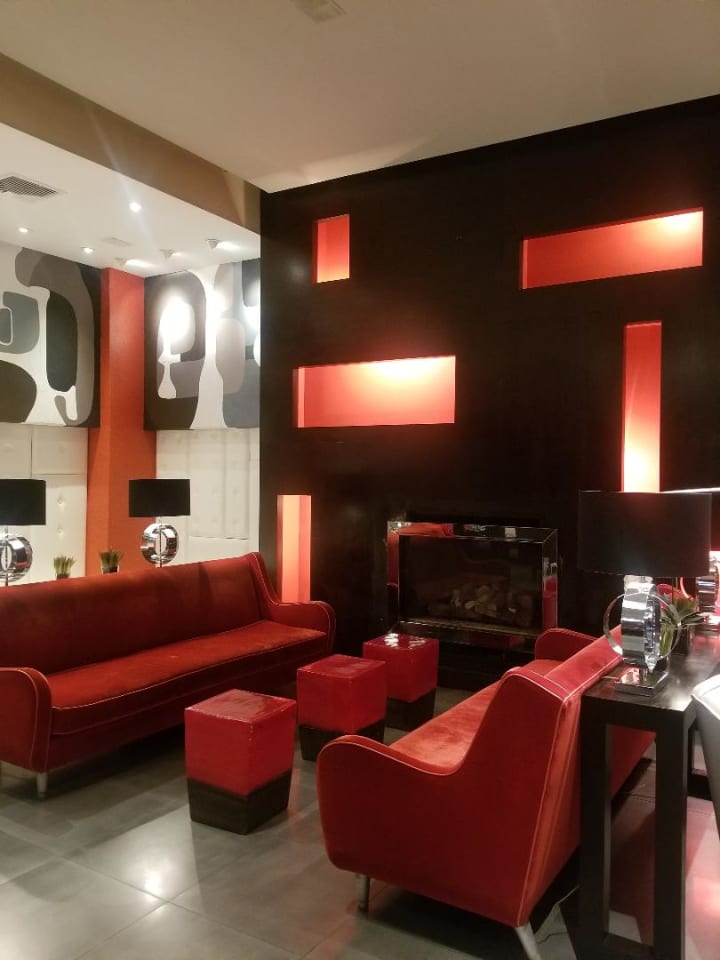 Last weekend we stayed at the Dream Midtown, making a full day for just Peter and me. We dropped our luggage off and had a scrumptious lunch at the Serafina. Then the highlight of the trip – Moulin Rouge on Broadway – a winner of 10 Tony Awards. Being a fan of the Nicole Kidman movie and soundtrack, it was a dream come true. We waited for the show to begin, marveling at the amazing set. Then the pre-show began, where the performers sauntered around in curve-kissing corsets and sexy lingerie beneath the iconic windmill and elephant.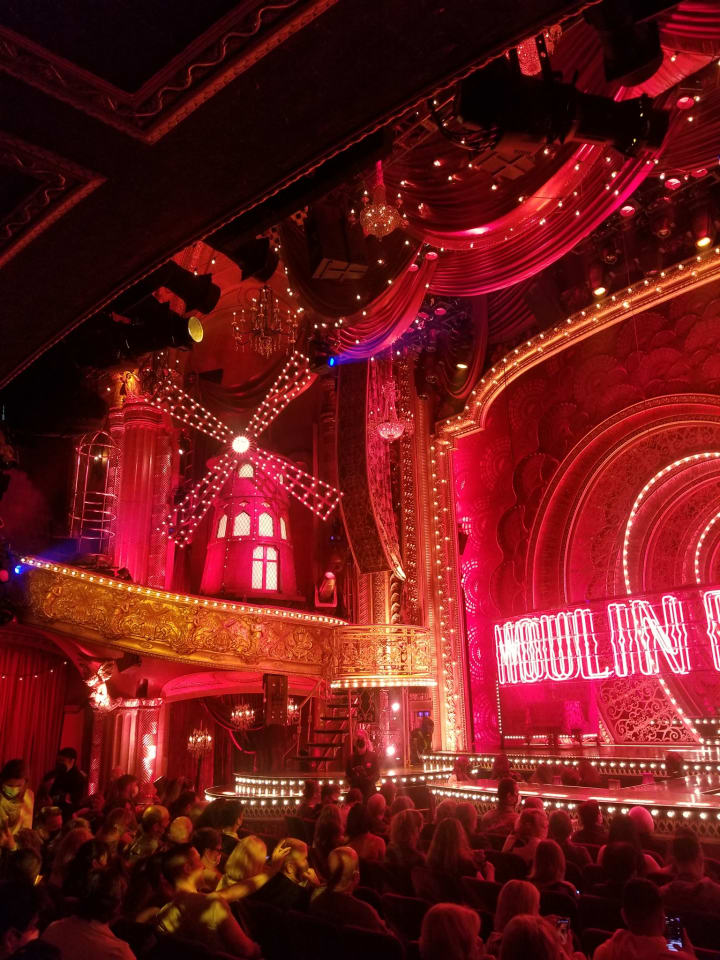 When the character Christian, a bohemian writer visiting Paris, entered and started the show with a signal to raise the curtain, my tears began. Rivers ran from my eyes for the first ten minutes as I realized that the magic of live theater was back.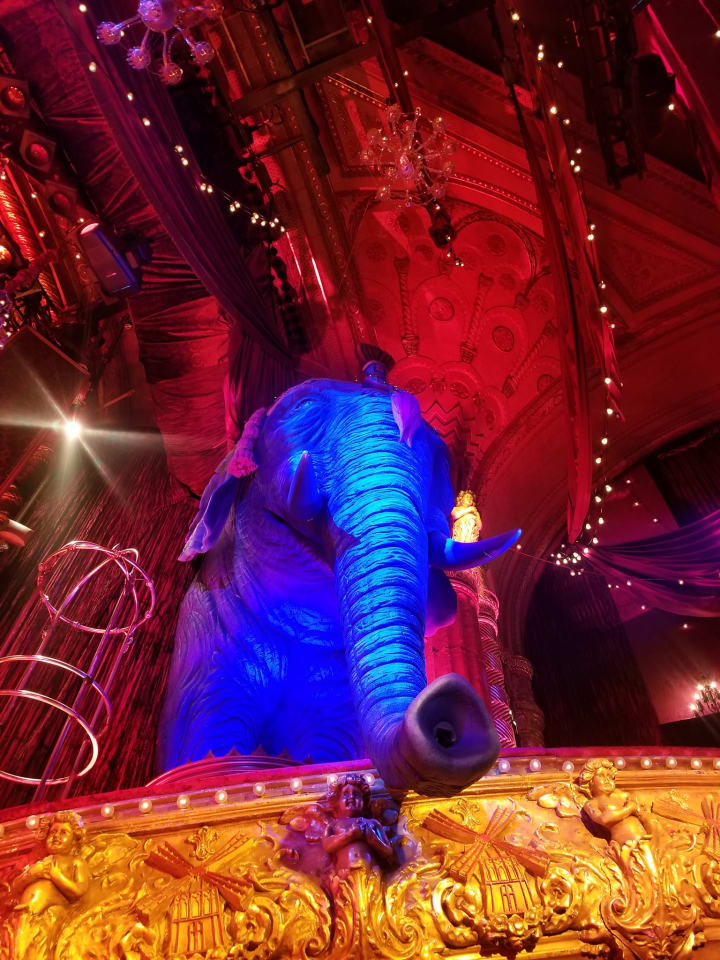 Cue the dazzling appearance of Satine, played by Natalie Mendoza, who shimmered in a silver-on-black showgirl outfit, on a swing descending from the ceiling. Moulin Rouge's "sparkling diamond" could not have made a grander entrance.
The soundtrack had been updated with newer pop songs, but the old standards were still there, such as "Come What May" and "Your Song." Chills ran up and down my spine, especially during "El Tango De Roxanne." As the ideals of truth, beauty, freedom, and love returned through music, story, set, and costume, a part of me - missing in the pandemic - began to live again.
That night, inspired by films like A Rainy Day in New York, we visited the Carlyle and Bemelmans Bar on the Upper East Side. While it was very crowded, the whimsical wall murals painted by the creator of the Madeline franchise made it more than worthwhile. All to the romantic tunes of a piano player and clinking glasses over candlelit tables.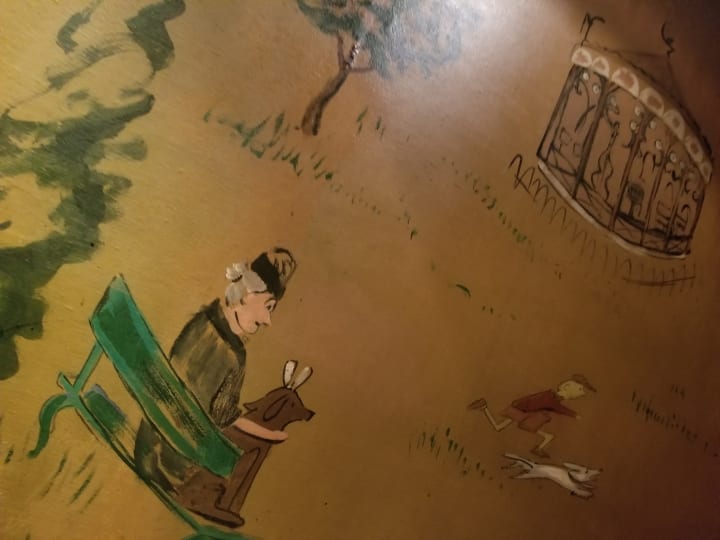 We ended the evening at our hotel's rooftop bar, PHD Terrace, enjoying a nightcap and the dazzling city lights spread out beneath us.
The next morning, we went to the Top of the Rock, known for some of the best views of Manhattan. Up 70 stories, it was an awe-inspiring experience even though the weather was foggy and gray.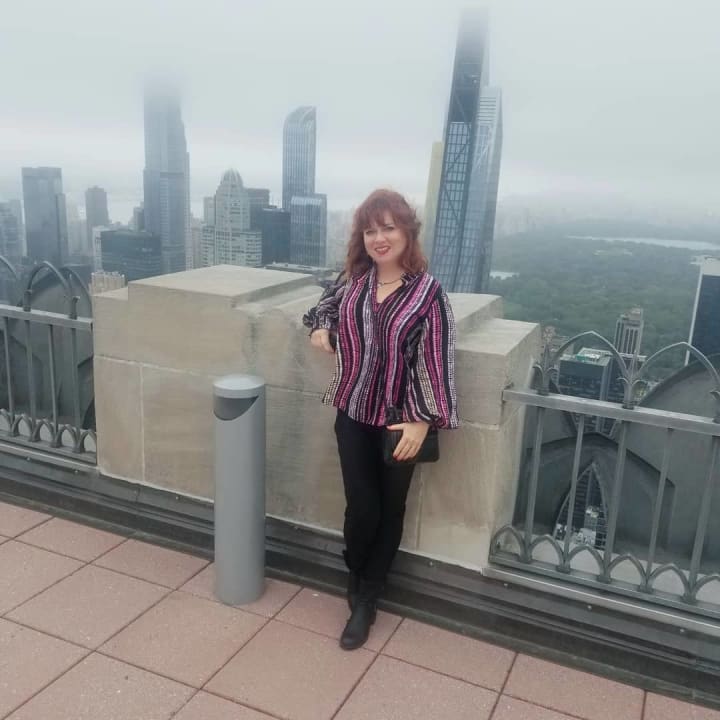 The rest of the day was spent with my sister and her family, having brunch accompanied by a Jazz trio at Tanner Smiths and walking through Central Park in the rain. The park is always a fun excursion. We stopped by The Boathouse for a glass of wine and saw all the sights – including a rained-out wedding in a tunnel and a real-life New York City rat mixed in with the countless, beloved squirrels. We giggled as we imagined the rat ask a squirrel, "Who oversees your PR?" This was especially funny after my niece bought a Central Park Squirrel pin at the Belvedere Castle. I mean, where is the Central Park Rat pin?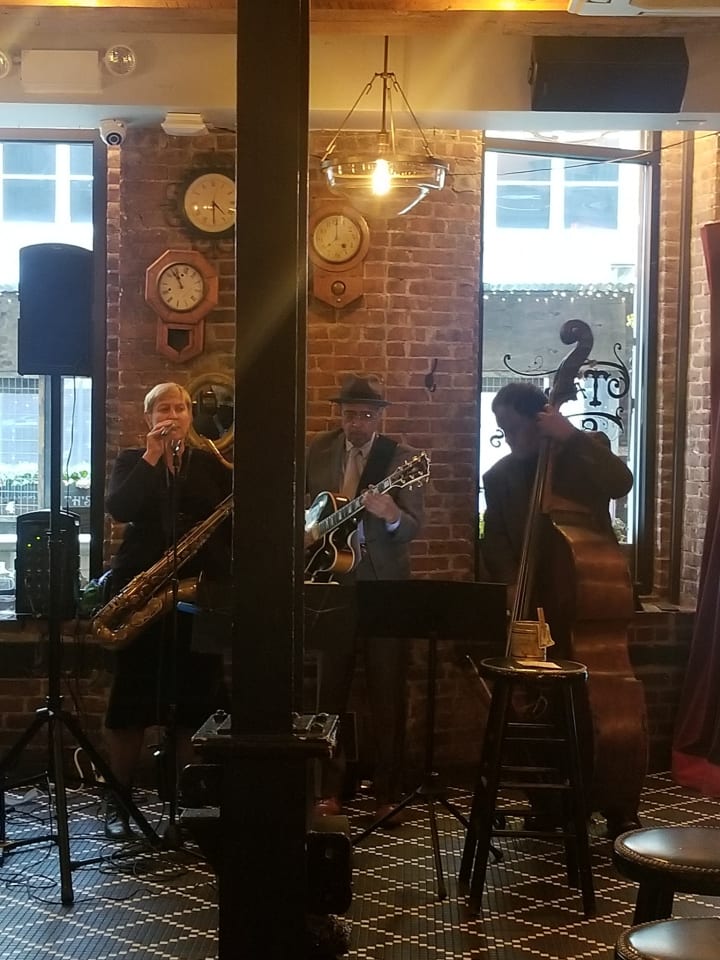 Then it was off to Hell's Kitchen for dinner before seeing our next show, Six, a modern retelling of the lives of the six wives of Henry VIII in the form of a pop concert. Each wife, starting from Catherine of Aragon to Catherine Parr takes their turn telling their story to see who suffered the most due to Henry. The wives bond over tragedy and find strength in sisterhood.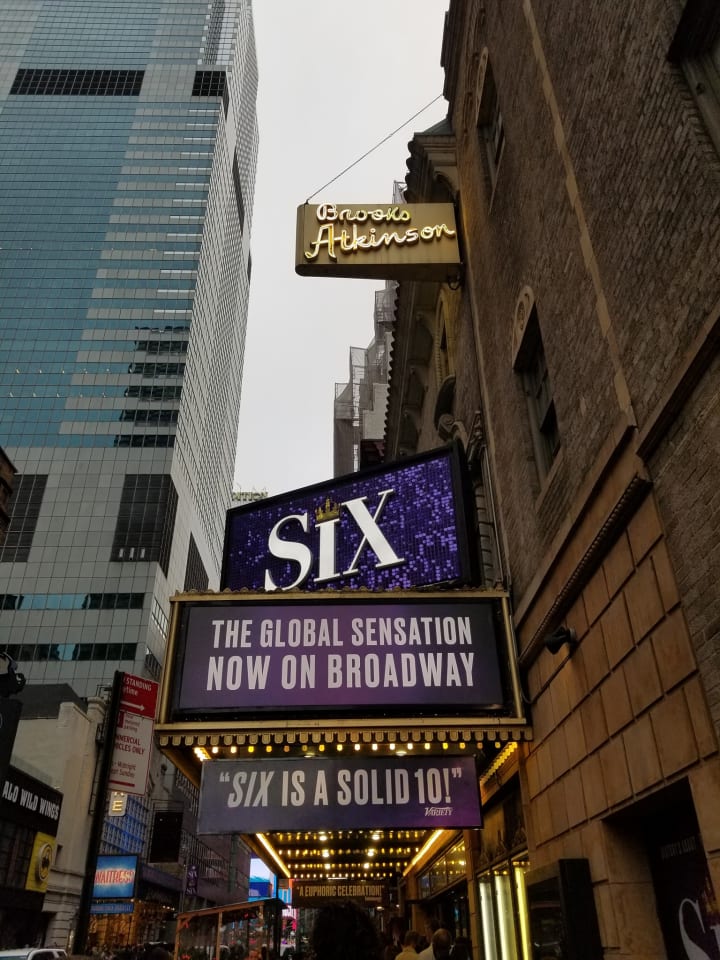 Even though, at the end, the wives decided there was no winner –choosing to bond together as women instead of competing – I had some standout moments. Brittney Mack, as Anna of Cleves, gave me my first chills of the performance singing "Get Down."
Then Samantha Pauly as Katherine Howard takes us on a ride with "All You Wanna Do." While at first she starts with a celebration of her sex appeal - "I think we can all agree I'm the ten amongst these threes" – it dissolves as she realizes that she has been objectified, abused, and used by men. Can't you just love me, like a friend, without wanting something from me?
Finally, the wife that survived, Catherine Parr, decides to leave the game and gives the show a deeper look into the power plays she experienced in "I Don't Need Your Love." She is the inspiration for the others to see themselves in their own light - not Henry's - and break free of expectations and begin to alter the course of history by rewriting their stories with happier endings.
Shortly after returning home after our long weekend, I immediately started planning my next trip into New York City. Music Man, anyone? And even though the city sometimes gets a bad rep, there's only one Broadway, a place where "truth, beauty, freedom, and love" can be found. At the very least, you can find that energy that most of us have palpably longed for over the last year and a half.
"I've got to be where my spirit can run free, got to find my corner of the sky." -Pippin
activities
Animal advocate and bibliophile.
Receive stories by Jennifer Christiansen in

your feed