Trip to Russian Kamchatkata
How to discover amazing remote place in Russia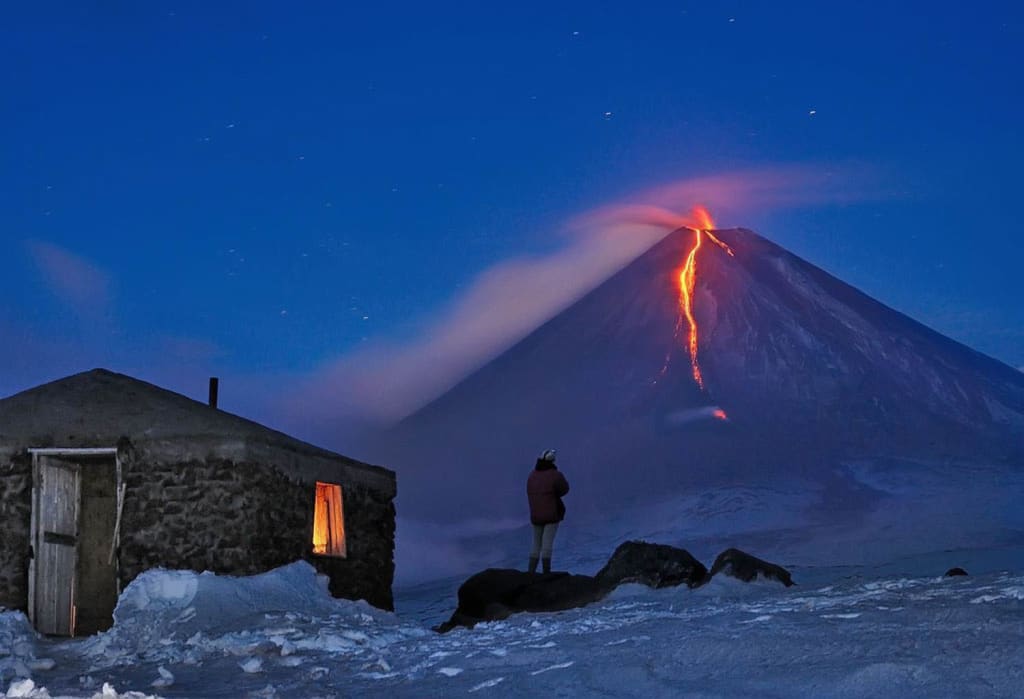 Technical information
I was in Kamchatka from September 15 to October 17, 2009. During this time I managed to visit the following places: Avachinsky Sopka, Koryak Pass, the Pacific coast near the village of Zaozerny, Summer Thermal Springs at the Mutnovsky Geothermal Station, Mutnovskaya Sopka, Verkhne-Paratunsky Thermal springs, the village of Esso, the village of Klyuchi, the hill Domashnaya, Blue Lakes, Cape Mayachny and the rocks Three Brothers. Most of the routes I explored with my friends and acquaintances, who arrived to Kamchatka, some of the routes were either alone or in the company of local residents.
Why Kamchatka is worth it to visit
Kamchatka (together with the Kuril Islands) is the only active volcano region in Russia. Underground forces bubbling beneath the surface of the peninsula created unusual and picturesque landscapes and natural phenomena. Together with the cool climate here, it gives an amazing combination of heat and cold, ice and fire. Geysers, fumaroles (sources of hot gases), thermal springs, smoking craters of volcanoes, and at the same time—glaciers, snow-capped peaks, cold mountain lakes, and the ever-turbulent Pacific Ocean. Amazing, similar to the lunar and Martian landscapes formed around volcanoes over millions of years, and the volcanoes themselves—active or extinct—which can be viewed both from afar and in the immediate vicinity.
I will not talk about the numerous sights of Kamchatka, there is a lot of specialized sources about it. And no text can compare with the personal experience, or at least photographs of these places. I'd better try to talk about how any of the readers can get to this wonderful land, and study it in the most affordable and cheap way.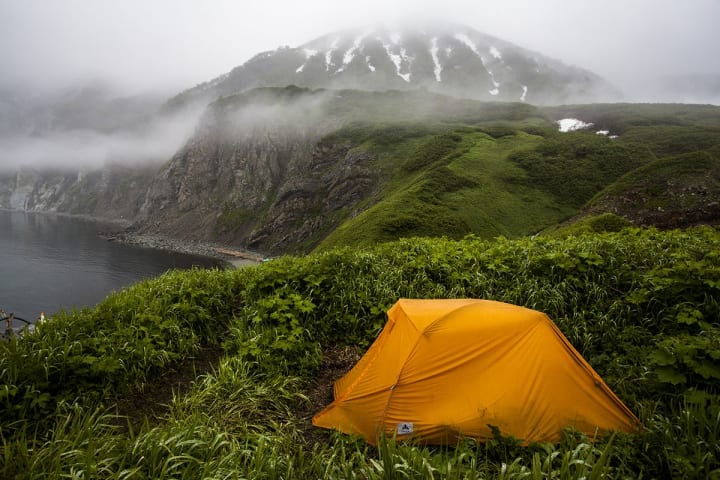 Tourism—cheap or expensive
Kamchatka seems unattainable and expensive. This is so and not so. Of course, it is far from the rest of other Russian cities, there are few roads, transport is not developed, and those who are too lazy to plan a route on their own and want maximum comfort (how much comfort is possible when climbing mountains and volcanoes) will have to pay a decent amount of money. However, if you spend more time and effort on exploring the region, then the trip will cost a little more than a trip somewhere in central Russia.
We can say that there are two types of tourism in Kamchatka: either very expensive or very cheap. The first includes car rental for the maximum possible access to the sights, guide services, helicopter tours, overnights at the hotel, or at the equipped camp site. The second is the use of regular buses, hitchhiking, and walking crossings, studying the route according to reports of other travelers or talking with them, overnight in a tent or visiting local residents. Of course, you can try to combine both of these methods, but those who flew with me basically professed the second type of tourism, and spent quite a small amount of money. For a month I spent about 70-80 dollars (not including the cost of air tickets), and some vegetarians among us, I think, spent two to three times less.
The difference between these types of tourism is especially pronounced when visiting the Valley of Geysers. You can either take a helicopter tour for 300 dollars, or go on foot for 9-10 days one way from the village of Milkovo. However, we had neither such an amount of time, nor such an amount of money, as a result no one got there.
Information
Guide Far East with a chapter on Kamchatka—general information about the history and sights of the region. There is little practical information, but the book gives general information about what is in Kamchatka. You can leaf through before departure.
Victor Kirillov Guide to the tourist and climbing routes of Kamchatka—a detailed description of walking routes to volcanoes and other interesting places. Confused with phrases such as "It's better to drive to the mountain on a rented car" or "Then you can hitchhike for a moderate fee," but in general it's an irreplaceable thing in water and hiking trips. The book is sold in almost all bookstores in Petropavlovsk-Kamchatsky, and has an English version.
The site "Weekend Hiking," with a description of the most interesting hiking routes in the vicinity of Petropavlovsk-Kamchatsky.
Forum of the village of Milkovo with a section on tourism in the Milkovo region.
The site of the tourist route group "Atlosov" with descriptions of several tourist routes.
This list is far from complete, I think you can find a lot of other useful information on the Internet, and in the bookstores, since thousands of tourists visit Kamchatka every year.
In Petropavlovsk-Kamchatsky, an old two-kilometer atlas of the region, consisting of two parts ("South" and "North") is for sale. Each book costs around eight dollars, but those who purchased it said that it was almost useless. Hiking trails are not indicated in the book, and, as a result, you still have to follow the descriptions from the above books and sites. But it's better to still get a general map of Kamchatka for approximate orientation on the ground. There is a good map of Kamchatka in a scale of 1:1,000,000 with separate detailed insets on the outskirts of Petropavlovsk, the Klyuchevskaya group volcanoes and the approaches to the Shiveluch volcano.
How to get there
There are legends about brave Kamchadals who once rode in jeeps from Petropavlovsk-Kamchatsky to Magadan. But even if this is not a legend, but the truth; other people are unlikely to be able to repeat this feat on the move. Although Kamchatka is a peninsula, it is separated from the mainland by hundreds of kilometers of impassable forests, mountains, and swamps. Therefore, it remains, it seems, the only Russian region that can only be reached by plane.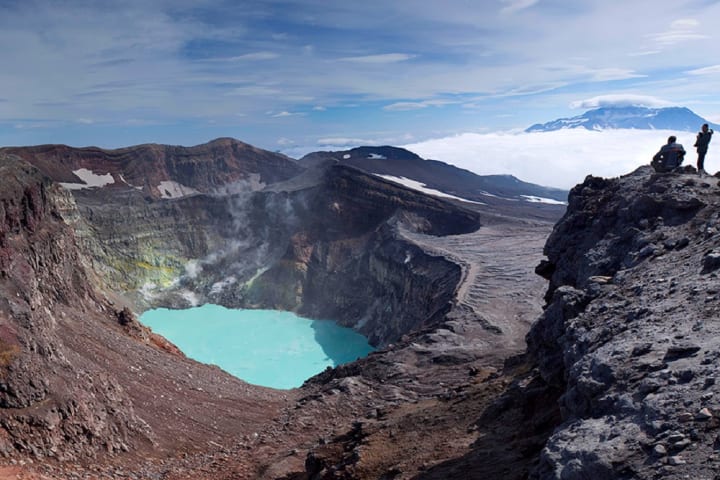 Several airlines operate in Kamchatka, and due to the competition between them, it is possible to find inexpensive tickets. I and about 30 other people flew to Kamchatka on a special campaign of Russia Airlines. From Khabarovsk to Petropavlovsk it was possible to fly for 31 dollars, from Krasnoyarsk—for 47 dollars, from St. Petersburg—for 75 dollars (one-way prices with all fees). In addition, there are sales of the airlines Yakutavia (Yakutia) and Aeroflot, through which you can fly from Moscow to Petropavlovsk for 78 dollars. All these promotions usually take place in the off-season (autumn and winter), tickets, as a rule, need to be caught two to three months before the flight. So read the airline sites, watch for sales reports on forums and blogs, etc.—you might be lucky too, and you will fly to Kamchatka for a relatively low price.
Previously, a passenger ship went from Vladivostok to Kamchatka. Now, only cargo ships and cruise liners with foreign tourists enter the port of Peter and Paul. Theoretically, you can get to Kamchatka on passing ships from other ports of the Far East—Vladivostok, Yuzhno-Sakhalinsk, Magadan. However, this, of course, is not easy, and will require a lot of time—to get into the port, look for the right vessel, and negotiate with the captain. But, I think, if you have already reached Kamchatka, then it will be easier to drive backwards. If you don't take the time, then you can arrange a free ride, if it's strong, you can probably find an option for a reasonable fee. In Vladivostok, I met a girl who sailed from Kamchatka, if I'm not mistaken, for 100 dollars in a cargo ship.
Peninsula Transportation
There are no railways in Kamchatka, and roads are few in number. The main Kamchatka route runs from south to north from Petropavlosk-Kamchatsky to Ust-Kamchatsk through Yelizovo, Milkovo and Klyuchi. In the southern part of the highway, a road branches out from it to the Oktyabrsky village on the shore of the Sea of ​​Okhotsk, the road to the Esso village runs north, and roads to the Thermal village and the city of Vilyuchinsk go south from Petropavlovsk (this is a closed city, and you cannot get there without a pass). In addition, there are a number of small roads in the vicinity of cities and towns.
The main intercity transport is regular buses. They are cheaper than on Sakhalin, but more expensive than in other Russian regions. For example, the bus Petropavlovsk-Kamchatsky-Esso (500 km) costs 15 dollars, Petropavlovsk-Kamchatsky-Klyuchi (600 km)—19 dollars
Nevertheless, given the fact that most of Kamchatka's popular attractions are located near Petropavlovsk, the use of buses will not be too burdensome for the budget. Trips to the nearest towns and cities, from where routes to volcanoes begin, rarely cost more than one dollar. As for longer distances, then it is better to hitchhike.
Hitchhiking is the best way to travel around Kamchatka in two cases. The first was mentioned above—driving long distances or the ticket is too expensive, the second—when buses do not go on the road you need. In this case, however, there will be few cars. But in general, it must be said that hitchhiking in Kamchatka is extremely good. The people are usually nice there, so you might be lucky enough to be picked up by the first car. The farther from Petropavlosk-Kamchatsky, the fewer cars on the roads—sometimes you can wait a few hours for a car—but they would stop for sure.
I did not study the topic of air travel inside Kamchatka, I can not say anything about this.
Overnight stay
Prices for hotels in Kamchatka are generally the same as in the rest of Russia. True, I could not find any budget options in Petropavlovsk, but I, however, didn't really look for it. In the Edelweiss Hotel (Pobedy Ave., 27) a bed in a double room costs from 25 dollars, in Oktyabrskaya (51 Sovetskaya St.)—a single room is from 26 dollars. In the village of Esso there is an inexpensive hotel "Romashka," where you can stay for seven dollars per person.
But hanging around in the city, of course, makes no sense. The main place to stay in Kamchatka is a tent. Many go straight from the airport to conquer tourist routes, without even stopping in Petropavlovsk. And the presence of thermal springs on many routes allows you to wash, and wash even in winter.
Nevertheless, in my opinion, it is still more convenient to stay in Petropavlovsk (or in Yelizovo), and from there to travel to places of interest, sometimes returning for a short rest, washing and buying groceries. You can try to stay with local residents. For example, in Kamchatka there are users of the international hospitality chains Hospitalityclub and Couchsurfing, and, in addition, many turistov-hikers and climbers, with whom you can meet and chat over the Internet, and which may be able to shelter you. I spent two nights in Petropavlovsk-Kamchatsky with user Couchsurfing, two nights in Klyuchi with user Hospitalityclub, spent two nights in Yelizovo with a friend of my friends, and spent a total of one and a half weeks visiting a local journalist who is one of the people who came to meet with me through third parties.
Food
Many people were scared by Kamchatka's high cost. Some even managed to bring products from the mainland, not knowing the real situation with prices, and preparing for the worst. Nevertheless, it turned out on the spot that everything is not so scary in Kamchatka. Only dairy products and fruits differ in serious high cost, and the main camping products—buckwheat, rice, stew, condensed milk, tea—are only slightly more expensive, as a rule, by 5-10 percent.
It is best to buy at the Shamsa supermarket—a kind of local analogue of Auchan. There are only two of them in Kamchatka—one in Yelizovo, the second in Petropavlovsk, at the entrance to the city from the airport, next to the 10th km bus station. There is a large selection and reasonable prices. And, of course, there are grocery stores in all other cities and towns. Attention—at the Mutnovskaya GeoTES , where you can swim in the thermal springs and go to the Mutnovskaya and Gorely hills, there are no grocery stores, they need to be purchased in advance in Petropavlovsk or the Thermal village.
Hazards and troubles
As throughout the Far East, bears here are a real danger. However, we were lucky—none of those who arrived with me ever once watched them live, although we repeatedly saw the tracks and litter of this animal. But you still need to be prepared for the meeting. I can only repeat what I wrote in the report on Sakhalin. In 99 percent of cases, the bear will not attack a person if the latter does not provoke him. Is it dangerous to encounter a connecting rod bear in the spring, or a bear who did not get a lodging for the night at the beginning of winter. The rest of the year, the bear has enough food, and the person is completely not interested in him.
Two fundamental rules are as follows: sudden movements cause aggression in a bear, sharp sounds cause fear. Hence the conclusion: when meeting a bear, you should not move, run away, etc.—most likely, it will chase after you. But sharp sounds—screams, whistles, etc.—need to be made louder and more often, because the bear is frightened of them and will prefer to retreat.
There are a number of practical tips: to put food in a separate bag at night, and hang it high on a tree, hang socks and other things with a sharp human smell around the camp, carry a pepper spray or a fake curtain for especially arrogant bears, etc. You can google and look for more detailed recommendations.
Internet and communication
With the Internet in Kamchatka, things are not very good. Of course, it exists, but there are no unlimited tariffs either in the Internet cafe or at home with local residents. They say that at some providers, after midnight you can use the Internet without taking into account traffic, in all other cases each megabyte will be taken into account. At home, this is usually one dollar per megabyte, in an Internet cafe—10 cents per megabyte (plus a fee for the rental time of the computer). Sometimes there is even a fee for outgoing (!) traffic.
In this regard, I recommend going to the Regional Scientific Library on the street. Karl Marx (stop "Regional library"), where you can enroll and take half an hour of free internet in the following time periods: from October to June—Mon-Fri 14.00-15.00 Sat-Sun 12.00-15.00, from July to September—11.00-13.00 .
Mobile communication catches well in all settlements, but, as a rule, is absent on the highway.
Life in Kamchatka
The main occupation of the local population is work in the fishing industry. There are both legal fishing vessels and fish factories, and quite numerous poachers. In addition, part of the Kamchadals serves on submarines (a submarine fleet base is located in Vilyuchinsk), leads tourists and hunters in the mountains and forests, is engaged in agriculture with varying success (especially products grown in the greenhouses of the village of Esso), and is part of the indigenous population, and breeds deer.
Kamchatka is one of the few Russian regions where a lot of positive impressions remain from communicating with local residents. People living here truly love their land. In Kamchatka there is almost no usual surprised Russian address to the traveler: "Damn you, you don't sit at home," on the contrary, most people ask with interest about where you have been, and where you are going, and give advice on what else you can see. In general, the people here are cultural and friendly, even the gopniks have never come across my eyes.
You will not see such a quantity of local history literature anywhere in Russia. It seems that in the bookstores of Petropavlovsk-Kamchatsky there are more books about Kamchatka than in the capital's bookstores—about Moscow. Many joke that in Kamchatka every second is a writer. Laughter with laughter, but my friends who were hitchhiking somehow drove Viktor Kirillov—the author of a guide to the hiking trails of the region, and me—writer Viktor Borisov, author of several books on the history of villages and cities of Kamchatka.
In Kamchatka, you strongly feel the isolation of this region from the rest of Russia. Even Sakhalin, even though the island is not so isolated, from there, ferries go to the mainland at least daily. From Kamchatka, you can only fly away by plane, so for its residents the rest of Russia seems to be somehow distant and illusive. They call it the "mainland"—"flew to the mainland," "brought from the mainland," etc., although formally, of course, Kamchatka is also part of this mainland.
Nevertheless, even here, on the edge of the earth, there is life and civilization, and although many people leave here, those who remain say that they are satisfied with life, and will not exchange Kamchatka for anything else. Why they think so, you can understand by coming here and seeing all the local beauty. Those who have not yet arrived can make at least a rough idea of ​​Kamchatka according to the photograph below.
Amanda is prolific writer from essay writing service Mcessay and inspired traveler who has visited over 25 countries in the world. She is currently writing articles for regional newspapers and is ambitious to develop into a most successful writer.