Traveler's Guide to Kauai
A Look into Kauai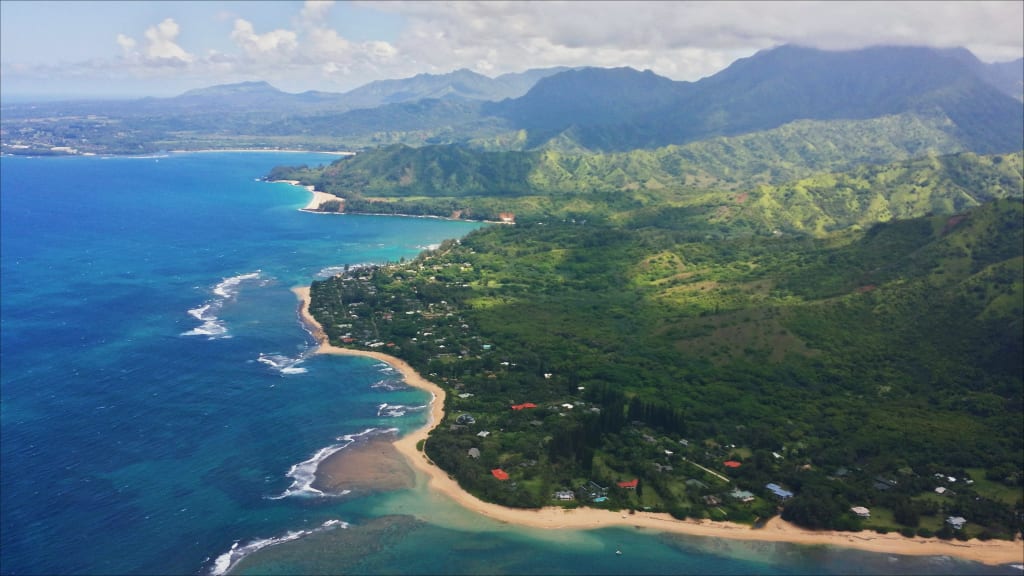 So you made it! You're here at the Lihue airport. You've been waiting for this day for a long time and it's finally here. You land and grab your luggage, what next?
The island of Kauai is a magical place. It has the title of 'Garden Isle' which means there's beauty to be found literally everywhere you look. It's also one of the wettest places on earth. That is a plus for all the lush vegetation, trees & tropical plants. Here is a traveler's guide to this incredible island.
Once you land, there are two options on how to see the island.
1. Rental Car
This is a preferred option for most people when coming to Kauai. There are many attractions and places you'll not want to miss that you just physically can't get to without a car.
You can find many cheap options to rent a car at the airport by Googling "Discount Hawaii Car Rental." They have cars starting at $30-$40 a day. They take all of the top car rental agencies, like Enterprise, Hertz, Thrifty, Orbitz, etc. and filter the best deal for you. This is a great option for families or groups of people who can split costs. You get to pick the car up and drop it off right at the airport, which is so convenient.
The next place you can rent a car from is a place called "Rent A Wreck." These cars are island beaters, not in perfect condition but they are cheap. This facility also rents out scooters, if you'd prefer to see the island that way. It's about a 3-5 minute drive from the airport to get to this rental shop.
2. Public Transportation
The other way you can get around Kauai is by the public bus. There's a bus stop right outside the airport and for a small fee of $2 per person, you can pretty much get to all the places you need to go. Obviously you may have to walk or hitchhike to some of the next places I'm going to tell you about if you prefer this method of transportation but it's more cost effective and you get a taste of local culture.
Next, I will be telling you the top 7 things you NEED to see when travelling to Kauai.
1. Waimea Canyon
This place is unreal. I promise you, your breath will be taken away. They call this canyon the "Grand Canyon of the Pacific" for obvious reasons. It's so massive yet so beautiful. It's hard to wrap your head around such an incredible landmark. The entire drive up to the canyon there has plenty of lookout spots that are great for photos. The real beauty comes when you hike to the center. There are plenty of trails and hikes to do while you're here. My favorite hike is the Waimea Canyon Trail. This trail takes you to Waipoo falls. Do not miss out on the opportunity to see this when you visit!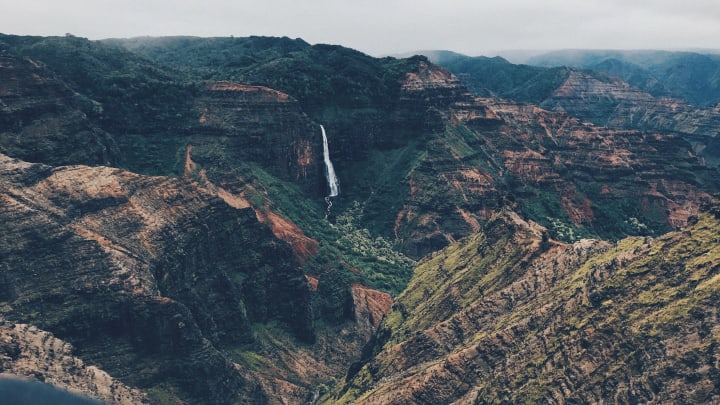 2. Queen's Bath
Although this can be dangerous, (yes people have died here) it's one of my top favorite spots I've ever been to in my lifetime. The color of the turquoise water mixed with the giant black rocks makes for some of the best photos you will ever take. Make sure you bring your snorkel gear! There are so many cool species of fish in the bath itself. It's fairly deep in some spots which makes rock jumping really fun! Some really adventurous souls will attempt jumping off the larger rocks strait into the ocean. You'll see a lot of locals doing this. There are always honu's (hawaiian word for sea turtle) swimming in the water so make sure you bring your cameras!
To get to Queen's Bath you will need to take a short hike. The hike is not too strenuous; however because of the flooding we had this year, it can be really muddy at times. If you are going to do this hike, make sure you are in good health. No bad knees or backs should be attempting this.
The reason it can be dangerous is because of the swell. If the swell of the water is bigger than normal, the water will sweep over the rocks and drag people into the water. IT is very, very rare that this happens, but it's always good to know safety precautions. If you see the waves are huge, it's probably not a good idea to get into the water.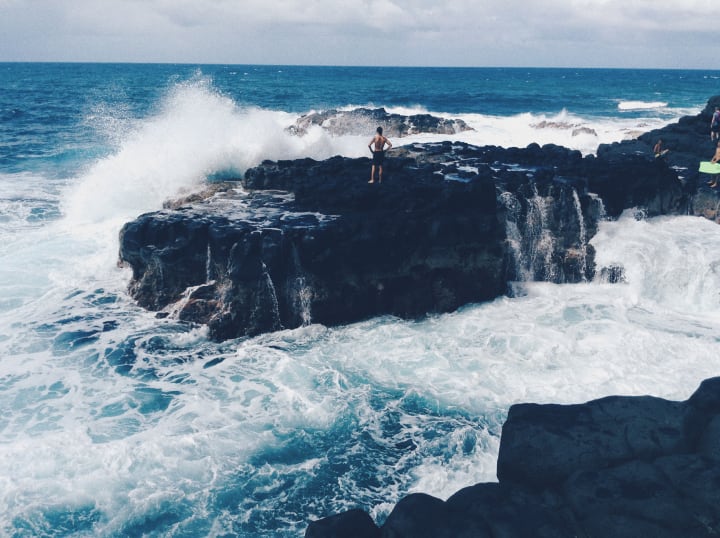 3. Hanalei Bay
A must see when coming to Kauai is the famous Hanalei town. This quaint little town has the cutest shops, restaurants, and cafes. The biggest attraction of this town is the bay. It has the most perfect blue water mixed with the most epic mountain scenery. You can see multiple different waterfalls right in the mountains while you're sitting and enjoying a beach day. You can get surf lessons here, paddle board, boogie board, kayak, or just simply swim and beach it out. There is a pier at the end of the bay you can access by walking along the beach. This is the perfect spot to have a beach bonfire and roast some marshmallows while watching the stars come out.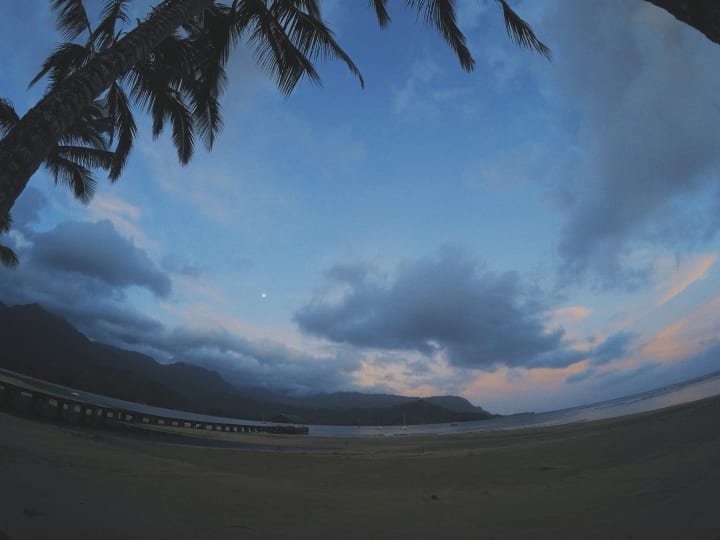 4. Poipu Beach Park
Poipu is located on the south shore of the island. The south is usually more sunny and has a bigger swell so it's better for all you surfers out there. The water is crystal clear and this beach has incredible snorkeling. You are almost guaranteed to see sea turtles or monk seals lounging around. This is the perfect beach to relax on. Read a book or two, splash in the water, have a picnic, or dine at one of the many cute beach restaurants in walking distance from the beach. The sunsets here NEVER DISAPPOINT!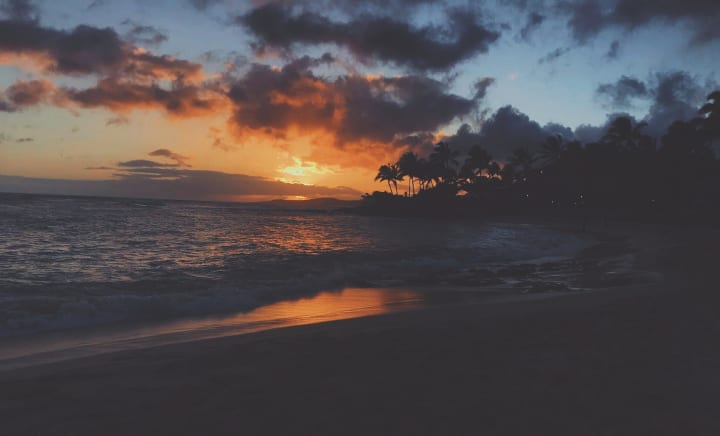 5. Na Pali Coast
The Na Pali coast is like the Eiffel tower of the Pacific. There's no way you can come here without experiencing it. This coast is truly the most stunning thing I've ever had the pleasure of experiencing. It currently has the fastest eroding coastline in the world. The island of Kauai is only 15 percent accessible by car. That means you need to see the other 85 percent by boat or air. Those are currently the only two ways to see the Na Pali. Unless you'd like to swim it, that's always an option. (This was sarcasm, I do not suggest that by any means.) Photos will never do the grandness of this coastline justice.
I took a boat tour with Blue Dolphin charters and absolutely loved it. They provide full services on boat such as food and drink, two working bathrooms, a water slide, and entertainment. The cost for one ticket is around $160 for five-ish hours. You get to experience the entire coastline plus more. You get a detailed explanation from the staff of the history and different interesting facts of the Na Pali. You get to snorkel in crystal clear blue waters, and to top it off, there's an open bar! I took the afternoon sail which allowed me to see the sunset coming back. Absolutely incredible, highly suggest.
While the boat was amazing, it only allowed me to see the coast. However, if you'd like to see the entire island, helicopter is the way to go. I rode with Sunshine Helicopters and had a very pleasant experience. The pilot takes you all the way from one end of the island to the other. It goes inside Waimea Canyon, stops right next to powerful waterfalls, and goes to the inside of an old volcano. You see the Na Pali in all its glory as well. The flight is around 50 minutes and costs about $230 dollars per person.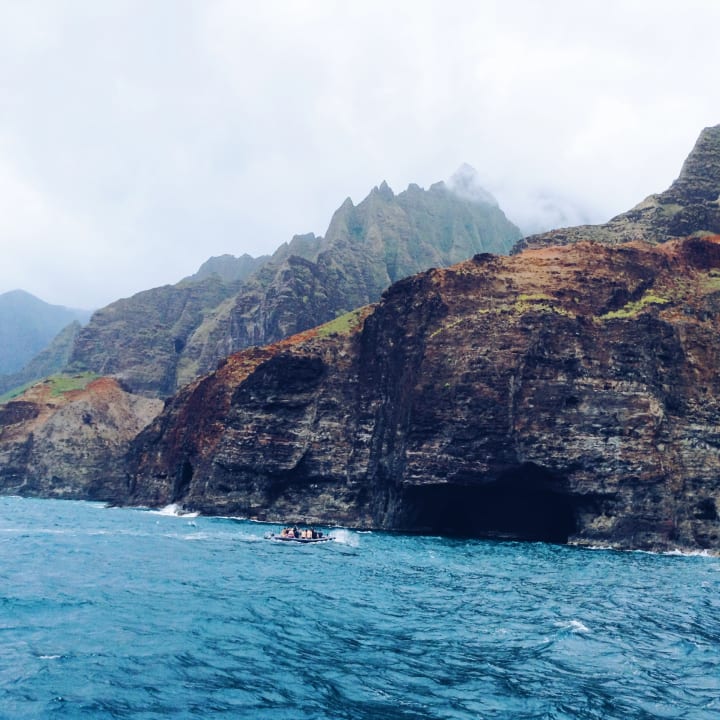 6. Kauai Coffee Plantation
If you're a coffee drinker, this one's for you! This isn't a spectacular mountain view or white sand beach, but it's still a must when coming to this island. Fresh ground coffee in almost any flavor you can think of? Sign me up! The coffee plantation is a fun thing to do for people of all ages. There's a gift shop and cafe when you enter the plantation. There are guided tours or you could walk through and guide yourself if you'd prefer. They have special flavors like caramel macadamia nut, chocolate macadamia nut and even banana! Nothing beats fresh, local coffee.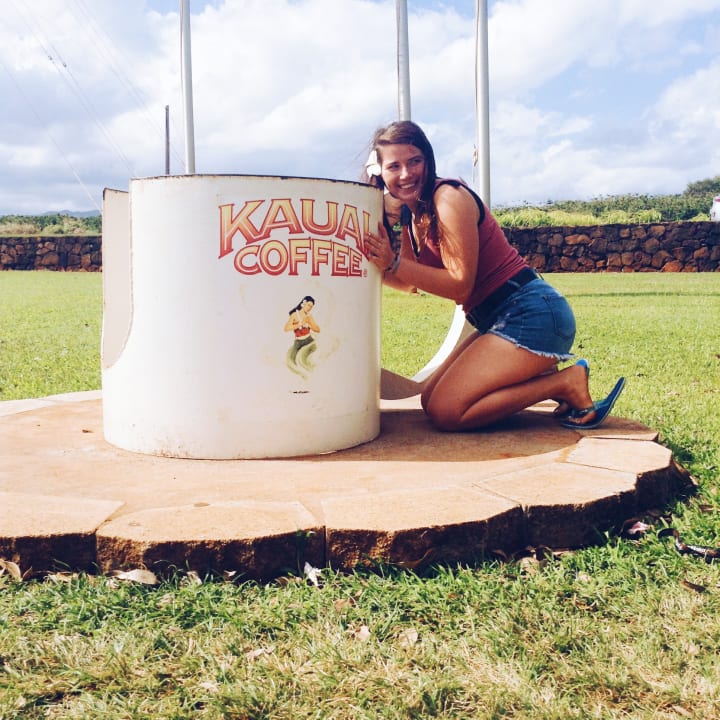 7. Wailua Falls
Wailua Falls are absolutely breathtaking. You have to take a dirt road to get to the falls and once you're there you can almost immediately hear the loud thunder of the water crashing. It's so soothing! The falls themselves are more of a tourist attraction. There's no hike involved just to see the falls from afar. But if you're adventurous, you can hop the fence and hike to the bottom of the falls. Get up close and personal with this magical creation. You can feel sprinkles of the waterfall hitting your face as soon as you reach the bottom. This waterfall is very powerful! The hike is steep, so you must be extremely careful. I wouldn't suggest taking children to the bottom of the falls.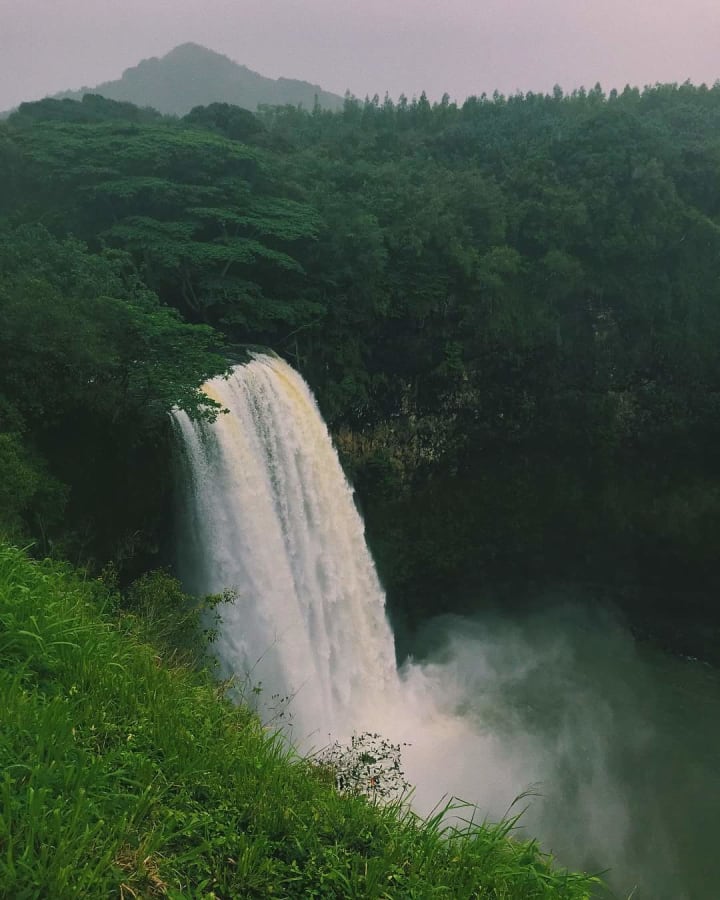 Those are the top 7 attractions I would suggest seeing while you are here on Kauai. Traveling, however, is not only about attractions; next I'll go into my favorite snorkel spots, food joints, and cheap accommodation.
When traveling I try to save as much money as possible. Hawaii in general is a very expensive place to travel. For example, I was born and raised in the Midwest, USA. Gas there is about $2.80. I come here and gas prices are consistently $4.00 and up. To save money here, I shop smarter, eat smarter and sleep smarter. Here's what I mean.
For groceries, I suggest getting fresh produce from farmers markets. You can get triple the amount of fresh, organic local fruits and vegetables for the same price at the grocery store. You're also supporting local businesses which is always a plus. There are farmers markets almost daily around the island. This can save big money.
Shop at Walmart for all essentials, whether this be other groceries or beach toys, or anything else you may have forgotten on your flight over. Walmart has the same exact products as almost all grocery stores for half the cost. If you're going to be staying for more than a week, or have a large family, there's also a Costco in Lihue that can save you big money on groceries. Try to avoid local grocery stores as much as possible—their prices are just unreasonable.
By sleeping smarter I mean finding the best deal possible on hotels. If you're traveling solo or with a group of adventurous friends, I suggest staying in a hostel. It's about $38 a night and you get to meet people from all over the world. Kauai Beach House Hostel is a great hostel I've stayed at personally. Very clean and great location right on the beach. Walking distance from shops and cafés. The public bus drops you off right in front of the hostel.
If you want a nicer place to stay, I would try Airbnb for vacation rentals. You can find amazing deals on there with absolutely amazing locations. Some right on the beach. If you'd prefer a hotel, make sure you do your research to find the one that will best suit you. They can range up to $700 a night at some fancier resorts. Just know what you're looking for.
For food, there are so many options! If you're looking for local authentic Hawaiian food, try Tip Top cafe in Lihue. They have the best Loco Moco. (Loco Moco is a traditional Hawaiian dish that consists of rice, gravy, meat patties, and eggs.) Hanalei has a taro food truck that is so delicious. They make all their dishes with the taro root plant and make it into a pudding like consistency and call it "poi."
Kountry Kitchen in Kapa'a is another local spot that has tasty breakfast food. "The Grinds" as locals call it, or North Shore General Store, in Princeville has local options and just overall really delicious food. It's cheap and quick so you can take it on the go if you need to.
My favorite pizza of all time comes from a place called Hideaways Pizza Pub. Their barbecue chicken pizza is OUT OF THIS WORLD! Piazza is another more modern pizza/Italian restaurant. Both of these restaurants are located in a town called Princeville.
Kalapaki Joe's in Poipu is another all around amazing restaurant. You can see ocean while you're eating, the atmosphere is fun, upbeat, and they have the best happy hour on the entire island. $5 for 20 wings plus $5 Mai tais, margaritas, and long islands. You can really feel the island vibe while eating here. The staff are great too!
I hope this traveler's guide to Kauai has helped you plan out your next vacation to this beautiful island. Spread Aloha my friends. Happy travels!
Reader insights
Be the first to share your insights about this piece.
Add your insights