Guides
Travel Tips
Germany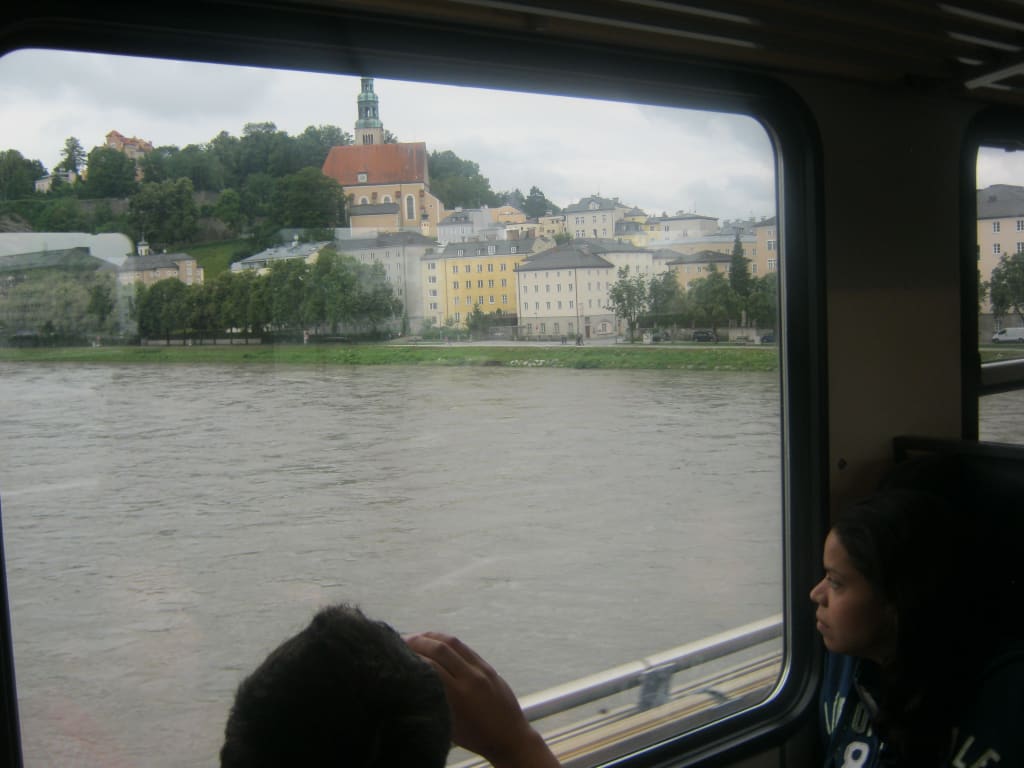 This photo was taken on a train heading to Austria from Munich
My love affair with this country started in my early teens. I had the pleasure of living in Germany for almost three years when I was in the military. I was stationed in both Garlstatdt and Mainz. Garlstatdt is located in the northern area of Germany between Bremen and Bremerhaven, close to Osterholz Scharmbeck. Mainz is centrally located about twenty five minutes north of Frankfurt by train.
I would highly recommend a cruise up the Rhein River to take in the castles along the river. You can board a boat in Frankfurt or Mainz and take a day trip, it is well worth the money. In February there is a festival in Mainz called fasching. I have borrowed the description from google but it is really a great festival to attend and is held in the spring mainly in Mainz,
Fasching, the Roman Catholic Shrovetide carnival as celebrated in German-speaking countries. There are many regional differences concerning the name, duration, and activities of the carnival. It is known as Fasching in Bavaria and Austria, Fosnat in Franconia, Fasnet in Swabia, Fastnacht in Mainz and its environs, and Karneval in Cologne and the Rhineland. The beginning of the pre-Lenten season generally is considered to be Epiphany (January 6), but in Cologne, where the festivities are the most elaborate, the official beginning is marked on the 11th hour of the 11th day of the 11th month of the year. Merrymaking may get underway on the Thursday before Lent, but the truly rambunctious revelry associated with Fasching usually reaches its high point during the three days preceding Ash Wednesday, culminating on Shrove Tuesday. The names of these final days also vary regionally.
Although the exact historical origins of Fasching are unclear, the observance of its rites is mentioned in Wolfram von Eschenbach's Parzival (early 13th century). It was a festival that originated in the cities—most notably Mainz and Speyer—and was already established in Cologne by 1234. Traditionally, it was not only a feast before Lent but also a time during which the rules and order of daily life were subverted. This gave rise to such customs as handing over the keys of the city to a council of fools or ceremoniously letting women rule. It also inspired noisy costumed parades and masked balls; satirical and often impertinent plays, speeches, and newspaper columns; and generally excessive behaviour—all of which are still common elements of contemporary Fasching celebrations. After the Reformation, Protestant areas of Europe took exception to such Roman Catholic excesses, and carnival practices began to die out in them. See also carnival; Shrove Tuesday; Fastnachtsspiel.
While visiting Germany it is rich in history. There are many reminders of the atrocities committed during the 1940s by Hitler. Berlin is a reminder with their Topographe De Terror memorial. There are some buildings that still have the holes from bullets in them as you tour this city. One my favorite areas of Berlin would be Brandenburg Tur and the Brandenburg Gate. From there you can see reminders of a divided city with remnants of the wall. From there you can visit Staffenburg Strasse where some of Hitlers military led a resistance to try and take out the maniac. The from there you can walk to where you can actually stand on the Fuhrer bunker and where they actually found the bodies of Hitler and his bride.
In Bremerhaven you can take a boat tour to the island of Helgoland which is the northern most tip of Germany, it is an absolutely beautiful site. You will go by boat then take a smaller boat to get to the island.
Munich is very rich in history and a beautiful city. From there you can take a day trip to Salzburg, Austria, the Neuschweinstein castle, Hitlers hide out.
The trip to the castle if you require physical assistance or can't walk great distances then this tour is not for you because you are let off at the bottom of the castle and have to walk to it which is mainly uphill about a mile.
From Hitler's hideout you can see Austria and the scenery is absolutely breath taking from there. The elevator ride is also a nice tourist memory to add. But while there you might as well enjoy the fine dining at the restaurant, but please if using a debit card, there is a fifty euro minimum.
I would also recommend you take the walking tour of Munich. They will take you to the beer halls and pubs where Hitler began to rise to popularity. What is a visit to Munich without a visit to Dachau one of the many concentration camps still around. You will see many school children from German schools there as part of their Never Again campaign. Also remember if you don't purchase your fare for trains in Germany the rail police will confiscate your passport and hold them until you pay them a fine of forty euros per person.
Another city that I recommend is Dresden. This city though heavily bombed by the allies during the war, the Russians did a wonderful job of rebuilding, using as much of the original material as possible.