Touring Europe Over 15 Days
I'm not really the traveling type but this was an interesting experience.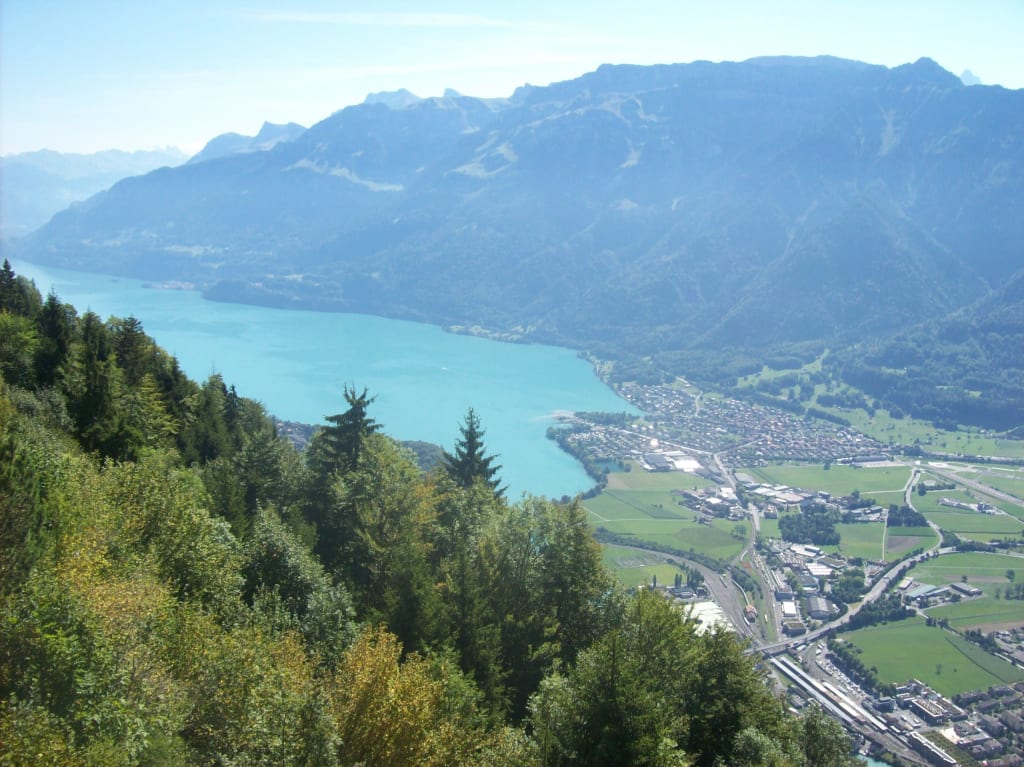 I'm not really the traveling type, preferring instead to stay home and blog or play games. Still, my sister and I spent a few months planning a trip to Europe with a company called C the World. The trip lasted for 15 days and went through five countries.
We left for the trip on August 8, 2018, taking off from OR Tambo International Airport in Johannesburg around 19:15 PM. The plane itself was more than a little bit cramped. We were able to move, that wasn't an issue, but movement was incredibly limited—especially on a 10-hour flight to Paris.
The takeoff was a little rough but once we were in the air it was fine; apart from some minor turbulence. I spent the time watching and writing reviews for in-flight movies, and making sure my sister didn't puke all over me or anyone else on the flight.
Of course, she wasn't the only one who got motion sick. Yep, I experienced a bout of motion sickness myself but thankfully nothing happened and we landed on August 9 at Charles de Gaul Airport in Paris.
Wandering Through Paris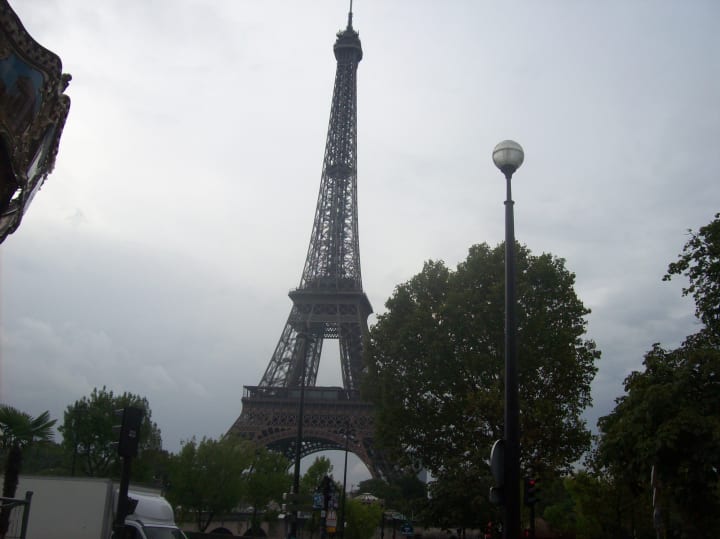 We left the airport around about 7:00 and headed out on a bus tour of the city. We spent the day visiting the Eiffel Tower, the Arc D'Triomphe, the exteriors of Napoleon's tomb, Champs Elysses (the shopping district), and the Paris Opera House.
After checking in at 16:45, we took a few hours to chill before taking the evening tour. We visited Sacre Coeur, the Moulin Rouge, and the red light district.
We returned to the Paris Opera House the day after and began a walking tour, visiting the Louvre Museum (or rather the exterior of it), Vendome Square, and Concorde Square—where the royal family was executed during the French Revolution. The walking tour of Paris was exhausting and my phone stopped cooperating so when we were visiting the Notre Dame Cathedral, I couldn't get any photographs of the cathedral.
We returned to Sacre Coeur—where I climbed the main staircase to the church—visited Anvers (another shopping district) and picked up a couple of souvenirs.
Interlaken, Switzerland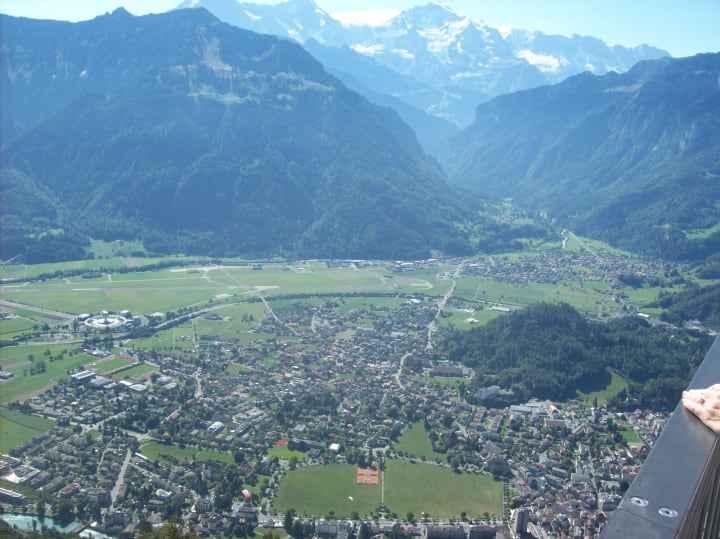 We crossed the Swiss border close to 14:00 on the way to Interlaken and I found that while the changing countryside was indeed lovely, photography from a moving bus isn't really my forte. Many of the pictures I took from the bus had to be deleted due to distortion from the windows but I did get a couple of decent photos.
We passed Lake Brienz around 17:45 in the afternoon and I got a number of great photos. The lake was a bright turquoise color and completely free—at least as far as I could see—of any trash. It was also huge. I don't think I've ever seen a lake that big in my life. We also caught a few glimpses of Lake Thun along the way.
August 12 was listed as an optional tour to Jungfraujoch on our itinerary and since we (my sister and I) hadn't signed on for that particular extra tour, we had a whole day to do whatever. Instead of spending all day at the hotel, we took a trip up to Harder Kulm—the highest point in Interlaken.
The trip up the mountainside was done in a cable car and getting there was fine. Getting out of the car was... interesting. The change in altitude (we were 3000+ feet above sea level, give or take) meant a change in pressure. Most, if not all, of the passengers spent a couple of minutes staggering around trying to re-orient themselves—myself included.
The photographs that I took from up there were absolutely spectacular!
Italy (August 13 to August 15)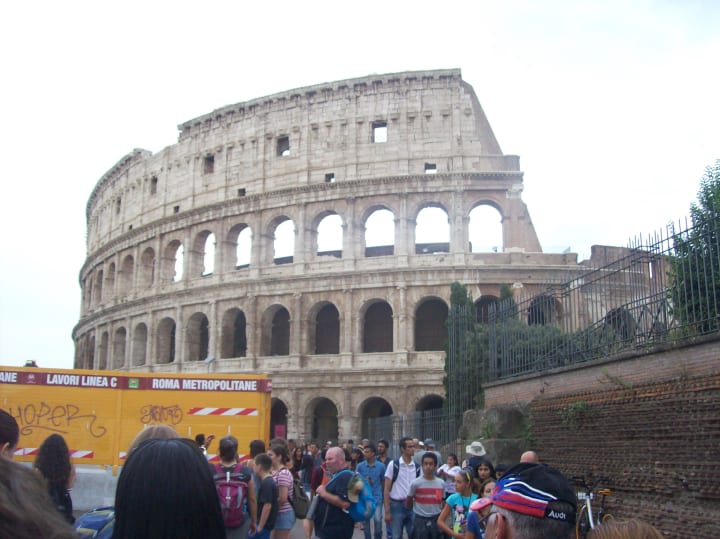 We left Interlaken around 9 in the morning, a bit later than intended as the bus's battery had died and needed to be charged/replaced. Once that problem was solved, we took off and drove through the Alps, stopping briefly to take a group photo.
We arrived in Italy in the midst of a rainstorm that soaked anyone brave or crazy enough to venture out of the bus. Of course, since we had to get lunch, most of us looked like drowned rats at the end of that particular break in the drive. We stopped again briefly to visit the leaning tower of Pisa before heading for our hotel. Around 20:30, we checked into the Best Western Grand Hotel Guinigi.
The following day we left for Florence and on that drive, I discovered that I'm absolutely terrible at playing 30 Seconds. Now, as nice as the city was, I do have to admit that there really isn't much to do in Florence. You can look around, sure and yeah, there are tons of shops in the city, but that's about it so in the end I just didn't see where the hype for the city came from.
We took a guided walking tour of the city and saw a replica of Michelangelo's David and a number of other statues (most of which were from Greek mythology) as well as a leather-working demo before heading out to Rome.
Rome and the Colosseum
We took a brief walking tour of Rome, visiting the Trevi Fountain, the Spanish Steps, and a few other places before checking into our hotel.
The following day we met up with our tour guide and she took us on a tour of the Colosseum, Palatine Hill, and the Roman Forum. It was eerie walking through these places.
The Colosseum had a sense of history to it that I felt a lot of the other places I'd seen just didn't have. We were given a bit of information on how the place was built and how the games were structured. Oddly enough, and I know this is going to sound melodramatic, I could actually imagine a gladiator entering the arena. I could almost feel the exhilaration and nervousness he must've felt with such a large audience cheering for him as well as the fear that went with going into the arena in general (come on, they had big cats hidden under trap doors—of course the guy would be a little scared).
Similarly when walking through the streets of the Roman Forum—what's left of them at least—you got a very businesslike vibe from the place. I could almost picture the Roman senators wandering the streets gossiping about whatever constituted gossip back in the day. With that in mind, it's kind of hard to believe that the forum was, at least in its time, the center of the Roman civilization.
Venice
The last two days in Italy were spent in Venice. We arrived and checked into the Hotel Venezia before heading out on a guided tour of the city. I spent part of the second day in Venice exploring on my own—though I never went too far from the hotel.
We departed from Venice on the 18th and made the 6.5 hour drive to Munich.
Germany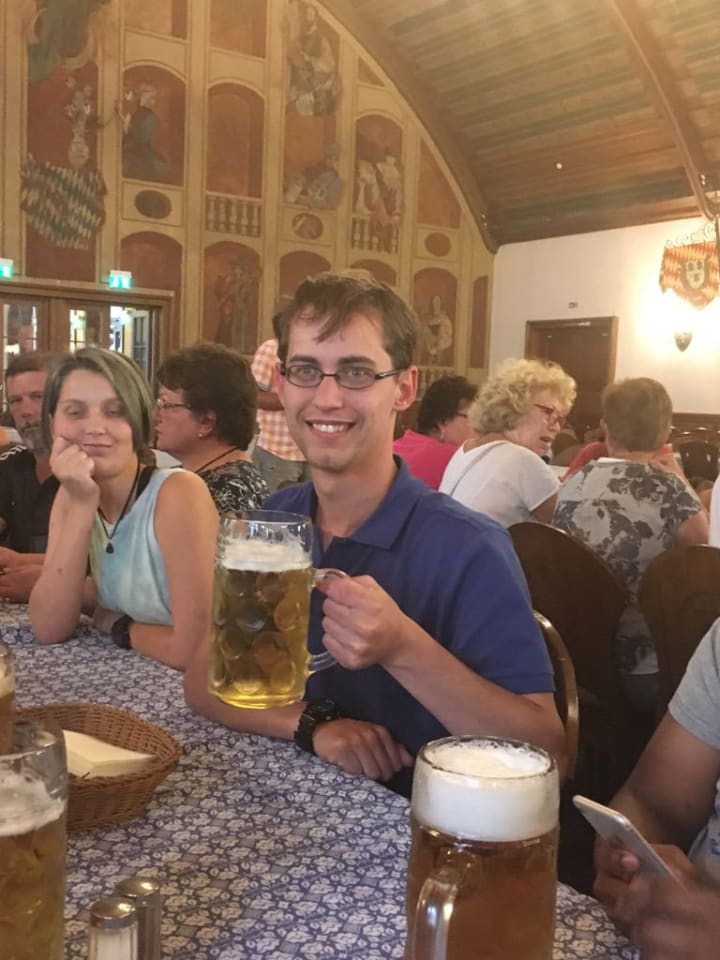 Admittedly there isn't that much I can say about my time in Germany as we didn't spend all that much time there. We arrived in Munich and checked into the Ibis Hotel Munchen City before heading out on a walking tour which ended in a dinner at the Hofbrauhaus.
Dinner was essentially soup, chicken, and potatoes with cheesecake for dessert. The food was nice and the entertainment (provided by a dancing band) was quite enjoyable as well. The highlight of the meal—at least for me and I think some of the others on the tour as well—were the 1 liter beers that the place served.
I'm not really a big drinker so I just had a Radler—a beer with lemonade in it—which was nice and didn't leave me drunk/hung over. It was, however, still more alcohol than I normally drink so I slept very well that night.
The following morning we left for St. Goar and watched a cuckoo clock demo (we were basically shown how the clock's mechanics worked). After that, we boarded a boat and headed up the Rhine to Boppard. We had a wine tasting in Boppard before checking into our hotel and crashing for a few minutes before dinner. We had a good meal and then the karaoke started... It was interesting to watch and listen to.
Lost in Amsterdam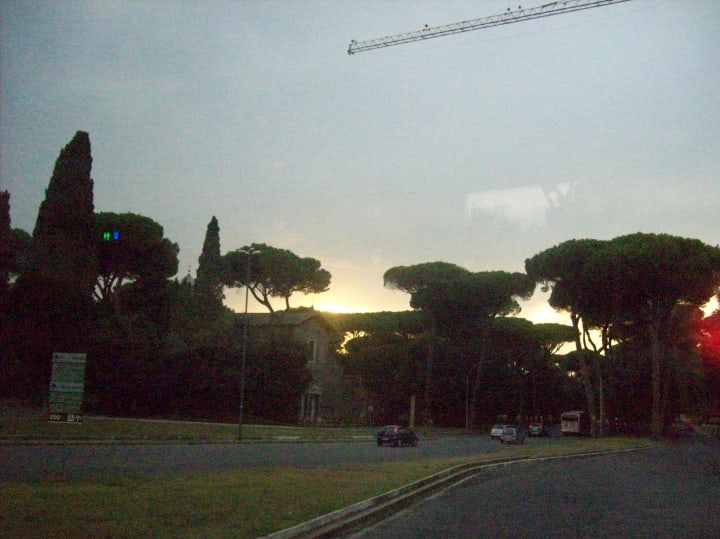 Amsterdam, the final country on our tour; we drove through the Netherlands stopping in Zaanse Schans and Volendam along the way for a wooden shoe demonstration and a cheese tasting. We checked into our hotel (Ibis Schipol) and had dinner before heading out on a guided walking tour of the city... We did a lot of walking on this tour!
Our guide showed us around for a bit and then handed each of us a black and white photocopy of a map along with some basic directions to navigate the red light district. Guided tours of the red light district are no longer allowed due to the difficulties involved since the roads can get quite narrow. With that in mind, we all split to go and explore and, in my case, get lost.
Yes, you read that correctly; my sister and I ended up lost in the red light district in Amsterdam. We got a bit turned around and that's about the best way I can explain how we ended up lost in the first place. Okay, now many of you who are reading this are probably thinking: "Didn't you know about the red light district?"
I knew the stories of the red light district, the girls in the windows, the sex shops, and so on. There's a difference between hearing about it and actually seeing it, however, and this local yokel isn't used to seeing bikini-clad beauties smiling at him through a window!
Anyways, to cut a long story short, we wandered around for a while before catching a bicycle/taxi type ride and only barely made it to the bus before it left to return to the hotel. I spent the next day, August 21, preparing for the return trip to South Africa.
Would I tour again? Probably.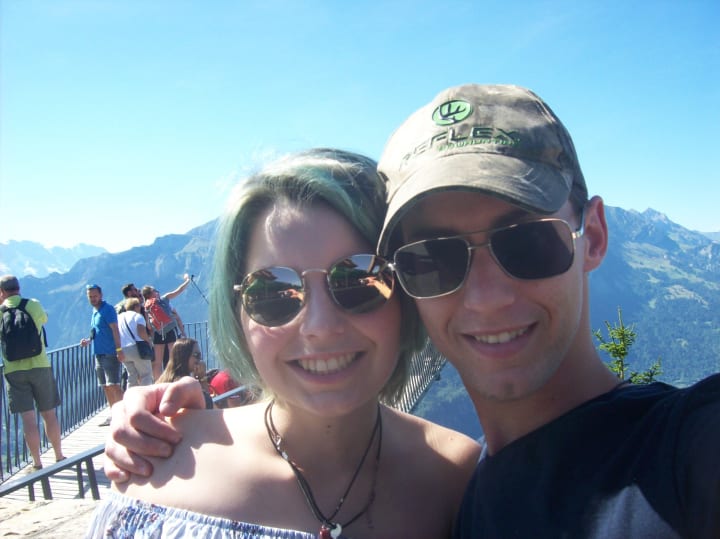 Everyone said that I'd get "itchy feet" and want to go traveling again and I can see why.
I don't think it'll be often that I do tours and things like this because I am very much a homebody type of guy—I prefer being in a place that I'm familiar with, close to family and friends and just all around a place where things actually make sense.
So, would I tour again? Probably/ I might not do this exact tour over again but I may at some point go and do a different tour in a few years.
europe
About the author
I'm a South African writer, blogger and English tutor; I've published 1 novel and am working on publishing a 2nd. I also write reviews on whatever interests me. I have a YouTube Channel as well where I review books, and manga and so on.
Reader insights
Be the first to share your insights about this piece.
Add your insights