Guides
Top 10 Major Trekking Routes of Nepal
There are hundreds of mountain trekking routes such as base camp treks, adventure treks, short and easy treks in Nepal. Here is a list of those popular trekking trails available in Nepal.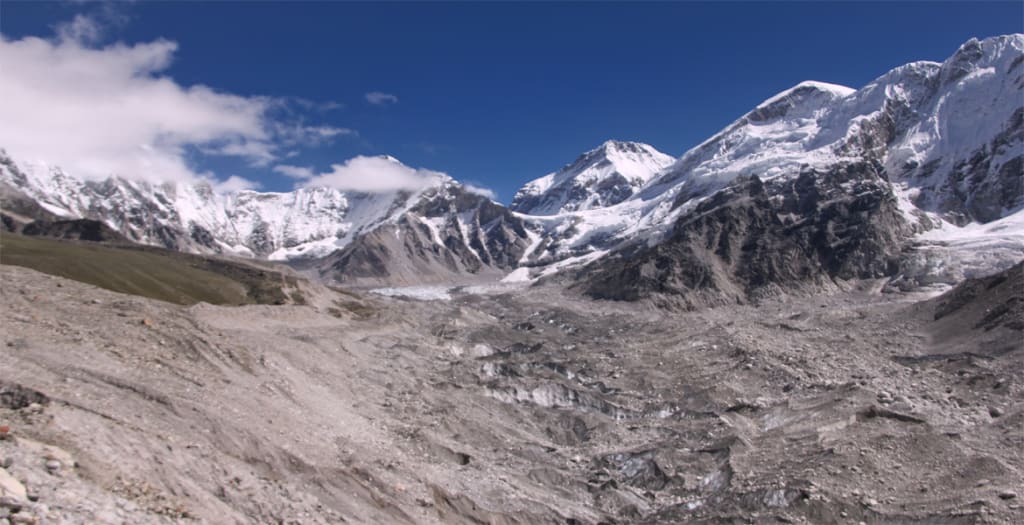 Khumbu glacier and Everest Himalaya
Nepal is a small and beautiful country located in South Asia. This is a Himalayan country having hundreds of tall snow-capped mountains to the northern belt dimensional from east to west. There are 14 high mountain above 8000m in the world and Nepal has 8 of them. Thousands of trekkers from the globe visit Nepal to trek to these beautiful mountain base camps every year. Some trekking routes have fewer trekkers and some have lots. Here is a list of top 10 major trekking routes of Nepal where hundreds of trekkers visit each day during the high trekking season.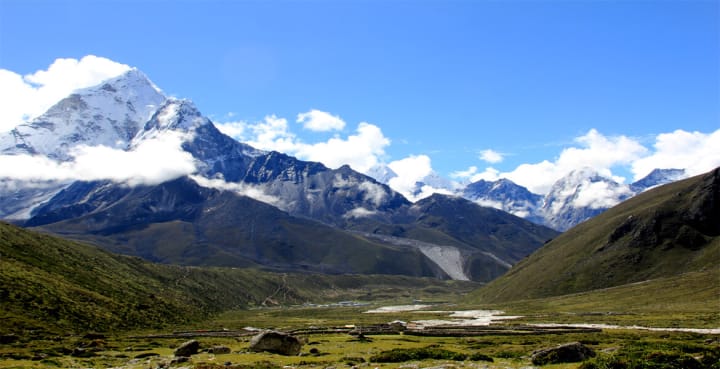 Everest base camp trek is the most preferred trekking destination by the trekkers. This trekking is famous because of the name Mt. Everest which is the highest mountain in the world. Many people from all around the globe are waiting the right time to visit the base camp at least once in their lifetime and some have been visited already.
The beautiful Everest base camp journey connects with a short flight to Lukla from Kathmandu. After landing at the Lukla airport, you will trek to Phakding on your first-day trek. The first-day trek doesn't cover Sagarmatha national park. You will be walking other days until the base camp and back to Lukla through this national park. Sagarmatha national park is a natural UNESCO world heritage site of Nepal.
The second day, you will reach Namche Bazaar which is the most attractive Sherpa town along the Everest base camp trekking trail. Here, you will have you're the first-day altitude practice rest day and hike up to Everest view hotel and enjoy with a stunning view of the Everest Himalaya and more. Then the trek keeps going from the next day towards the base camp with a few days more trek.
Everest base camp trek is the lodge trek and you don't need to bring a tent for the trek. There are plenty of lodges in each place except in certain places like Tengboche, Lobuche and Gorakshep. It will be better if you book your accommodation in advance at least one day earlier in these places if you are in high trekking season.
Autumn - after mid-September to November and spring – from March to mid-May are the best timings for the Everest base camp trek. You can do this trek in winter with nice and warm trekking equipment and the weather won't be that bad. But, summer is not recommended trekking season to the Everest base camp.
Buying a Nepalese SIM card with internet data is recommended for the trek. You can get a free SIM card at the international airport but you need to buy internet data. Also, you can buy a Wi-Fi card from the Everest link in the lodge or shops during the trek. You can charge your phone and camera batteries on the mountain but you have to pay for it. So, take a power bank with you.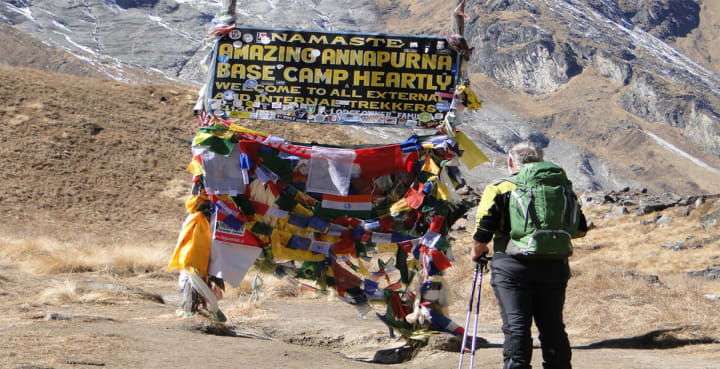 Annapurna base camp trek is another popular and beautiful trek in Nepal. It is easier to trek compared to the Everest base camp trek. Annapurna base camp trek could be a training trekking trip for the Everest base camp. This trek begins from a lower elevation and gradually ascends until 4130m of elevation above sea level.
10 days Annapurna base camp trek starts with a drive to Nayapul and trek to Tikhedhunga or Ulleri on the first day. Then, you keep continuing your trek to Ghorepani, Tadapani, Chhomrong, Himalaya, MBC then Annapurna base camp. After visiting the base camp, you will trek back through the same way until Chhomrong then split left down to Jhinu Danda where you can enjoy with a natural hot spring. After spending the last night of your Annapurna base camp trek in Jhinu, you will trek to Siwai or Nayapul from where you can get driving transportation to Pokhara.
There is Wi-Fi service in most of the places where you stay but they might be a bit slow connections. Using the internet data on this trek is not that good but you can use in some places in lower areas. Also, you need to pay for wi-Fi, batteries charging and hot shower in most of the places where you stay like in the Everest base camp trek.
There are limited lodges on the trek so it can be difficult to get a space to sleep. You need to book in advance in Tadapani and the places when you cross Chhomrong. You will get a private room before Choomrong but you might share a room with other people for about 3 nights on this trek.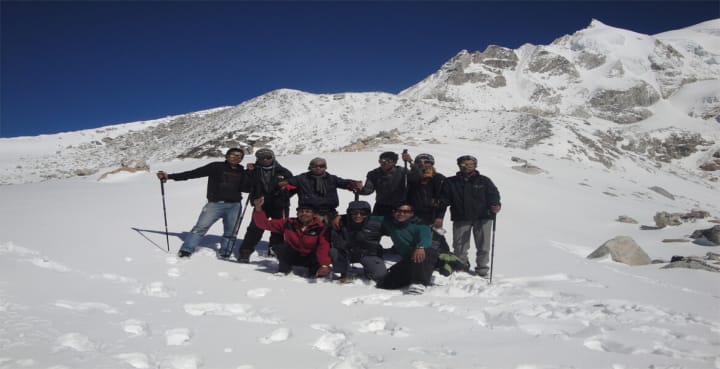 A beautiful adventure trek is the Manaslu circuit trek in Nepal. It is becoming popular nowadays because of the Annapurna circuit trek has road construction. Manaslu circuit trek is a bit similar as Annapurna circuit trek. This a restricted trekking trail in Nepal so you need to issue a special trekking permit from the Nepal immigration office. You also need Annapurna conservation area permit and Manaslu conservation area permit.
You have a high pass on this trek known as Larke La pass 0ver 5100m of elevation. It takes around 9-10 days to reach the pass starting from Sotikhola to trek. This trek leads from Kathmandu with a hillside road on a private or public transport.
You can do this trek in 12 to 16 days which depends you would like to finish. If you would like to trek until Bhulbhule, it takes 16 days and if you would like to drive from Dharapani after the pass, you can finish this trek 12 or 13 days.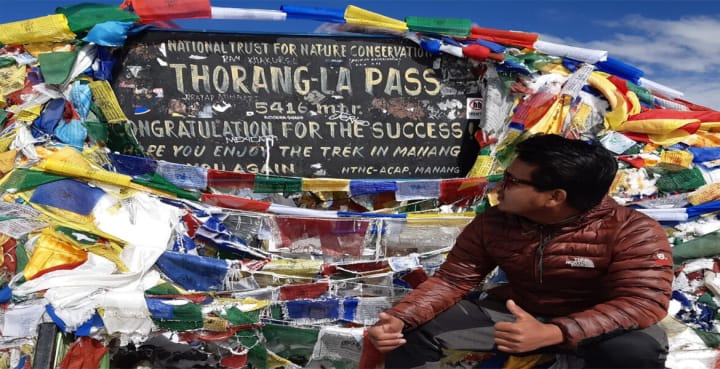 Annapurna circuit trek is an adventure and a long trek in Annapurna region. 16 days trekking itinerary is a full circuit trek and 12 days for a half circuit. Those suggested itineraries were before the road construction and it can be done with a shorter itinerary but staying with a regular one is better to avoid altitude sickness.
Annapurna circuit trek offers different natural beauties each day from its beginning to the end. There are still hundreds of trekkers during high trekking season on this trek. Annapurna circuit trek is also known as around Annapurna trek and Throng La pass trek. Throng La pass (5416m) is the biggest pass in the world with its altitude ascend and descend. You will climb from 4500m to 5416m and descend to 3800m so you can find how the altitude variation occurs in one day trek.
Annapurna circuit trek begins from Kathmandu driving on a public bus or private transport to Bhulbhule and trek around an hour to Ngadi on the first day. After that, you will trek to Chamje, Bagarchhap, Chame, Pisang, Manang, Throng Phedi and cross over the pass. You will reach Mustang after this high pass which is known as high Himalayan desert. If you are for a full circuit trek, you trek down a few days to Nayapul following passing a natural hot spring and Poon hill. But the half circuit trek ends in Pokhara flying from Jomsom.
You can see one world's highest elevated Himalayan Lake Tilicho (4919m) above sea level adding around 2 extra days with regular Annapurna circuit trek itinerary. This is highly recommended if you have time.
It is a lodge trek and there won't be any difficulties to get accommodation. You can use Wi-Fi service everywhere. Batteries charging and hot shower is free mostly except in some places.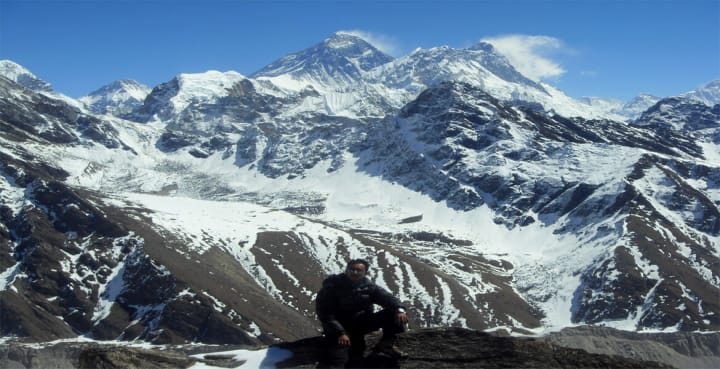 Gokyo lake trek is also known as Gokyo valley trek and Gokyo Ri trek. It is an alternative trek to the Everest base camp. Some people don't care to reach the base camp of the Everest but like to see the best view of the Everest Himalaya. So, Gokyo lake trek could be one of the best options for them.
Gokyo lake trek has fewer crowed compared to the Everest base camp side and the view is even far better from this trek. You can explore with beautiful high Himalayan Gokyo lakes, see the biggest glacier of the Everest region and one of the best view of the entire Everest range.
Gokyo lake trek also starts the same as the Everest base camp with a flight to Lukla. You will stay on the same places until the third night with Everest base camp trail and split left from Sanasa towards Gokyo valley. This trek is also a similar time frame with the base camp. Some trekkers do the base camp and Gokyo combined trek as Cho La pass trek, Renjo La pass trek or Everest 3 passes trek to explore everything that you can see in the Everest region.
Gokyo valley side has a poor connection of cell phone but you still can use the Everest link Wi-Fi top-up card to use the internet. Other services like a lodge, food, batteries charging and shower services are the same as the base camp part.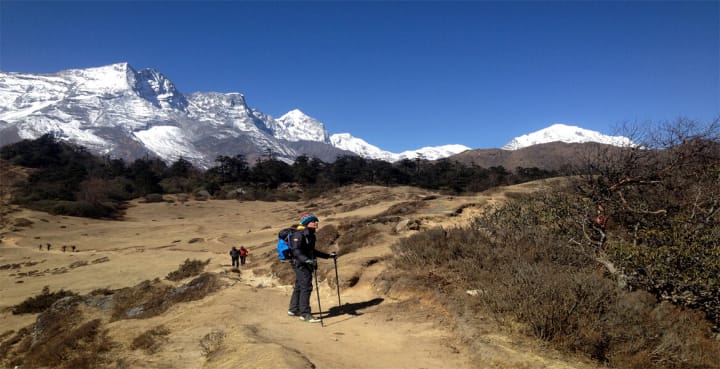 Everest view trek is also popular as Everest panorama trek. It is the shortest available trek in the Everest region. Everest view trek is about one week trek from Kathmandu to Kathmandu. You can do this trek even during winter because you can dare the temperature on this trek. This trek goes up to Tengboche and back.
Everest view trek also begins with aviation to Lukla and trek up to Tengboche. If you don't have enough time for base camp but like to see Mt. Everest from a closer distance, you can do this trek. This is highly recommended for elderly, family and beginners.
The services of this trek are as same as the base camp because it is a half of the Everest base camp trek. Not only the mountains and other natural beauties, but you can also visit an ancient historical Buddhist monastery in Tengboche and join offering with the monks.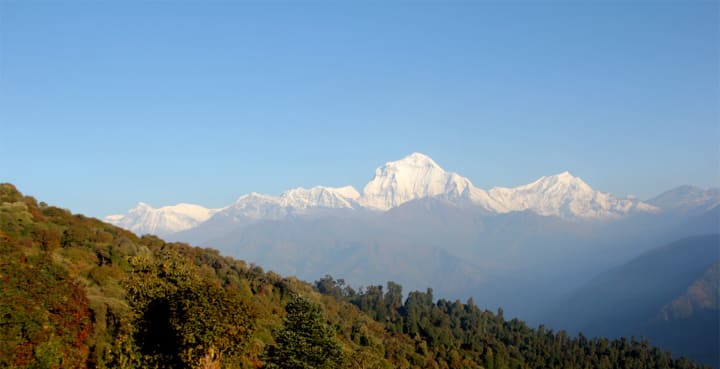 Ghorepani poon hill trek is a fairly popular family trek in Nepal. This trek has even the biggest number of trekkers than other trekking routes in Nepal. Ghorepani Poon hill trek is also known as Poon hill trek, Ghorepani Ghandruk circuit trek or Annapurna panorama trek. This trek is a classic short trek in the Annapurna region.
Ghorepani Poon hill trek can be done with several different itineraries like 2 days to one week according to the time limitation and interest of the visitors. This Poon hill trek begins from the same place where the Annapurna base camp trek takes place. You will drive around an hour to 2 hours from Pokhara by a public or a private transport to Nayapul and trek up to Ghorepani. Some people trek back the same trail if they have limited time but most of the trekkers make circuit going towards Tadapani, Ghandruk and Syauli Bazaar.
You can have internet service, hot showers and plenty of lodges during the trek. The cell phone reception is available in most of the places but it might not be enough signal for internet data every place.
You can do this trek even in winter because the elevation is not very high and won't be unfavourable temperature. Blooming cherry blossom in autumn and blooming rhododendron in spring makes the trail more beautiful. Poon hill is one of the best hill stations from where you can enjoy unblocking sunrise and mountain views like Dhaulagiri and Annapurna massif.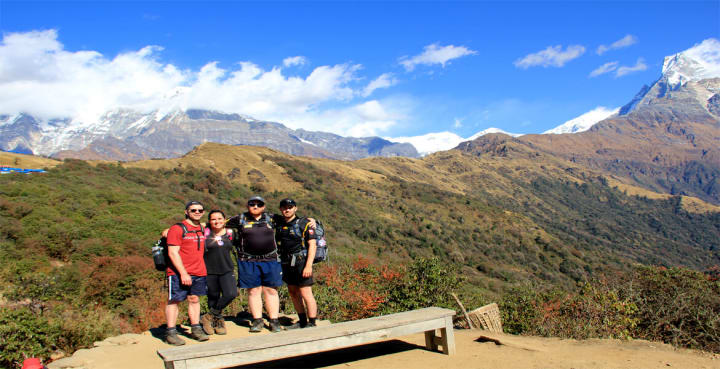 Mardi Himal trek is still not very popular trekking route among external trekkers but it is very popular for the internal trekkers. It is newly opened trekking trail in Annapurna region which even offers the best view of the Annapurna massif.
Mardi Himal trek is a short trek in Annapurna conservation area. This trek can be done in 5 days to one week starting from Kande, Phedi or Siding. The regular itinerary of Mardi Himal trek is driving to Kande with private or public transport and trek to Deurali, Forest camp, low camp, high camp and hike to Mardi Himal base camp and viewpoints.
You can see an amazing view of Annapurna Himalayan range, edges of green hills, Annapurna base camp valley and trail with lots of other natural beauties. There are plenty of lodges in every place to stay. This trek is not recommended in winter but until December from September and April to May are the best timings for this trek. The trail is narrow somewhere in higher area, if there would be snow or ice, the trail could be dangerous.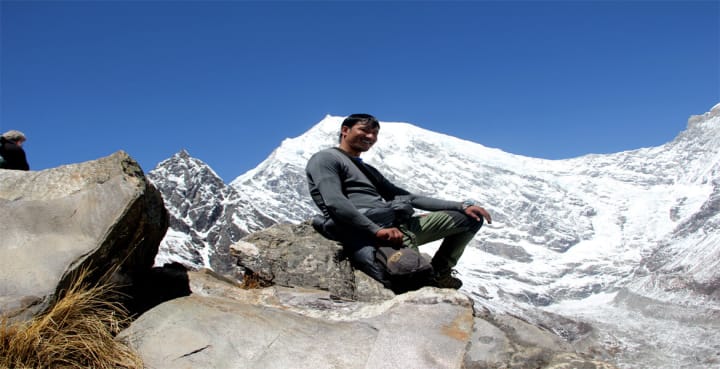 Langtang valley trek is another short and easy trekking trail available in Nepal. This trek can be done in a week to 8 days starting from Kathmandu. Langtang valley trek is the nearest short trek from Kathmandu which takes you very close to the high mountain within a few days.
You will start Langtang valley trek driving on a bus or private transport from Kathmandu to Syabrubesi through the hillside road. The driving hours could take around 7 hrs. You won't walk on the first day after reaching Syabrubesi. After spending a night in Syabru, you will trek to Lama hotel, Langtang village and Kyanjin Gumba. Here, you can have one more free day to explore the region well and trek back the same way to Syabrubesi and drive back to Kathmandu.
Langtang valley trek is located in the Langtang national park. Langtang national park has more than 300 species of the birds so this trek could be the best one for the bird watchers too. This trek can be done even in winter because the maximum elevation where you stay is 3800m above sea level. But, trekking in Summer is not good because there should be a landslide in several places.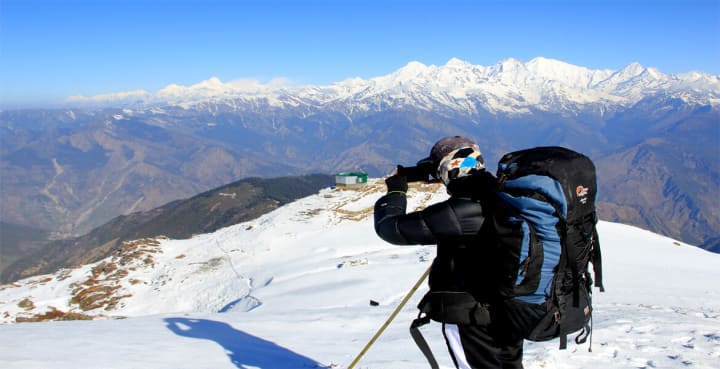 Gosaikunda lake trek is also popular as Gosaikunda frozen lake trek. Gosainkunda is a religious site for the Hindu and Buddhist. There will be a big festival every year in August and thousands of pilgrimages visit Gosainkunda during this festival.
Gosainkunda lake trek is not only for the pilgrimage, but it also offers one of the best views of long-ranged mountains like Annapurna, Ganesh Himal, Langtang, Manaslu and the Tibetan massifs. You will have the best time in Lauribinayak from where you can see these mountain views with the colour of the sunrise and sunset.
There are numerous high Himalayan glacial lakes such as Gosaikunda, Bhairabkunda, Saraswotikunda, Suryakunda and many others. Seeing these lakes nice in colour, you need to go in autumn and December but it will freeze in spring.
Gosaikunda lake trek can be done as combined with Langtang valley trek and Tamang heritage trek. If you have the holiday around 3 weeks or a few days less, you can do combined trek which gives you a very nice experience of the Himalayan trek from Nepal.