Top 10 Free Things to Do in Las Vegas
Free things to do on The Strip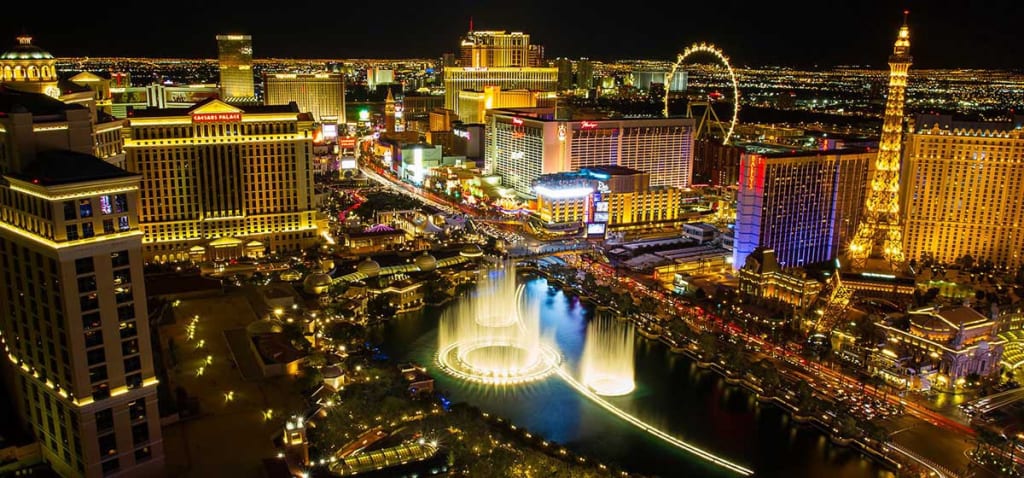 Visiting Las Vegas is very exciting and can be the trip of a lifetime. There are hundreds of amazing things to do on The Strip. There is no doubt you will have fun seeing shows, going to clubs, shopping, and more, until you realize how expensive it can be. I've lived in Las Vegas my entire life and have worked on the strip for over five years. Throughout that time I've learned many ways to have fun without draining my pockets. So without further ado, let's get to the list.
1. Fountains of Bellagio
I know this is an easy one, but it is a must see while you are in Vegas. The fountains of Bellagio is one of the only free shows left on the strip. There is a standard show, but The Bellagio frequently does unique shows where there is a theme. Drake even did a surprise performance at the fountains and if you're lucky enough you might be able to catch a celebrity appearance. There are over one thousand dancing fountains in the water in front of The Bellagio and it is something you can do at almost anytime during the day. The fountains span over 1,000 feet and can shoot water into the air as high as 460 feet. Showtimes range from every 15 to 30 minutes, depending on the time of day. It is best to check The Bellagio's website for specific times.
2. The Welcome to Fabulous Las Vegas Nevada sign
The famous neon sign is not only iconic but it is a Las Vegas landmark. The sign is located just south of the Mandalay Bay on Las Vegas Blvd and has been welcoming tourist for over 60 years! This is a great photo op for you and your friends. There is free parking at the sign but it is limited. It's a good idea to be flexible with your time when planning to go to the sign, because there is usually a line to take photos.
3. "Fall of Atlantis"
If you happen to find yourself in the Forum Shops at Caesar's Palace there is free show that happens every hour from 11AM to 11PM most days. The show is in front of the Cheesecake Factory and showcases a beautiful aquarium with characters, voices, and pyrotechnics. This isn't the show of a lifetime but it is definitely a great free activity.
4. Park MGM
The park is a six acre outdoor area in between the Monte Carlo and the New York-New York and showcases beautiful lights and sculptures. There are two water walls with cascading water that are 100 feet long near the Bliss Dance Sculpture. The Bliss Dance Sculpture is 40 feet tall and is colorfully lit up at night. I would recommend going to the Park in the evening once the lights have turned on. It can be a romantic setting with plenty of food options nearby.
5. The Volcano Show
The Volcano Show is located in front of the Mirage and showcases a lagoon with waterfalls, plants, and a huge rock volcano. The volcano shoots fire into the air while there are sound effects along with a soundtrack. There are only a few showtimes so it is important to check times for the day you plan on seeing this.
6. The Bellagio Conservatory
The Bellagio Conservatory showcases a massive 14,000 square foot glass dome floral wonderland. Every season the arrangement is changed by The Bellagio's team of horticulturists. The best part is that the Conservatory is open 24 hours!
7. ARIA Fine Art Collection
This art collection is located all around the Aria, Vdara, Veer Towers, Mandarin Oriental and the Shops at Crystals. The collection showcases renowned artist's and painter's, art and sculptors. The ARIA has a guide available online to help find the art around the properties and provide a short description of the art piece.
8. Waterfall Atrium and Gardens
The Waterfall Atrium and Gardens is located in The Palazzo at the entrance of the Grand Canal Shops. The multi-story waterfall atrium and garden space is amazing to see year round because the floral landscapes and the art installations are changed seasonally and are unique each time.
9. M&M's World
M&M's world is a great place for families or any chocolate enthusiast. Entrance is free and the M&M's world features five floors of different M&M styled themes . You can take photos with M&M characters for free and they sometimes offer free shows and products. Even if you don't buy anything this is a great place for kids.
10. Fashion Show
The Fashion Show Mall offers free Fashion Shows on the weekends. There is plenty to do in the Mall, as it showcases hundreds of retailers and restaurants. The Fashion Show Mall will do special events, where you can watch movies or sports games for free on their huge displays. It's important to check The Fashion Show Mall's website to see what activities they will be hosting on any given day.
There are even more things to do for free in Las Vegas, but these are must sees. It's important to double check times and availability due to maintenance for the shows. Remember to be resourceful as Las Vegas still can be an inexpensive vacation.