Tips to Make Your Florida Trip as Inexpensive as Possible
Because let's be real, it's a lot of money to spend.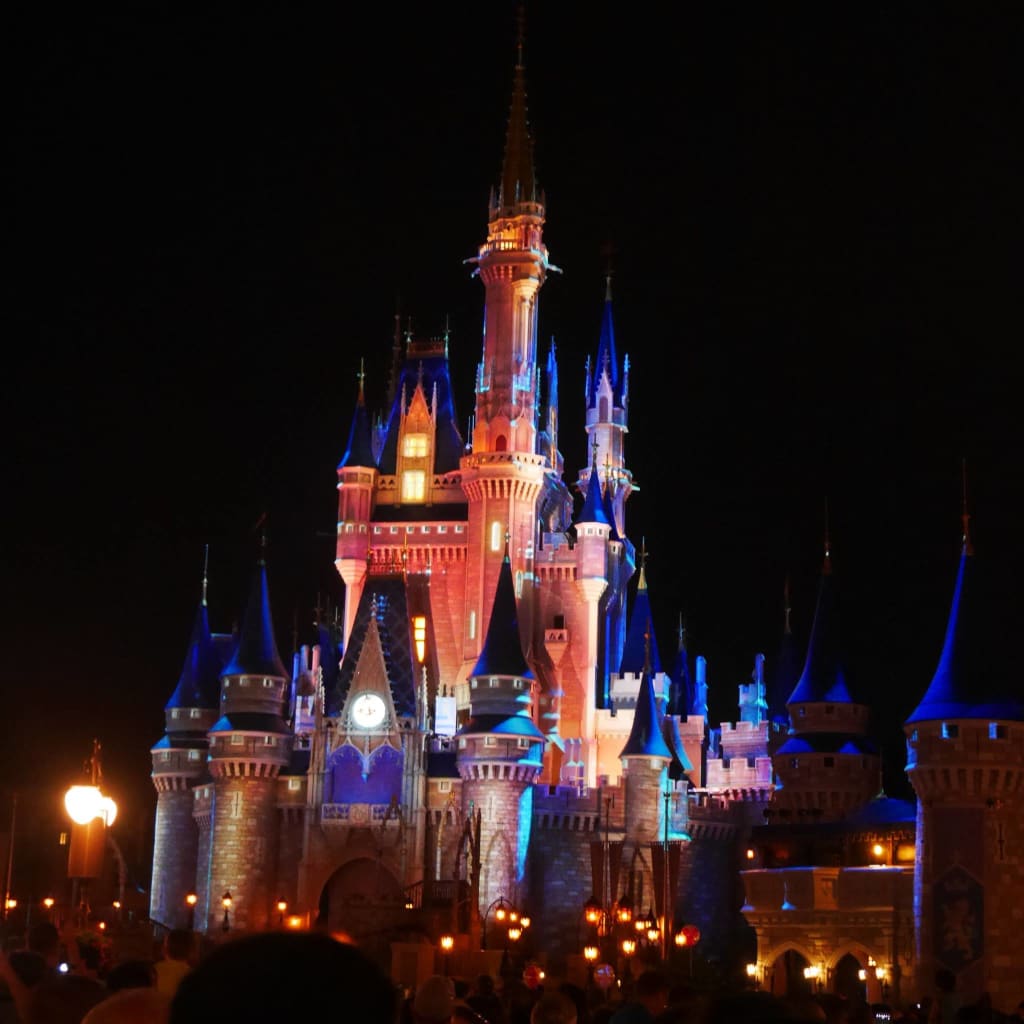 A trip to Florida is always going to be expensive, regardless of the time of year you go, and it's mostly because of the ticket prices, but there are other ways to save money when going to Florida.
Hotels
When we took our first trip to Disney, we were told International drive was the place to stay, and because we had never done this before and were super naive about the size of international drive and Disney, we had wrongly assumed that everything would be pretty close together. International Drive is over eleven miles long, and whilst there is a lot going on around it, we found it wasn't a great place to stay in relation to the parks. We had to get several buses just to get to the gates of DisneyWorld, and it proved expensive. Instead I would recommend staying in Kissimmee, the hotels are cheap, and they often provide free transport to Disney and Universal. We've stayed in the same area of Kissimmee for our last three trips and have found it to be the ideal location in relation to the parks, surrounding restaurants and shops. Furthermore the hotels here, whilst not the best you'll ever stay in, are relatively clean, and nice enough to sleep in, so you're paying very little money for a decent hotel.
If you have the money, I highly recommend spending a few nights in a Disney hotel. We've spent two nights at Disney's Art of Animation Hotel and Coronado Springs. This gave us a chance to go for a dip in the pool during the day, something we don't have time for at our other hotel, and it also gives you access to Disney's extra magic hours where some of the parks open earlier in the morning, and close later at night. This is something that often allows you to get on busier rides with a shorter waiting time. Also if you stay at a Disney Hotel, anything you buy in the shops can be delivered to your hotel, so you don't have to worry about carrying it around the parks. Disney Hotels are separated into three categories which are deluxe, moderate, and value. Your deluxe hotels such as The Grand Floridian and The Contemporary Resort are obviously going to be the most expensive to stay in. Coronado Springs and The Swan and Dolphin Hotel are considered moderate, which means they are less expensive than deluxe. Value resorts such as Pop Century and Art of Animation are considered value hotels, and whilst they are the cheapest of the Disney Hotels, you're still going to be spending a lot of money to stay in them. This is why we recommend staying in the hotels for only a few nights, you get all the benefits of the Disney Hotel, and whilst it's still expensive, it can be worth the money. Another top tip is if you stay in a Disney Hotel for the last two or three nights of your holiday, you can get the Disney Express from your hotel to the airport for free, no need to pay for an airport transfer.
Transport
The area of Kissimmee that we stay in has many hotels that offer free transport to both DisneyWorld and Universal Stuidos, just be wary that these buses can get busy. As stated, these buses are free, but there is an option to tip the driver, which I would encourage you to do. DisneyWorld is actually the size of San Francisco, and could be considered its own city, with its own police and fire stations. Disney has a transportation system of its own. When the free shuttle bus drops you off at the Transportation and Ticket centre you have a wealth of options from that point. If heading to the Magic Kingdom, you can take the bus, ferry, or monorail. Hollywood Studios, Animal Kingdom, the water parks, and the hotels are all accessible through the buses, and Epcot is accessible through the buses and monorail. Be sure to check out Disney Springs for food and shopping, also accessible by bus.
Food
Around the area of Kissimmee that we stay in, there are plenty of cheap and cheerful restaurants such as Denny's, Sizzlers, and CiCi's pizza, and you can often find books of coupon's in the surrounding shops, so don't be afraid to use them. In CiCi's you pay around ten dollars each for all you can eat pizza and refillable drinks. Sizzler's is only around ten dollars for a steak, and you can add on the salad bar for five extra dollars. A salad bar in America includes mac and cheese, taco's and more. Trust me, you'll never struggle to eat in Florida.
Eating in the parks can be super expensive, and its taken a long time for us to perfect our eating routine. The first few times we used to go to a breakfast buffet before getting the bus, however I can't eat that early in the morning, my stomach just can't handle it, so my parents were effectively paying ten dollars for me to sit there and watch them eat. So instead we started buying pastries from the supermarket, which my mum and dad would eat in the morning, and then my sister and I would eat at around 10 AM when our stomachs could handle the food. In the parks we'll find a little place that does chicken dippers or pizza, and my dad will share with me, and my mum with my sister. We usually eat around half three in the afternoon so this will tide us over until a very later dinner. We then eat dinner at one of our cheap and cheerful restaurants in Kissimmee later on a night. It's a system that works for us, but obviously it's important that you find the system that works best for your family.
Disney does offer a dining plan, but since it's not something we've ever done I can't really recommend it. I do however recommend taking your own snacks into the parks as it's a long day, and a packet of crisps (or chips if you're American) is better than nothing.
Parks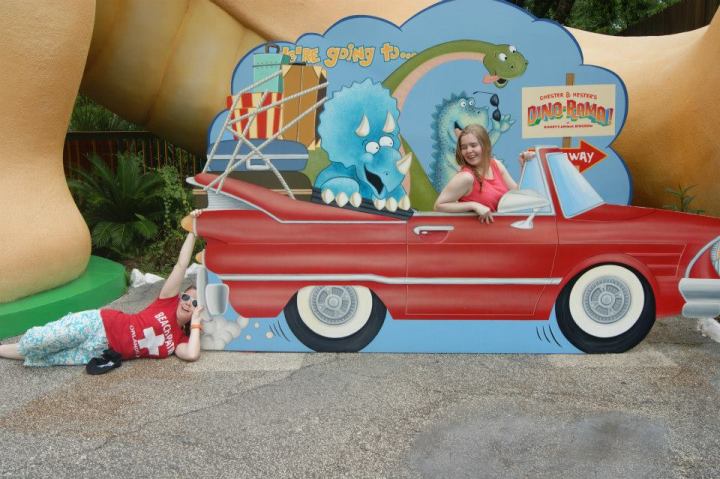 I would certainly recommend buying your park tickets in advance as buying at the parks can often be more expensive. If you shop around online, you're likely to find the cheapest deal, you'll also find that the week-long tickets for parks like DisneyWorld and Universal Studios will only be around twenty dollars cheaper than the two week-long tickets, and so I would recommend just buying the two-week tickets. If you are considering other parks such as Sea World and Bucsh Gardens, I would recommend only spending a day at those parks. They are nowhere near as big as Disney and Universal, and tend to be slightly quieter so you can do them in a day. DisneyWorld is made up of four theme parks and two water parks, Universal Studios has two theme parks and one water park, so make sure when you buy tickets that your ticket includes all the separate theme parks.
Park hopping is when you visit more than one park in a day. This is something that seasoned travelers will be familiar with, as once you get a feel for the parks, you can predict which rides have the longest wait times, and what parks are best to visit on each day. For example you can spend the morning at Magic Kingdom before heading to Animal Kingdom for the afternoon, and then head for the fireworks at Epcot in the evening. This has no effect on your ticket, as it's done by day and not by park, so there's no reason you can't do one of the water parks before hitting up the park.
Something to help with park hopping is the apps that both DisneyWorld and Universal Studios now have. Download the apps to your phone, and they give you information on wait times for rides, let you know when shows start, and when the fireworks are happening. Furthermore you can order food through the apps, so that it's ready for you to pick up. The Disney app allows you to organise your fastpasses for each day of your holiday. Fastpasses can be organised months in advance of your trip, but keep an eye on certain rides, because fastpasses can go quick for certain rides. The weather in Florida can be unpredictable and so the app informs you of any ride closures due to weather or even malfunctions.
So these are my top tips for keeping your Florida trip as inexpensive as possible, it's a lot of money to spend, but it's also given my family so many memories, and at the end of the day we never remember how much money we spent, we remember the moments we had together as a family.