Through the eyes of a Traveler
Hutangs in Beijing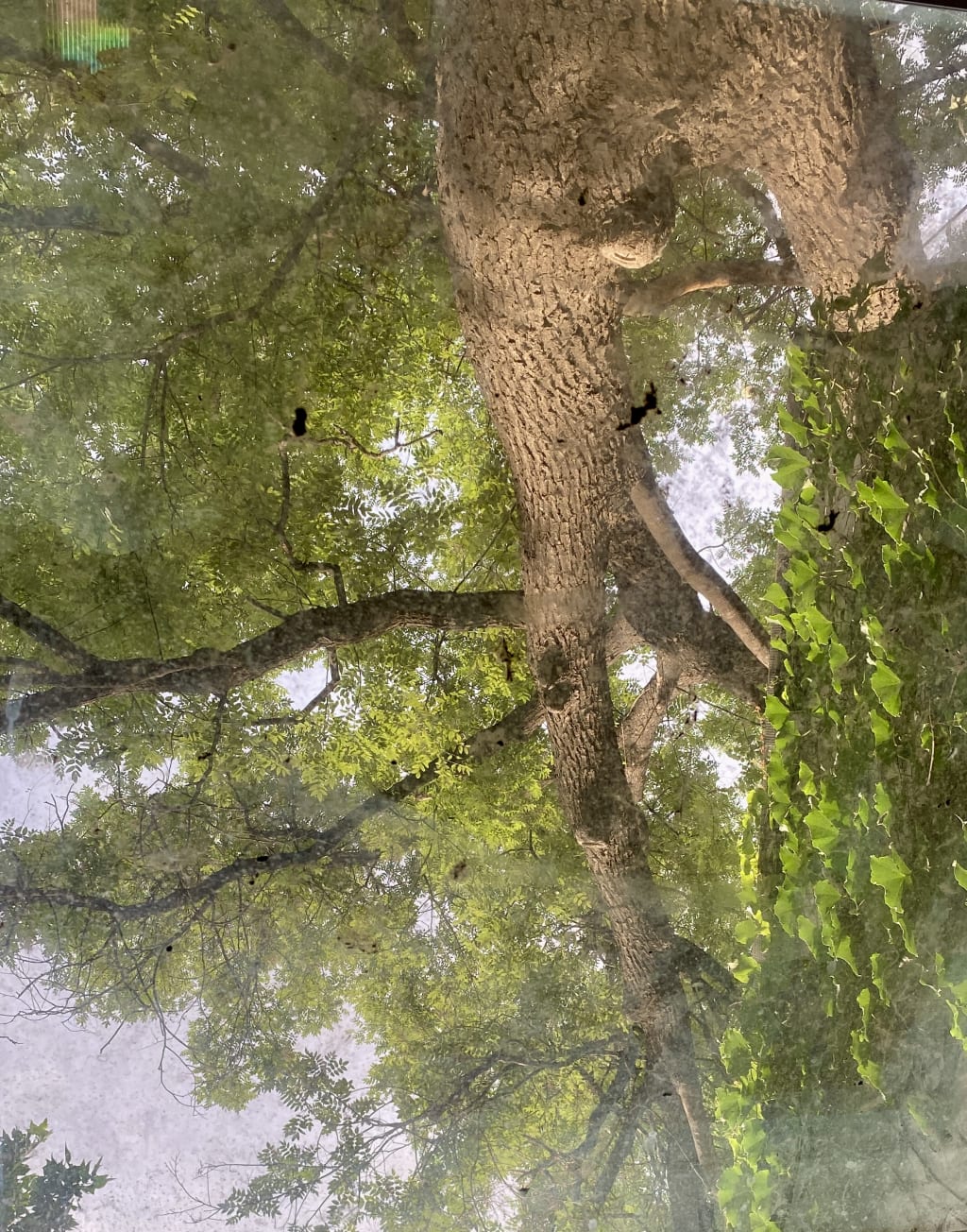 The view from my sky light window at dawn
The Beijing I saw nearly 20 years ago had a lot of old shops, cramped malls, stores crammed with clothes and goods, and bargaining was a must. The Beijing I live in now is very modern, has more high end stores in each mall then I've seen in my entire life to this point. There is a thriving middle class, and they can afford some luxuries. But I have been missing the tiny shops in the old hutangs. So I had a staycation in the hutangs, and it was wonderful.
I went to stay at a small hotel called the Orchid, which accepts foreign guests, and welcomes us. Just so you're aware, not all hotels accept foreign guests because they don't have the required accommodations or registration authorizations. When I was dropped off at the end of the Baochao hutang, the pavement was all torn up, and small backhoes and caterpillars were being used to push rubble and dirt and old pavement away. It was a dirt road, basically. I walked to the hotel and checked in, and was given a little room with a skylight window above the wonderful, soft bed. I have been sleeping on a hard mattress for the last few months, and the soft bed was heavenly. Then a friend from high school who happened to be in Beijing made her way to me, and we had dinner together. My 17 year old self would never have conceived of that idea!
The next morning, I made my way out past at least a dozen trucks full of blacktop material ready to lay the new road, and walked to the bell and drum towers. I waited to buy a ticket to enter, but no one opened the window to sell the tickets, so I walked away after 45 minutes. But in that time I watched people playing mean games of Chinese hacky sack with the feathered Jianzi kick shuttlecock, and a large group of adults that stood or danced and spun large wide ribbons, a few of them decorated to resemble dragons. It was colorful and great to watch. After that I walked and walked and walked through narrow hutangs, into little shops, through a few beautiful parks and to a very welcome ice cream stand. I walked past the llama temple and Confucius university, under ancient gates beautifully decorated, still standing beside the university in the now busy hutang. It was hot, and very crowded but I enjoyed it tremendously. I didn't buy anything but a bonnet to shade my face and an ice cream cone.
Then I made it back to the hotel along the now paved hutang where I watched men unload piles of stacked bricks and dirt so that they could replace the sidewalks. They don't lay anything under the bricks. They smooth the dirt, and pack the bricks together tightly using a rubber mallet. Hard labor done with amazing speed and expertise.
I decided I needed a massage, and the front desk of The Orchid recommended a place called Bodhi massage, and it was just what I needed. I hailed a Didi to get there, and another Didi to take me back to the hotel. The latter did something the other's didn't do...he drove along the narrow hutangs, some of which are just barely wide enough for a car to fit through. The road that met my newly paved road was still stripped down to dirt and the man hole covers stuck up above the dirt, making it a rough ride, but he was doing okay. Then he came up to a scooter parked on the side of the road and he stopped the car. He wanted me to get out and guide him through the tiny space, and so I clambered around the scooter and guided him slowly, by inches, to the left or right until he was clear of the scooter and the wall. There was an old woman resident who stood in a door way and laughed at us. The Didi driver was so relieved that he laughed too. We turned the corner onto the fresh blacktop and made it to the hotel.
I woke the next morning to the beautiful light on the tree above me, had breakfast and played with the two cats that live at the hotel. I have missed animals a lot, and it was great to have a lounging black cat next to me. I bought some bread from the bakery on site, then hired a Didi driver to take me back to the resort housing. I splurged on Didi rides. I usually take the metro.
I don't know how to explain what it meant to be in a place with a big old tree, and rooms built of wooden beams and bricks from who knows how long ago. It felt lived in and wonderful. The farm girl in me sighed deeply.
Tonight I am staying quiet, writing, doing laundry and preparing for the week ahead.
About the Creator
I am a singer, a story teller on stage and in print, and a lover of family and nature.
Reader insights
Be the first to share your insights about this piece.
Add your insights