London is a little bit crazy, and there are always new and exciting things. You always have something to do, any day or any time of the year and to any taste.
This is the time to find out some crazy, funny and fascinating things that happen Only in London.
London is, or at least one of, the most diverse city on the planet.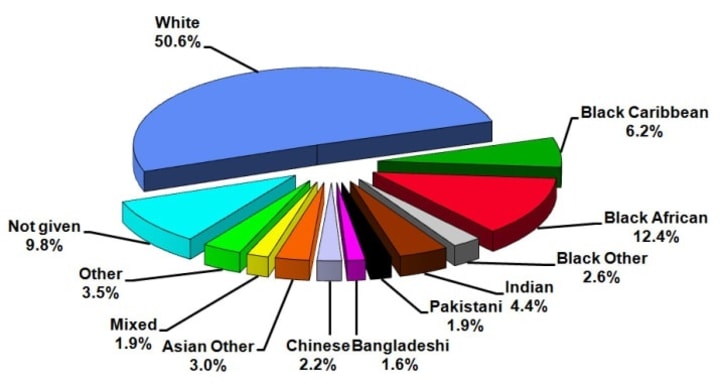 London is a genuinely diverse place to be. Of all the places I have been to, London has the most variety of restaurants, shopping, (free) museums, entertainment choices, arts, architecture, history etc. you can imagine.
We speak over 300 different languages in London.
A benefit of this diversity is that there is always something good to eat.
London has a FREE newspaper in the morning and evening!
Metro and City AM are free, Monday to Friday morning newspapers delivered at Tube stations. Metro is available nationwide, while City AM is London only, with more of an emphasis on finance and the city.
The Evening Standard follows most Londoners in the evening and is distributed at tube stations from 4 pm, Monday through Friday. Look out for the ES Magazine, which comes with the paper on a Friday and features lots of lifestyle reading for the London-centric weekend.
The variety of museums London has to offer is unequalled by any city I have visited.
Everything from antiques to medical curiosities to toys, transport, war and science. Best of all, 90% of these are FREE!
There are so many exciting things happening all the time; you would need several clones of yourself to enjoy everything that London as to offer per day!
London's 'tube' and bus system
It allows residents and visitors to get from one place to another without ever needing to own a car.
Perhaps one of the most distinctive things happening in London is a common refusal of acknowledging the presence of any other human being.
Let me be more specific.
Say you enter a building, or a lift, or any other confined space. General primary social practice suggests you will likely acknowledge any other person in that space, whether by brief eye-contact, a raised eyebrow, or even verbally like "hello".
There is one place where none of these practices apply.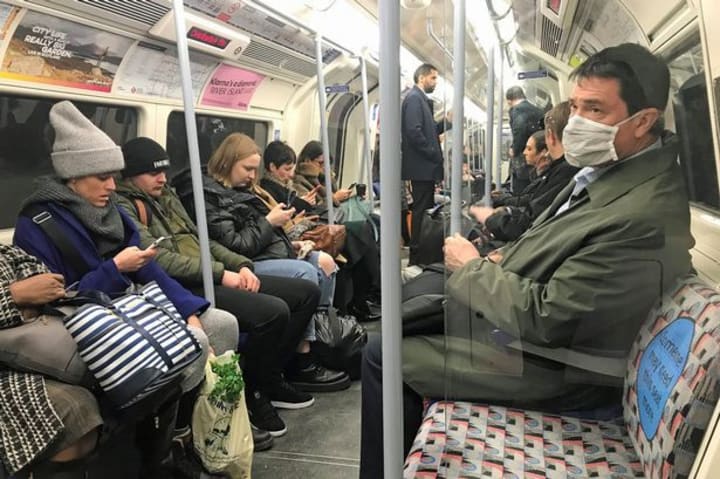 This is a relatively empty Tube carriage.
The astounding thing is if you look at this photo, everyone appears to have succeeded in finding a spot to stare, which doesn't require accidentally locking eyes with another person. More often than not, they've managed to find a place that doesn't include even accidentally glimpsing another human being.
Far more unbelievable is I bet that every single person in that same photo saw me getting my camera out an instead of acknowledging my presence they all decided to ignore my existence.
The other thing to notice is that the carriage was completely quiet except for the engine noise. There wasn't a single word spoken. Usually, anyone that makes a vocal sound will be heard (but never looked at) and then secretly despised by everyone else on the carriage.This happens even if the Tube is rammed and you find yourself becoming more intimately acquainted with the peculiarities of someone else's body than you would reasonably expect without having been bought dinner first.
Similarly, anyone in fancy dress or a purposefully attention-seeking outfit will also be hated - mainly if it's for a publicity stunt. You don't get buskers on the Tube as you do in other urban metros, because the police would never be able to solve their inevitable murder on the basis that every person on the Tube would be a plausible suspect.
The single quickest way anyone could start mass panic in London is to wander idly between Tube trains, looking at people and talking to them. You would bring the city to its knees, and people would flee the Tube.
The only time people acknowledge the existence of each other on the Tube is when they are collectively in danger.
However, only in London we have Spartans patrolling streets and underground as a drastic anti-terror measure. lol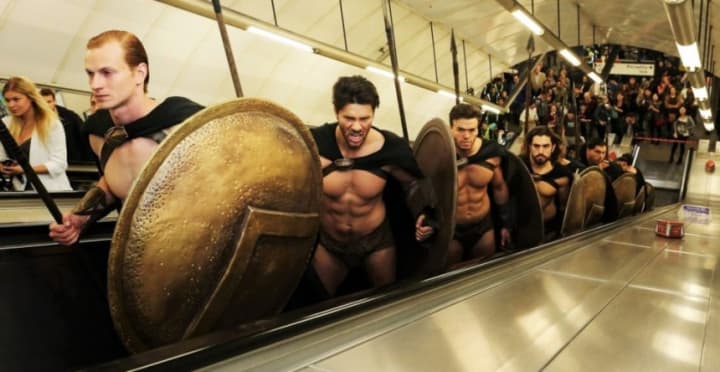 Another thing that happens Only in London, perhaps because the good weather is a rare event more than the norm, is that Londoners find any excuse to go around pants off.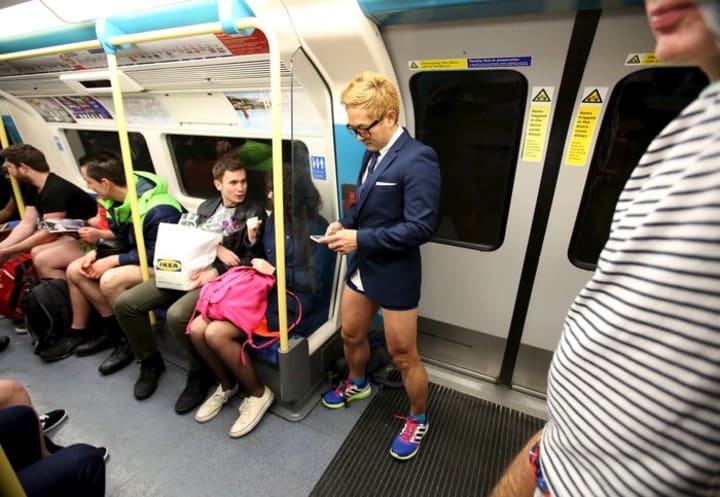 Alright, that is not really pants off. But this is:
A man went for a stroll in central London wearing only a mask.
Perhaps badly understanding the Government's newest coronavirus measures, he made sure to wear a mask but put it in the wrong place while walking on Oxford Street.
Only in London, you can spot a Great Dane perching itself pretty comfortably, while travelling on the Central line.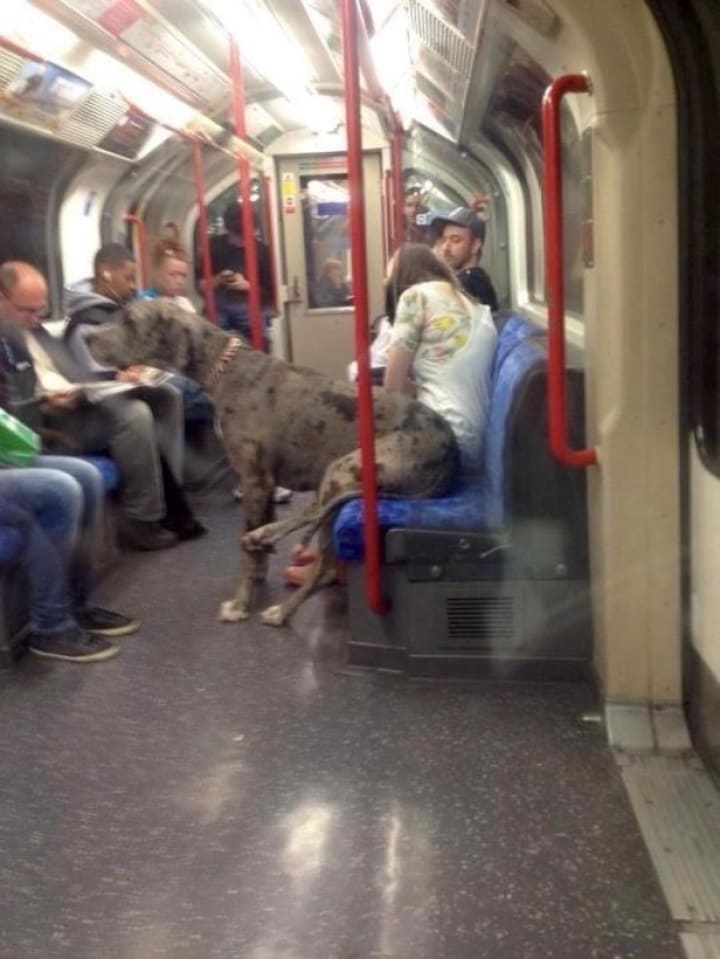 London knows how to throw a party.
There is no doubt about that. Any occasion, anytime or anywhere. It doesn't matter what is happening around us. (We just drink through the pain).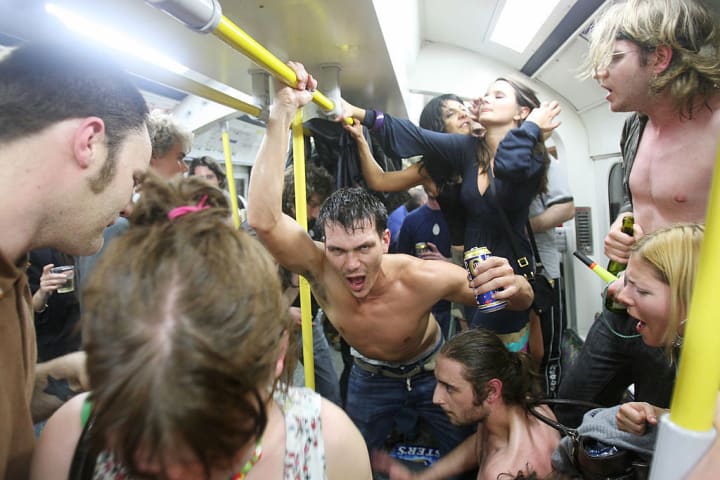 When you think you have seen it all….. Think again…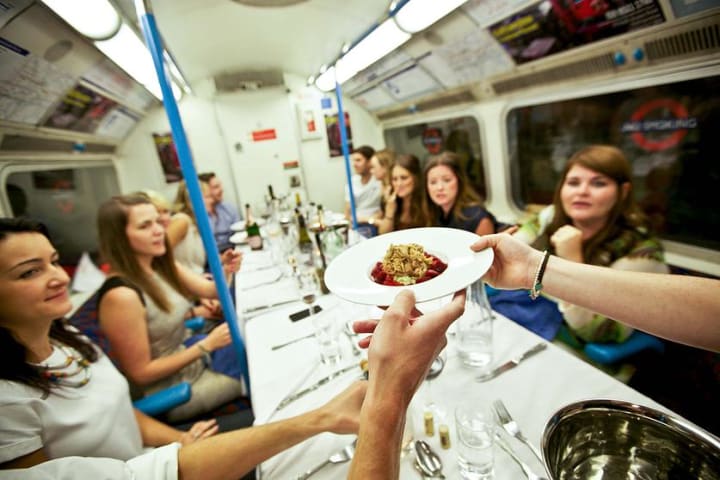 You might also like: