Things to Do, Eat, and See in Kenosha, Wisconsin
It really is an amazing place.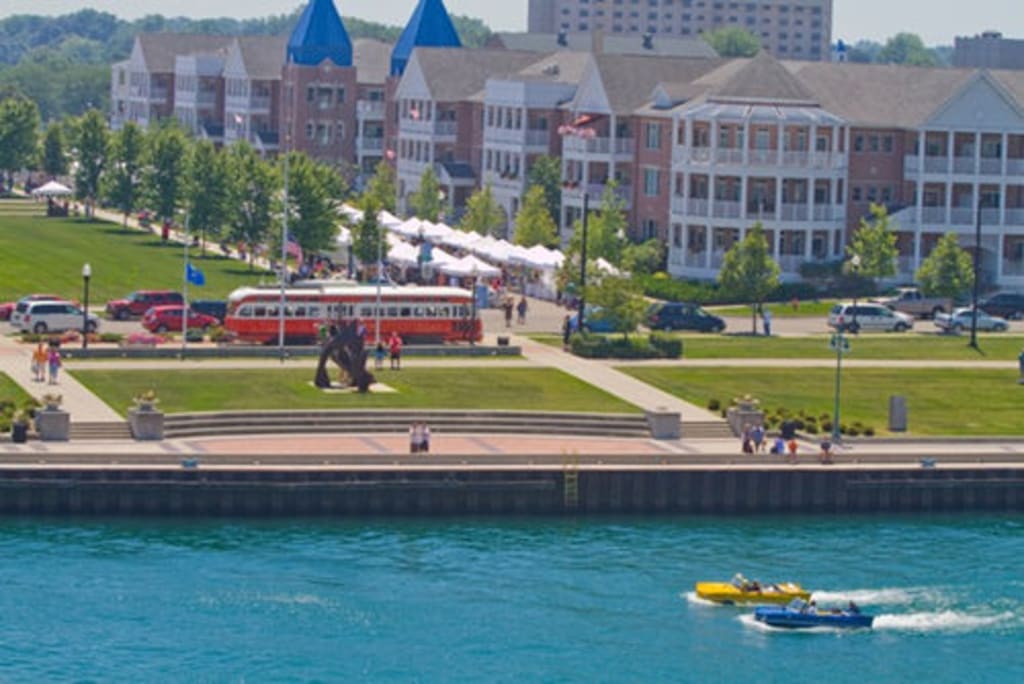 Some of you who are reading this might be thinking, "Kenosha? Why is she writing about Kenosha? Why doesn't she write about a cooler city, like Chicago or something?"
First of all, I agree, Chicago is a very cool city (I want to write about it in the future). Second of all, Kenosha is just as cool in its own way. Sure, it's not a big metropolitan city... but it's situated right on Lake Michigan and is home to a ton of mom and pop shops, so it's perfect. And, as someone who has lived here for the past four years for college, I'd like to think that I know the ins-and-outs of this city.
One thing that makes Kenosha such a great city is that it is halfway between two major Midwestern cities: Milwaukee is about a 45-minute drive to the north, and Chicago about an hour to the south. So, it was always super easy for me to take a day-trip to either city.
What to Do
As stated previously, Kenosha is located right on the shore of Lake Michigan, so one of the best things you can do in Kenosha is just spend time by the lake! There are a few different sandy beaches in Kenosha, but my favorite thing to do is walk down the pier—you'll recognize it because of its iconic lighthouse. Not only is it a beautiful walk (especially at sunrise or sunset), but it's also a fun place to picnic or just hang out with friends. It's also right near downtown Kenosha, so there's a ton of restaurants and such within a walkable distance.
If you want to get away from the lake for a bit, but still want to be outdoors, you should definitely check out Petrifying Springs Park. There are wooded trails for hiking and walking, an 18-hole golf course, a playground, and a picnic area. In my experience, it's not usually super busy, so it's nice if you just want some quiet time with nature.
If museums are your thing, there are three in Kenosha: the Kenosha Public Museum, the Dinosaur Discovery Museum, and the Civil War Museum. All three are very interesting, and a fun way to spend the day! The Public Museum has natural science and art exhibits, the Dinosaur Discovery Museum has a ton of cool dinosaur artifacts and exhibits, and the Civil War Museum has exhibits focused on local soldiers.
What to Eat
I think Kenosha has a great variety of restaurant options. But, let's start out with some of my favorite places: coffee shops. Don't get me wrong, I love Starbucks, but Kenosha has some great local coffee shops that—in my opinion—give Starbucks a run for its money.
My favorite coffee shop in Kenosha has to be The Buzz, although, I'm not sure if it is technically a "coffee shop" because they also sell breakfast sandwiches, lunch sandwiches, salads, beer... and a ton of other things. However, I think they're best known around Kenosha for their coffee, so I'll call it a coffee shop. Anyway, it's my favorite because they have a ton of coffee and tea beverages that seem to be exclusive to The Buzz. My personal go-to is the "honey-bee" latte. Not too bitter, but also not too sweet, and when it's made just right it's the perfect combination of espresso and honey. My second go-to drink is the peanut butter cup latte—it tastes just as amazing as it sounds.
A very close second to The Buzz is Common Grounds. Common Grounds gets extra points because they are right on the lakefront, and they have an outdoor patio so you can drink your coffee and enjoy the lake at the same time. They have a very intimate and cozy atmosphere, and an extra room right off the main cafe that is 13+ only if you need/want an area that is a bit quieter. They have a lot of different syrups if you like flavored drinks—my favorite is either almond or Irish cream.
If coffee's not your thing, or you want to expand your horizons, there are also a lot of amazing and inexpensive restaurants in Kenosha. Possibly the most popular restaurant in the area is La Fogata (and it was right down the road from my college, so that was a plus). It's a Mexican restaurant with an authentic feel, and the best margaritas. I usually go there for happy hour (2:30-5:30) and get a 16 oz. margarita (or two) for $5 each, two little tacos for $2 each, and queso dip for $4. I go to La Fogata way too often...
Another fantastic restaurant in Kenosha is Waterfront Warehouse, which is actually right next door to La Fogata. They serve typical American dishes, such as burgers, sandwiches, and salads. They also have really great cocktails. I also love the ambiance of this restaurant - true to its name, it feels like you're inside of a brick warehouse.
One of my other favorite restaurants actually isn't technically in Kenosha—it's actually in Pleasant Prairie, which is just south of Kenosha. It's called Cheddar's Scratch Kitchen, and it's a chain restaurant with about 165 locations throughout the United States. I had never heard of it prior to moving to Kenosha. They have a massive menu with a great variety of food—pastas, sandwiches, chicken, fish... and it is super affordable. They also have huge cocktails that are about $5 or $6 each. Now I'm starting to crave Cheddar's...
What to See
I suppose part of this section could go hand-in-hand with the "What to do?" section...oh well.
Anyway, Kenosha's main attraction is Lake Michigan. You've got to watch either the sunrise or the sunset over the lake (or both). My favorite place to do this is either by the lighthouse, at one of the beaches along Sheridan Road, or on Carthage's campus.
Speaking of Carthage, it's a beautiful campus. So, you should also go see that. :) It's a small campus, there's one main road that goes right through, and it offers really great views of Lake Michigan. Maybe it's my own personal bias and nostalgia talking, but I think taking a walk through Carthage's campus is definitely worth your time.
Well, there ya have it. If you ever happen to be in the area, spend a day or two in Kenosha. It really is a hidden gem, and it has a lot to offer. :)
(P.S. Did you like reading this article? Please consider leaving me a small tip to help support me as a writer. :) Thanks for reading!)

Amanda Nowak
Hi everyone! My name is Amanda, and I just graduated from college this past May with a Bachelor of Arts degree in English with an emphasis in creative writing. My passions include travel, animals, fashion, food, and (of course) writing!
See all posts by Amanda Nowak →