There's Something Fishy About The Countryside?
The Backgarden Survivalists, Chapter 3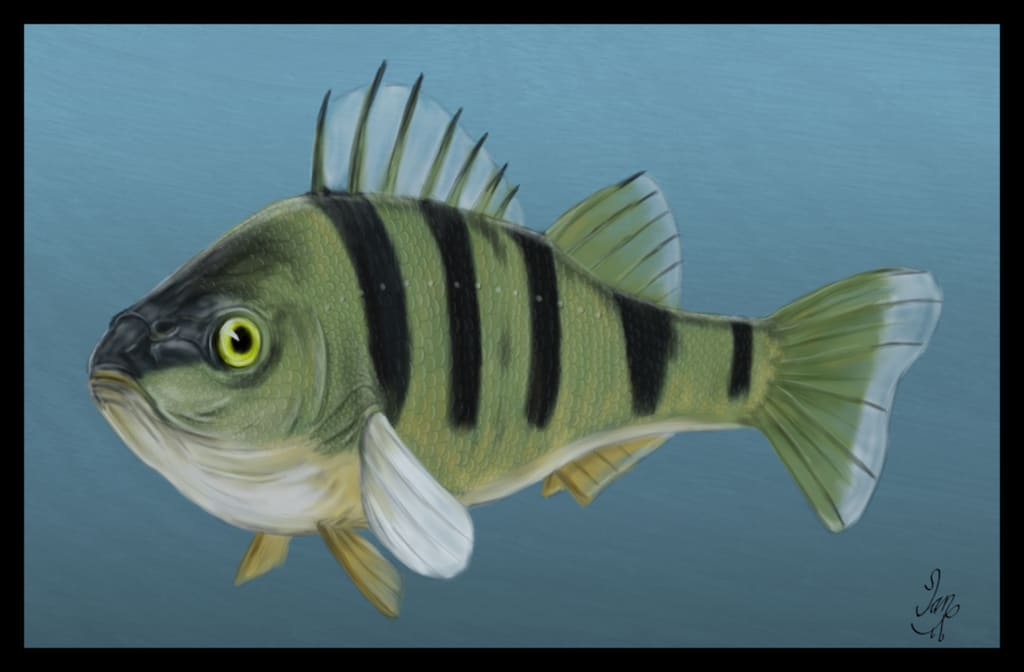 "City life was gettin' us down
So we spent the weekend out of town
Pitched the tent on the patch of ground
Down by the river"
The lyrics above are from a 1970's hit song called "Down By The River" by Albert Hammond. The song popped into my head some time ago when Ian and I were walking in a forest nearby, down by a small stream. I moved to the countryside, from a city with a bit less than a half a million inhabitants, around seven months ago. Being originally from a rural region, I'm well aware that the countryside is not necessarily always that kind of a pristine paradise as it is quite often thought to be, and depicted in art, literature and media. Still, I couldn't help feeling slightly shocked and surprised when I saw how dirty and fouled that little stream was. And it is not the only place around here that suffers from pollution. Unfortunately, ignorance, laziness and greed can be found everywhere (and in everyone, in my opinion). The studies show that in some cases, rural areas might actually be even more polluted these days than their urban neighbours, at least when it comes to air quality.
Anyway, the song goes on:
"Didn't feel too good all night
So we took a walk in the morning light
And came across the strangest sight
Down by the river
Silver fish lay on its side
It was washed up by the early tide
I wonder how it died?
Down by the river"
Sadly, this part of the song sounds depressingly familiar too. That day we were walking by that little brook we were actually on our way to do some fishing. We enjoyed a beautiful, sunny day and the closeness of (sort of) wild nature. However, catching fish proved to be quite a tricky business. This was mostly due to the fact that we were a bit poorly prepared for our first fishing trip together in Northern Ireland, but we also spotted a few dead young-looking fish lying in the bottom of the lake which indicates that the fish populations are not necessarily doing that well in this area. Who knows what killed those poor baby fish?
Despite this sad and disconcerting find, we kept on fishing and managed to catch three relatively big roaches that day. Only one more fish would have been welcome since over here, the maximum number of fish one is allowed to catch per day, is four. That is fairly understandable as overfishing has been a considerable problem in Northern Irish lakes until quite recently. On the other hand, in sparsely populated Finland, where I'm originally from, that kind of restrictions don't exist. Angling is allowed in most of the lakes, rivers and sea areas, and you don't need to buy a special permit or licence for that. Catching roaches is actually encouraged over there since it can help mitigate eutrophication: removing fish also removes excess nutrients.
It probably goes without saying that, in case you or your family members, two-legged and four-legged alike, are pescavore, you'll be more self-reliant and at least a bit less dependent on external circumstances - such as fluctuating prices and import problems - if you're able to fish yourself. As cat owners we've found that self-caught fish is for many reasons quite a good and smart way to feed your feline friends. First of all, it's cheaper than industrially produced kibbles and jellies. It is also much more ecological: industrial pet food is estimated to be responsible for a quarter of the environmental impacts of meat production. Cats are sworn carnivores which means the problem really cannot be fully solved by sowing catnip, cat thyme and cat grass in your garden.
Needless to say, self-caught fish is an excellent choice also for people who enjoy fish dishes as wild fish is usually much healthier than farmed fish. For example salmon and trout can be packed with loads of harmful chemical contaminants, such as PCBs (polychlorinated biphenyls), dioxins, pesticides and synthetic astaxanthin. Wild fish also contains less fat. Moreover, coarse fishing is a relatively sustainable way to obtain food. Overfishing, the most urgent threat to our oceans these days, often goes hand in hand with wasteful types of commercial fishing that haul in huge amounts of unwanted fish and other animals, which are then thrown away. As a result, the global fish stocks are decreasing at alarming rates. The oceans might run out of fish in just a couple of decades. Then, perhaps a bit paradoxically, coarse fishing might contribute to a world where a silver fish lying on its side (or a white clean skull of an otter, also mentioned in Hammond's song) would be a relatively rare sight.
But what about the ethical side of fishing, one might now ask. Is it justified to take the poor creature's life, even if that act would be beneficial for the whole ecosystem? As biologist Marc Bekoff puts it in his book called "Animals Matter", slogans like 'gone fishin' and 'gone huntin' actually mean 'gone killing'. We think that this is definitely a valid point and shouldn't be ignored. There are also many other moral questions associated with fishing (and killing animals in general). The subject of the ethics of hunting is extremely complex and requires a thorough examination. Thus, I will return to this topic in more depth in later posts.
Those who find killing an animal inevitably immoral but still enjoy fishing trips and their unique atmosphere, can always try a practice called 'catch and release'. Literally, it means that a fish is first caught and then released back to water, alive and uninjured. (However, some people think that also this technique is morally problematic.) Our experience is that fishing can be great fun and immensely refreshing even if you don't manage to catch any fish. As American author Zane Grey once wrote, "If I fished only to capture fish, my fishing trips would have ended long ago."
Anyway, whether you're going to keep the fish or let it go, the main purpose of a fishing trip tends to be attempting to catch fish. What we've come to realize, is that catching fish is a skill of its own - and I have to admit that we are not mastering it yet. However, there are some things we have already learnt. In the following, I'll share a bit of knowledge that our short experience as amateur piscators has provided us.
As angling is our fishing method of choice (you know, the very simple one with just a rod, a line, a float, a weight and a hook), we are mainly trying to catch relatively small fish, such as perch and roach. It seems that sweetcorn and small pieces of bread work rather nicely as a bait, especially if your goal is to catch roaches. In case you're after perch, worms and maggots may be a better choice. Actually, pretty much any type of food that has gone off could get a new life as a fishing bait - it's just a matter of trying. We have noticed that early morning is usually quite a good time to go angling as fish seem to be more active during the dawn. The lake nearby where we usually go fishing is also much more peaceful in the early hours when the jetskis, motor boats and their owners haven't activated yet. Nevertheless, here in Northern Ireland the angling season is probably over now in October as water in the lakes has grown colder and the fish have moved to the deeper parts of the lakes. My more or less wild guess is that May or June might be a good time to start fishing again over here.
It seems, then, that there is some waiting to do. However, patience is an important virtue for an angler. That's what our fishing trips have taught us. It might even be the most valuable lesson we have learned during those early morning hours, standing on a slippery jetty next to an empty bucket, holding a rod with cold, trembling hands, probably looking like an utter fool.
- Ian and Saara
* * * * *
Kaupunkiin kun masentuu,
niin sitä tahtoo tuuliin raikkaisiin.
Matkaan vain, ja me löydettiin
varrelle virran."
Sanoitus yllä on Kirkan 1970-luvun hittikappaleesta "Varrella virran" (sanoitus Pertti Reposen, alkuperäisversion esitti brittiläinen Albert Hammond). Laulu pulpahti mieleeni jokin aika sitten ollessani Ianin kanssa kävelyllä läheisessä metsässä, pienen puron varrella. Muutin maalle suunnilleen seitsemän kuukautta sitten, kaupungista, jonka asukasluku on lähellä puolta miljoonaa. Maalaismaisemissa kasvaneena tiedän hyvin, ettei maaseutu välttämättä aina ole sellainen turmeltumaton paratiisi, jollaiseksi se usein ajatellaan, ja taiteessa, kirjallisuudessa sekä mediassa kuvataan. Siltikään en voinut olla tuntematta lievää järkytystä ja yllättyneisyyttä, kun huomasin, miten siivoton ja likaantunut tuo pieni puro oli. Eikä se suinkaan ole ainoa saastunut paikka näillä main. Valitettavasti välinpitämättömyyttä, laiskuutta ja ahneutta on löydettävissä kaikkialta (ja kaikista, minun nähdäkseni). Tutkimusten mukaan maaseutualueet saattavat joissain tapauksissa olla nykyään jopa urbaaneja ympäristöjä saastuneempia, ainakin mitä ilmanlaatuun tulee.
Joka tapauksessa, laulu jatkuu:
"Yöllä outoon tunteeseen
sitten herättiin, teit meille teet.
Mä lähdin rantaan uudelleen,
varrelle virran.
Kalan kuolleen silloin näin,
kun rantaan seisomaan mä jäin.
Syitä pohdin mielessäin,
varrella virran."
Surullista kyllä, nämäkin säkeet kuulostavat masentavan tutuilta. Tuona päivänä, kävellessämme pitkin puron vartta, olimme oikeastaan menossa kalaan. Nautimme kauniista, aurinkoisesta säästä ja (jokseenkin) villin luonnon läheisyydestä. Itse kalanpyynti tosin osoittautui suhteellisen haastavaksi hommaksi, mikä johtui enimmäkseen siitä, että olimme varustautuneet hieman puutteellisesti ensimmäiseen yhteiseen kalareissuumme Pohjois-Irlannissa. Huomasimme kuitenkin myös järven pohjassa lojuvan muutamia nuoren oloisia, kuolleita kaloja, mikä saattaa kieliä siitä, etteivät kalapopulaatiot ehkä voi kovinkaan hyvin tällä seudulla. Mikä lie tappanut nuo kalanpoikasparat?
Tästä surullisesta ja hämmentävästä löydöstä huolimatta jatkoimme kalanpyyntiä ja onnistuimme saamaan kolme isohkoa särkeä. Vielä yksi kala olisi ollut tervetullut: täällä yhden päivän aikana saa pyytää enintään neljä kalaa. Sääntö on varsin ymmärrettävä, sillä liikakalastus on ollut huomattava ongelma pohjoisirlantilaisissa järvissä aina viime aikoihin asti. Toisaalta harvaanasutussa Suomessa, josta itse olen kotoisin, tuollaisia rajoituksia ei tunneta. Onkiminen on sallittua useimmissa järvissä, joissa ja merialueilla, eikä sitä varten tarvitse hankkia erillistä lupaa. Suomessa särjenpyyntiin jopa kannustetaan, sillä siten voidaan vähentää vesistöjen rehevöitymistä: saaliin mukana poistuu vesistä myös liiallisia ravinteita.
Lienee sanomattakin selvää, että jos sinä tai muut talouteesi kuuluvat, niin kaksi- kuin nelijalkaisetkin, syötte kalaa, mahdollisuus kalastaa itse tekee teistä omavaraisempia ja ainakin pikkuisen vähemmän riippuvaisia ulkoisista olosuhteista, kuten hintojen heilahteluista ja tuontivaikeuksista. Kissanomistajina olemme huomanneet, että itse pyydetty kala on monestakin syystä oikein hyvää ja järkevää ruokaa pörröisille tovereillemme. Se on ensinnäkin edullisempaa kuin teollisesti tuotetut raksut ja annospussit. Itse pyydetty kala on myös ekologisesti paljon kestävämpi vaihtoehto: teollisen lemmikkieläinten ruoan valmistuksen arvioidaan olevan vastuussa noin neljäsosasta lihantuotannon ympäristövaikutuksia. Kissat ovat vannoutuneita lihansyöjiä, mistä johtuen ongelma ei ole ainakaan täysin ratkaistavissa istuttamalla kasvimaalle kissanminttua, timjamia tai kissanruohoa.
Itse pyydetty kala on luonnollisesti erinomaista ravintoa myös kalaruoista pitäville ihmisille, onhan villikala yleensä paljon terveellisempää kuin viljelty kala. Esimerkiksi kasvatettu lohi ja taimen voivat olla täynnään vahingollisia kemikaaleja, kuten PCB:itä (polykloorattuja bifenyylejä), dioksiineja, torjunta-aineita ja synteettistä astaksantiinia. Villikala sisältää myös vähemmän rasvaa. Tämän lisäksi vapaa-ajan kalastus on suhteellisen kestävä tapa hankkia ravintoa. Liikakalastus on nykyään merkittävin uhka meriemme hyvinvoinnille, ja liittyy usein haaskaaviin kaupallisiin kalanpyyntitapoihin, joissa meristä kiskotaan valtavia määriä monenlaista sivusaalista, joka sitten heitetään menemään. Tämä on johtanut kalakantojen hälyttävään pienenemiseen maailmanlaajuisesti. Valtameret saattavat tyhjetä kaloista vain muutamassa vuosikymmenessä. Niinpä, ehkä jokseenkin paradoksaalisesti, vapaa-ajan kalastuksen suosiminen saattaa tehdä kuolleista kaloista (ja valkoisista majavankalloista, jotka Kirka myös mainitsee laulussaan) joen rannalla suht harvinaisen näyn.
Entäpä kalastuksen eettinen puoli, kysynee joku nyt. Onko oikeutettua viedä henki poloiselta luontokappaleelta, vaikka tuo teko olisikin hyödyksi koko ekosysteemille? Kuten biologi Marc Bekoff toteaa teoksessaan "Animals Matter", sellaiset lausahdukset kuin "lähdin kalalle" tai "lähdin metsälle" tarkoittavat oikeastaan "lähdin tappamaan". Mielestämme tämä on ehdottomasti huomionarvoinen seikka eikä sitä tule sivuuttaa. Kalastukseen (ja eläinten tappamiseen yleensä) liittyy monia muitakin moraalisia kysymyksiä. Metsästyksen etiikka on aiheena erittäin monitahoinen ja vaatii perinpohjaista tarkastelua. Näin ollen palaankin teemaan yksityiskohtaisemmin tulevissa kirjoituksissani.
Ne, jotka ajattelevat eläinten tappamisen olevan väistämättä väärin, mutta silti nauttivat kalareissuista ja niiden ainutlaatuisesta tunnelmasta, voivat aina kokeilla 'pyydä ja päästä' -kalastusta. Tämän tekniikan harjoittajat kirjaimellisesti ensin pyydystävät kalan ja sitten päästävät sen takaisin veteen, elävänä ja vahingoittumattomana. (Jotkut tosin pitävät myös tätä kalastustapaa moraalisesti ongelmallisena.) Kokemuksemme mukaan kalastaminen voi olla todella hauskaa ja tavattoman virkistävää, vaikka saaliiksi ei jäisi yhtäkään kalaa. Yhdysvaltalainen kirjailija Zane Grey onkin todennut: "Jos kalastaisin vain saadakseni kalaa, kalareissuni olisivat loppuneet jo aikaa sitten."
Joka tapauksessa, aioitpa sitten pitää saaliisi tai päästää sen vapaaksi, kalareissun päätarkoitus on yleensä pyrkimys pyydystää kalaa. Olemme tulleet huomaamaan, että kalanpyynti on oma taitonsa - ja on myönnettävä, ettemme vielä aivan hallitse sitä. Muutamia asioita olemme kuitenkin jo oppineet. Seuraavassa jaan hieman tietoutta, jota lyhyt kokemuksemme amatöörikalastajina on meille suonut.
Kalastustavaksemme on valikoitunut onginta (siis se hyvin yksinkertainen tyyli, johon tarvitaan vain vapa, siima, koho, paino ja koukku), joten pyrimme pääasiassa pyytämään suhteellisen pientä kalaa, kuten ahventa ja särkeä. Maissi ja pienet leivänpalat näyttävät toimivan melkoisen hyvin syöttinä, etenkin, jos tarkoituksena on onkia särkeä. Jos sen sijaan haluat ahventa, madot ja toukat ovat luultavasti parempi vaihtoehto. Oikeastaan minkä tahansa vanhaksi menneen ruoan voi kierrättää kalansyötiksi - sen kun vain kokeilemaan. Olemme huomanneet, että varhainen aamu on yleensä hyvä aika mennä ongelle, sillä kala näyttäisi olevan aktiivisempi auringonnousun aikaan. Läheinen järvi, jolla useimmiten käymme kalassa, on myös paljon rauhallisempi aikaisin aamulla, jolloin vesiskootterit, moottoriveneet sekä niiden omistajat eivät vielä ole aktivoituneet. Täällä Pohjois-Irlannissa tosin ongintakausi on luultavasti ohi näin lokakuussa, järvivedet kun ovat jo viilenneet ja kalat kaikonneet järvien syvänteisiin. Enemmän tai vähemmän villi arvaukseni on, että touko-kesäkuu voisi olla hyvä aika lähteä seuraavalle onkireissulle.
Näyttää siis siltä, että odottavan aika on jälleen kerran pitkä. Kärsivällisyys on kuitenkin tärkeä hyve onkijalle, sen ovat kalareissumme meille opettaneet. Voi olla, että se on peräti arvokkain opetus, jonka olemme saaneet noina aamun varhaisina tunteina, seisoessamme liukkaalla laiturilla tyhjä ämpäri vierellämme, pidellen vapaa kohmeisin, tärisevin sormin, ja näyttäen luultavasti koko lailla hupsuilta.
- Ian ja Saara