The Ultimate Thrilling Ride
Summer 2021 Destination - Water Slide Through a Shark Lagoon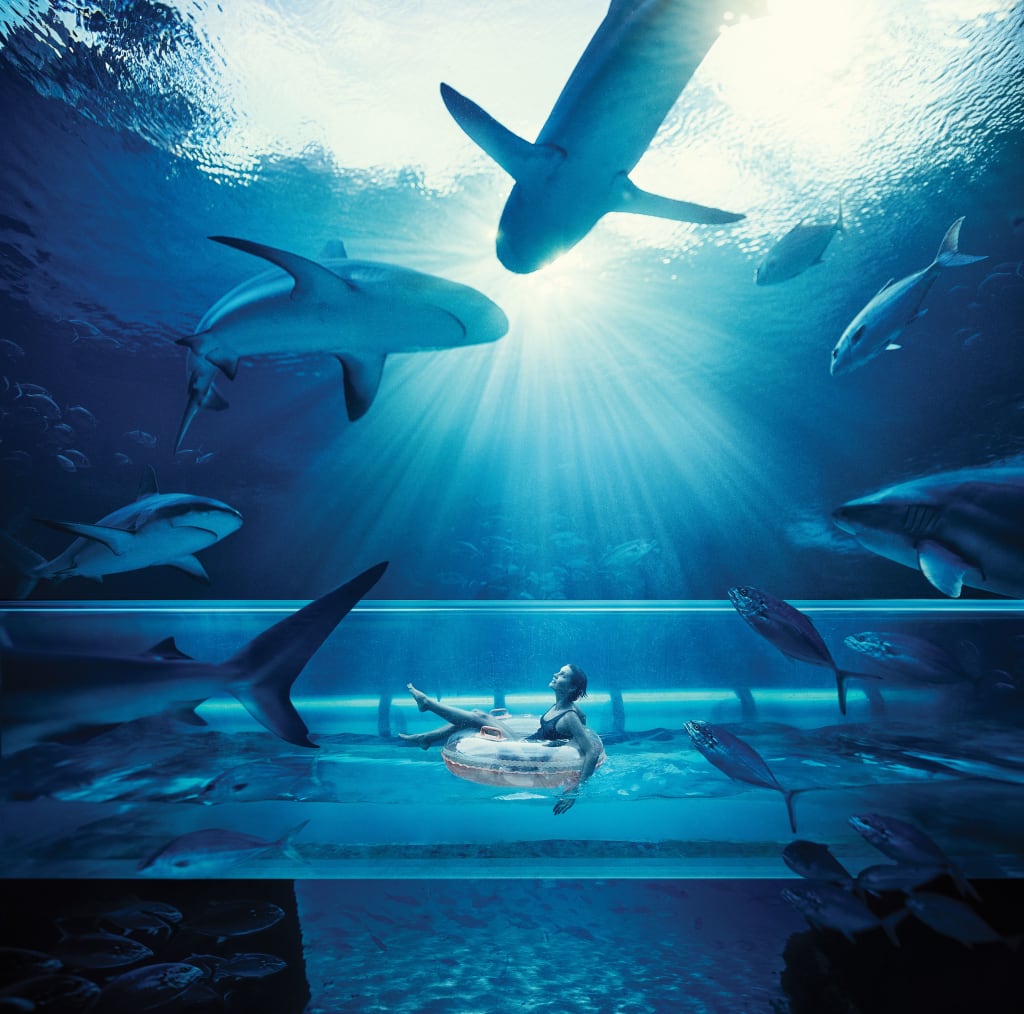 Serpent Slide at Aquaventure - photo by Atlantis Bahamas - use permission granted
Summer is about to start sizzling! After being cooped up during most of 2020, folks are ready to have a real vacation this year!
In the USA, travel is up, as many families are taking advantage of their economic stimulus checks to splurge a little and go someplace exotic.
You can't get much more exotic than Atlantis Paradise Island Bahamas.
Built to create, in tangible form, the myth and legend of the fabled city of Atlantis, more than $800 million was spent in the initial four years of construction, and new features are continuously being added!
The result is a mind-boggling resort built around the world's largest open-air marine environment (11 million gallons of sea water) which is home to 50,000 sea creatures, representing 200 species!
There's even a 15 acre dolphin rehabilitation center built on site, called Dolphin Cay. It also serves as an education center for guests to visit and interact with the animals. Dolphin Cay rescues sea lions and manta rays as well as dolphins.
The resort features five hotels, each with a distinct vibe of their own: the iconic "The Royal", laid-back at "The Beach", multi-generational "The Coral", ultra-luxury at "The Cove" and the residential-style "The Reef".
Prices vary wildly between the hotels and rooms. A two-night weekend stay in mid-September of 2021 at The Coral came in at a surprisingly reasonable $174 per night. Price for that same weekend at "The Royal"'s ultra-posh Bridge Suite? A whopping $4254 per night!
Atlantis Paradise Island has something for everyone, with 12 different restaurants, 3 dedicated night clubs, the largest casino in the Caribbean (with 85 gaming tables and 700 slot machines) an 18 hole golf course, a 15 million-dollar marina, five miles of white sand beaches, 14 lagoons and marine life habitats… and the crown jewel of Atlantis, a 141 acre water park.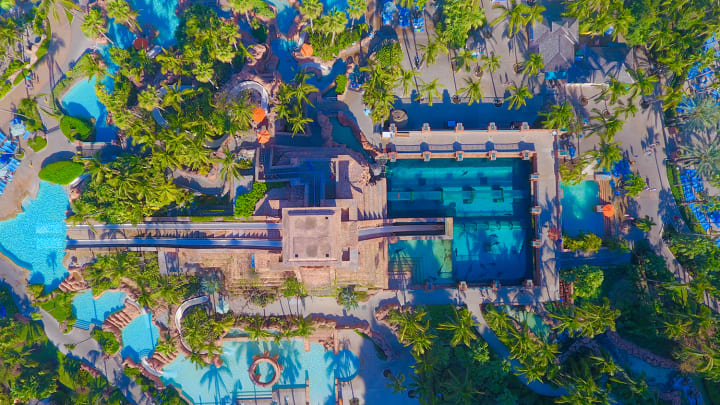 Aquaventure
Aquaventure is described as a "non-stop aquatic playground" with something for all ages. With over twenty million gallons of water to play in, it's an all day adventure (minimum of three hours is recommended).
Immerse yourself in the lush, tropical environment, amid the amazing Atlantis-themed structures such as "The Mayan Temple", which itself houses four thrilling, high-speed water slides.
At a glance:
a mile-long river ride with rolling rapids and waves
20 swimming areas to beat the crowds, including 11 swimming pools
a "water-play" fort for the kids
Atlantis-themed structure, The Mayan Temple, which stands 120 feet tall and houses 4 high speed water slides for extreme adventurers
3 additional innovative water slides
---
The Most Extreme Rides
#1 The Serpent Slide (the scariest)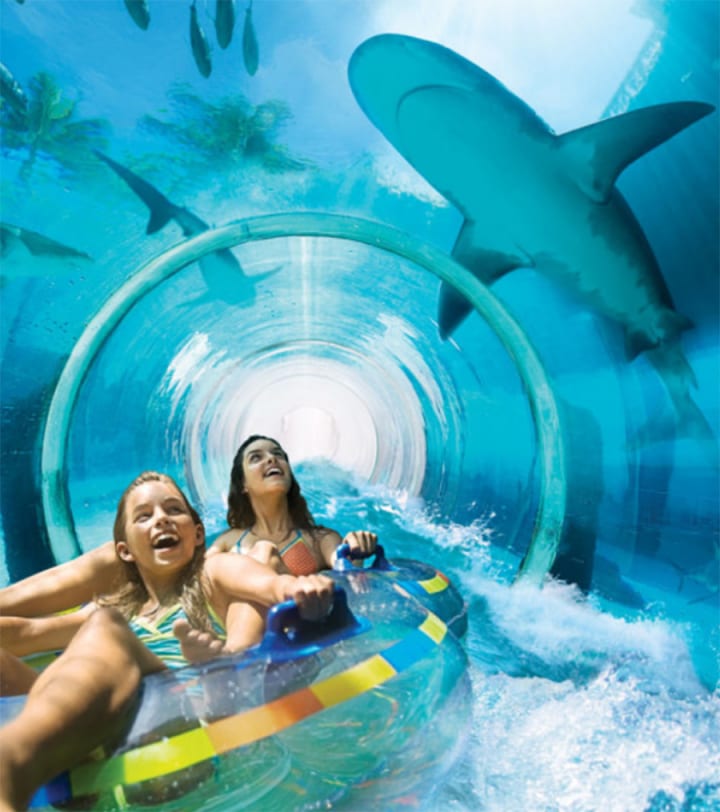 Starting in darkness, ending in…sharks
On the five-story corkscrew Serpent Slide, guests travel on a tube at high speed through the darkness of the Mayan Temple's core. The twisting and turning ride culminates with a leisurely pass through a clear acrylic tunnel submerged in a lagoon filled with amazing marine life. - Atlantis Bahamas Aquaventure
---
#2 The Surge (the tallest)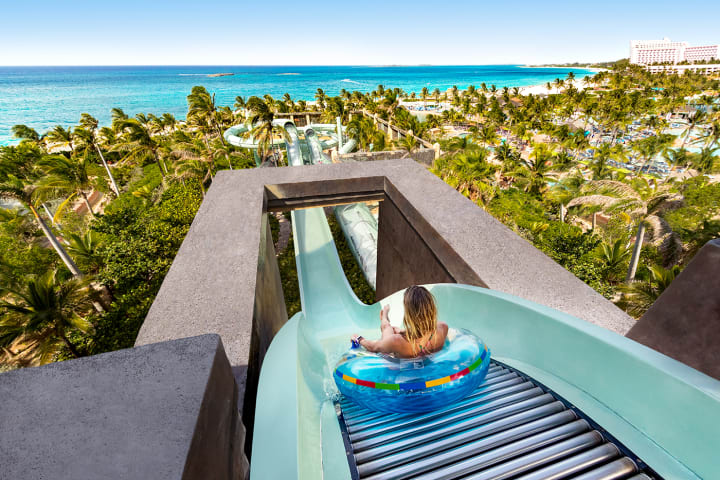 120 feet equals over 11 stories high!
Starting at the top level of the 120-foot Power Tower, The Surge features a camel back drop into a cavern, then quickly twists and turns downwards into the white-water rapids. - Atlantis Bahamas Aquaventure
---
#3 Leap of Faith (the most breathtaking)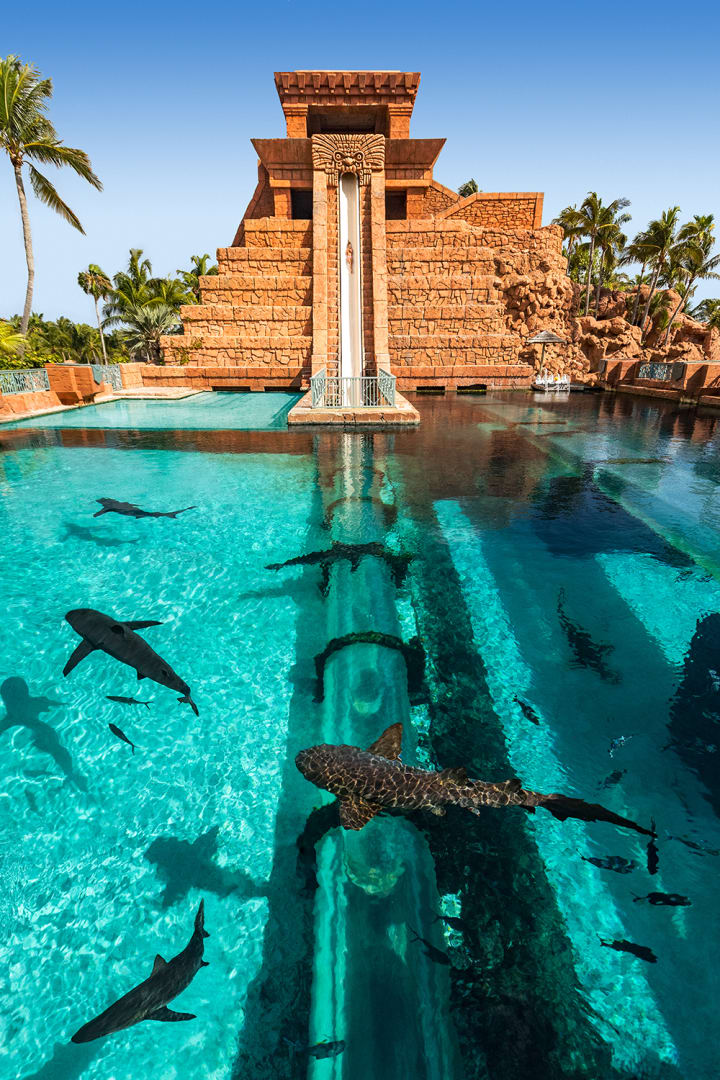 You have to wonder what those sharks are thinking…
The Leap of Faith offers a daring and adventurous almost-vertical drop from the top of the iconic Mayan Temple. This 60-foot body slide propels riders at tremendous speed through a clear acrylic tunnel submerged in a lagoon filled with amazing marine life. - Atlantis Bahamas Aquaventure
---
Leap of… Sharks?
The Leap of Faith water slide is even more unnerving if you know the history.
In 2008, a shark leapt out of the shark pool and onto the water slide itself, becoming stuck. This happened at 9 A.M., and the gates hadn't opened yet, so no one was in danger… except the shark. It died from complications arising from exposure to the slide's chlorinated water.
Atlantis took the matter quite seriously, and immediately modified the opening to the slide, building a barrier. No such incidents have taken place since.
Still, as you are zooming down the slide from the top of the Mayan Temple, your gaze fixed on the habitat of live sharks below you, it's bound to cross your mind… "What if…?"
---
More Aquaventure Water Slides
Challenger at Mayan Temple - a high-speed dueling slides ride, where you can compete side-by-side with a friend and check your times at the bottom
Abyss - starting with a 50-foot near vertical drop through darkness, and continuing another 150 feet through waterfalls, this ride ends at The Ceynote - "an underground lair of prehistoric fish"
The Drop - a double inner-tube ride, beginning with an ominous drop through darkness, spiraling you through open air twists and turns, finally spitting you out into The Rapids River
Jungle Slide - perfect for younger guests, it's a safari body slide through man-made caves and exotic jungles
To enter Atlantis Bahamas Aquaventure, you must be eighteen-years-old or be accompanied by an adult.
---
Pricey, but Worth It!
The best way to enjoy Atlantis Bahamas Aquaventure is by staying at the Atlantis Resort. If you are a guest, entry to Aquaventure is included in the price of your stay!
If you are visiting Paradise Island but not staying at Atlantis, you may still purchase a day pass to Aquaventure, but unless you happen to catch a special, tickets are currently at $150 per day for adults, and $50 for kids 4–12.
Before you balk at the price, you should know that Atlantis Paradise Island is a major player in marine conservation.
Atlantic Blue Project Foundation is a non-profit organization funded by Atlantis guests' interaction with the marine life during resort activities (such as swimming with sea lions, interaction with dolphins).
The Atlantic Blue Project does valuable work in ocean conservation, restoration of coral reefs, rescue of displaced marine life, and pollution clean-up, among other activities.
By protecting the waters and its vast Marine wildlife, we ensure that The Bahamas remains a haven for a myriad of one-of-a-kind, rare and endangered species for generations to come. - Atlantis Blue Project Foundation
To find out more about the Atlantis Blue Project Foundation, click here.
special thanks to Emma Silverman of Atlantis Resorts for providing the photos
---
resources:
https://www.atlantisbahamas.com/about
https://en.wikipedia.org/wiki/Atlantis_Paradise_Island
https://www.thenationalnews.com/uae/shark-takes-leap-of-faith-1.528430
https://blueprojectatlantis.org/our-mission/
caribbean
About the author
Shell St. James is a New England author living in an 1895 farmhouse with her musician soulmate, feline muse, and a benevolent ghost. Her novel, "The Mermaid of Agawam Bay", is available on Amazon. Find out more at www.shellstjames.com
Reader insights
Be the first to share your insights about this piece.
Add your insights