The Truth in Ottawa
Freedom Convoy 2022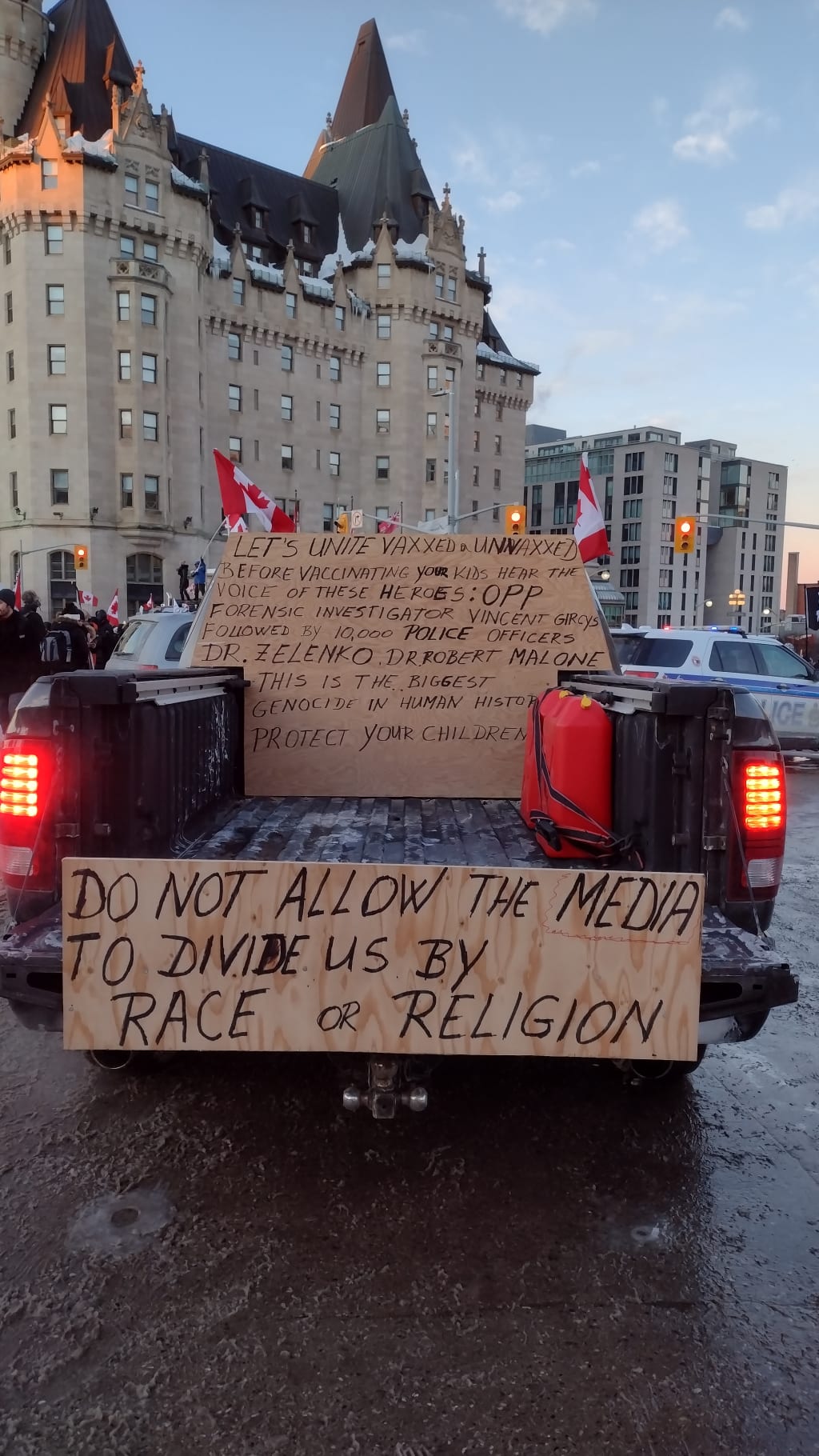 Saturday, January 29th, 2022, Ottawa, Canada
We departed from Fredericton, New Brunswick tucked neatly into the Freedom Convoy 2022 with a packed vehicle. There was no end to the convoy. After the jam-packed overpass, we settled onto the hard shoulder along with dozens of others waiting for the convoy to depart so we could follow. People followed suit with Canadian flags as far as the eye could see. Honks and waves were constant. This was but a glimpse into the magic unfolding.
Every single overpass was rich with support in the form of Canadians waiting in well-below-freezing temperatures for the historic, record-breaking convoy to pass. Such a thing was not seen since Terry Fox's monumental cross-country walk. The crowds varied from a handful of people to too many folks to fit on the overpass - which resulted in them wading through foot-deep snow to get an unobstructed view of this epic event.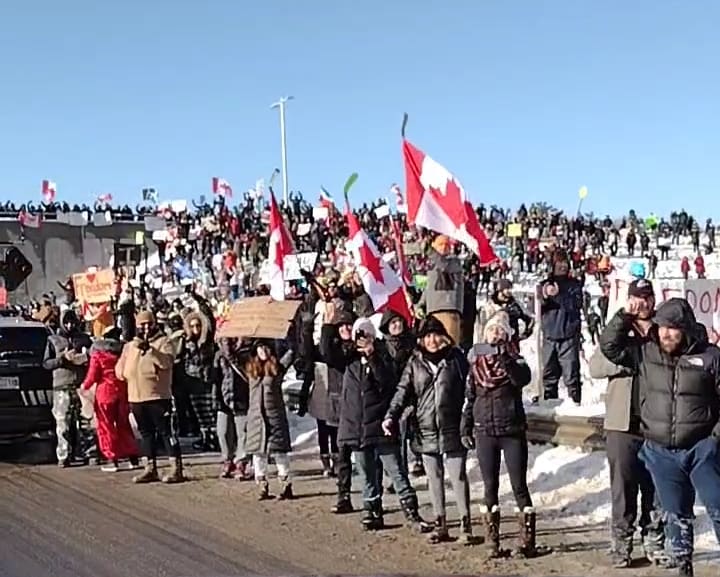 By the time we reached Quebec, it was abundantly clear the country was now uniting over the common goal of freedom of choice. After more than two years of hopelessness and feeling like a heavily divided Canada, there was this sense of knowing each and every Canadian who participated in any capacity with this convoy. Every single collection of like-minded folks warranted the window to be rolled down for waving, honks, and often cheering. Banners, signs, silhouettes, and flags were engraved in my brain for days! That very patriotism will forever be a highlight in my life.
What was it like to arrive in Ottawa with the convoy? Well the honking, abundance of flags, and constant cheering was absolutely surreal. I'm not sure I could put into words the atmosphere. Togetherness. Respect. Love. Unity.
We drove around the downtown for a short while and eventually - and rather easily - found a parking place one block from the Parliament building. That first afternoon was much like the ones that followed; full of positive energy and excitement. Vehicle trains from all provinces never let up as folks tried to find parking in downtown Ottawa. It was as if we all knew one another - you could strike up a chat with anyone. Although predominantly Caucasian, there were plenty of races and cultures included in the festivities - which has been ignored by media corporations. I saw nothing but inclusion and respect among everyone.
After we parked, we noticed a portable double washroom which had been placed near the Parliament building, a street away. Shortly after, there was caution tape across the stairs. It was the only public washroom I noticed. There were port-a-potties rented but the truck/trucks toting them were not able to make it through police barricades to service the protesters downtown. I have no idea where they ended up. I will say this; I saw a few men tucked up against buildings to relieve their bladders in hidden corners. There were rumours of someone urinating up the war memorial. There are three things that don't add up with that. Firstly, the people who are protesting collectively agree (or at least it's the general consensus) that we are standing in an effort to protect the freedoms that strong Canadian men and women fought to protect. Secondly, I personally walked around the monument which was surrounded by uncleared snow and there was no yellow snow. Thirdly, the monument is situated in an open area surrounded by truckers and pedestrian protesters. There would be no privacy to do so.
I saw the footage of a woman standing on the Tomb of the Unknown Soldier, much like all Canadians have seen. Due to this incident, protesters made the commendable effort to lay flowers on the tomb. I was present when a cluster of veterans posed for photos. The small crowd that had collected sparked a walking group of officers to approach. We were all glad to see they were protecting such a sacred landmark. One policeman asked what was going on, so I piped up and explained we were placing flowers because many of us do not agree with what had happened. The response I got from the cop was "they probably didn't realize what they were doing."
That wasn't the first time I conversed with police officers during this peaceful protest, nor was it the last. I even was told by one officer that if they weren't working, they would be on the ground with us. I waved at dozens of law enforcement and was largely greeted back with a smile and wave, or a 'hello'.
I did not personally see any Confederate nor National Socialist flags or symbols in the five days I spent in Ottawa. If I had, I would not have been too pleased, but I suspect they were shunned by protesters before they were noticed by many people. In fact there was footage of unimpressed folks indicating their distaste for a confederate flag with a semi truck on it. It seemed to me he walked away from the disappointed protesters with his tail between his legs - and rightly so!
Then there's the matter of the Terry Fox statue. Terry Fox wore a Canadian flag on his back during his strenuous and pivotal cross-Canada trek. I see absolutely nothing wrong with that. I see nothing wrong with a "mandate freedom" sign. I see nothing wrong with an upside-down flag (which is a universal sign that a country is in distress). I can also see how folks might be concerned given the statue-toppling that has occurred in recent years. But then why was it acceptable for the Liberal pride flags and signs to be fixed to a Terry Fox statue? What's right for me isn't right for thee... We collectively know and understand how vital it is for this movement to be peaceful. Anything but will result in its ending - which is exactly what Trudeau would like to occur given that addressing blue-collar Canadians does not fit his apparent agenda. Many folks may not know this but all the truck drivers had to register for this convoy and sign a document to say they will maintain peace.
There was gossip about protesters essentially killing someone due to impeding an ambulance. I found this unlikely and Ottawa police put out a statement that it was not true. I saw one incident with paramedics personally. A speaker on stage in front of parliament directed law enforcement and paramedics to a lady in the crowd who was in need of medical assistance. Police parted the crowd to allow the stretcher through. She was wheeled to the sidewalk ambulance in a timely manner and I never heard anything else about it. I hope she was okay!
Mainstream news organizations had interviews recently where the guests spoke of things like protesters grabbing masks off of people's faces, throwing feces at windows with pride flags, yelling racial slurs, assaulting soup kitchen staff etc. I saw masked people walking through the streets relatively comfortably. Even saw two individuals with signs encouraging vaccination and although police instructed non-protesters to stay away, I did not witness anything beyond a chuckle or two at their signs. Law enforcement stated both on their website and in news that there were no reports of an assault at the soup kitchen. Which makes sense considering the abundance of food available to anyone who wants it - included patrons of the soup kitchen. It should be noted that after these claims, money and food were donated to the soup kitchen by protesters. So much so that they had to turn away food donations. I never heard any racial slurs. Now that doesn't mean there were none, but there were people from all walks of life in the crowds and what I witnessed (and partook in) was unity regardless of skin colour or culture. High fives/fist bumps for all! The lady residing in Ottawa on CTV who claimed feces were thrown at pride flagged windows, well, I researched her a little bit and found out she has an online reputation for being a so called "attention seeker". Not to say she's lying, but where is the police report? Where are the photos/videos in these days of cameras on nearly every person?
I saw folks shoveling thick ice and slush off of the cobble walkway parallel to Parliament's wrought iron fence. I saw people collecting garbage - even on streets away from the main protest and I thanked them. I saw neatly piled garbage bags ready for removal. I saw the few businesses who were open getting lots of patrons and no issues about masks not being worn. I saw access lanes throughout the downtown for law enforcement and other emergency services. I saw flowers placed on the Tomb of the Unknown Soldier. I saw all Canadians coming together as one regardless of race. I saw true unity for the first time in my life. I saw truck drivers scrubbing spray painted "FREE?" (which was graffitied a few times) off of buildings.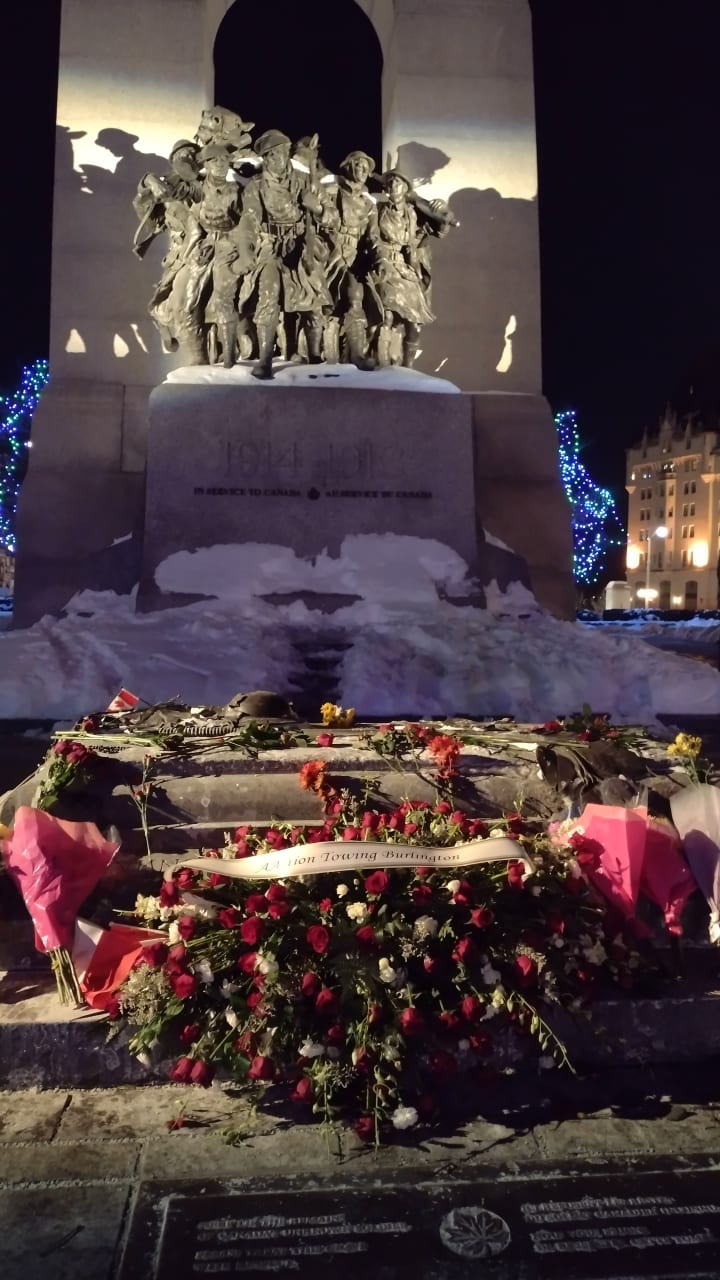 At the end of the day, very few large gatherings have no issue at all. For the media to largely focus in on the negative and paint all protesters with the same brush is obscured and unfair and subsequently should end events like Canada Day, New Years, and weddings. I fully support cracking down on any and all criminal behaviour. We want this to be clean, calm, and proper.
It was a unique experience I will cherish for all my days and I encourage all who have peace and freedom in mind to get to downtown Ottawa to support our blue-collar truckers and end these proven-harmful mandates!
canada
About the author
I've always had a knack for writing, but never truly embraced it or stuck with it. These days, however, the magical world of creation with words is calling my name. Here I am, writing for the first time in so many years. Thank you, Vocal!
Reader insights
Be the first to share your insights about this piece.
Add your insights