The story of Vejle-Vandel Jernbaneselskab
The first 50 years of VVGJ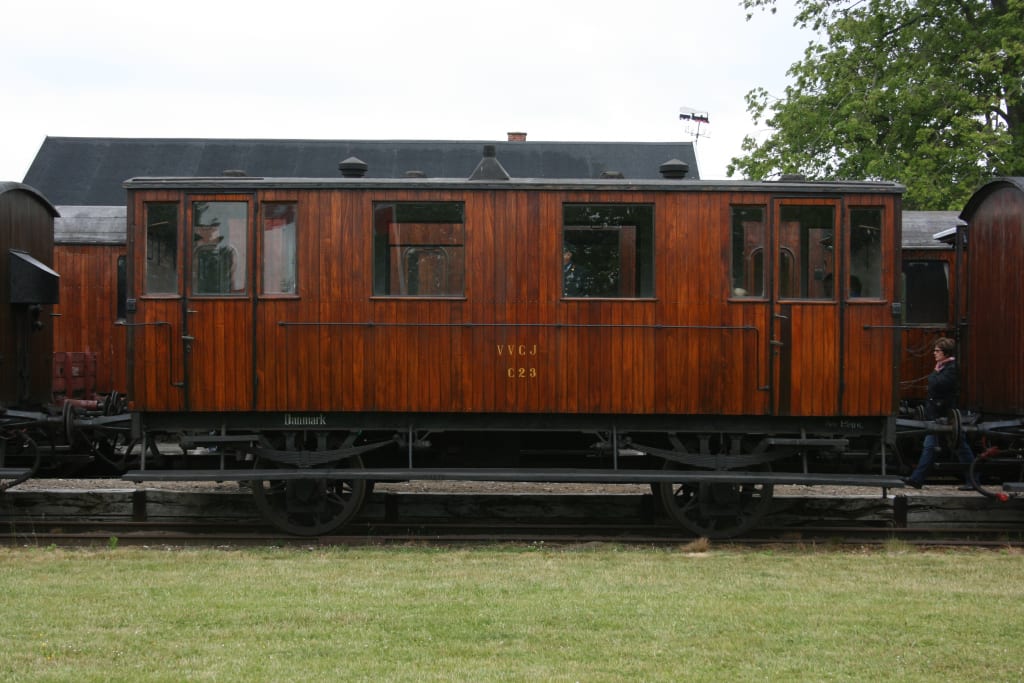 On 10 September 1897, the first train ran from Vejle Nordbanegård to Vandel with passengers, mail and goods. Prior to the opening, many negotiations had taken place regarding the construction of a railway from Vandel to Vejle, and by law of 8 May 1894 it was possible to obtain a legal basis for the construction of a railway from Vejle through Vejleådalen to Vandel in Randbøl parish, and under 6 November 1894, an exclusive license was issued to Vejle-Vandel Jernbaneselskab. The construction work was handed over to contractor Lauritz Petersen, who began the work in 1895. The work was carried out with engineer Rischel as control engineer.
The extension of the railway line caused a lot of trouble, as it was a matter of leading the line up over the hills, so that it had come to cross Bredsten, but county road inspector Kidde and De danske Papirfabrikker were very interested in a line through Vejleådalen, and they went off with the victory. Construction of the track began simultaneously in several places. A large part of the equipment was driven out by horse-drawn carriages from Vejle to suitable places between Vejle and Vandel. Horse-drawn tipper trains were used for the earthworks. The track was built of steel rails weighing 35 lbs per. yard. The wheel pressure was 3375 kg. The track's equipment consisted of 3 locomotives, 4 passenger cars with 192 seats, 2 luggage wagons and 18 freight wagons with a carrying capacity of 123 tonnes.
The inauguration in 1897
On September 9, 1897, the inauguration took place in the presence of the Royal Commissioner, Officer Nutzhorn. At the opening of the track, engineer Ernst stated that the track was built exceptionally well, which is also confirmed by the fact that some of the rails are there to this day. The next day, ie September 10, the normal operation began with 3 trains in each direction.
The company, which had elected customs manager Martensen, Vejle, as chairman, got a joint operations manager with the Vejle-Give Jernbane, which had opened a few years earlier. Operations Manager H. L. Helweg thus became the track's first operations manager. In Vejle, the line got a common station with Vejle-Give Jernbane at Vejle Nordbanegård, from where there were connecting tracks through the city to the state lines. The passenger transport between the railway stations in Vejle was provided for many years by horse omnibus.
50 years on track
Throughout the 50 years, the course has been of great benefit to the area it runs through. Large amounts of marl and lime have been transported to the poor heathlands, where the heather was almost predominant, so that the landscape has now changed character, and you can now see well-cultivated fields and large plantations. The marl transports first took place from Haraldsted Fabrik station, to which it was brought by a small dump truck track. Later it was from Vingsted Mølle and Skibet stations to eventually take place from a special siding at Kjeldkær. All this marl and lime was delivered to Vandel and Omegns Mergel- og Kalkforening. West Jutland's Mergelforsyning has also used the track diligently, but it is mostly on the stretch from Vandel to Grindsted.
The transports of agricultural products such as butter, eggs, cereals and potatoes have had their great significance. Large quantities of timber have been transported from the state plantation at Frederikshåb and from Randbølgård's plantation. Between Randbøl and Bindeballe there are excellent materials for paving, and Vejle County has built a large gravel and stone grave here. Special siding tracks were laid here at Hofmandsfeld and later at Springbjerg, from where large quantities of gravel and shards have been transported over the years. The station sites in Vandel and Randbøl were turned into assembly points for boulders, which were transformed into shards by the county's outpatient shard crushing plant and driven to the destination station by train.
During the two world wars, large amounts of peat, wood and lignite were transported from the western hinterland into the cities. Special siding has been laid for the transport of peat and form fuel. The transports of horses, cattle and pigs as well as feed and fertilizer have been significant. Also as a tourist course, the course has its great significance. Only a few courses in the country run through such beautiful nature as the Vandel course. In an hour's train ride you can experience Denmark's nature, there are valleys, meadows, hills, streams and finally the large, slightly gloomy heather hills between Limskov and Randbøl.
travel advice
Godtager du et af håndværker tilbuddene, kan du score mindst 1/4 af den ordinære pris i favorabel prisrabat på håndværkeropgaven. Tæt på dig kan venlige faglærde specialister såvel få løst din sag som udføre pensioner.
Receive stories by Erik Tilbud Olsen in

your feed