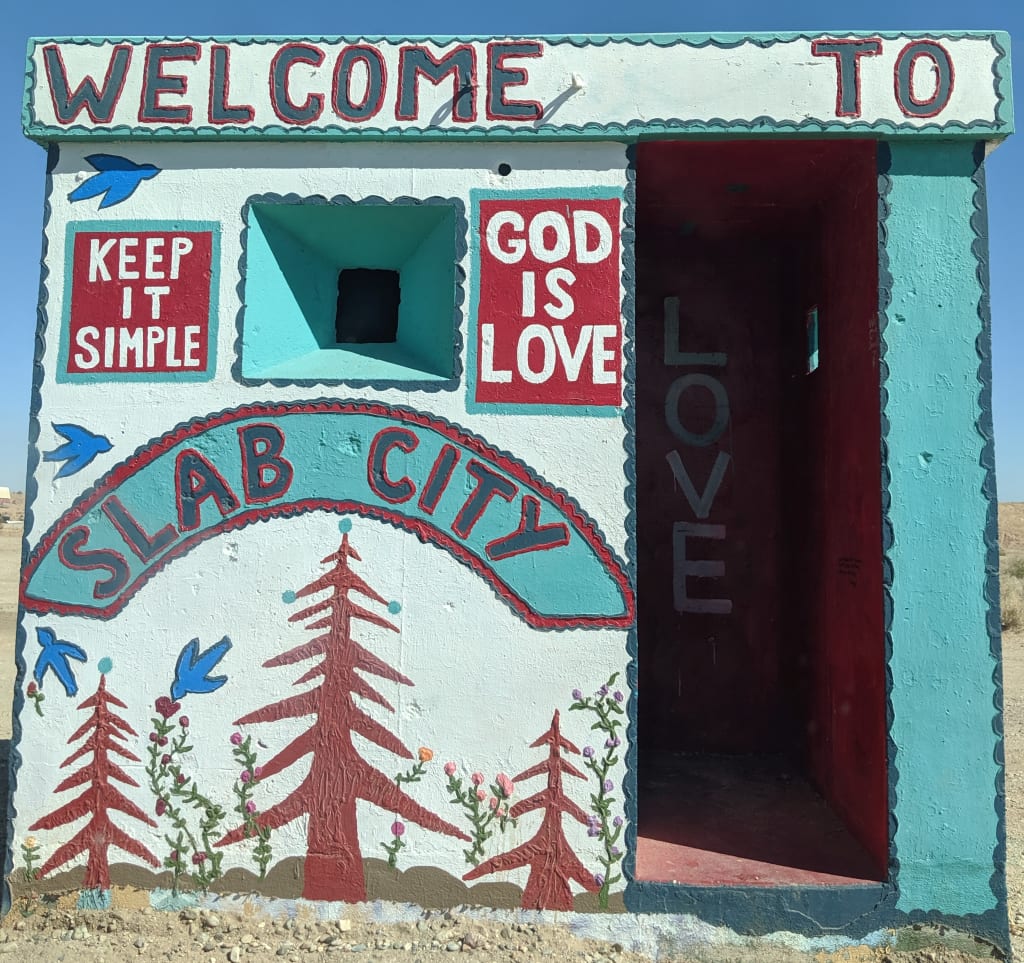 "Dorothy, You're Not in Kansas Anymore"
An hour and a half southeast of Palm Springs, California, past sprawling desert and an abundance of palm tree farms lies the infamous Slab City. If you have a mind to go there, you will find that the locals are of a different caliber and while one's intuition might be to look down on them, it is far better to recognize that you have entered a new world, theirs, and it is best to stay on their good side.
In October 1942, almost a year into America joining WWII, a Marine Corps barracks camp was commissioned to be built about 100 miles from the Mexico border in Southern California. By 1949 the camp was no longer in military use, and by 1956 all that remained were the concrete slabs of the camp's foundation.
Since then Camp Dunlop, now known as Slab City, has become the home to wandering travelers and struggling artists from all walks of life. A group of around 150 permanent residents make up the town of Slab City. While that number swells into the thousands during the winter months, it's those 150 that stay on through the summers where temperatures can reach 130 °F (48 °C) that are the true heart of this community.
It was over the weekend of July 4th that my friends and I decided to make a trek out to Slab City to see for ourselves this self proclaimed "Lawless" society. We had all heard stories about the place, a few YouTube documentaries exist that give a basic rundown, but nothing quite compares to journeying there yourself.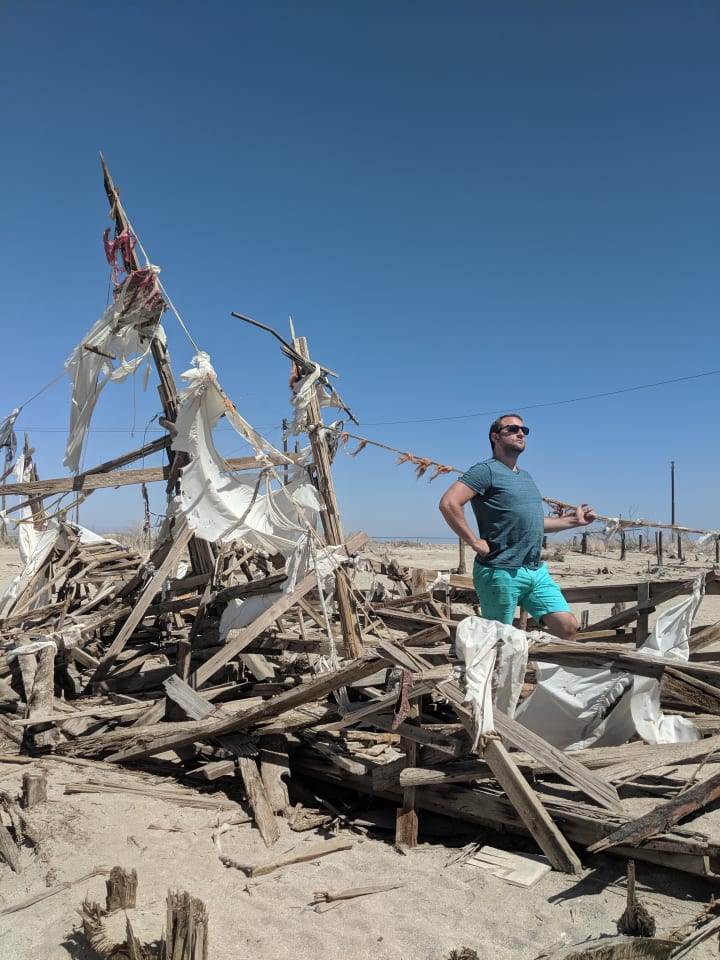 The last government regulated town before you reach Slab City is Bombay Beach; nestled against the largest lake in California, The Salton Sea. We stopped here to look out across the lake and make sure we had enough water for the day ahead. It is really important that if you decide to go on this journey that you have plenty of water, especially if you go in the summer.
There are art installations along the shore that are impressive and photo worthy, but don't plan on actually getting into the waters of the lake. The salt levels make the lake almost unlivable for local wildlife giving the lake and town a post apocalyptic feel that smells of death.
An almost perfect segway into what soon follows.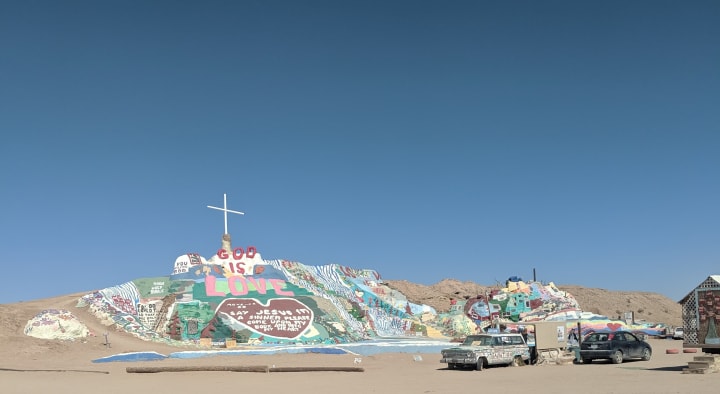 About fifteen minutes past Bombay Beach you will finally come to the entrance of Slab City. It is marked by the hard to miss three story latex painted hill of Salvation Mountain. It was created by local resident Leonard Knight (1931-2014) using adobe, straw, and thousands of gallons of lead-free paint.
Though it is decked out with murals featuring mainly Christian sayings and bible versus, it is the ingenuity and community outreach that makes Salvation Mountain a tourist attraction marvel.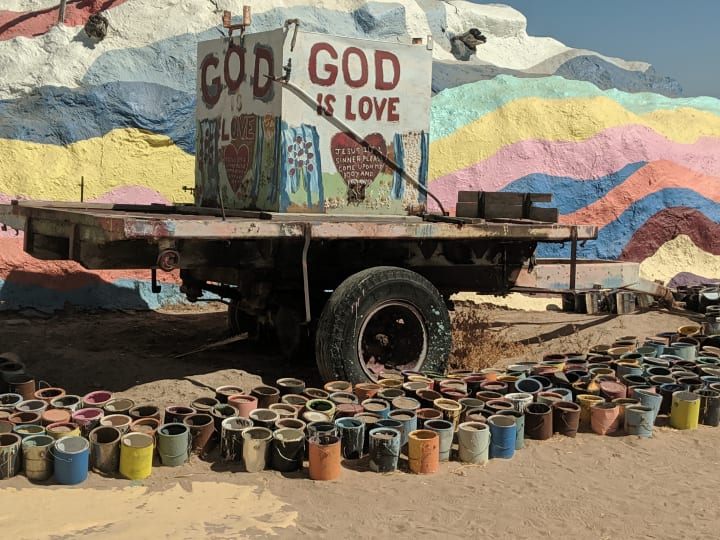 In addition to exploring its weaving passages and climbing up to the very top (just follow the Yellow Brick Road) we were also able to interact with the locals who were in charge of overseeing its visitors that day. They were friendly and up for a chat, but were also strict about the rules.
Respect the Art
Follow the Yellow Brick Road
They were also accepting donations either in cash or in the form of cans of latex paint to maintain the structure. Unfortunately we didn't have paint to give, but we did have some money that we were happy to provide towards helping keep Salvation Mountain standing for years to come.
The Range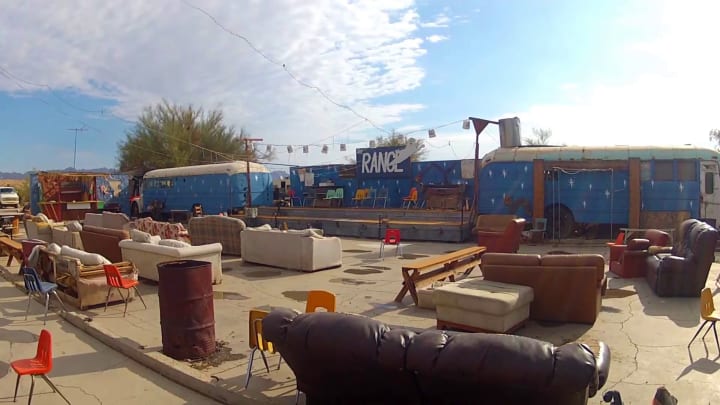 Slab City's hot spots.
One of the first thing you'll run into upon entering Slab City proper is The Range. An open-air entertainment venue with a stage, lights, amplifiers, and speakers. Tattered couches and old chairs make up the seating for the audience who come on Saturday evenings to watch the weekly Talent Show featuring resident musicians and anyone else brave enough to take the stage.
The venue is watched over and run by permanent resident William Ammon, known as "Builder" Bill. Builder Bill is also involved in many of the non-profit movements trying to save Slab City, Salvation Mountain, and its residents from the State selling the land they live on.
The Slab City Library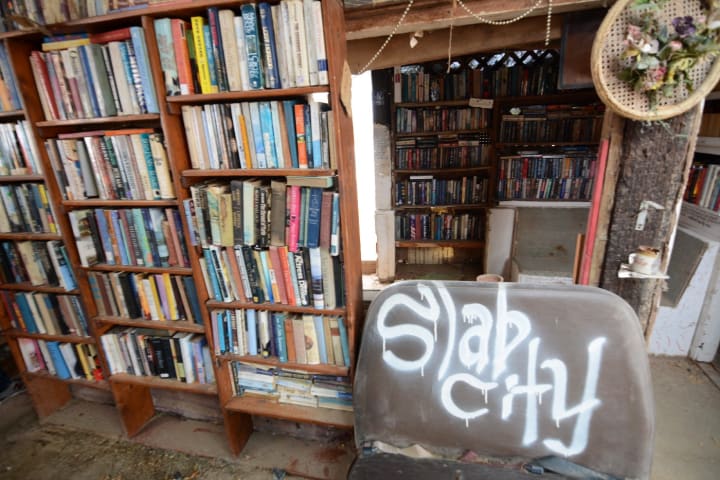 A little further into the city you'll come across the Slab City Community Library. Run purely on donations there are no library cards, no due dates, and it is open 24/7.
The space is also a home to another permanent resident. who simply wanted to bring something positive to the community and what better way than to give the gift of books.
East Jesus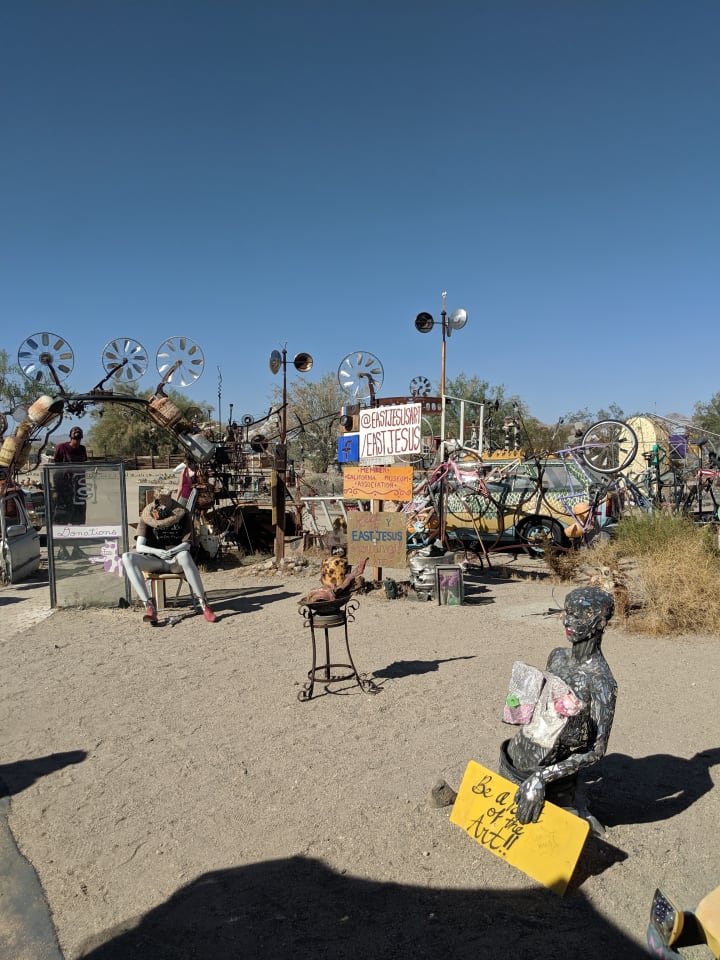 Finally, as you make your way further into the middle of Slab City you will come upon the large art installation of East Jesus. Despite the name, it has no religious affiliation. It is more of a colloquialism for being in the middle of nowhere beyond the edge of availability. Truly off the grid.
East Jesus was started in 2007 by Charlie Russell, after he left his job in the tech industry. He packed all of his belongings and shipped them to a field in the middle of the desert.
It was here that he began to build sculptures of anything and everything around his two art cars. After his death in 2011 the non-profit group The Chasterus Foundation took over the curation and expansion of East Jesus.
I'll admit that this was the most intense part of our excursion, due to the nature of the art pieces, but it was also the most intriguing. We were allowed to enter and were immediately greeted by local residents who were watching over East Jesus.
There is basically only one rule: Respect the Art.
We didn't go very deep into the art installation as it appeared to go for quite a while, but what we did see was two parts magnificent and baffling to say the least. It is a stark difference from Salvation Mountain's moniker of"God is Love," where East Jesus feels more inclined toward wicked thoughts.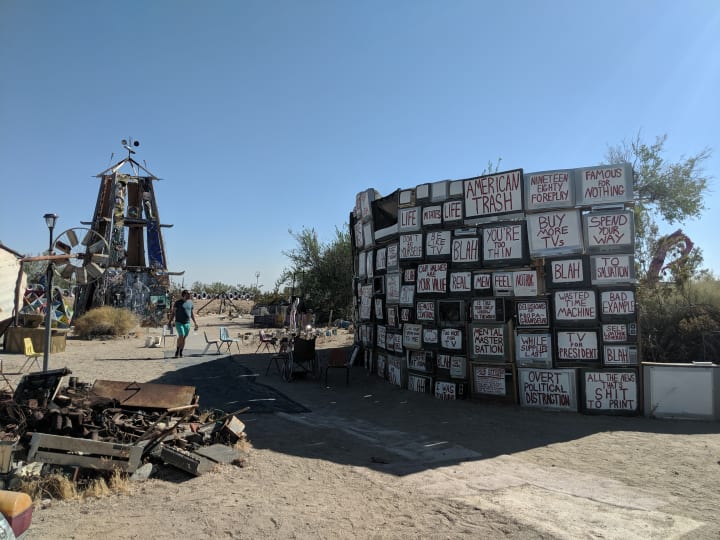 It was here that we ended our journey; saying our farewells to the locals we had met, knowing that the images of the art and society we had seen would stick with us for some time.
If you ever want to take a journey off the beaten path and you happen to find yourself in Southern California, I don't know of any other place that will fulfill that need greater than Slab City, USA.
Reader insights
Be the first to share your insights about this piece.
Add your insights