The Perfect Pairing: Edgar Allan Poe and Halloween
Which is stranger? Truth or Fiction?
While he spoke, the lady Madeline (for so was she called) passed slowly through a remote portion of the apartment, and, without having noticed my presence, disappeared. I regarded her with an utter astonishment not unmingled with dread--and yet I found it impossible to account for such feelings. A sensation of stupor oppressed me, as my eyes followed her retreating steps.

Edgar Allan Poe (The Fall of the House of Usher)
What could be more perfect for the Halloween season than experiencing the stories and history of the inventor of American Horror, Edgar Allan Poe?
As soon as I read that Synetic Theater in Arlington, Virginia was performing The Madness of Poe, I purchased tickets. Featuring a blend of the theater's 2007 hit adaptation of "The Fall of the House of Usher" and poems such as "The Raven" and "Lenore," this expressive movement and dance-based production masterfully evoked the spirit of Poe's gothic fiction. I was a front-row witness to a kaleidoscope of terror and insanity.
The show begins with Edgar falling asleep at his writing desk, but his arm appears to write on its own. A flurry of papers and his grief over his lost love, Lenore, entrap him. "I cannot write," he declares. The hypnotic, black-plumed raven appears in the form of a woman. With long, metallic talons gleaming, the stuff of nightmares, she haunts Edgar throughout the story as a symbol of grief and depression.
Edgar then receives a letter from Roderick Usher imploring him to visit. When Edgar arrives to the house, which is more like a mausoleum, he enters the mysterious story of the haunted brother and sister. With barely-restrained hysteria, Roderick describes the strange illness of his sister Madeline. Nutsa Tediashvili, as Madeline, puts on an oddly-beautiful performance even as the character's painful seizures bring her to the ground. The terrifying fall of the house involves Madeline being buried alive in a glass coffin illuminated by crimson lights as the audience helplessly watches her struggle to escape.
If you do not know how the story ends, I implore you to cuddle up on the couch with a copy of The Complete Tales & Poems by Edgar Allan Poe. The conclusion is as horrifying as you might expect.
The stage production of The Madness of Poe returns Edgar to his home where he must confront the raven, his fears, and his decline into insanity. Possibly accepting darkness as a source of inspiration, the show concludes with one of the writer's most well-known lines.
And the Raven, never flitting, still is sitting, still is sitting

On the pallid bust of Pallas just above my chamber door;

And his eyes have all the seeming of a demon's that is dreaming,

And the lamp-light o'er him streaming throws his shadow on the floor;

And my soul from out that shadow that lies floating on the floor

Shall be lifted—nevermore!

Edgar Allan Poe (The Raven)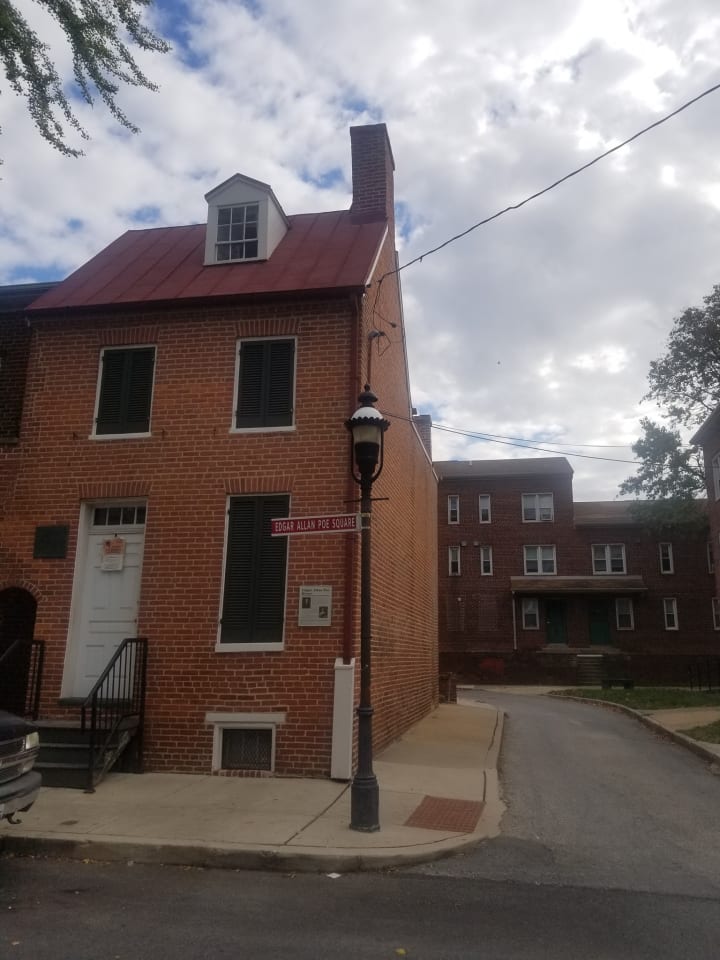 The Madness of Poe inspired me to take a trip to Baltimore, Maryland to tour Edgar's former house. The home, now a historical landmark, is where the writer lived from 1833-1835 with his aunt, grandmother, and two cousins. A sign states that the house was free-standing and surrounded by countryside during Edgar's time, which is very hard to picture in the area's current state. Some works were written there, such as his tale entitled "Berenice."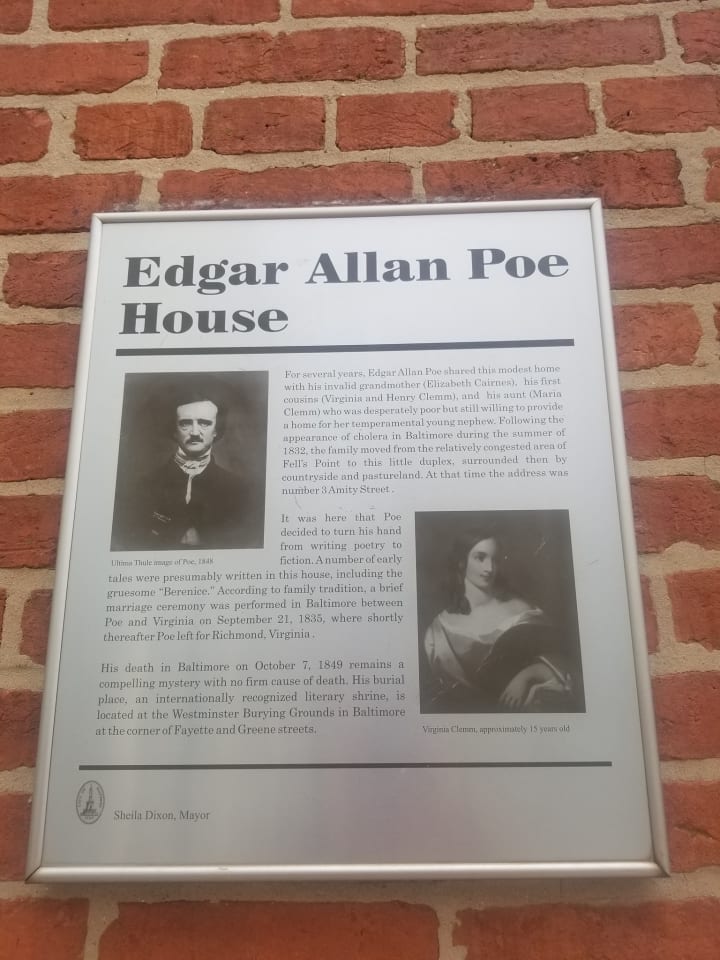 Exhibits tell the story of his life and death in Baltimore and display significant artifacts such as his portable writing desk and chair. There is also a telescope, china, and glassware used by Edgar.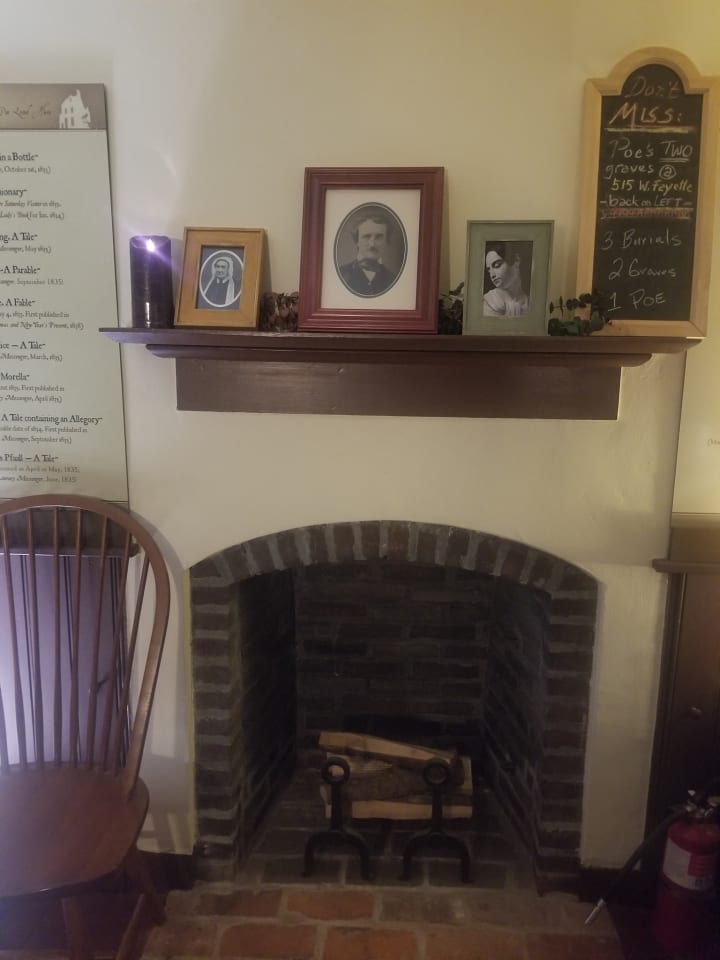 While much of the house is not furnished, it was incredible to walk on the same floors and between the same walls as one of the most incredible writers our world has ever seen.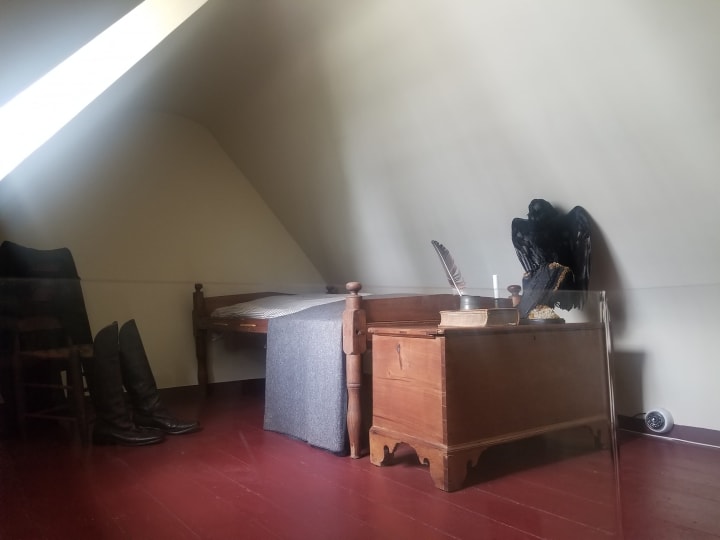 Perhaps the most memorable tidbit of information I learned on my visit is about Edgar's burials – something that strikes me just as odd as the circumstances of his death in 1849. Edgar was buried in an unmarked grave in his grandfather's plot in Baltimore's Westminster Burying Grounds. It was reportedly overrun with weeds, but eventually a small block of sandstone with the carved number "80" was added. Maria Clemm, Poe's aunt and mother-in-law, heard about the condition of the grave and wrote to Neilson Poe.
"A lady called on me a short time ago from Baltimore. She said she had visited my darling Eddie's grave. She said it was in the basement of the church, covered with rubbish and coal. Is this true? Please let me know. I am certain both he and I have still friends left to rescue his loved remains from degradation" (letter from Maria Clemm to Neilson Poe, August 1860, reprinted in J. C. Miller, Building Poe Biography, pp. 46-49).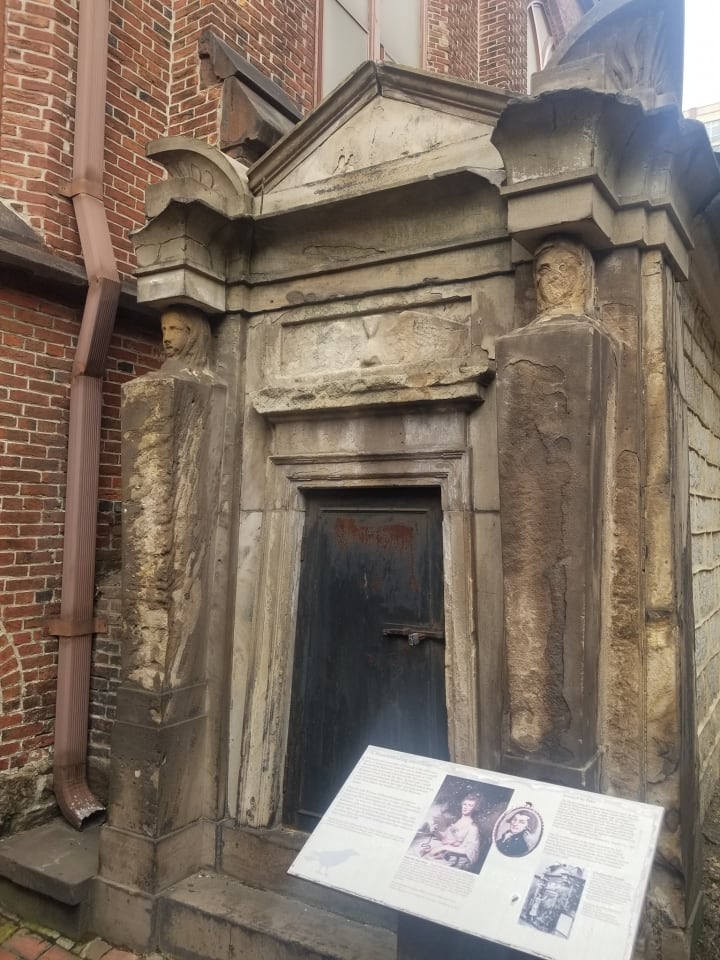 Edgar's cousin, Neilson, took action and ordered a marble headstone that was, almost unbelievably, destroyed by a freak accident in which a train ran off its tracks. Another headstone was not made at that time due to Neilson's lack of finances.
In fact, it would be eleven years until Edgar got a proper monument due to donations being collected by teachers and students. Again, almost unbelievably, another mistake was made. The engraving incorrectly states that Edgar's birthday was January 20th instead of January 19th. The monument was also too large for the original burial site, so he was moved to a place of honor next to the cemetery gate. While it was being moved to the new location, his coffin broke, revealing what was left of Edgar's remains. People – again, almost unbelievably - reached in for souvenirs.
And another almost-unbeliveable piece of the story is that the body of his wife and first-cousin, Virginia Eliza Clemm Poe, was set to be moved to lay next to Edgar. It was found that developers had built over her cemetery and moved the body. One of Poe's unconventional biographers rescued her bones. Strangely, however, he took them home with him and kept them in a box under his bed for years before sending them to Baltimore for reburial.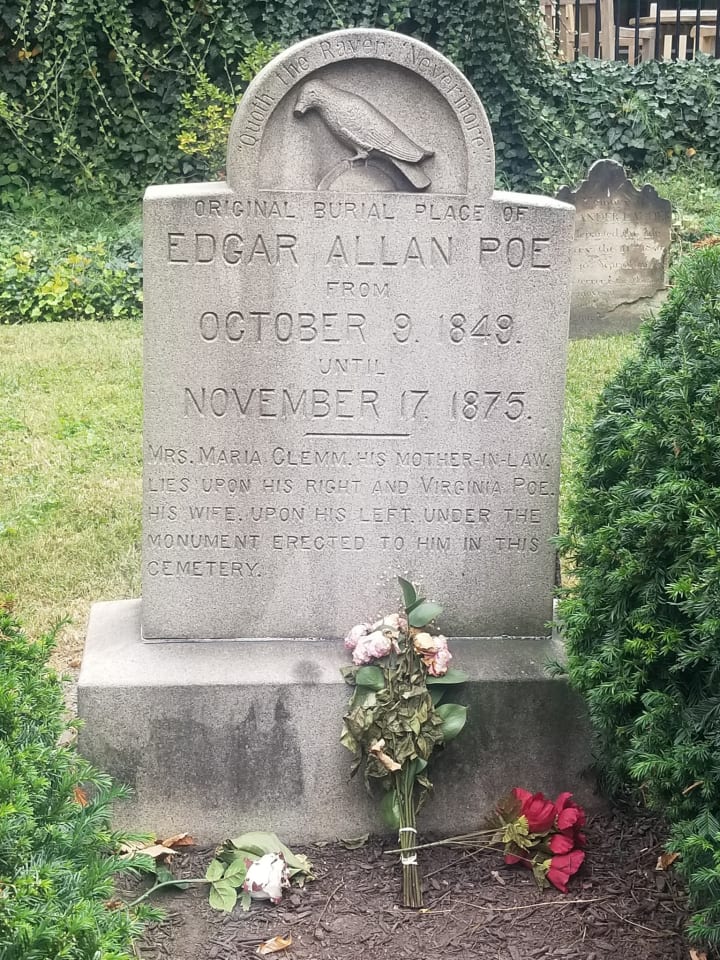 In 1913, another stone was placed that intended to mark Poe's original burial site in the rear of the church. In one more odd twist, the stone was misplaced completely outside of the Poe family lot. It was quickly moved, but some people believe it is still not the correct location.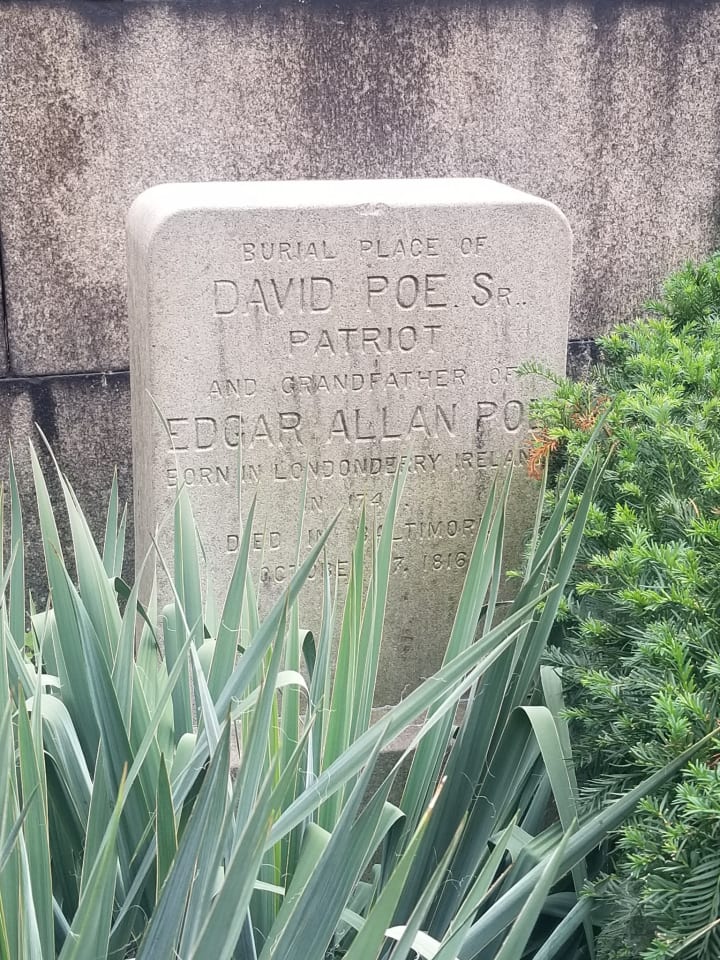 In the case of Edgar Allan Poe, it appears the old phrase "truth is stranger than fiction" is at least partially-true. His life is just as fascinating and mysterious as his spine-tingling stories. And, even though I missed it this season, I have next year's International Edgar Allan Poe Festival and Black Cat Ball added to my to-do list. For this Halloween , I plan on continuing my journey into the wondrous and macabre with Edgar's gothic-horror tales...and perhaps a glass of Amontillado.
"The thousand injuries of Fortunato I had borne as I best could; but when he ventured upon insult, I vowed revenge."

Edgar Allan Poe ( The Cask of Amontillado)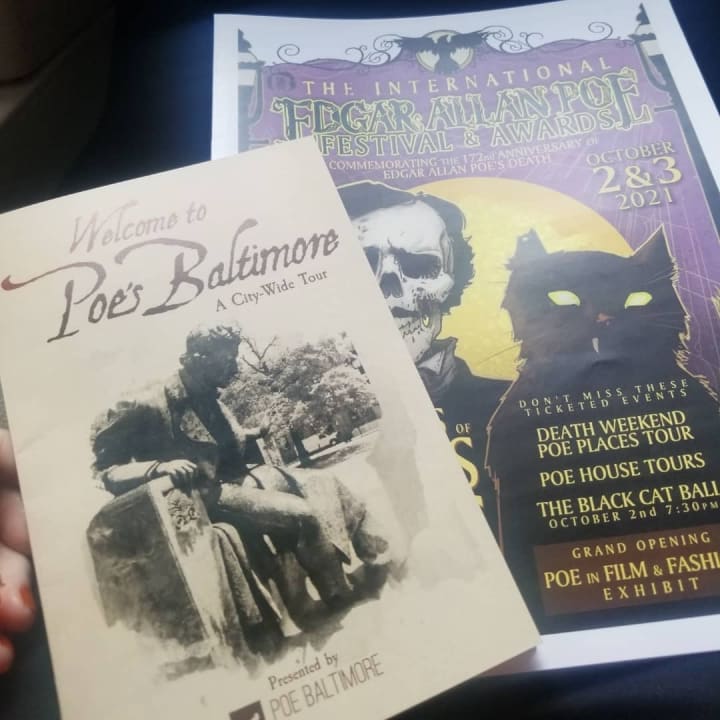 Sources:

The Edgar Allan Poe Society of Baltimore

Poe in Baltimore (poeinbaltimore.org)

Biography.com
activities
Animal advocate and bibliophile.
Receive stories by Jennifer Christiansen in

your feed