The Path of the Shield
Artifacts of a lost era, a legacy of loyalty, and a promise kept after two generations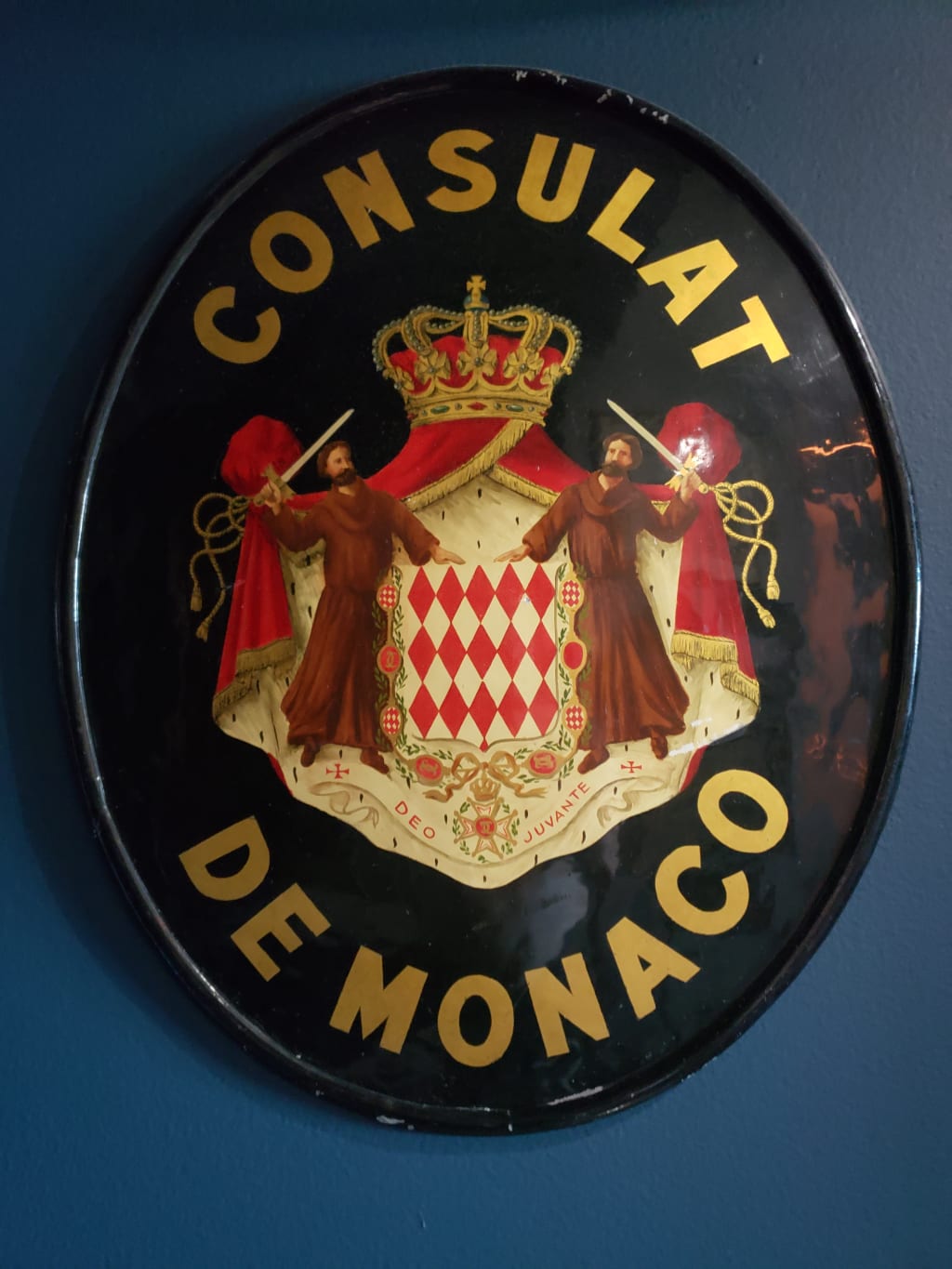 Irwin Molasky hung up the phone, perplexed. Why should a simple land purchase be so mysterious? It was 1963, and land deals were pretty simple in Las Vegas. Seldom were principals out of town, much less out of the Country. But this one was different. And it would be the biggest deal Irwin had done yet.
The contact person for the purchase of the parcel Molasky sought was not entirely unknown to the young investor. He had encountered the same name in the pursuit of another piece of land. Though the owners appeared to be different, this emissary had also been the sole contact when Irwin's group purchased the ground on which the Las Vegas Country Club would soon be built. That property, which had been the site of a race track earlier, and the first airport in the area before that, had been easy enough to obtain, once enough money was on the table. Like that property, the owner of this latest acquisition was some unknown holding company, and its recorded officers were again unfamiliar names. All inquiries led to a local man named Walter Hunsaker, as the only point of contact for both the race track property and for this latest target for Molasky's development plans, a huge parcel on the Las Vegas Strip.
At 36, Irwin Molasky was very much at home in Las Vegas and by no means lacking in methods or means of checking out anyone with whom he was dealing. But this Walter Hunsaker was like something off Leave it to Beaver. In Las Vegas over thirty-five years, married to the same woman since his youth, living in the same home forever, he owned a gas station, never, ever missed a Rotary meeting, and had a perfectly manicured lawn. In the lexicon of Vegas, he was a "Boy Scout."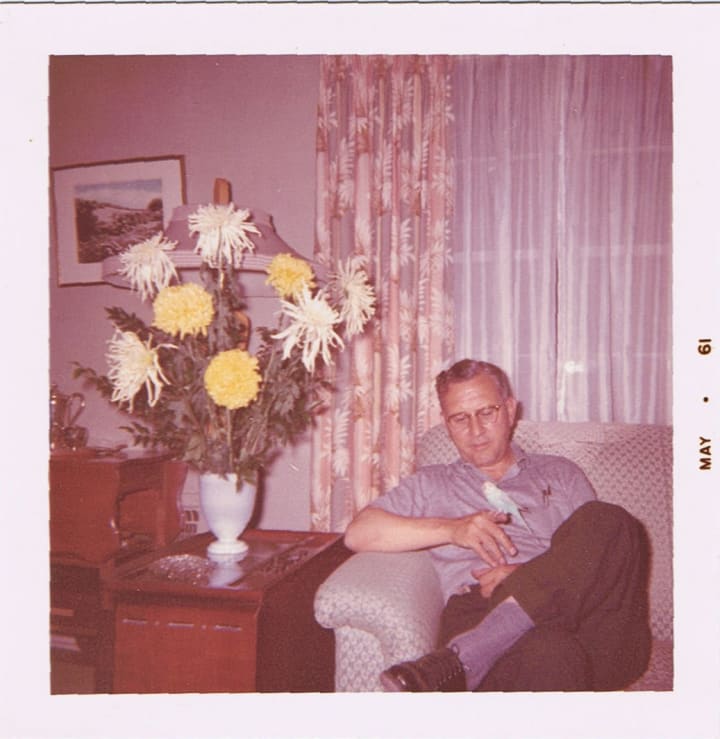 Molasky knew Hunsaker wasn't the kind of swashbuckling risk taker who would have assembled these properties, but he had no idea who that person was. The companies that held title to the property dated back to the 1920's, meaning even if Irwin could get a list of the original shareholders, it would still not reveal who their successors had been over the years.
Hunsaker had told Molasky that the price for the Strip property was agreed, but in order to close the deal, Irwin would have to send a specific attorney to France to obtain the necessary signatures from one individual. No other intermediary would be acceptable, nor permitted to transact the sale. Irwin didn't know the lawyer the seller stipulated, but he picked up the phone and dialed, while reading aloud the name he had written down, "Art Ham, Jr."
Moments later, second-generation Las Vegas attorney Art Ham hung up his phone, amused that Molasky had not realized that it was he who had shuttled the paperwork on the race track property too. He looked at his 12 year old son, and asked him if he'd like to see Paris.
Art Ham III had already tagged along when his father had obtained the signatures for the sale of the race track property. "Someone just paid way too much for some land," he remembered his dad saying. His father picked up the phone again, and reported back to Hunsaker that all was in motion. He wrote down the very scant information Hunsaker provided, regarding the location to which Ham was to report, near Paris. Art Ham Jr. had no problem taking bold action based on little information from Hunsaker, because his own father, Artemus W. Ham Sr, had done so, for as long as Art Jr. could remember.
A few weeks later, after days of searching by Art Ham Jr, young Art Ham III Found himself in a stunning, forested garden of all sorts of exotic plants. He hid behind a tree. A beautiful woman named Jessie, about 30 with a beguiling smile, peeked around a bush, "I found you!" Art would later remember how she warmly kept the 12-year-old amused while his father tended to business, with hers.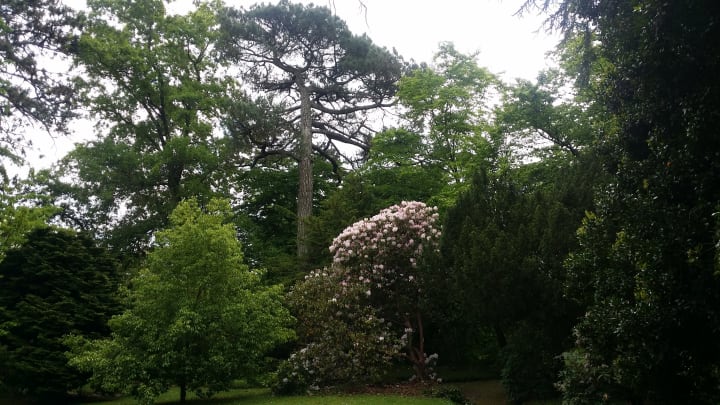 The two noticed a table being brought out of the mansion to which the garden was connected, carried by two waiters in white gloves. It held their delicious lunch of fresh vegetables and fruit, local meats, fresh French breads, juices and wine. Little Art III had never experienced this lifestyle, and it made a lasting impression. After lunch, his father socialized for a time, then they gathered up their things to leave. Art Jr. introduced Art III to his client, Jessie's father, Mr. Hunt. He was an American, giving special instructions to Art Jr. to convey to Walter Hunsaker. Art was also introduced to Jessie's two sisters, and to their mother, Madame de Vilmorin, an elegant center of attention, and what Art III imagined all French ladies to be. Then Art Jr. and his son took their leave.
In October of 2010, I had the great honor to be appointed Honorary Consul of the Principality of Monaco in Las Vegas. During the process, I had been surprised to hear that there had been a previous Consul of Monaco in my hometown. The only information I had was that my predecessor had existed, and had passed away in the 1970's. I didn't even have his name.
It was a curious situation. Monaco is an ancient monarchy, with diplomatic records going back centuries. Yet despite nineteenth century documentation of other consuls in the US, the Las Vegas history was extraordinarily scarce. After my appointment was confirmed, I began asking historians among my family and friends, as well as the Nevada Consular Corps, if they had ever heard such a person existed. I was baffled to find no one had. Intricate internet searches led me at last to the papers of Walter S. Hunsaker in Special Collections at the University of Nevada, Reno.
Hunsaker had been the business secretary to someone named Leigh S. J. Hunt, and to his heirs, from 1927 until 1980. A well-known, stalwart local Rotarian, Hunsaker had died in the 1980's. My search had found the summary description of his papers, because of a single reference to the fact that Leigh S. J. Hunt's son, Henry Leigh Hunt, had been appointed "Consul of Monaco with honorary Status in Las Vegas." The collection included some of the records of the consulate. I soon found out that Henry Leigh Hunt had served as Honorary Consul of Monaco from 1955 to 1963. Born in 1886, he died in 1972. He had been appointed Consul by Prince Rainier III while the sovereign was visiting the US in 1955, which appeared to be why much of the related documentation never returned to the Principality.
I looked for other stories about the Consul. His father, Leigh S. J. Hunt, born in 1855, had been a magnate, a real 19th century international empire builder of near mythical repute. The senior Hunt was the subject of newspaper articles and biographies. He was photographed often for his time. I thought that surely his son, traveling with his father on many of his adventures, would be easy to find. He was not.
My tracking of the life of Henry Leigh Hunt stretched into years. It had me digging through records and interviewing anyone close to his past across the US, in France, Monaco, Brazil, Korea, and The Sudan. The more I uncovered, the more intriguing the man became. I discovered he had captained the Yale Polo Team, chased Pancho Villa through northern Mexico, trekked the Brazilian jungle with Kermit Roosevelt, Hunted African elephant with Teddy Roosevelt, been married to a famous French literary personality named Louise de Vilmorin, from 1923 into the 1930's, remaining close to her and her family after his marriage ended. He had received the Croix de Guerre in WWI, and facilitated the escape of key Nazi targets in WWII. He had developed a neighborhood where I had lived as a kid, and created a landmark theater in Las Vegas in the 1940's, all bearing a familiar name to any long-time Las Vegas resident: Huntridge. He had owned the land which was leased or sold to develop the Stardust, the Sahara, the Frontier, the Hilton, the Landmark, the Riviera, The Sahara, the Desert Inn, the Thunderbird, the Las Vegas Country Club, the Las Vegas Convention Center, Convention Center Drive, and much more. In fact, he was the largest landholder in Las Vegas in the years before Howard Hughes.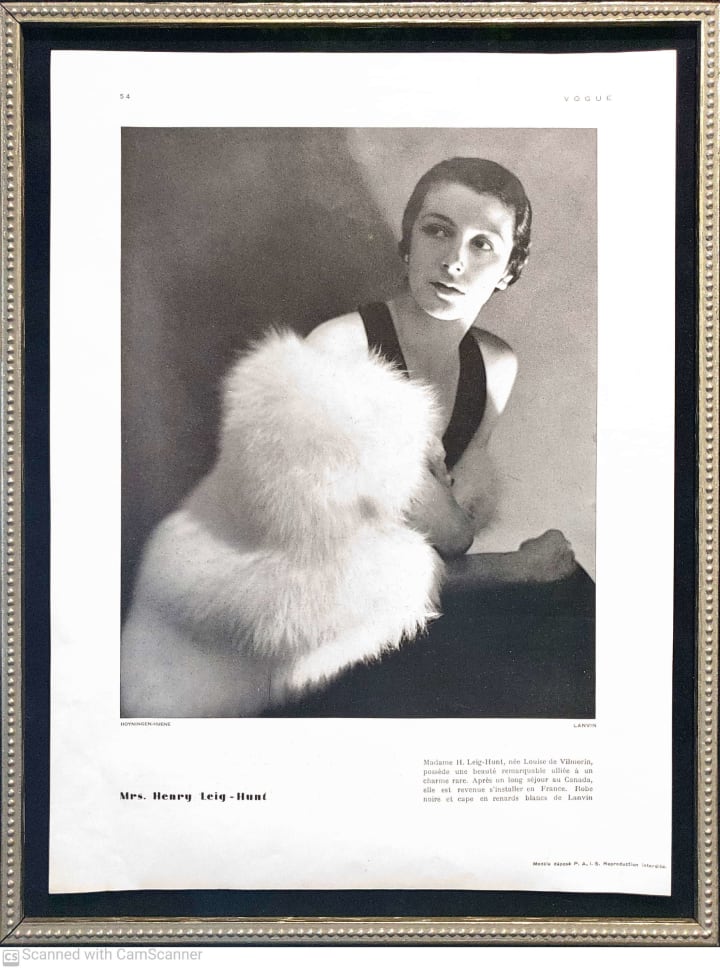 Hunt Street was named for the Hunt family in Ames, Iowa, as was the town of Hunt's Point on Lake Washington near Seattle. Huntridge neighborhood and Huntridge theater are named for them in Las Vegas. But of Henry Leigh Hunt I found virtually no articles, photos, obituary, or gravestone. There were no friends who remembered him, few descendants who seemed to know him, and even fewer willing to talk.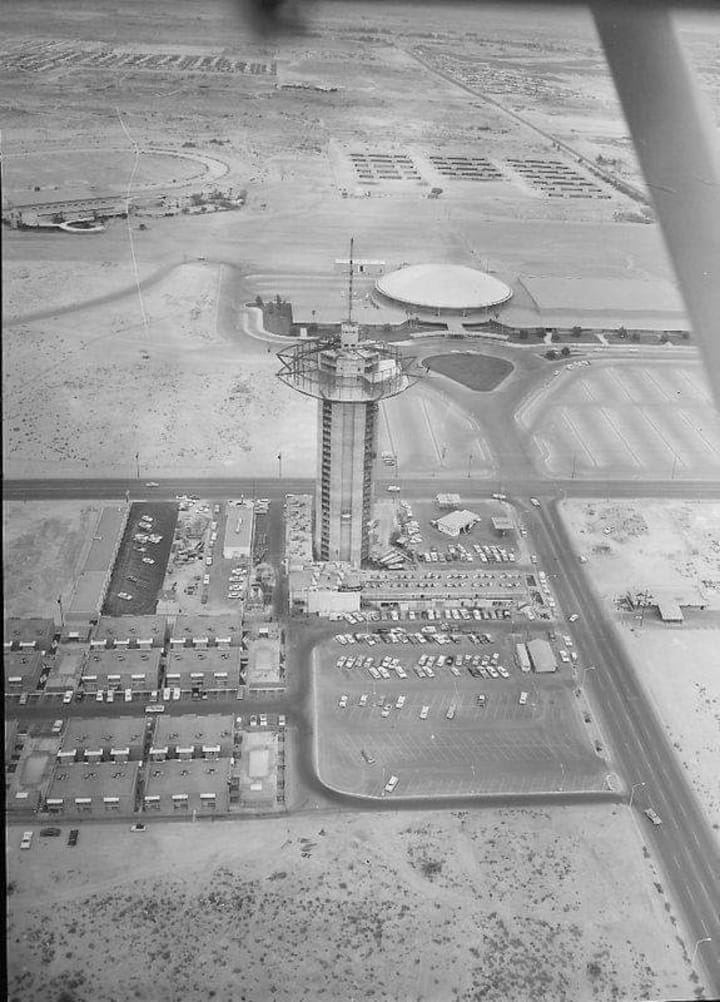 Elderly friends who were prominent Las Vegans when Henry Leigh Hunt served as Consul of Monaco, without exception, knew his assets or exploits, but had never met the man. My mother had been a State Parks Historic Interpreter on a property once owned by the Hunts. My father excavated archaeological sites for years on property which also had been owned by the Hunts. My uncle, a historian in Seattle, had written for the newspaper owned by the Hunts. I myself had lived in a neighborhood named for and developed by the Hunts. I visited the historian of the Christ Episcopal Church in the Huntridge neighborhood to ask about the Hunt family, donors of the site on which the church is built. Their extremely detailed history credited Henry's sister, Helen Hunt Rives, but no one had ever heard of the actual donor, Helen's brother Henry. There were no records of his consular service at the State of Nevada, and the artifacts typical of a consulate had vanished.
Above: Hunt Lodge at Pine Creek, Red Rock Canyon Clark County Nevada, circa 1930
There were photos of his father, mother, sister, wife, daughters, secretary, grandchildren. His properties and projects were household names, his exploits the lore of princes and presidents. His bravery was lauded by Teddy Roosevelt in Africa; his dashing style described by Edith Roosevelt in South America; his survival skills marveled by the Countess Clara Longworth de Chambrun during the fall of France in WWII, and by the French military in the World War I Battle of Belleau Wood; his business acumen was applauded by titans from Paris to Las Vegas, to Rio, to Korea. Yet the man himself seemed a phantom.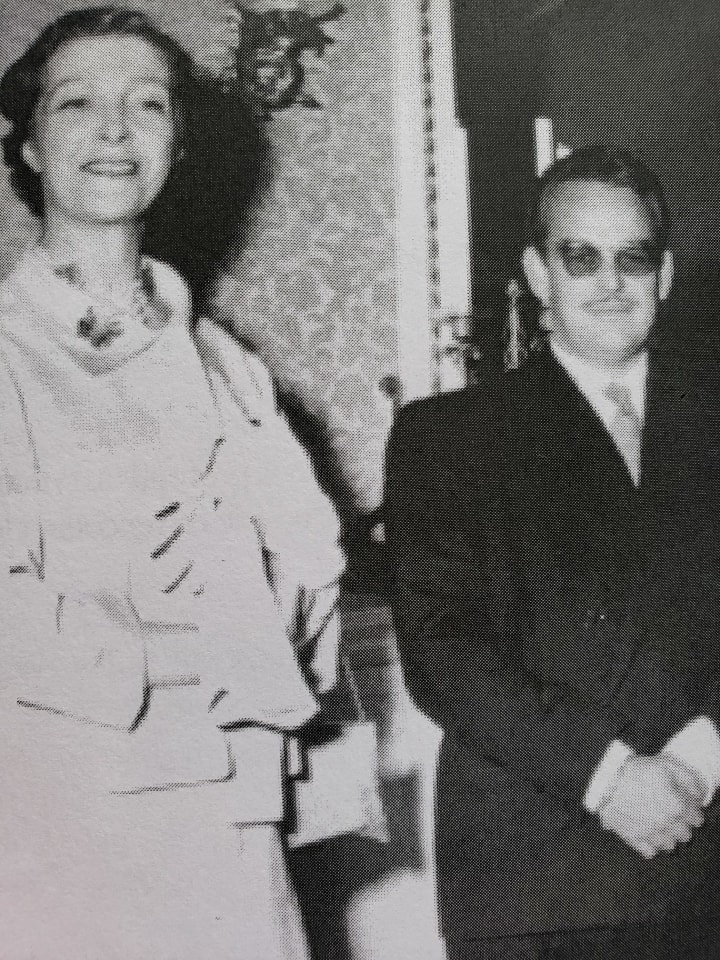 How could one of my home town's wealthiest and most important citizens, one who had been a Las Vegas resident for almost 50 years, be such an enigma? I was confounded.
I knew Walter Hunsaker had passed away in the 1980's with no direct heirs. His wife had predeceased him. I found his nephew in Las Vegas, Richard Hunsaker, and reached out. The response was tepid at best. Richard indicated he had not been close to his uncle, had never met Hunt, and didn't know much about any of the international types with whom Walter Hunsaker had associated. It seemed I was making him uncomfortable. I tried again a year later, again inviting Richard to coffee. He politely declined, reiterating that there probably wasn't much to talk about.
In Las Vegas, local boys are like a private club, especially if you went to public school. Richard and I are two such individuals, not so far apart in age, and with over 100 years in Las Vegas between us. His standoffish demeanor wasn't the response I would have expected. After several attempts and about 5 years, I gave up trying. That's when it got interesting.
By that time, I had traveled the world "chasing Henry," and found several members of Henry Leigh Hunt's extended family. I had interviewed his daughter Alexandra, located his grave in France, and uncovered answers to long-standing mysteries about the man. I found that the story was more than I could ever have imagined. While still chasing down some of the missing years and legends handed down, I was beginning to assemble the records to tell the story at last.
Then, suddenly, Richard Hunsaker called. To my astonishment, he suggested maybe it was finally time we meet. I hoped my publication of activities of the Consulate had triggered a positive response, and might serve to augment my years-long pursuit of chronicling the amazing life of Henry Leigh Hunt.
Meeting for morning coffee, Richard and I quickly slipped into the familiar dialogue of two old Las Vegans comparing notes. A comfortable comparison of stories of growing up middle class kids in "Sin City" ensued. Then we got to the story of the Hunts.
Richard was a small child when his uncle was managing the estate for Henry Leigh Hunt. We compared a few foggy memories of Richard's, with corresponding research I had conducted. His recollections of his uncle Walter, the unextravagant, yet elegant way he lived in his immaculate home on 6th street, and the many international guests who always seemed to be visiting him, added a very human component to my research on my predecessor.
Walter Hunsaker was recruited by Leigh S. J. Hunt to be corporate secretary for the Hunt operation when he graduated from Pomona College in the mid 1920's. His younger brother, Richard's father Robert Hunsaker, had come in 1935, and continued to travel often back to the Los Angeles area to visit his parents. He worked in theater and at the film studios there, and was acquainted with family friends of the Hunts in Hollywood. He had married his wife Lorine in 1945. Both brothers were decorated WWII veteran pillars of the community, and Robert was a highly ranked Mason who had received the Key to the City of Las Vegas for work in bringing home well-known Las Vegas boys after the war. The Hunsaker brothers were very close. When Walter passed away in 1988, his brother Robert followed only a few months later.
Richard was candid about his lack of contact with me. He related that his own family had not been as fortunate as the previous generation, and that times had not always been good for him. He had been an innovator in student government and broadcasting in college, and after. A graduate of the first computer science degree program at UNLV, he had become a systems developer, but later hit troubled times. He had finally gotten in touch when things smoothed out. I was glad he felt more at ease in dealing with me, and assured him things were not always coming up roses for me either, and I was just happy to be able to compare notes.
I showed him one of the very few photos of Henry Leigh Hunt, outside his home in Las Vegas. The photo was part of an article in the Las Vegas newspaper in 1956, featuring an interview about his appointment as the first consul of any country in Nevada. Hunt is pictured sitting next to the international standard oval consulate sign, which is a shield bearing the Crest of the Sovereign Prince, and the French words "Consulat De Monaco." These oval-shaped signs, identifying consulates of all countries in cities all over the world, are an ancient standard. A modern version had been provided to me when I was appointed.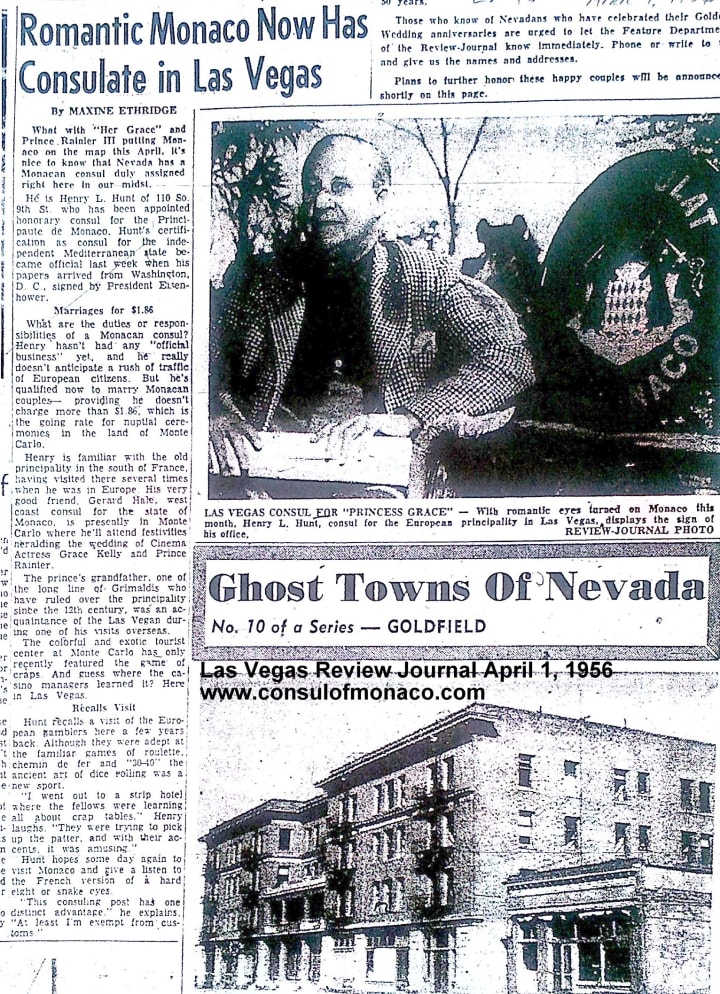 Hunt also held a small box in his lap in the photo, apparently connected to the Consulate. I suspected this was the supplies provided each new consulate. Mine had included a lapel pin bearing the Crest of the Prince, with a special border used only to indicate a consul. The lapel pin had been a coveted identifier, in the Principality especially.
Richard looked hard at the grainy photo, and smiled. After a pause, he went on to explain that he was the only heir of Walter Hunsaker, since the passing of his own father, and later his mother. Despite this, his Uncle Walter had always been a bit of an enigma to him. I was happy to have re-established contact between the Consulate of Monaco and the Hunsaker family, two generations later. We agreed to compare notes from time to time, and we prepared to leave. Richard handed the copy of the photo of Hunt back to me as he got up, and asked me to stop by his car before I went to mine, I assumed to exchange contact information.
Walking through the parking lot, Richard reflected again on his own hard times in the past. He said there were times he sold off nearly everything to survive. As he grabbed the handle to the back door of his car, he continued, "But my mother made me swear to never, never sell this." The door swung open. On the seat, a large black oval bearing the ancient Crest of the Sovereign Prince of Monaco. The shield. Unbelievable.
It was in near-perfect condition. Made of steel, the only surviving shield of this vintage that I had seen was held by the Consul of Monaco in San Francisco. But I had never seen one in this condition. It looked almost as if it had just arrived. The crest was hand-painted, stunning. "My god!" was all I could utter at first. "This is incredible. This is a museum piece!"
"One more thing." Richard opened the drivers door and reached across the seat, coming out with a small box. He handed it to me. I lifted off the lid, and the morning sun lit up a large, heavy, very detailed medallion of exactly the same design as my much smaller consular lapel pin. It was the Consular badge of Captain Henry Leigh Hunt.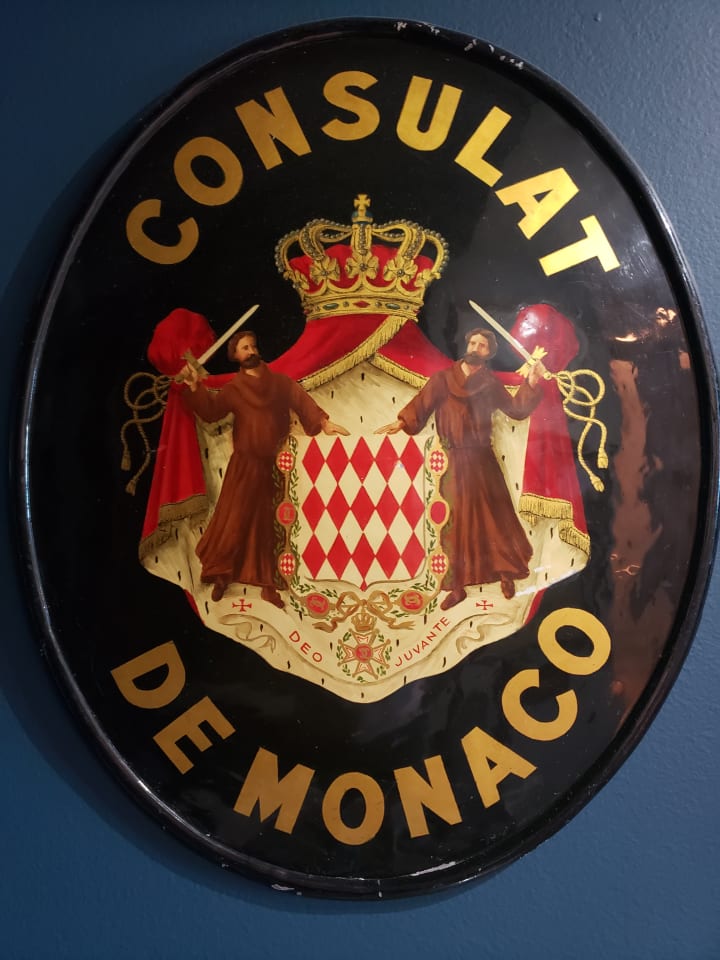 A whole conversation rushed through my head, about how I would convince Richard we must preserve these artifacts, how the Principality would want to know they exist. "These," Richard interrupted my brain noise, looking at the two amazing artifacts, "These are for you." Life all comes down to a few moments. This was one one of them.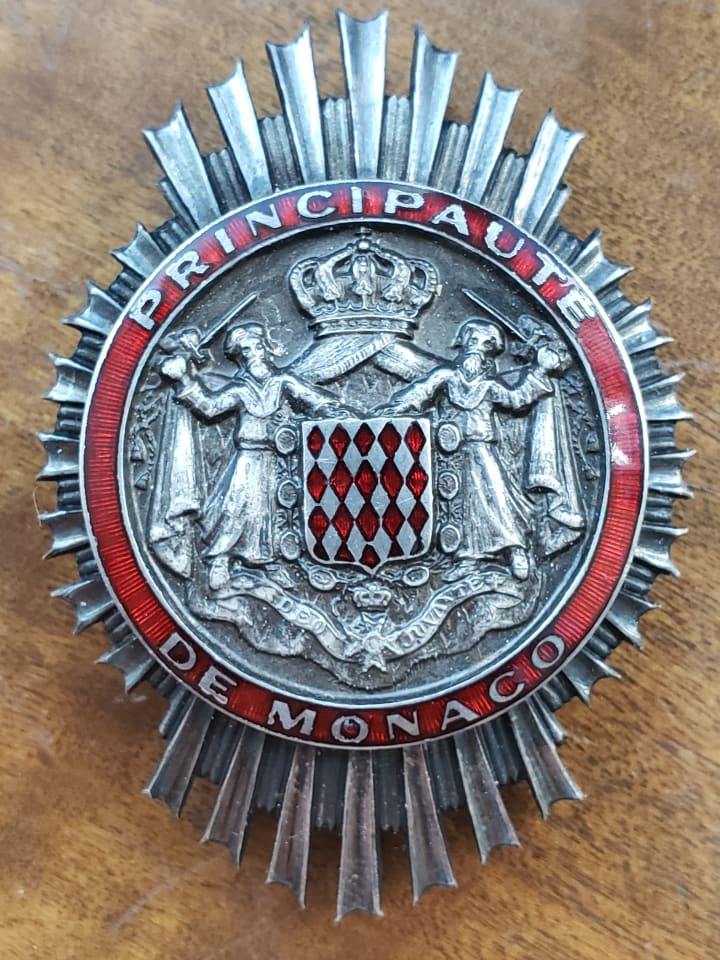 Henry Leigh Hunt had left the shield and badge of the Consulate with his trusted secretary, that same man who had served his father for over 50 years, Walter Hunsaker. When Henry retired to France in 1963 to be near the ex-wife he still loved, Art Ham Jr. carried back the instruction for Walter Hunsaker, informing him that Henry would not return, that another consul would be appointed one day, and these items, which belonged to the Principality of Monaco, should go to that person. When Walter passed away, that instruction and the artifacts went to his brother Robert, who later passed them to his own widow, Richard's mother.
Richard looked at me to make sure I understood. Everything suddenly made sense to me. He explained further, "My mother made me swear never to sell these. I hung on to them at times when I had nothing else. She knew someone would come for them one day. It's been fifty years, and I know that day is today. I am returning them to the Principality of Monaco, with my regards. Tell them Hunsaker loyalty remains."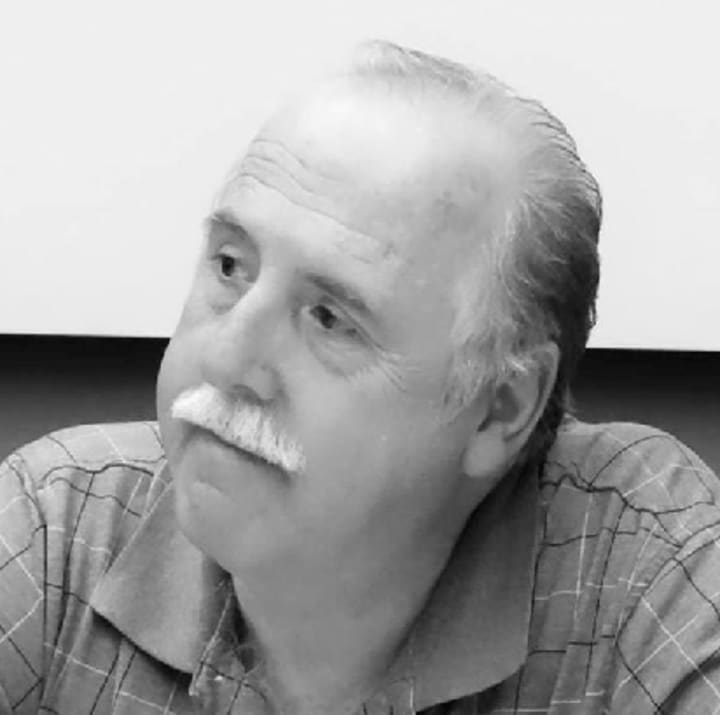 On a sunny day in 1963 at Verrières-le-Buisson near Versailles, deeds were executed to finalize the highest price paid for any piece of real estate in Las Vegas to that date. Though a Las Vegas paper would carry the story of this last, large sale of the massive estate of the Hunts, founders of the Las Vegas Strip, few in those days knew the buyers, upstarts Irwin Molasky, Merv Adelson and Harry Lahr. Circus Circus would soon be built on the land. $2.1 million transferred to Paris. The seller would never return. He is interred in an ancient cemetery, at a tiny church in the hills overlooking the town where young Art Ham III encountered him; where Jessie's mother, Louise de Vilmorin, a grand dame of Paris impressed him, and where she herself is interred in that very garden today.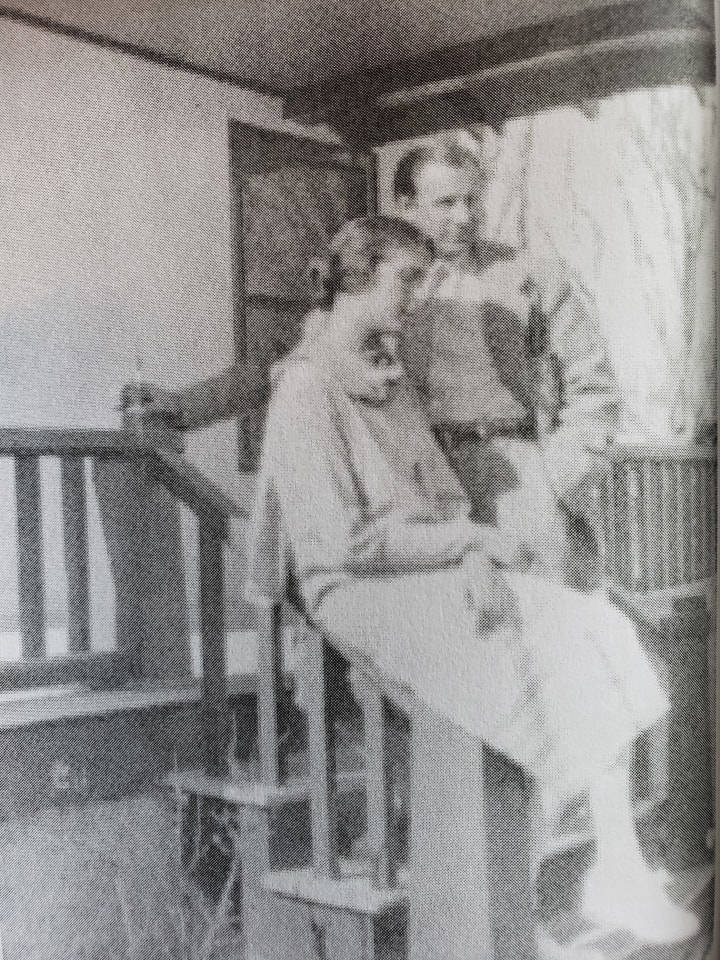 By the time Richard and I realized that we were caught up in something bigger than us, in that Las Vegas parking lot in 2015, the calendar had advanced several decades since the deaths of Henry Leigh Hunt and Walter Hunsaker. But these men nonetheless envisioned and inspired the actions, which brought about the preservation and transfer of the rarefied artifacts of the Consulate of the Principality of Monaco to the next consul, after a fifty-year hiatus. And so the legacy continues, a promise, kept.
More writings of Jonathan Warren
Contributions received for this article are donated to the Prince Albert II of Monaco Foundation
vintage
About the author
PLEDGES & TIPS SUPPORT THE LIBERACE FOUNDATION FOR THE PERFORMING AND CREATIVE ARTS.
Honorary Consul of Monaco, Chairman of the Liberace Foundation for the Performing and Creative Arts, 50 years in Vegas, Citizen of the world.
Reader insights
Be the first to share your insights about this piece.
Add your insights