The Opening
To Oneness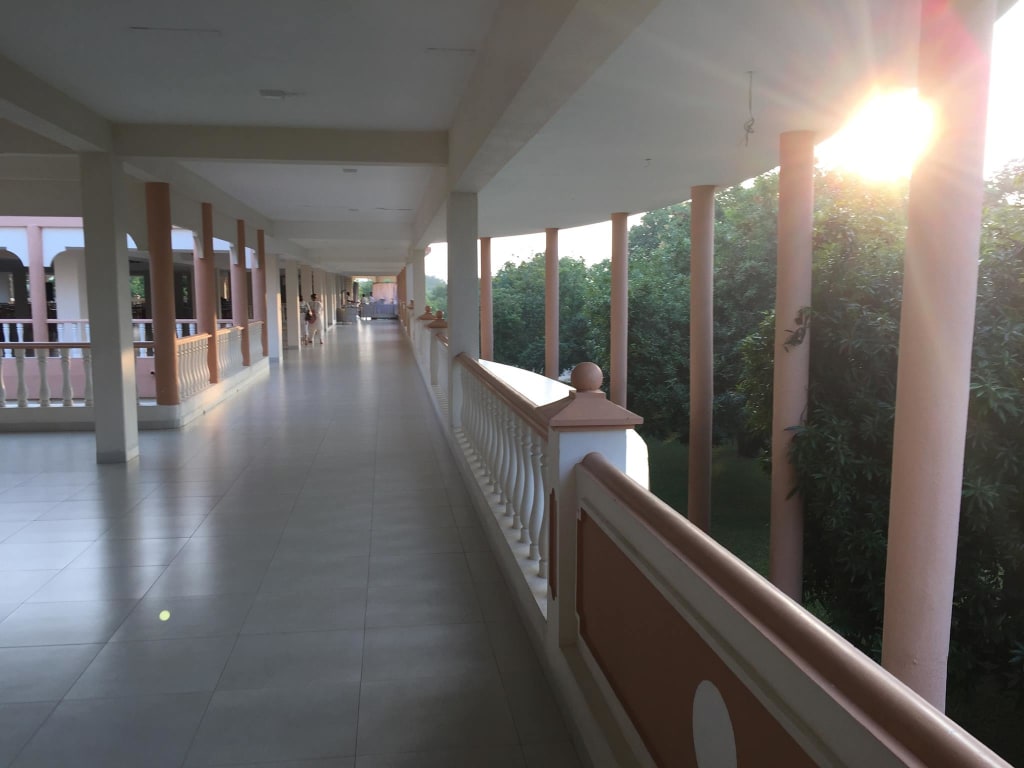 I couldn't believe that I was in India. Looking over to my left was an alarm clock blinking 10:30 am. At this time the TV was still on, its introductory screen slowly coming in and out of actual sound in the room and my consciousness as well. I had flown into the dark, bustling city at 3 am just hours previously. It seemed that Chennai didn't need sleep, but I definitely did. Hundreds had lined up outside the airport to take guests to places around the city. I had found my connection somehow and then there was a taxi ride on a dirt road surrounded by rush hour traffic. It was dark all the while, although something in the air sensed the early day was beckoning itself in. The flight previously had been equivalent to about two days of flying. The experience was possibly close to being flushed down a toilet and arriving in another world. "Was it possible to be water logged by time?" I felt that right then. Outside people were now working in the blazing daylight. I was in the cool interior of a room. India was packed tightly around me, but there was no judgement. Everybody lived together, weaved in together, made sense together. This was apparent and it was new and unique. I was there to attend "The Oneness Partners Course" with Oneness University. It was a process that I had started four years prior. A deep Chennai sun blossomed slowly over the sky lighting up the world for millions of people as they began another day in their life. I just happened to be present as well in that part of the world. My life was weaving in with India I realized right then.
Upon returning from Japan in 2013, I was at a loss of what to do next. The goal was to play music. It had always been the goal, but there I was again, walking down an empty street that one finds when they walk down Hopkins Street in Aspen during the off season. It's very peaceful during this time. I think Aspen wants to remind everybody that it once was a ghost town not so very long ago and the locals get a first-hand experience to witness this chance. During my journey, it has been always a practice of mine to seek volunteer work when I'm at an impasse on what will be the next move in my life. I received this advice from Sri Sri Ravi Shankar from "The Art of Living" This is another story altogether that I will explain at another time.
There was an opportunity to volunteer at the local senior center in Aspen and so I dove in. It was there that about a month into the experience my friend Mary introduced me to Oneness. I was looking to get into a weekly meditation practice and she suggested that I attend the weekly get together. At that time in 2013 Oneness was interested in giving "Deeksha," which is Sanskrit for "Divine Blessing." A meditation would be held and then everybody would receive "Deeksha" from one of the "Deeksha Givers." The group gathered on a Thursday at a house in Aspen and 13 of us went into silence. It was a beautiful experience and it was something that I wanted to continue. Unfortunately, as fate would have it I soon began my occupation as a spa attendant at one of the luxury spa's in Aspen and my schedule was tied up for the next six months. When spring did later come to the valley once again I found myself moving on and having an opportunity to attend the group once again. Upon attending I was able to meet Julia Desmond and she was looking for people to become "Deeksha Givers." It really called to me and so after some rumination within myself I decided that I would attend. The process was beautiful and a group of us gathered to become trained to be "Deeksha Givers." Following that process, I was able to lead my own mediation and give Deeksha. Soon though things were changing as things do change. Julia and her mother were called by Oneness University to build a wellness center in Crawford, Colorado and she would lead processes out there. Deeksha was fading away into another realm. The energies of the world were changing and the world was getting more spiritual in nature. It seemed everything was going into the dark to find light.
At the time I was devoting most of my energy getting into music and also was a massage therapist at the St. Regis in Aspen. I was commuting from Carbondale, Colorado and on occasion, I'd travel to Crawford to do processes with Oneness. The experiences were powerful and I felt something getting deeper within me. It was something subtle and something beautiful. That is not to say that there wasn't conflict in my life. It was a tumultuous time. Oneness at this point was taking away "Deeksha" as it had always been paramount to keep the practice sacred and so for that reason transition was what happened. The university had now developed the "P+G Course" or "Phenomenon and Gift Course." Many had been called to want to go to India and attend the higher processes there, but were unsure of the means to the end. The course provided a way to receive powerful processes and yet not have to travel to India. The Oneness Teachers would teach via live webcast on a large screen to a large audience and over a period of a couple of the days the participants would be put through a series of beautiful processes. I very much wanted to attend the course, but did not know how I was going to go.
I had never been in debt before and was very reluctant to take the plunge, but the course called to me and so I did something I had never done. I took out some credit cards so that I could attend the course. It happened that the next one would take place in Hawaii. I dove in. The process was deeper than before and a giant room was filled In Kauai, Hawaii for three days of difficult, but lovely processes. Upon finishing I returned to the U.S and wondered how I would pay off the debt I had accumulated. Three weeks went by and there was nothing and then one day I happened to glance into my investment account. Unbeknownst to me, I found that there was a stock that I had bought that had happened to double in price. The whole experience was paid for in the blink of an eye. Another P+G Course was happening in Denver, Colorado at this time and so again I signed up. It had been a deep desire for me to go to India and slowly I felt this becoming a reality.
So there I was at the turn of the year as the whole globe breathed in and then out and found themselves dipping into 2017. Chennai, India was my location and the world was changing naturally as it would.
The P+G and Course is continuing to be held around the world and there will be one in Denver, Colorado happening during the beginning of September. Check it out and come! Click on the link above for more details.