The Nerd Emporium of Pueblo, Colorado
Where Nerds Reign Above All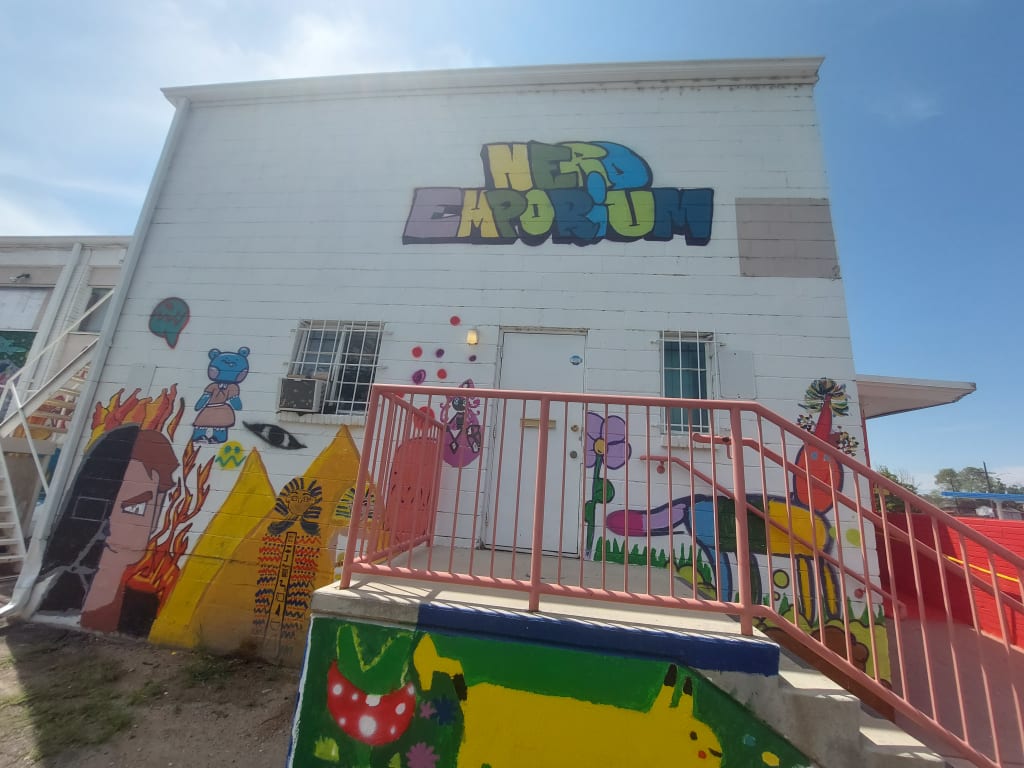 Author Photo
Living in Pueblo, Colorado, you can travel a short distance for a variety of sights: Pike's Peak is about an hour away, or you could visit down south in Rye to see some beautiful mountains and forests. In town, there are the usual places, like authentic Mexican cuisine restaurants, Chinese places, and all of your typical chains (most of which sell Pueblo's infamous green chile). Shopping selections leave little to be desired, with the mall having lost a great deal of stores and major chains such as Sears and K-Mart shutting down.
'Lo and behold, while browsing Facebook one day, I saw that a friend of mine who runs a Facebook page and YouTube channel called Chocolate Covered Cosplay would be selling her incredible fudge at a local event called The Nerdy Flea Market.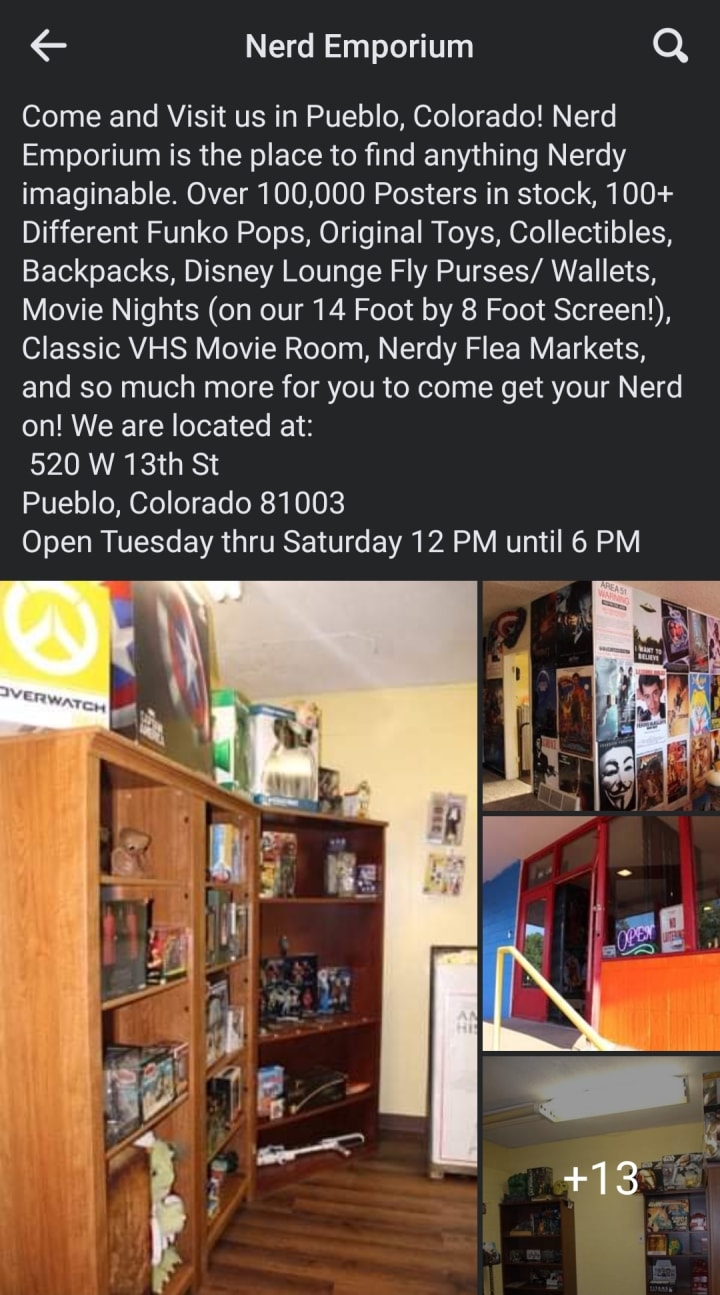 Once I learned that there was actually a local resource for nerdy folks, I had to learn more. My partner and I took a trip to the store to see for ourselves what it was all about.
Upon arrival, we met the owner of the shop, whose name was Mitch. Mitch boasts a collection of over 100,000 posters along with collectibles and various nerdy delights to ensure all nerds are covered when they come in to shop for relics of their favorite fandoms.
Touring the store, from the outside through the inside levels, was an unusual delight.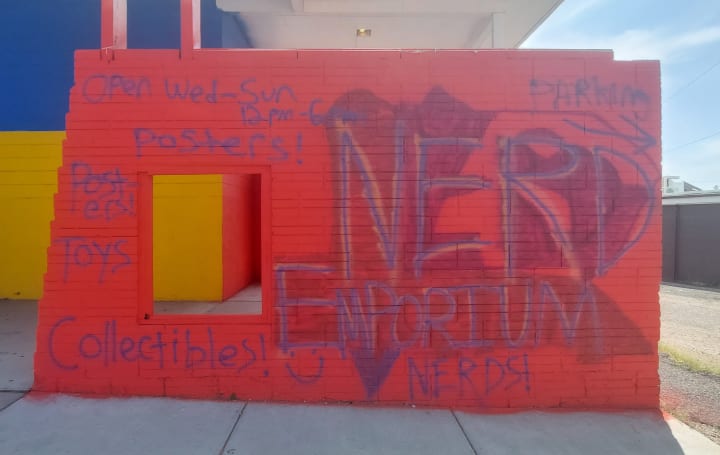 Funky spray paint and no regard for cleanliness or themes. I'm already in love! Who needs your day-to-day theme for nerds when it could just literally be whatever you want?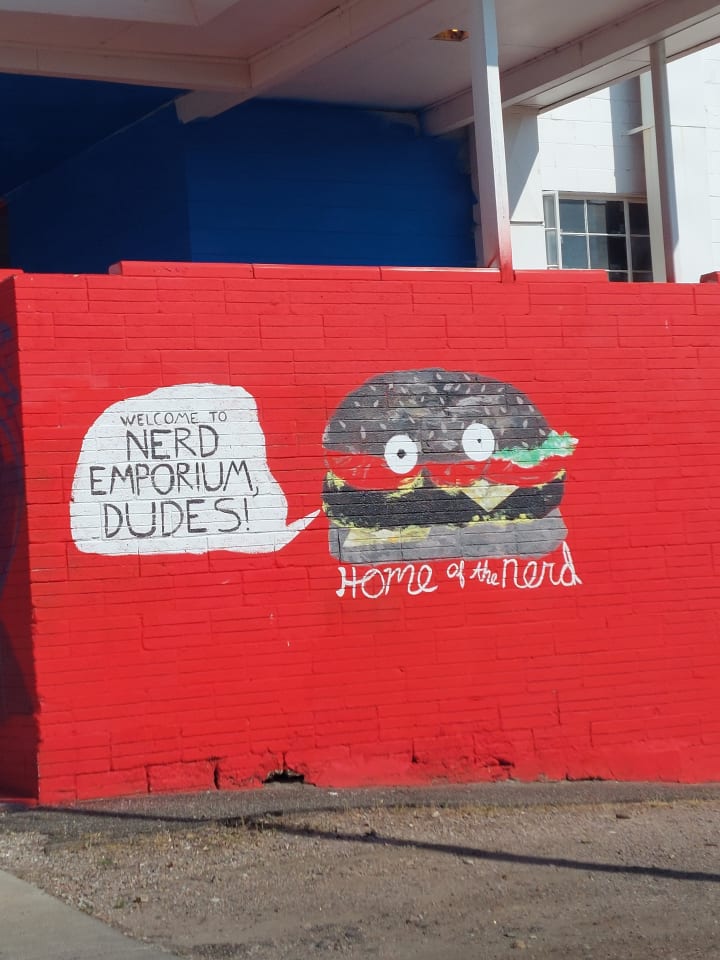 They're even nerdy for a Good Burger. The 90's child in me was gleeful at this sight.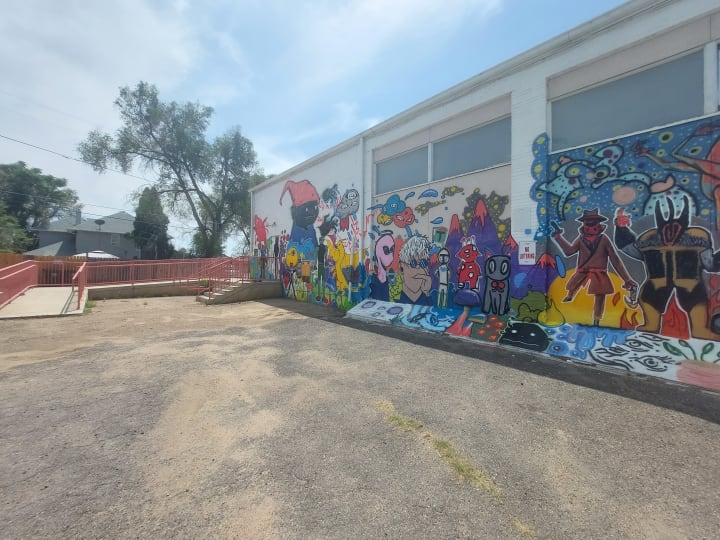 There's artwork everywhere. It's quite fun to gaze upon before you walk inside to discover what nerd magic awaits.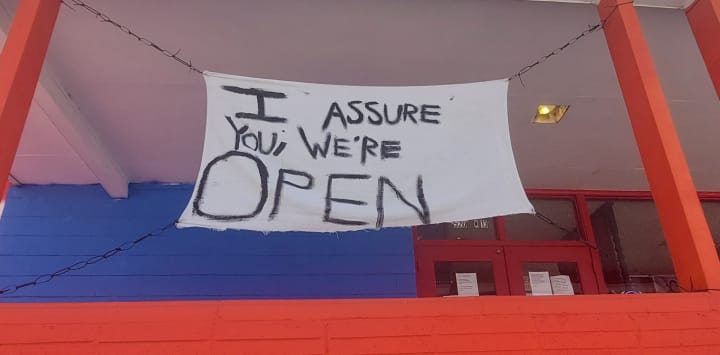 Does this, perhaps, look a little familiar to you?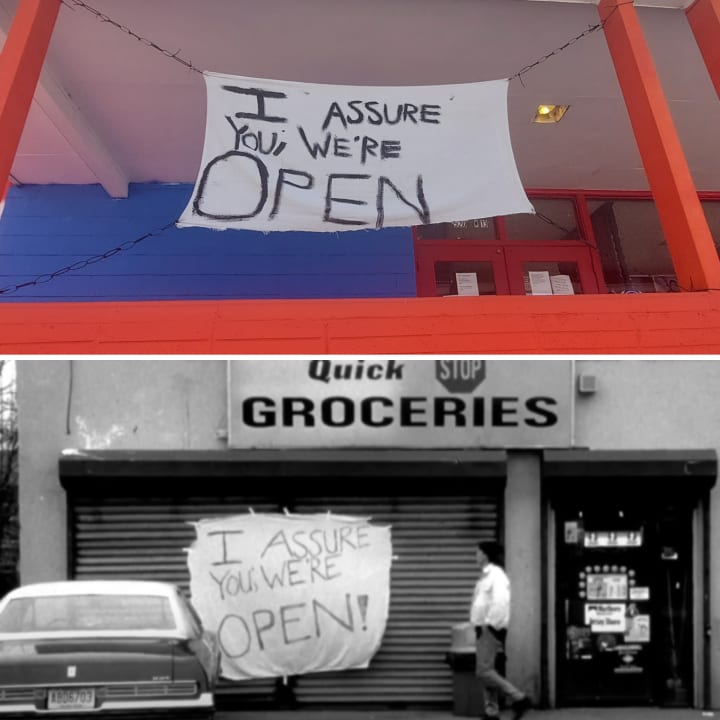 Gotta love the Clerks reference!
Enough about the outside visuals. Let's take a lot at what Mitch has created for his customers inside.
Free Movie Nights
Mitch schedules free movie nights, varying from family friendly to 21+ settings so there are varieties of scenarios for moviegoers to choose from. He boasts on his Facebook page that he has a 14 foot by 8 foot screen for viewing...
Well, his boasting was earned, because the setup is great!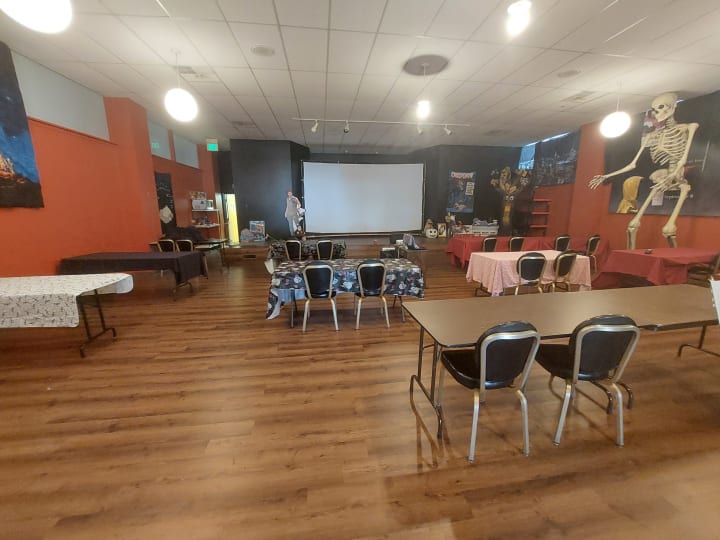 You can see the screen at the far back side of the room with several tables and chairs set up. The tables are a lovely touch, given that family nights might include kids needing to bring multiple fidget toys, snacks, or necessary stuffed animals who would need a place to sit besides the floor. Of course, the movie viewing room is set up with some fun nerdy decor to keep the geek vibe strong.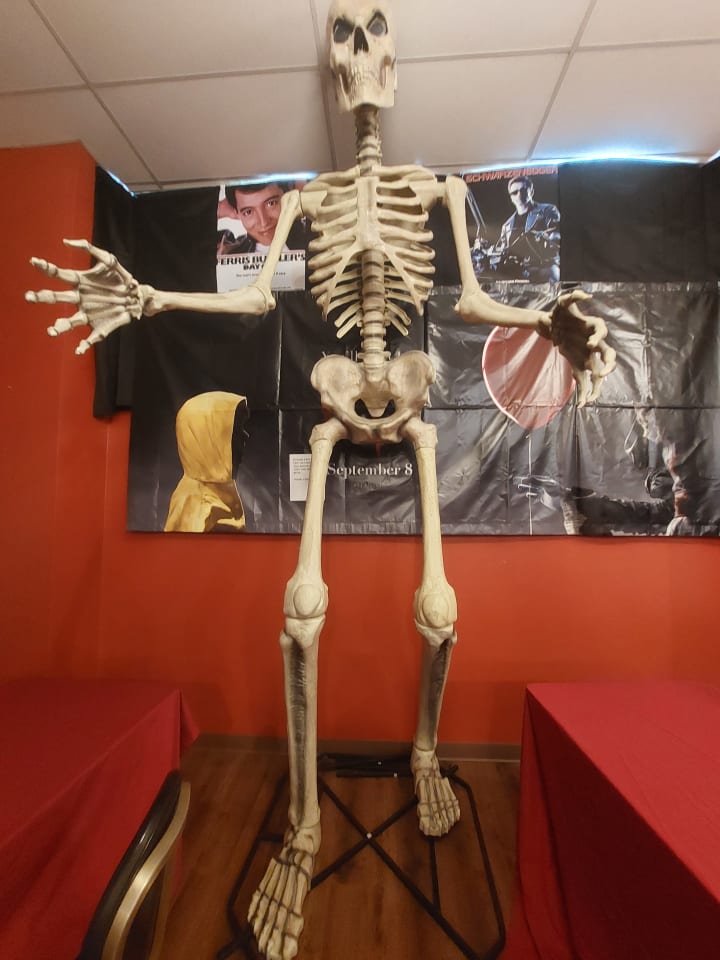 I'd say the enormous skeleton is a nice touch, wouldn't you?
Or perhaps this unique setup close to the movie screen...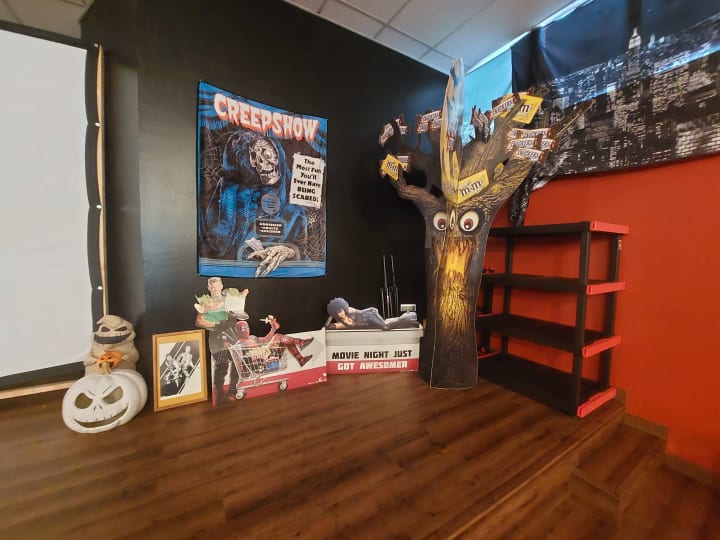 Or maybe a little of this decor is intriguing to your geekified self?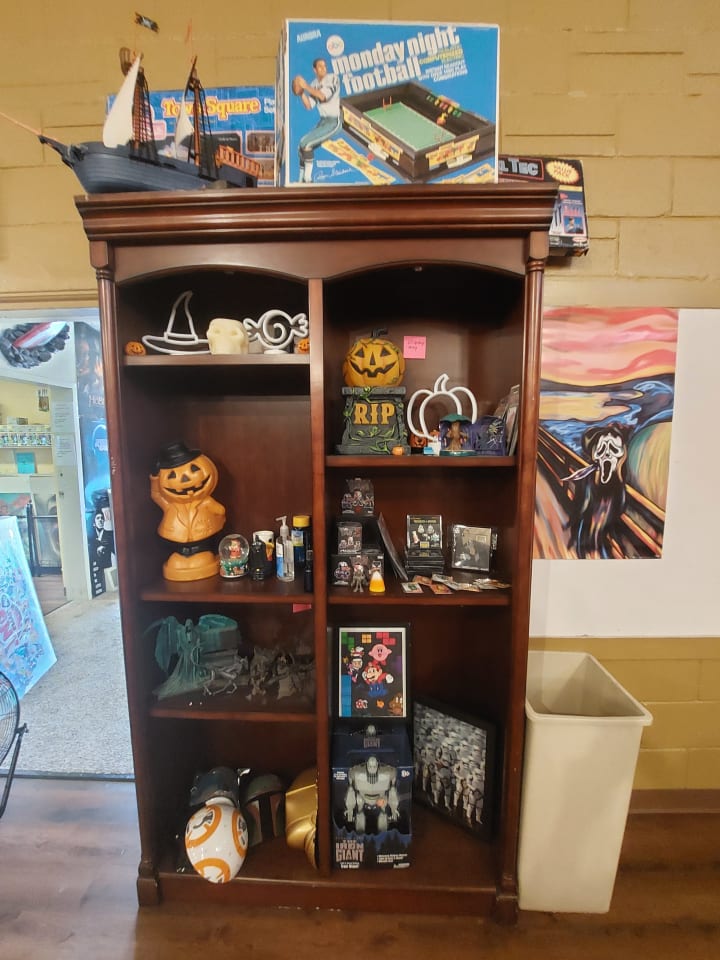 And here's the view from the screen, facing the entrance to the movie room: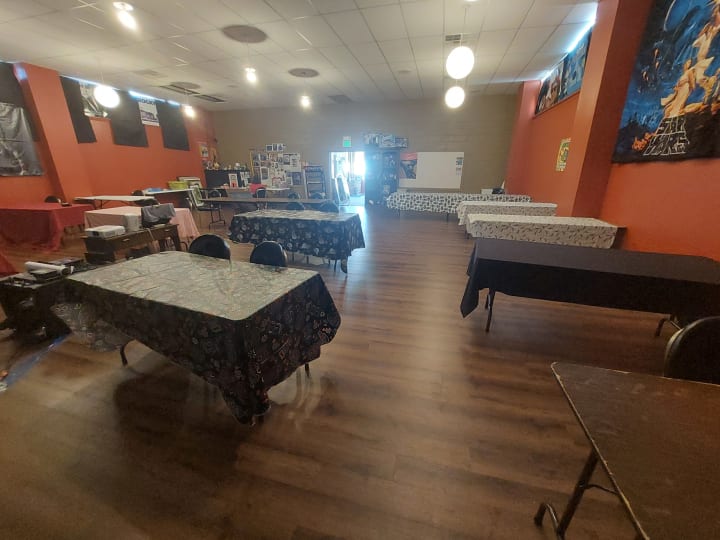 As you can see, it's incredibly spacious. Is it fancy? No. Does it feel like home? Absolutely, and that was only my first time through the place.
I felt at home every way I turned, not seeing a consistent theme or fancy furniture. There's a charm in being somewhere that cares more about your fandoms and less about being upscale. The business has a dedication to what you love and not what they spent on tables and chairs for movie nights.
Not looking for a movie night? Maybe you just want to shop? Take a look at the selections they had the day I toured the store!
The Selection
Over the span of two levels in the store, you'll find posters and collectibles and VHS (oh my!)
The top level contained merchandise such as this: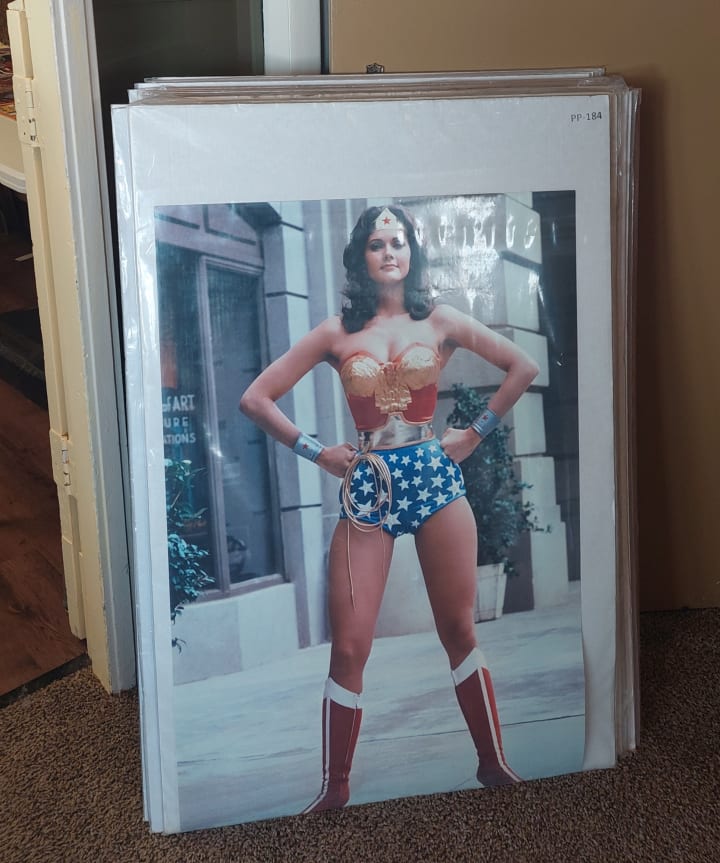 Classic Wonder Woman poster?!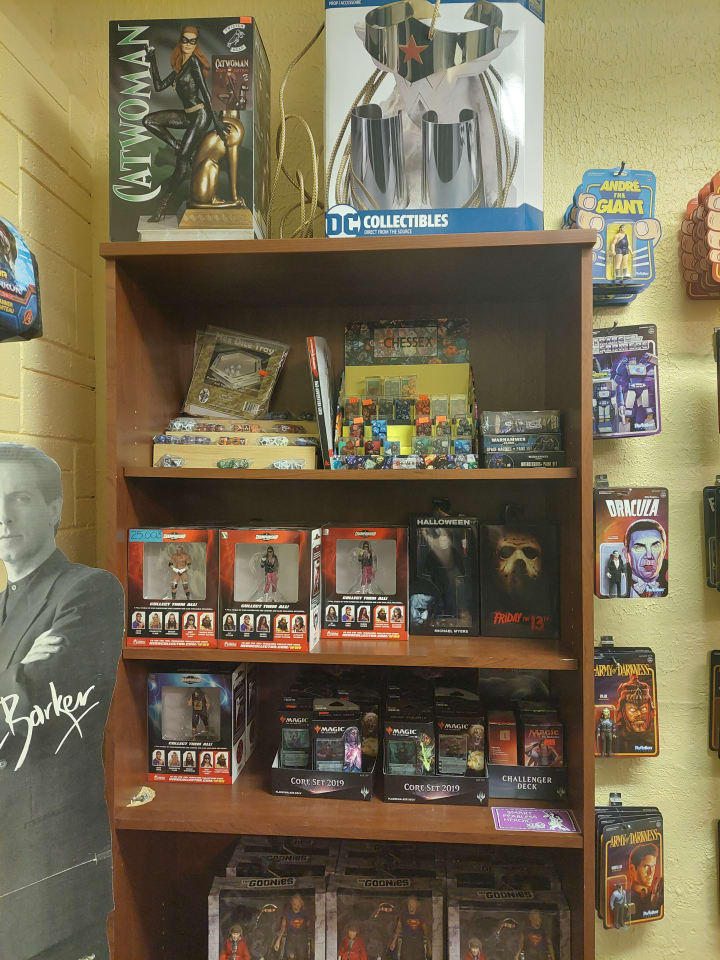 So many things to love here. Check out those DC collectibles!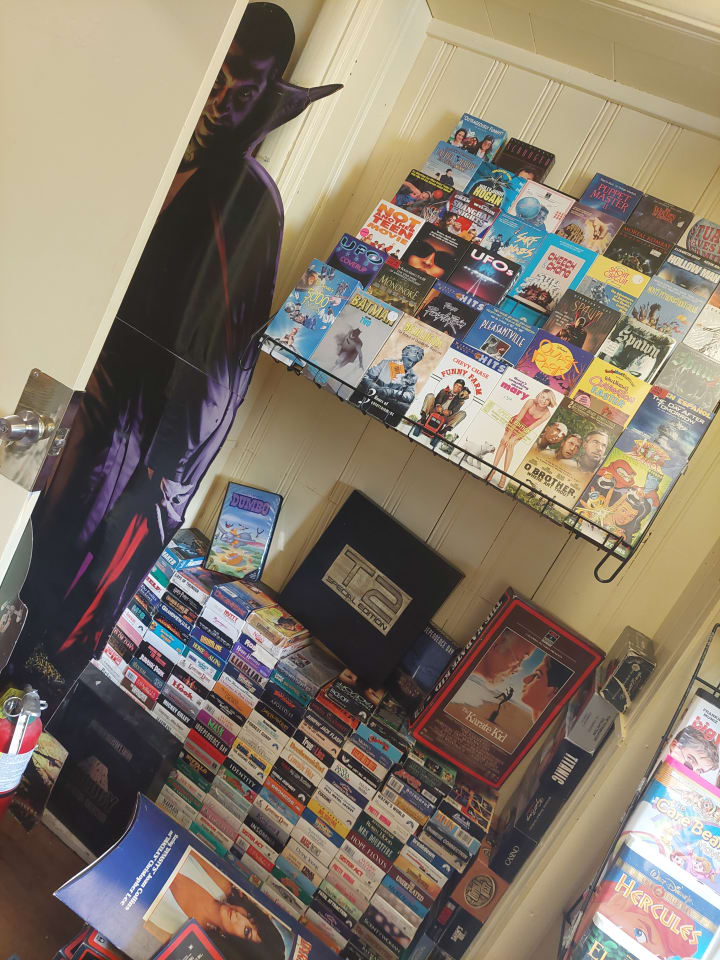 Those Gen Z kids might not think they're cool, but the rest of us know how important VHS tapes were.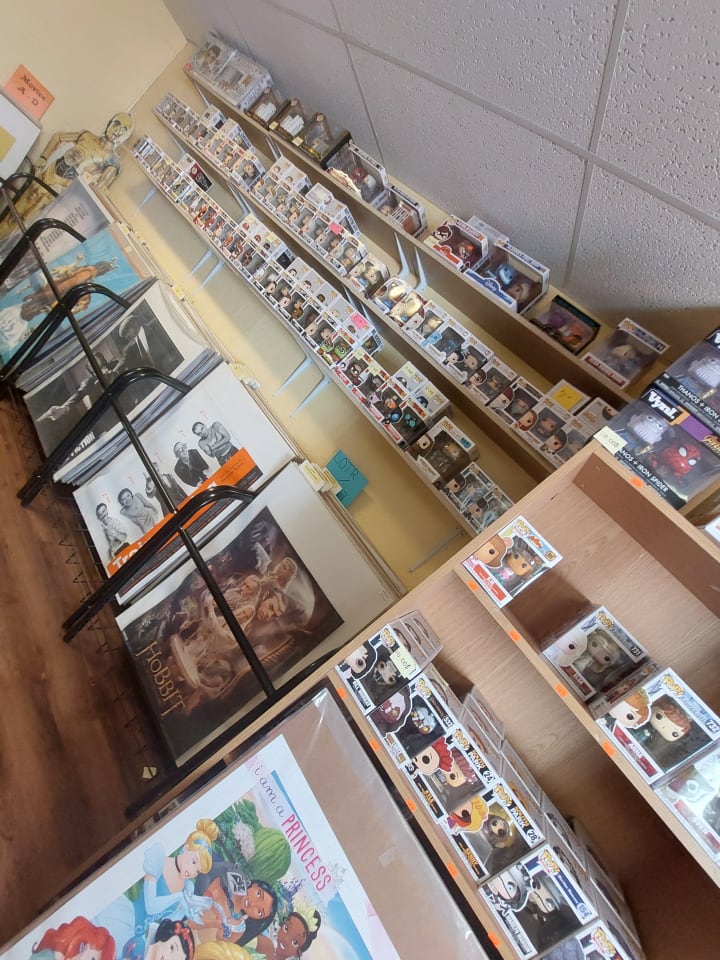 Posters and, my personal favorite, Funko Pops!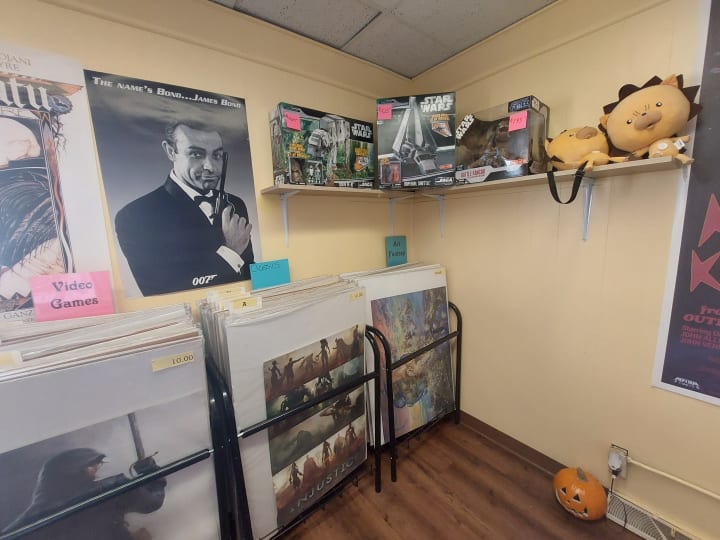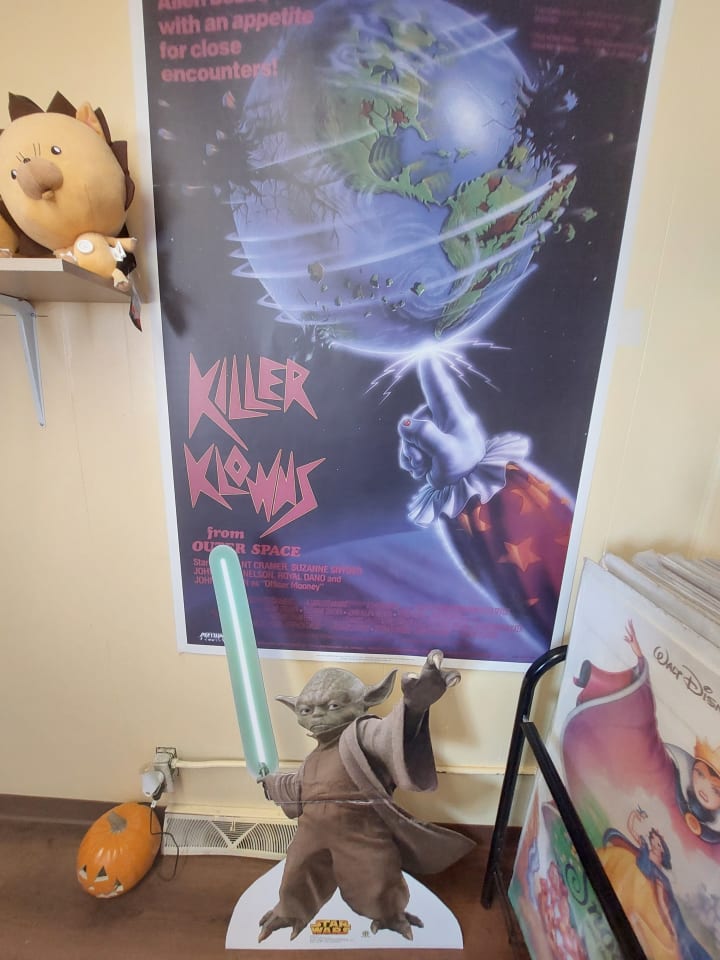 Never fear, Yoda came along to protect us from the Killer Klowns.
And that's just some of the top floor!
Ready to take a peek downstairs?
Let's head on down!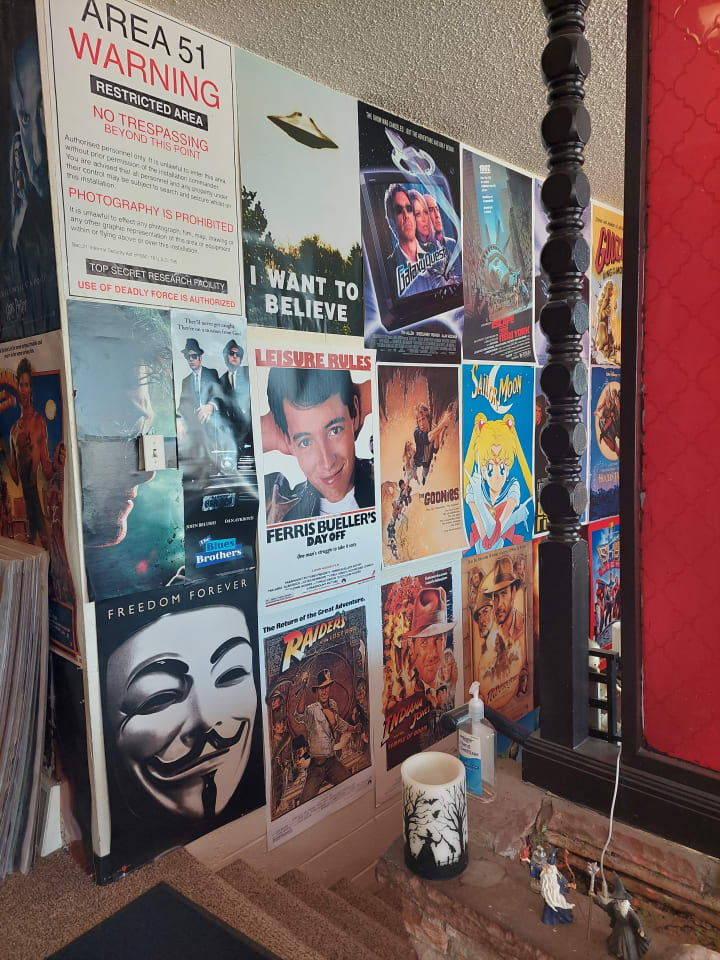 Nice decorated path down the steps!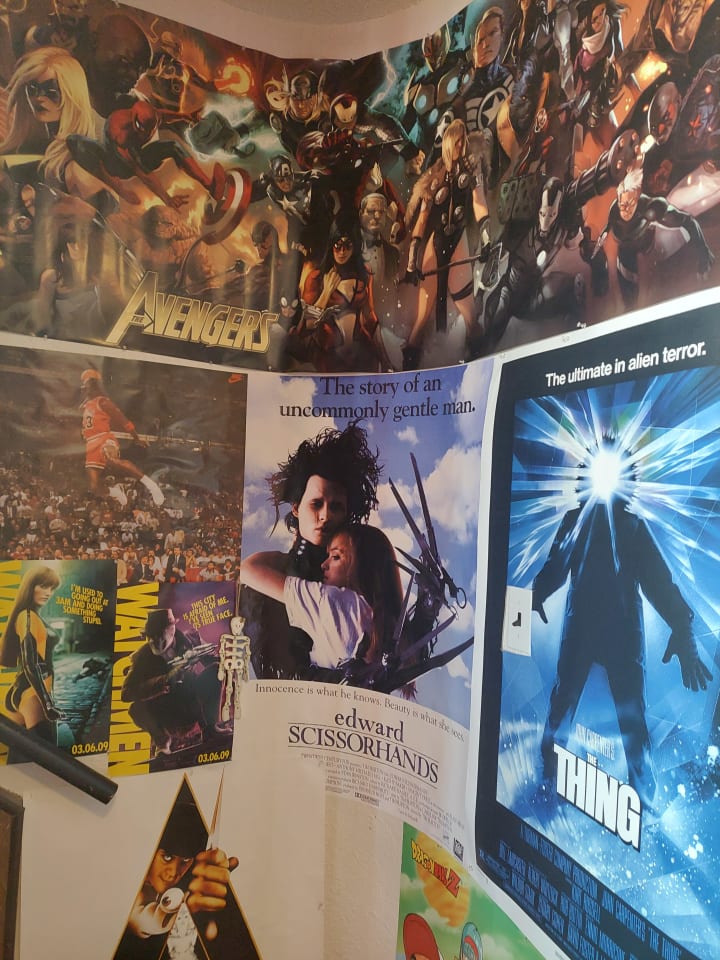 Loving that Avengers poster, I must say.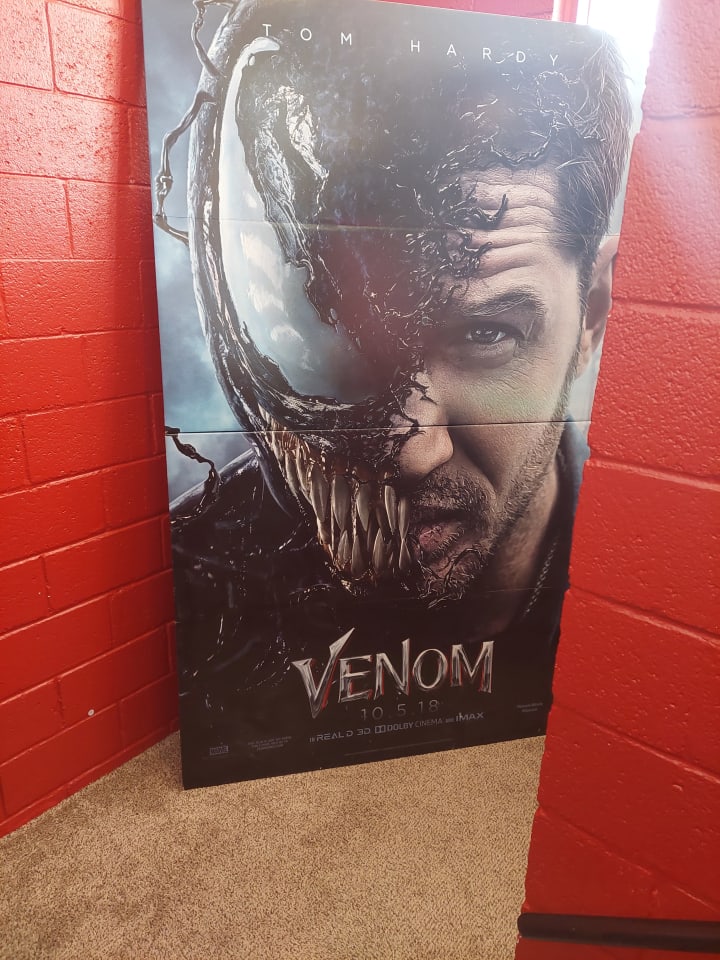 Well, that was a bit startling!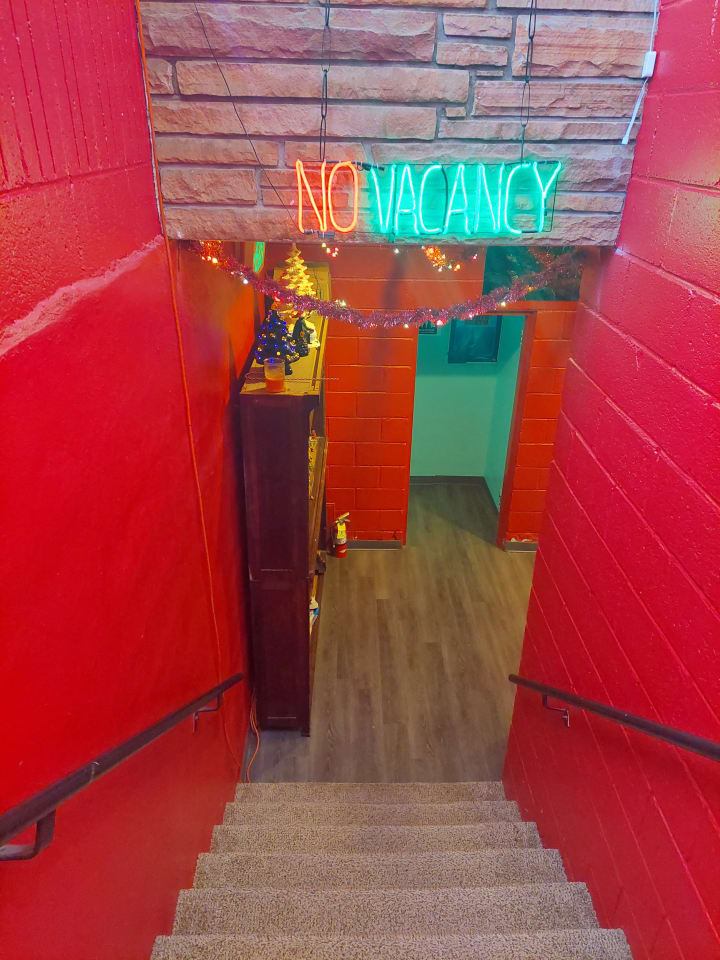 Nothing screams "rad" like Christmas lights all year around. Plus, this is like Santa's workshop for nerds, so it works.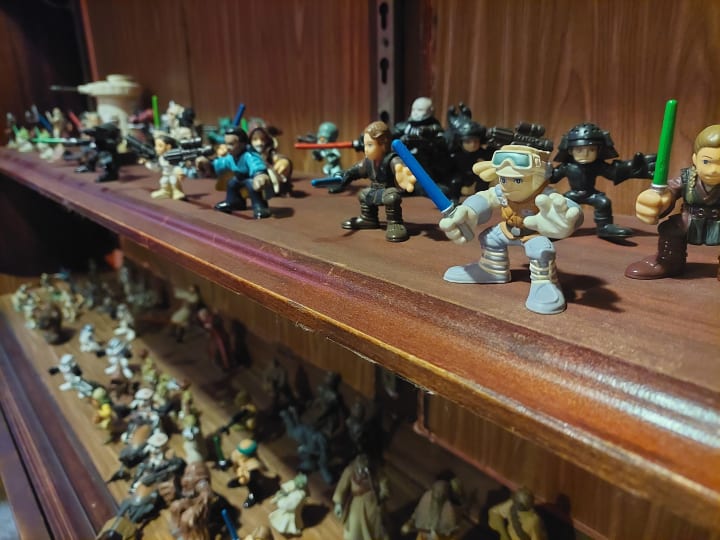 A nice collection of miniature figurines!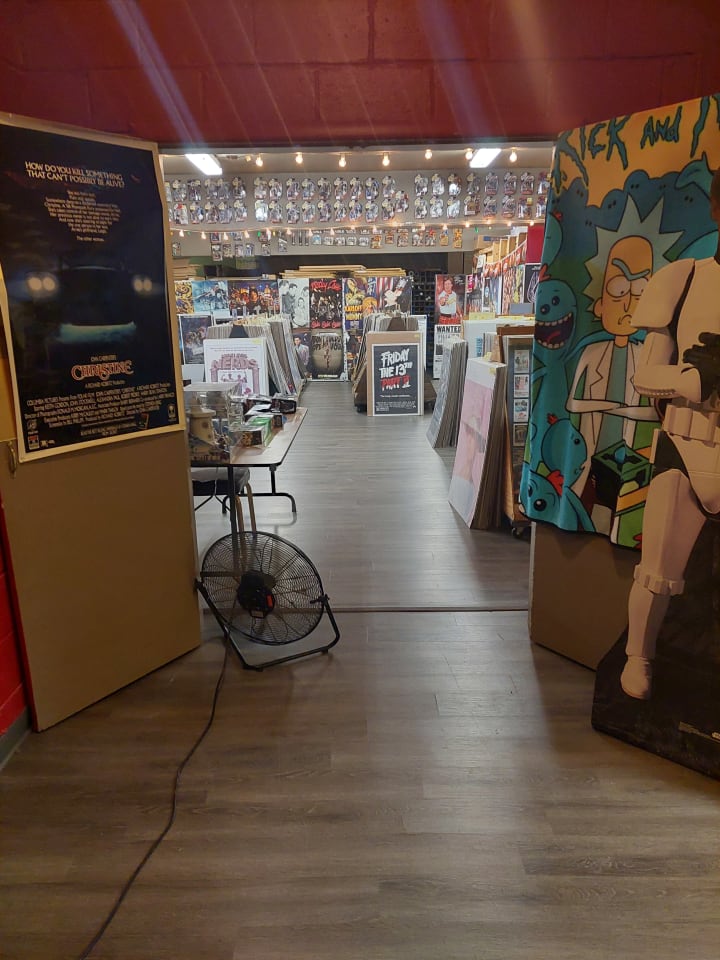 Posters, posters, posters! You wouldn't believe how many categories Mitch has available!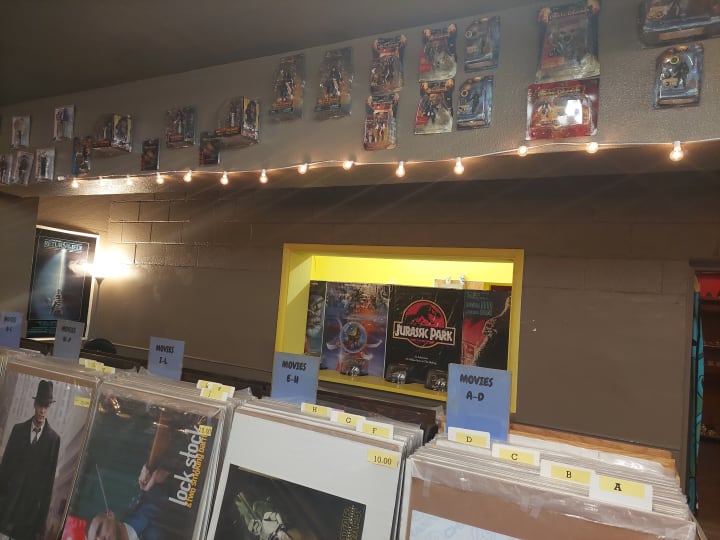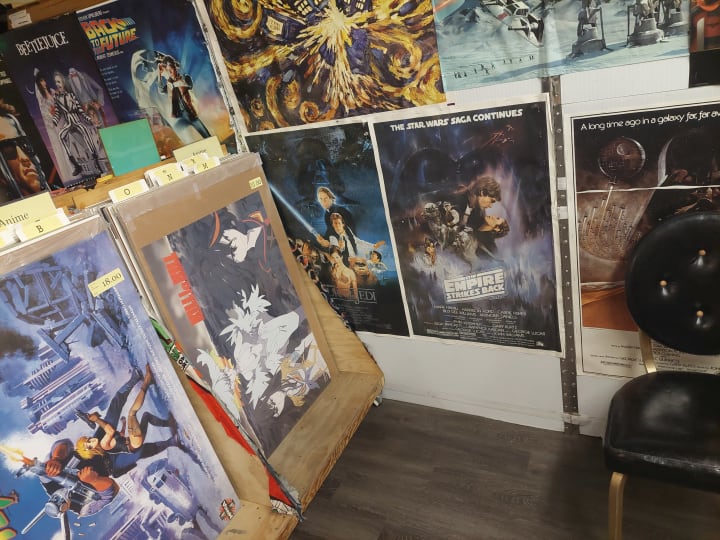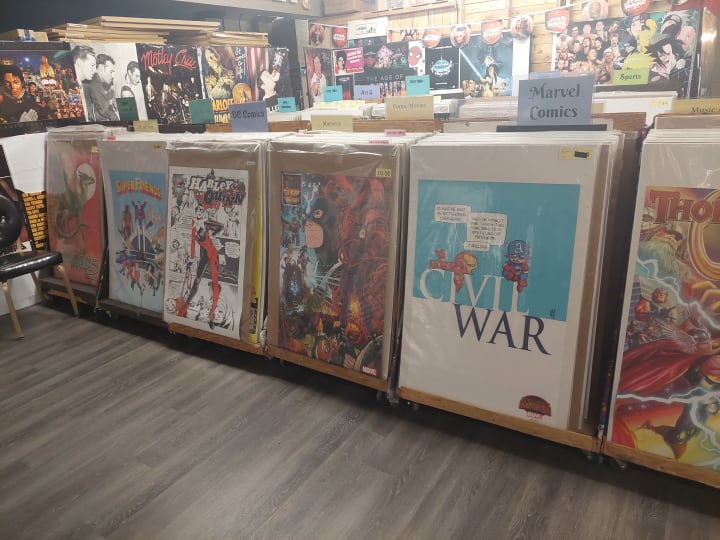 But Wait, There's More!
Not only does Nerd Emporium sell nerdy things for nerdy delights, they also host video game competitions and free gaming nights along with the free movie viewings. For a small fee, players can enter tournaments for games such as Mario Kart and enjoy the company of other Mario Kart fans. The next free gaming night will highlight Tekken 7 on XBox One.
So if you're not interested in a movie, gaming is an ever-growing option that Mitch keeps creating new ideas for. I imagine more will come as his business continues to grow.
Now, a Little More About the Nerdy Flea Market...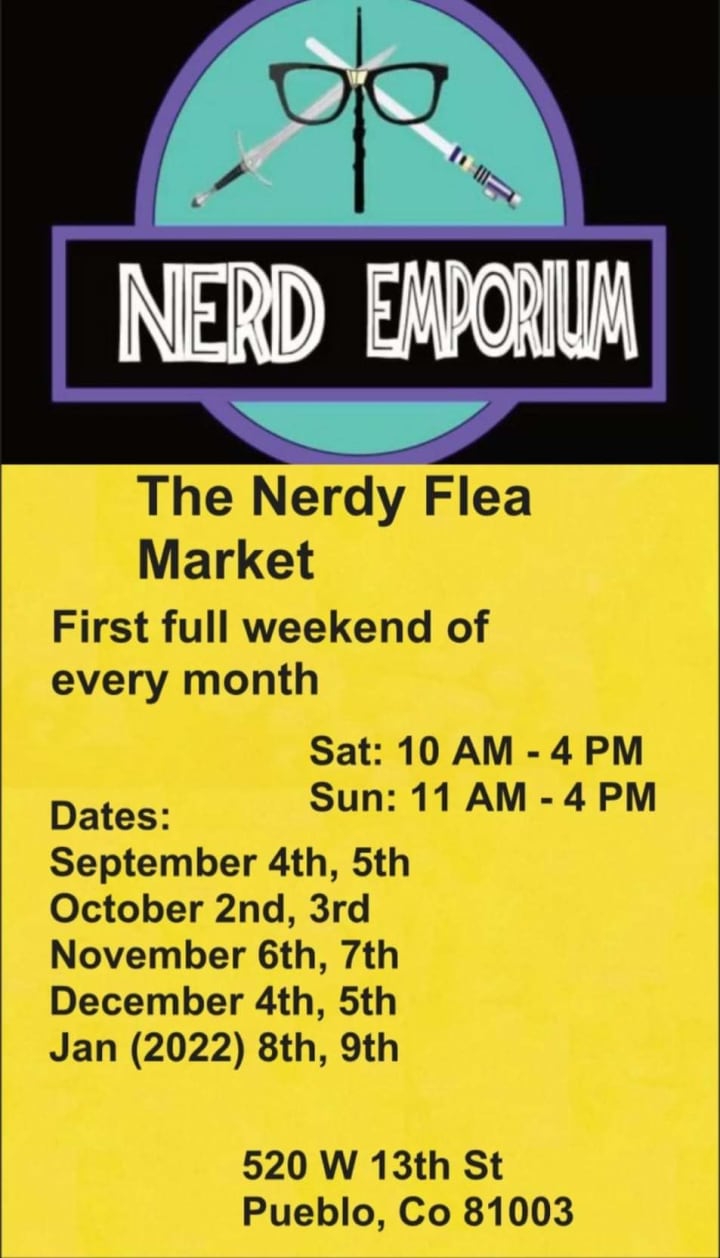 Interested vendors can land a booth for only $10 and sell a variety of things. Below are photos from prior flea markets that do not include other artists and geek sellers (I wish I had a picture of the booth selling nerdy kitchen towels - they were amazing!)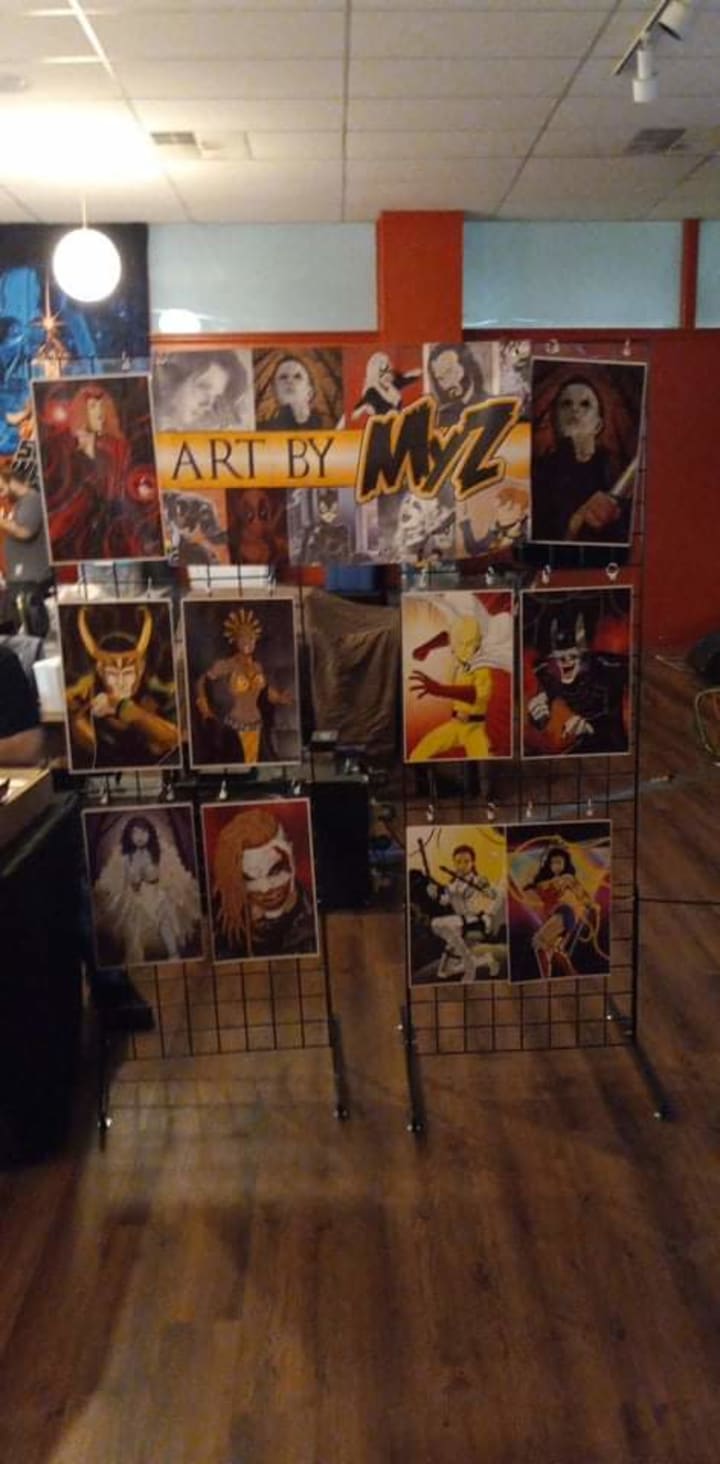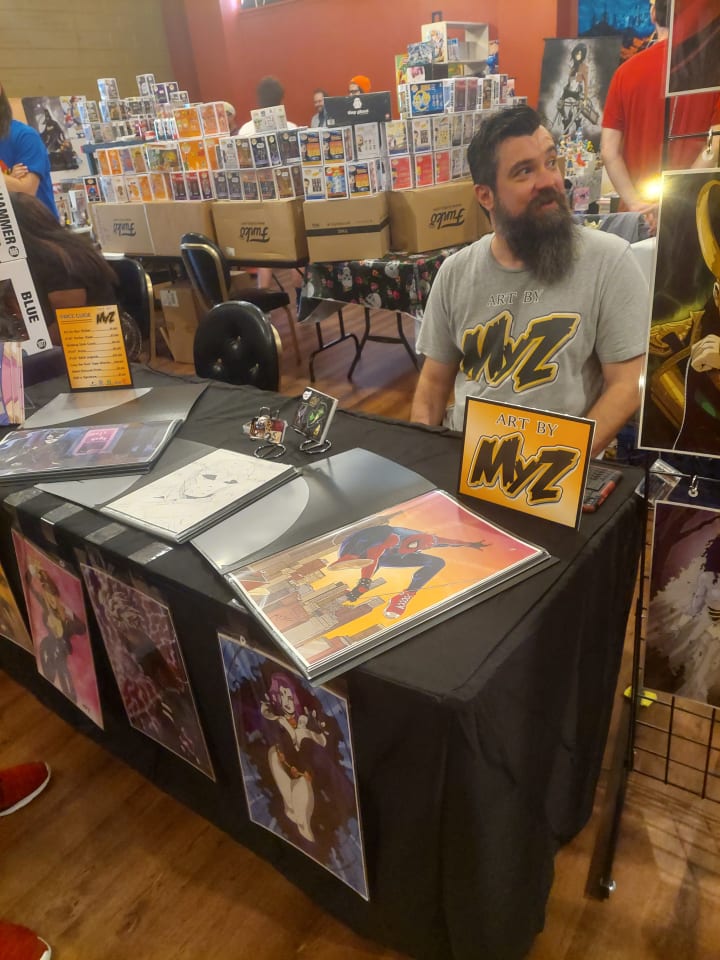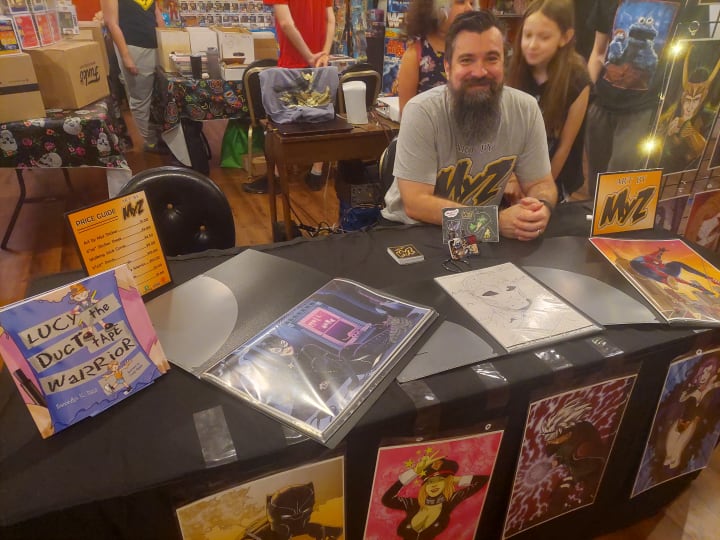 You can find incredible art prints, stickers, frames, comics, and the artist's illustrated children's book Lucy the Duct Tape Warrior from the artist himself, Art by Myz.
You can also find an incredible selection of Funko Pops, comic books, and more from the fine people at The Pop Stop Collectibles & More who also run a shop in Pueblo!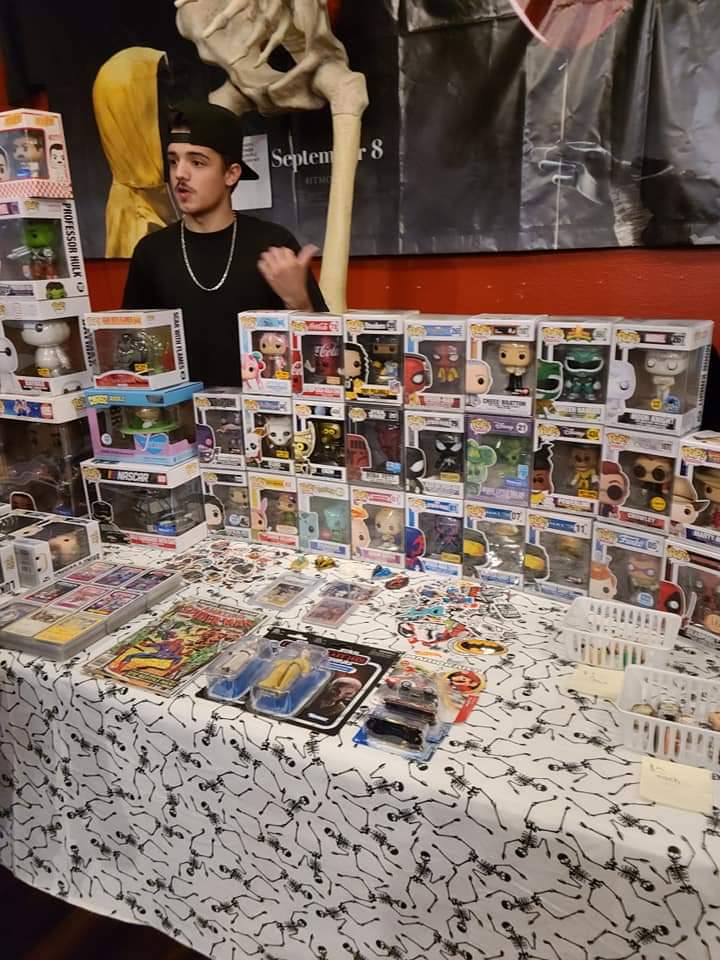 Chocolate Covered Cosplay host Zoe Chocoláte shows up in cosplay while selling her delicious fudge treats, along with cupcakes and little freebies available for kids! Her prices are fair and she is an incredible dessert maker! I've had the privilege of sampling multiple things.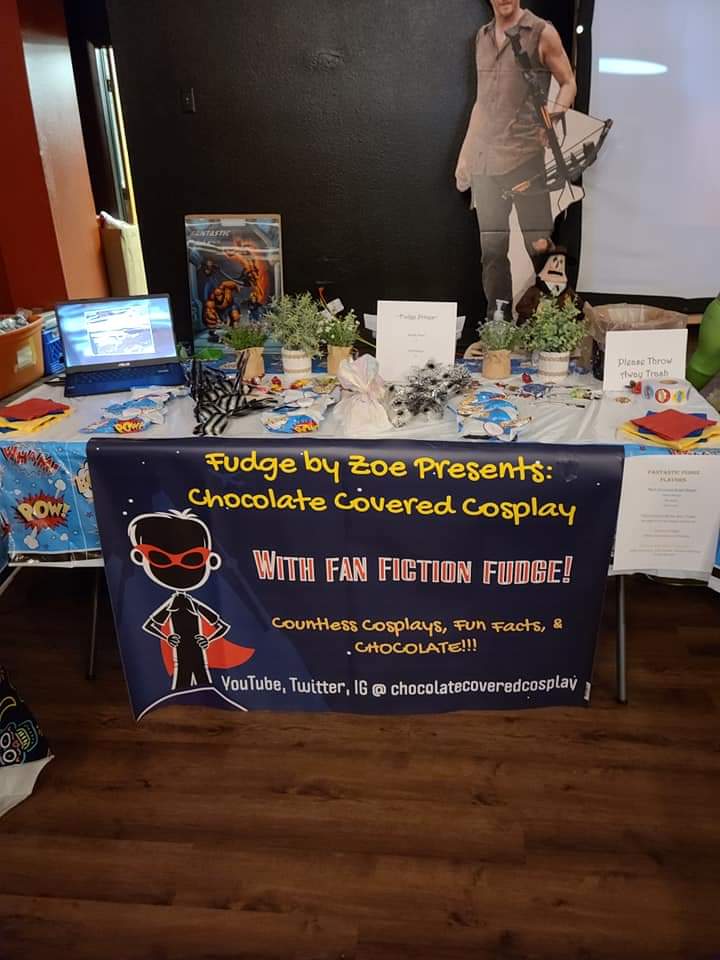 Other vendors sell artwork, homemade items, stickers, and more collectibles!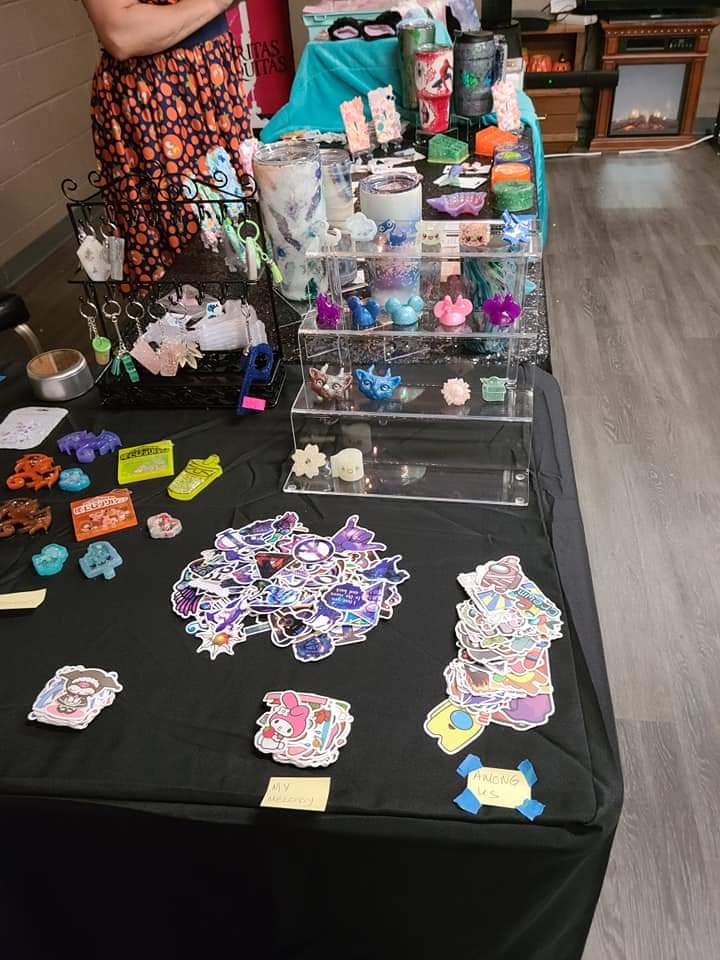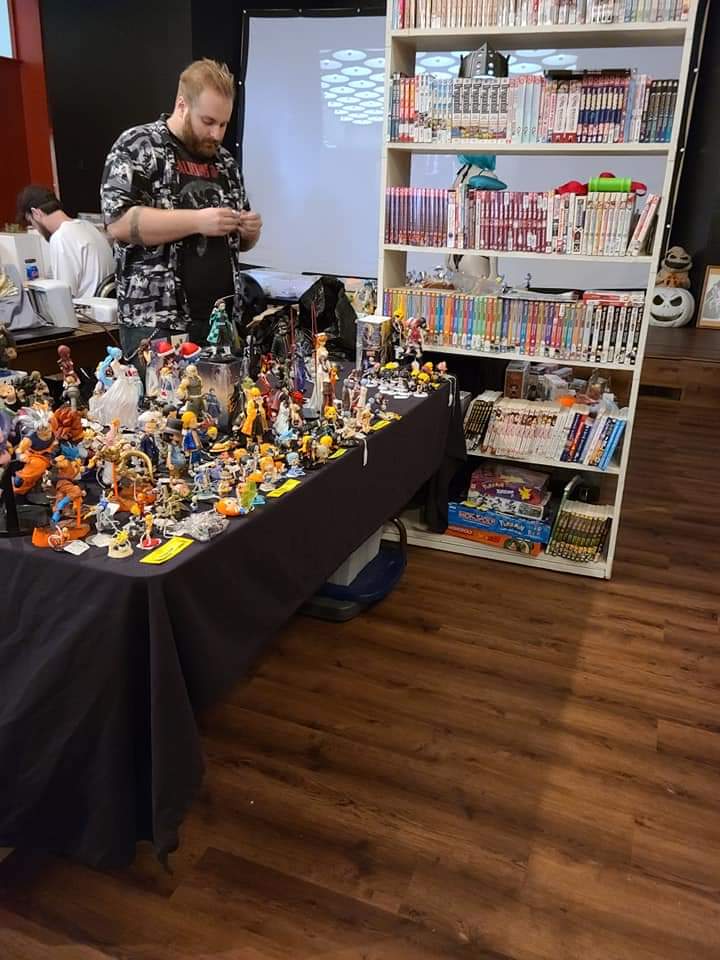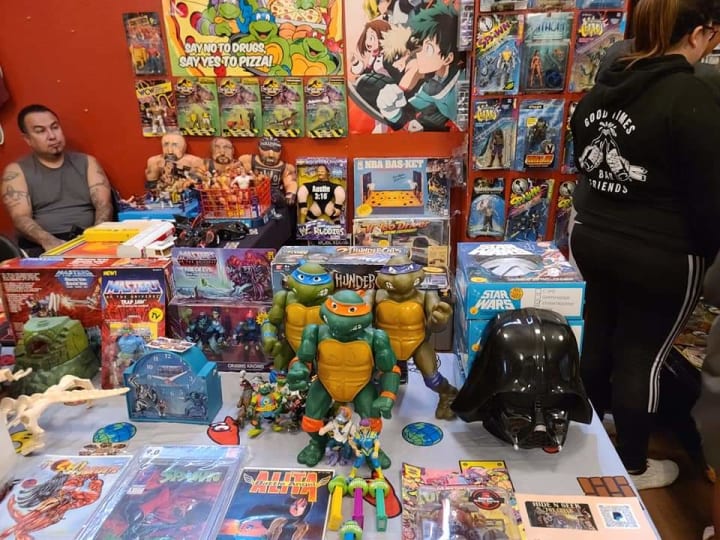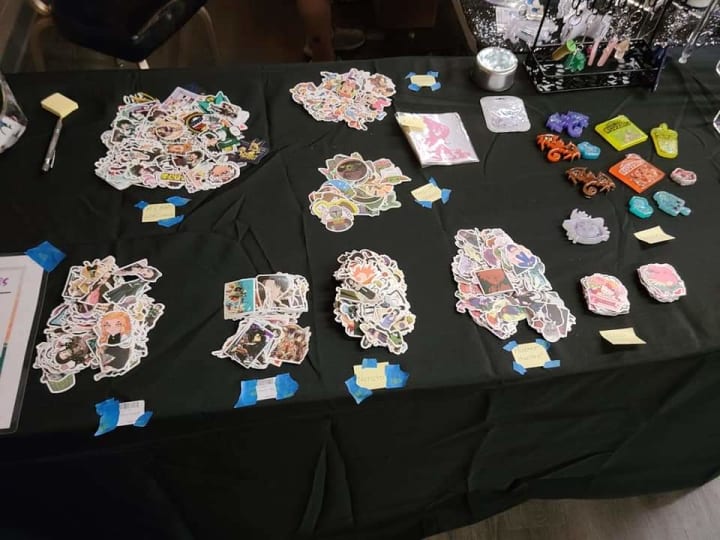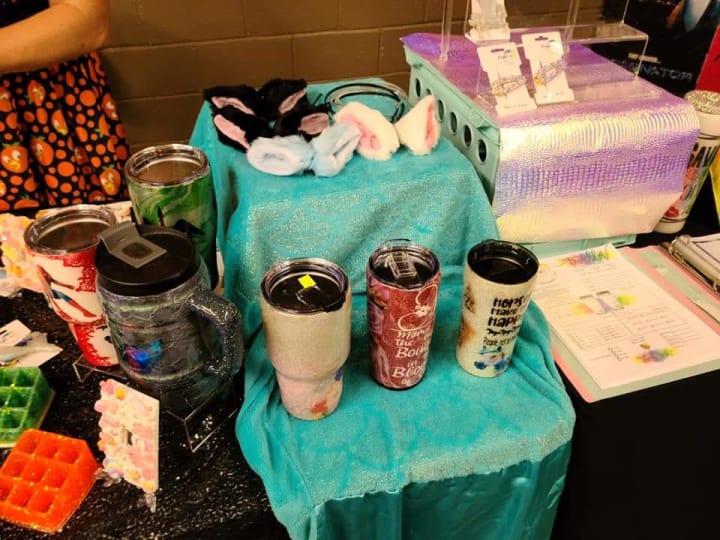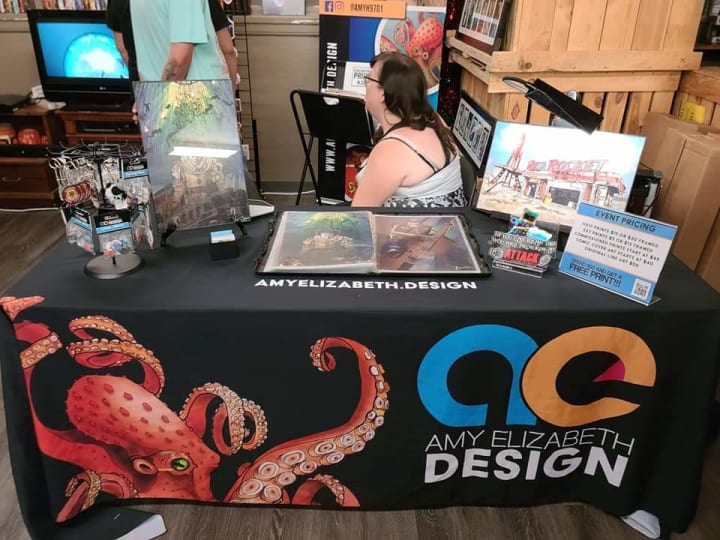 Amy Elizabeth Design is yet another phenomenal artist to check out at the monthly Nerdy Flea Market!
Why is All of This So Important?
Community centers for children, such as the Boys & Girls Club, exist to bring children together in a positive environment where they can grow and develop into the humans they have the potential to be.
Do nerds have special safe havens besides Comic Cons? Not everyone can afford to attend those, as well. Along with a pandemic, not many are comfortable in places with large crowds right now. So where else can nerds gather and feel like they belong, without risks or tons of cash being dropped? Nerd Emporium's creative community activities act as a community center for nerds of many ages (some events are age restricted) which creates a sense of companionship amongst a group of people who often feel left out from normal folks. It's a safe environment to enthusiastically share your love for many types of fandoms, and I feel that is vital to the mental health of nerds and geeks everywhere. We deserve a sense of community and family, and Mitch's business provides exactly that.
Nerd Emporium is the safe haven nerds needed and didn't even know we needed because we got so used to enjoying our fandoms to ourselves. Giving them your business for gifting the nerds in your life or gifting yourself for being such an awesome nerd contributes to the funds Mitch can put together to keep bringing us amazing events. Nothing is better than the feeling of a Nerdy Family.
For more information, please visit Nerd Emporium's Facebook page or check out their eBay store that houses his entire poster inventory. If you're in Colorado (or plan to be), taking a trip off the beaten path to this delightful location is well worth the time.
About the Creator
I write through the passion I have for how much the world around me inspires me, and I create so the world inside me can be manifested.
Mom of 4, Birth Mom of 1, LGBTQIA+, I <3 Love.
Reader insights
Be the first to share your insights about this piece.
Add your insights