The Need to Get Out
24 Hours on the Green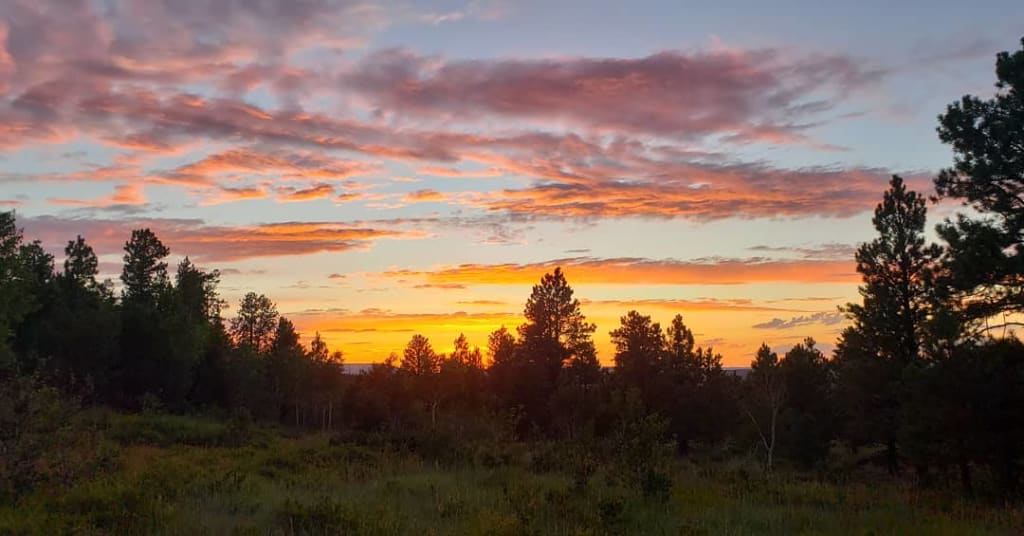 Our home away in the Uinta Mountains
It might have started with the quarantine, I don't know, but I have felt a constant desire this summer to be spending more time in the wild. It seems to be something that the masses are craving because when we attempted to get a campsite this weekend they were full, full of people flying like moths to a flame to allocate their free time and money in the great outdoors.
I was lucky enough to marry a man who has always preferred to be in the woods, you might say that he was born 200 years too late. We often joke that I was the one that made this happen, opting for the convenience of flushing toilets over the privy of yesteryear. But here we sit, enjoying the most gorgeous sunset from the bed of his truck.
We started the weekend out hoping to take our kids on yet "another one of Mom and Dad's weird trips", as one of our teenage sons calls it. We soon discovered that it was not worth the struggle and opted for a quick 24 hour couple's getaway. In a flash, with a few peanut butter sandwiches, water, a case of Bud Light, a change of clothes and his Clackacraft drift boat we were off. The drive was peaceful and lovely as we weaved up I-80 through the stunning canyons that Utah has been graced with, following the rest of the state through Wyoming to retreat in the beautiful North Eastern tip of Utah, along the rippling waters of the Green River. Because this was a last minute trip and we hadn't reserved a camp, we very soon discovered that nothing was left. Nothing. Like the shelves of the grocery store after the earthquake a few months ago, nothing. This proved to be our fate though, and I was so delighted because what we found was 100 times better. As we left the third campground we soon discovered a dirt road just off the highway that became our personal paradise for the night. No barking dogs, or noisy generators, no outhouse to share with the masses, just us and a few shy does.
We parked, staking our claim as proud as the winner of a race and began to make camp. Camp being a loose description of the 4" foam pads that were laid under our cozy, over sized King's Camo sleeping bags. Our camping "gear" consisting of a deck of playing cards and a headlamp. It couldn't be more perfect.
There are times as a parent that you just need to be, be alone with your partner not shushing your spawn as they war over who ate the last granola bar. This was our time, 24 hours of peace where we were just responsible for ourselves and the renewal of our relationship. A time, fleeting as it is, to go on a date. The kind of sleepover that couples should have.
As night fell, I waited for the stars to come out. One of the most wonderful things about camping in the back of the truck is the ability to stargaze all night long. Not just a few stars, the absolute glorious multitude of stars that you can only see in the mountains. It was breathtaking. We are at the point in our lives where sleep is a commodity, but I welcomed the restless darkness. Waking in the middle of the night brought me joy as I marveled at the magic that was laid before my eyes, spending an hour or maybe two in complete awe of the Lord's creation. As the purple morning light awoke me, it was delightful to see a curious doe a stone's throw away before she ducked silently back into the towering pines.
We hustled to change and brush our teeth so that we could beat the mass amount of rafters and other fishermen that we knew would crowd the boat ramp at Little Hole and by 7:30 a.m., we were launched. The river proved to be just as wonderful as always, lazy yet powerful, green as jade and cold as a glass of ice water, perfect on a day that was predicted to be in the 90s. The fishing was mediocre but is always such a welcome distraction to the stresses of everyday life. Fly fishing in particular is very technical and difficult, you are so focused on the rod and your line coupled with watching for the rise of the fish through your polarized Bolle sunglasses takes your mind so far away from the worries of the world that it is no wonder that you come away from a long day in the scorching sun feeling refreshed and invigorated. You simply have not had the time or mental capacity to worry about anything more than keeping your balance and avoiding hitting yourself in the head with your own fly.