The Many Beautiful Churches of Costa Rica. .
Every town seems to have one. . no matter how big or small the town is. It's what makes Costa Rica so amazing!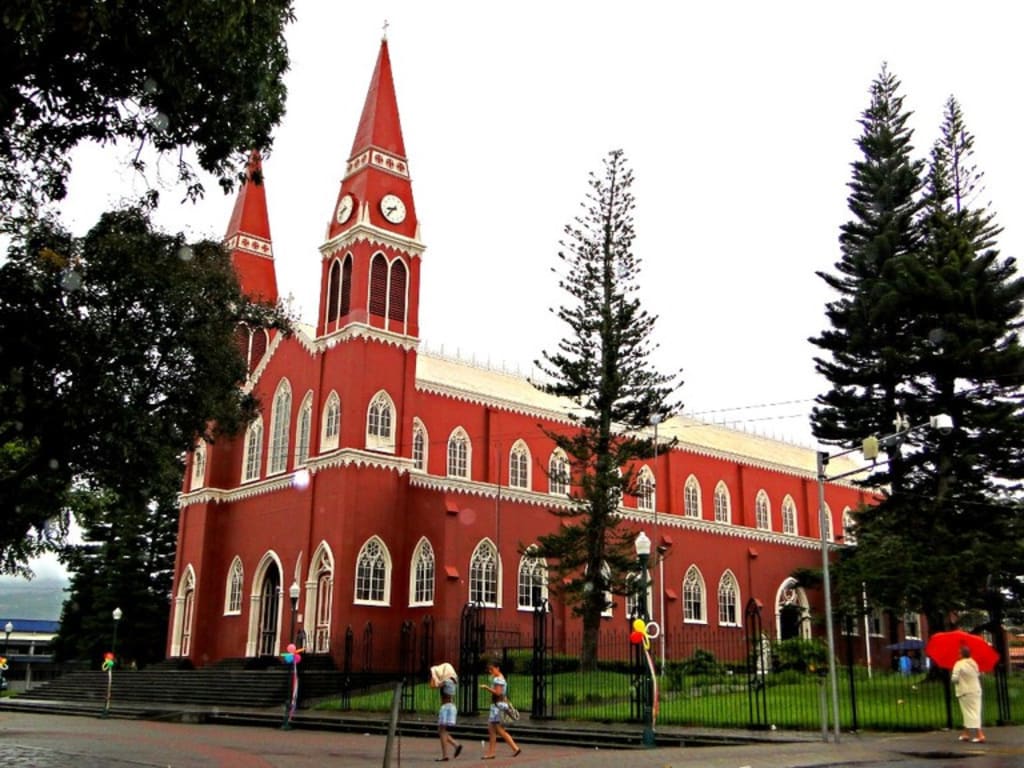 Spend some time in any town at the local central park and you'll see beautiful churches like this one in Grecia. .
If you have a few minutes, be sure to Google, "Churches in Costa Rica". Even if you aren't religious, you'll be amazed at what you see. The churches are beautiful here and they're worth a few minutes of your time to learn more about what they mean to everyone here. .
La Iglesia de San Blas is the oldest church in here Costa Rica. It is about an hour south of Tamarindo and dates back almost 500 years. It represents the first interactions between the indigenous Chorotega tribe and Spanish conquerors. It is in the beautiful little town of Nicoya.
This all started with the expedition of Gil González Dávila and Frier Diego de Agüero to the Nicoya region in 1523. There, they met and became friends with Chief Nicoya, the king of the Chorotega people. It is believed that the church was officially founded in 1544. The original building was a simple structure with a thatched roof. After being destroyed in a fire, the church was rebuilt, but all of the original documents were lost. The building suffered serious damage from two earthquakes and was, of course, rebuilt again between 1827 and 1850, using the walls of the original structure. The church's Baroque colonial style is characterized by its facade and limestone color, preserved since the time of construction. Once again due to an earthquake, this time in 2012, the church was closed for renovation. A modern facelift is being performed now with private donations and government funding. While staying true to its original design, the updated building features a fiberglass roof and carbon-fiber reinforcements to the foundation and walls, while still preserving the original look of the building.
Situated next to Nicoya's central plaza, the La Iglesia de San Blas continues to serve as a vibrant local meeting place, but is now enhanced with a brand new playground, stage and sculptures scattered throughout the area. Surrounded by Nicoya's shopping district, municipality and the town mayor's office, the plaza is a wonderful oasis of green and serenity in the middle of Guanacaste's second largest city.
There are hundreds of stories like this throughout the entire country. So much history and culture. I urge you to do some research and even perhaps visit these churches at one time or another.
One of the things that I used to do when I had free time was to take a bus to certain areas of Costa Rica. I started in San Jose and spent a couple of hours in the morning, traveling to little towns where I knew had beautiful churches. Grecia has a very nice layout. . a central park with a red, metal church for all to see. Nothing like sitting in the park with a cup of hot coffee, watching the world go by and enjoying the people.
Santa Ana, a western suburb of San Jose, has an historic church in its downtown area. Santa Ana was home to the first Spanish settlement in the Central Valley in 1561. Its church was built in 1880 and is still standing. It is an amazing structure that will take you back in history when you look at it. This downtown area hosts the farmer's market every Sunday morning.
Escazu, just east of Santa Ana, has a beautiful central area. Of course, the church is the focal point of this popular town, which was formed back in 1755. There's a lot of history associated with Escazu. Again, I suggest you do some research and then visit the area. Very interesting. The church was built around 1800 and still is used for worship and special functions.
Again, there are so many stories like this. Here's a link that will get you excited. .https://www.pinterest.com/GVCostaRica/costa-rica-churches/
Cartago, just east of San Jose, was the first capital of Costa Rica from 1563 to 1823. The church has a long history and well worth a visit. The Basílica de Nuestra Señora de los Ángeles was built in 1639 and was partially destroyed by an earthquake around 1839. It was restored to its original look and serves as an iconic historical building. Every year, there is a pilgrimage here and people come from all over the world to attend. In the days leading to August 2nd, over 1 million people walk to this church from all points in Costa Rica. For some, it takes days to get there. They back story is very interesting and I will tease you a little bit and not go into it right now. It will be up to you to do your research. It makes for a wonderful day trip while visiting Costa Rica. It's only about 1/2 hour east of San Jose. Lots of busses go there many times every day if you don't have a car!
There is so much more to Costa Rica than toucans, monkeys, blue morpho butterflies and volcanoes. The history and culture is so interesting and it will make you appreciate your trip even more if you know the background of this country. Churches play a big part in the culture here and to this day, they will bring joy to you if you spend a little time to learn the history behind them. I hope we 'primed the pump' enough for you to have created an interest in the churches of Costa Rica. .
You're invited to visit our websites at: www.costaricagoodnewsreport.com & www.costaricaimmigrationandmovingexperts.com
Also, please enjoy our over 1,185 episodes of our "Costa Rica Minute / Costa Rica Pura Vida Lifestyle Podcast Series". We are found on all major podcast venues, including Spotify, Apple Podcasts, Google Podcasts, Radio FM, Anchor & many more. Here's our link: www.anchor.fm/costa-rica-pura-vida
About the Creator
Costa Rica is a magical place. Since November, 2002, when I first visited this country, I have been in love with the people, the culture, its biodiversity, the food. . everything about it makes me happy! Now I share my excitement with you!
Reader insights
Be the first to share your insights about this piece.
Add your insights