The Majestic Volcanoes of Costa Rica
The awe & wonder of nature. .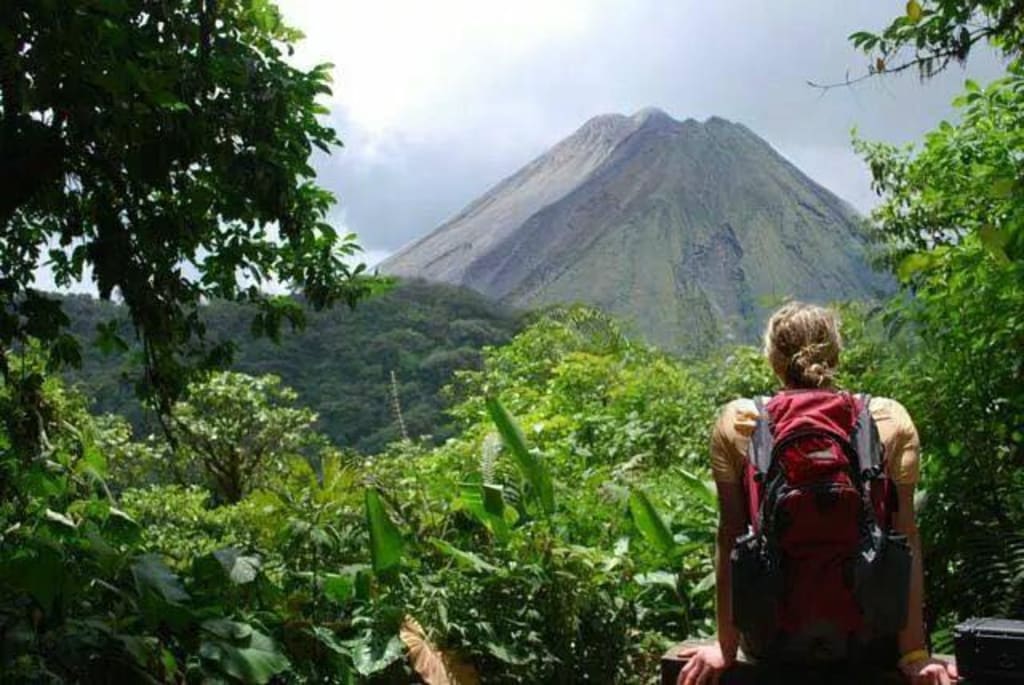 Costa Rica has six active volcanoes and about 200 that are classified as dormant. Among the country's most active volcanoes are Arenal, Poás, Turrialba and Irazú. Each has its own personality and all of them make for a very exciting day trip for you and your family.
Some of these volcanoes date back more than 65 million years. Only about half show any sign of activity at all, and just six are classified as "active".
Most all of Costa Rica's volcanoes are located in the country's three main volcanic ranges: the Guanacaste Volcanic Range (home to the Rincón de la Vieja, Orosi, Miravalles, Tenorio and Arenal Volcanoes), the Central Volcanic Range (comprised of the Poás, Barva, Irazú, and Turrialba Volcanoes) and the Talamanca Volcanic Range (home to El Viejo Volcano).
There's NOTHING quite like experiencing a panoramic view of one of our volcanoes while sipping on your first cup of aromatic Costa Rica coffee. What could be better than this? The good news is that there are many hotels, resorts and B&B's that have been built around these majestic wonders. I challenge you to tell me that this wouldn't, at the least, be in your top five 'things to do' on your bucket list.
When you're in Costa Rica, you have so many options available to you. . our beaches with the jungle growing up to the water's edge, with monkeys playing in the tree canopies. Our coffee plantation tours, where you can get close to nature and see how coffee is grown, how its cared for, how the coffee is picked and roasted and ground. We have canopy zip line tours, crocodile tours, parasailing, deep sea fishing, snorkeling, whale watching, butterfly gardens and so much more. .
And of course, we have volcanoes. Again, some are active and show their wild side once in a while. The Turrialba Volcano, just west of San Jose, the capital of Costa Rica, is upwind from the east-to-west air currents. A few years ago, Turrialba became so active that the San Jose (Juan Santamaria) International Airport was shut down periodically for over a year. San Jose and surrounding areas were experiencing a thick coating of volcanic ash on their tabletops, their cars and on their computer screens! The Poas Volcano, just north of San Jose, smokes and erupts once in a while as well. Arenal is always active!
Irazu volcano is due east of San Jose, very close to Cartago, which, by the way, was Costa Rica's first capital city in the early years. In 1963, Irazu erupted, and for two solid years, it caused lots of trouble for this country. It has finally settled down and makes for a wonderful day trip. You can drive up to the top of the volcano, walk around and enjoy the scenery. If you get there early enough, before the clouds roll in, there is a good chance that you will be about to see both the east AND the west coast at the same time! What a view it is. Be sure to wear a jacket. . it gets COLD up there!
When visiting the Arenal Volcano, you have access to hot springs, where you can immerse your weary body in soothing hot water in a natural setting. There are many resorts that offer this to you and your family. Some are all-inclusive, where all you need to do is enjoy yourself and relax. And then, perhaps on the following day, take a tour of the volcano. . take a hike and enjoy all that Costa Rica has to offer. So many things to do and see in this area. . waterfalls, eco-adventure parks, canopy-zip-line tours, cloud forests, butterfly gardens and so much more. It is a paradise within a paradise. A subculture inhabited by native plants and animals far from what you have been used to. . and so available to you and your family.
Poas Volcano is very close to Heredia, an area just north of San Jose. If you visit Poas, be sure to schedule a trip to the Cafe Britt Coffee Plantation! You'll be glad you did!
Again, there are so many things to do here and waking up with a cup of hot coffee, enjoying the wild, melodic sounds of nature while staring at a volcano right in front of you HAS to be something that we all look forward to at least once in our lives! If you use San Jose as your "home base", you will be close to all of them. Irazu, Turrialba & Poas are very close. For Arenal and a few of the others that are popular tourist spots, you could spend a couple of days enjoying both the volcano and the surrounding areas.
Again, there are many reasons to visit Costa Rica and seeing all of our volcanoes up close and personal surely should be at the top of your long list of things to do! You're invited to visit our websites at www.costaricagoodnewsreport.com & www.costaricaimmigrationandmovingexperts.com
Also, please enjoy our over 1,700 episodes of our "Costa Rica Pura Vida Lifestyle Podcast Series". We are found on all major podcast venues, including iHeartRADIO, Spotify, Apple Podcasts, Google Podcasts, Radio FM, Anchor and many more. Here's our link: www.anchor.fm/costa-rica-pura-vida
About the Creator
Costa Rica is a magical place. Since November, 2002, when I first visited this country, I have been in love with the people, the culture, its biodiversity, the food. . everything about it makes me happy! Now I share my excitement with you!
Reader insights
Be the first to share your insights about this piece.
Add your insights