The Magical Cotswolds
12 of the Best Places to Visit in The Cotswolds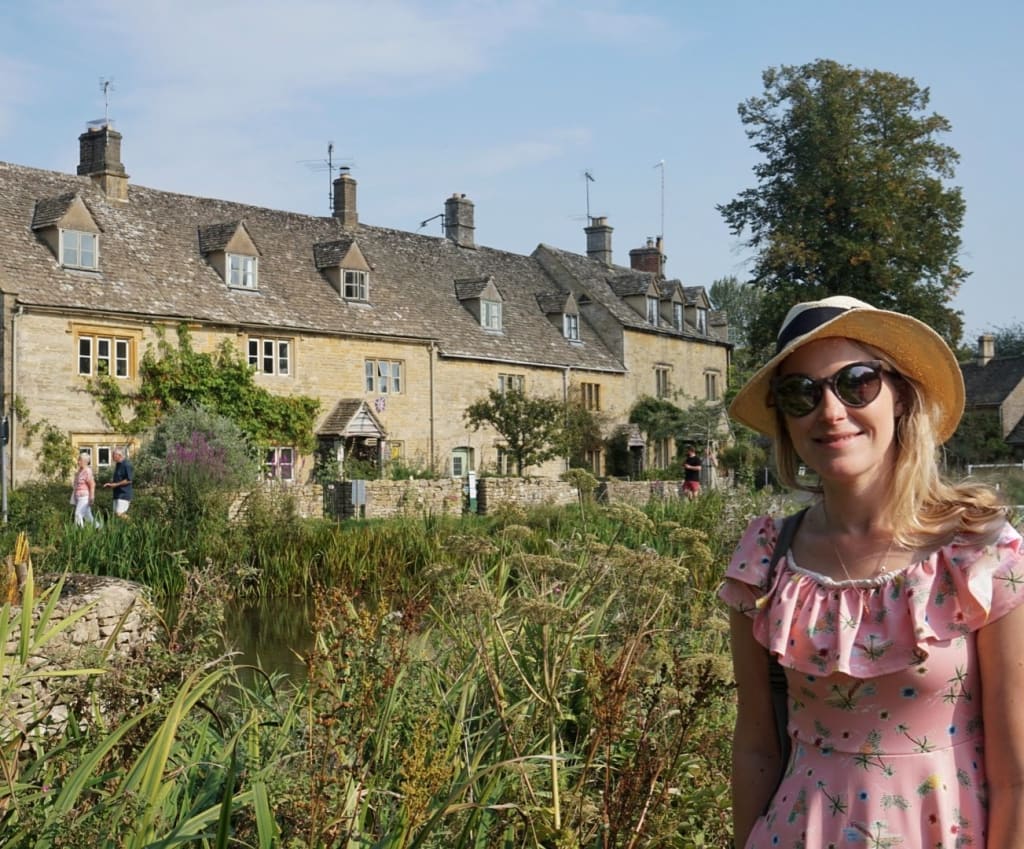 Lower Slaughter
After many months of existing in a pandemic bubble of working from home and walking around my village every day, it felt a lot like Groundhog Day. Although I'm not travelling abroad currently, The Cotswolds are so different to where I live and other places in England that it seemed like another land. The numerous quaint picture-postcard villages with their golden coloured cottages and thatched rooves, combined with the glorious weather we were having, transported me to the magical fairy-tale escape I craved. Here are some of the best places I visited:
The Cotswolds spans six counties, covering parts of Gloucestershire, Oxfordshire, Somerset, Warwickshire, Wiltshire and Worcestershire. It is is recognised as AONB (an Area of Outstanding Natural Beauty) but if you are imagining gently rolling hills as I was, think again. Instead you will find many a windy, narrow road with a steep incline followed by a steep decline, throwing in national speed limit signs for good measure and adventure. One such road was in Nailsworth near Stroud, called The 'W', which gives you a clue what it was like. Driving to our cottage here was interesting too, with its very narrow approach. I have no idea how the vans and bigger cars got through.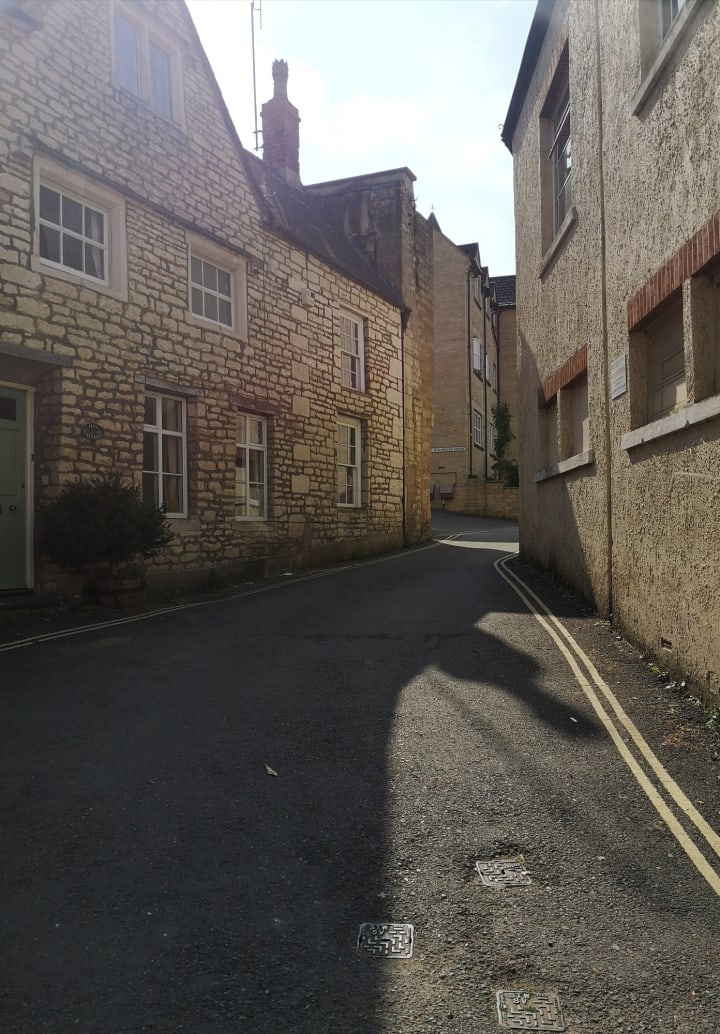 1. Nailsworth
It was worth it as the cottage offered beautiful scenes to wake up to and was reassuringly operating a COVID-safe policy of keeping alternate weeks vacant. An ideal base in Gloucestershire to explore The Cotswolds, Nailsworth was a charming town with a history in the brewery and textile industries, walking trails and plenty of places to eat. Egypt Mill, suspected to be named after one of its owners, 'Pharaoh' Webb, was originally a thriving cloth mill but is now a restaurant and hotel with a sublime waterside location. At the other end of the town is another former cloth mill – the Ruskin Mill, which is now a specialist further education college focusing on traditional crafts and land work. Here you will also find a coffee Shop with a balcony, overlooking a lake. I will warn you with the quaint and traditional feel to The Cotswolds comes a traditional approach to dining. You will be hard-pressed to find somewhere serving lunch after 2pm so plan ahead or bring a picnic on your adventures.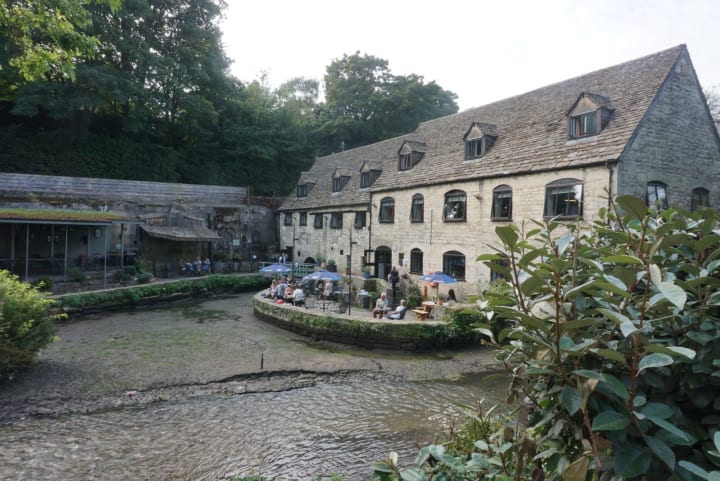 2. Stroud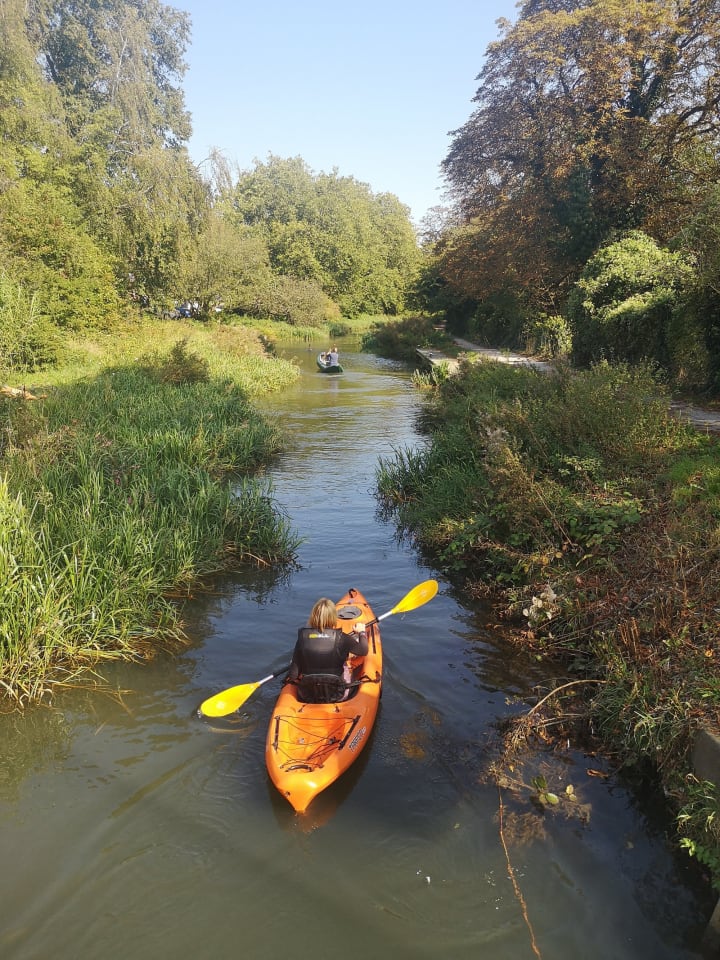 Just four miles away is Stroud, a market town also with a textile past. The cloth for Wimbledon Tennis balls and snooker tables is still made here today. A walk along the Stroudwater Navigation Canal is a great way to explore whilst taking a refreshment break at one of the canal-side pubs or cafes. If you are looking for a rural adventure you can access The Cotswold Way here, a 102-mile scenic footpath starting in Chipping Camden and ending in Bath.
Stroud Valley is made famous by countryside scenes depicted in the classic Laurie Lee novel, 'Cider with Rosie' but is also home to a heritage trail with impressive landmarks such as The Museum in the Park, at Stratford Park. This is a local history museum with its own walled garden.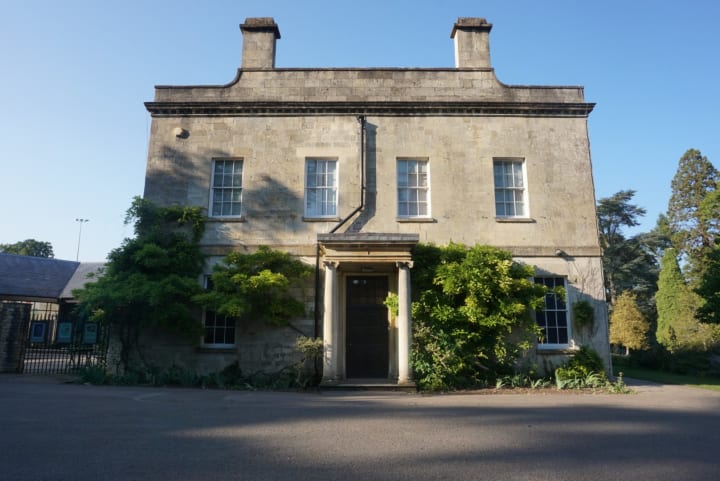 3. Woodchester Mansion Park Trust
Woodchester Mansion Park Trust is well worth a visit. Although the Mansion was not open, we explored the National Trust estate through one of the walking routes to the lake and boathouse, which is 3.5 miles. After walking just a couple of minutes we passed a man with his dog who said "Hi" and I quickly realised it was George Clarke of such programmes as 'George Clarke's Amazing Spaces' and his 'National Trust Unlocked' series. I had heard he had recently moved from London to the countryside and it would appear that Gloucestershire is where he has ended up, good choice I would say. Please check the website for selected days you can visit the Mansion itself. (Season ends 1st November and due to reopen at Easter 2021).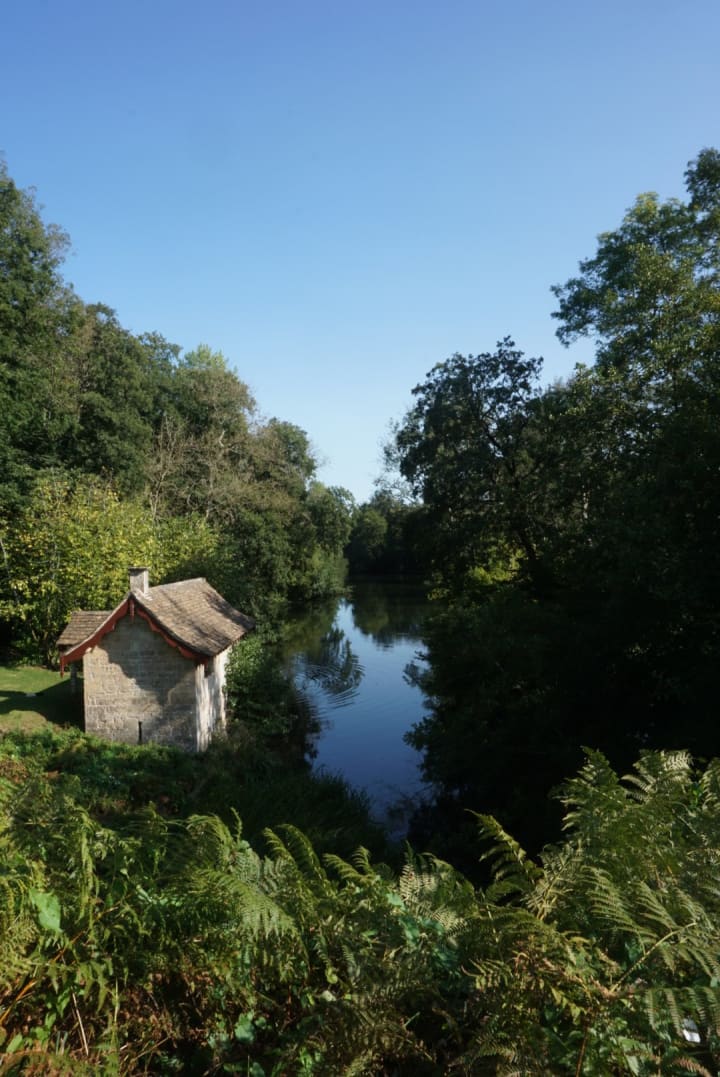 The Victorian mansion itself is in a Gothic style built by the wealthy ship-owner William Leigh. After 16 years the mansion was left unfinished due to Leigh running out of money. There is another theory that ghostly encounters linked to black magic, sacrifice and murder, encouraged a swift exit. Woochester has featured on Most Haunted Live and Ghost Hunters International as well as appearing as the castle in the 2006 film, 'Dracula' with David Suchet. On a less spooky note, it can be seen in the second series of the Bafta-winning 'The Crown'.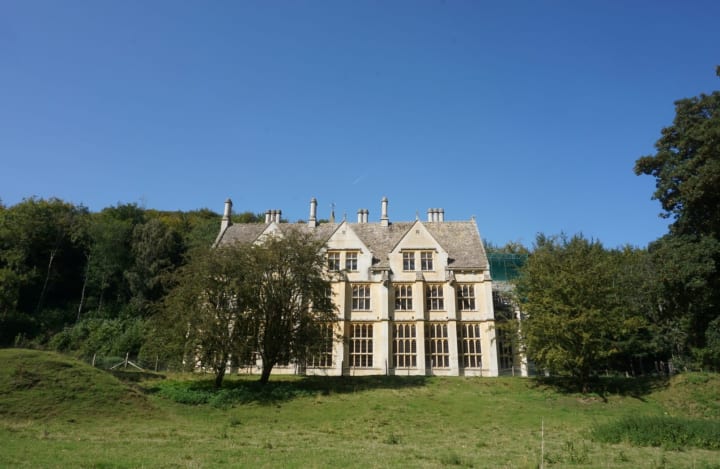 4. Coaley Peak
Just a few miles away is Coaley Peak, which offers panoramic views across the Severn Valley and the ideal picnic spot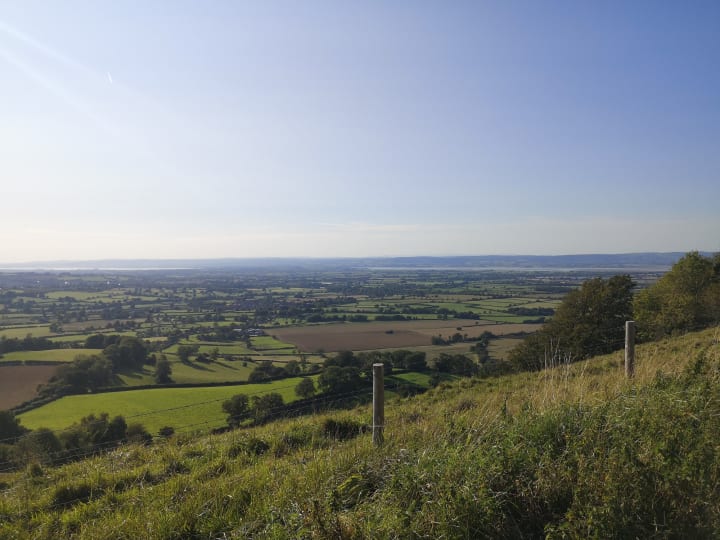 5. Owlpen Manor Estate
Another estate nearby is that of Owlpen Manor, a Tudor manor that featured in the 2008 film 'The Other Boleyn Girl' starring Natalie Portman and Scarlett Johansson. It is a private residence for the Mander family but you can usually take part in private pre-booked group tours. Otherwise you can explore the estate and Manor gardens, and stay at one of the nine holiday cottages (Grist Mill Cottage captured below).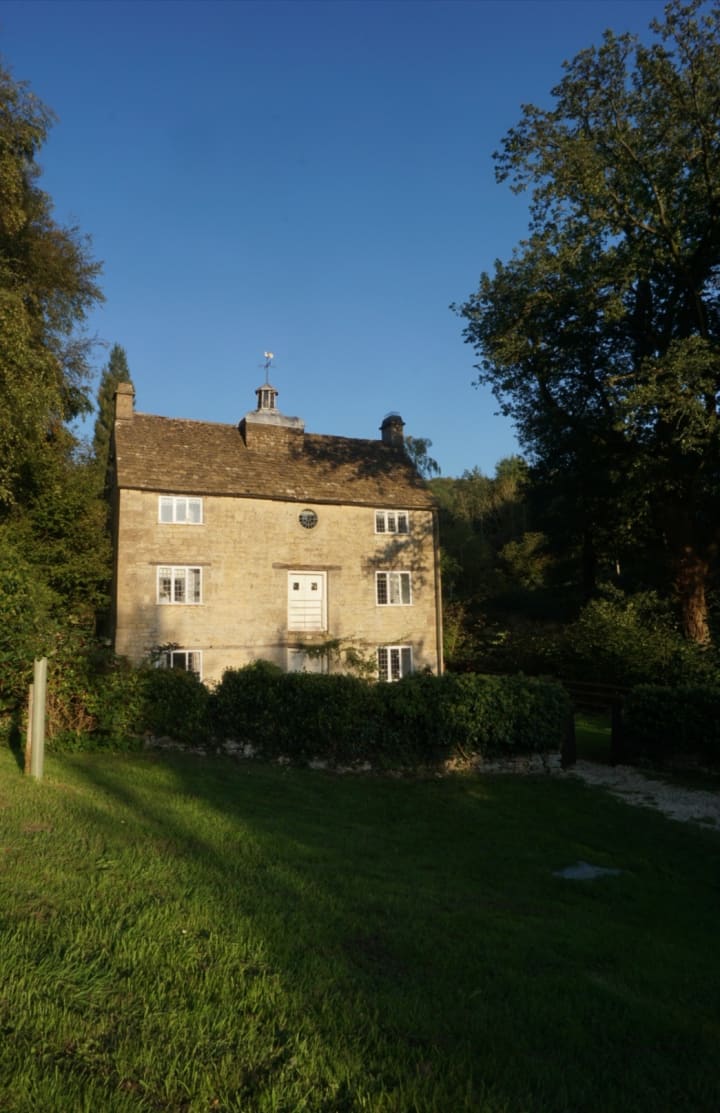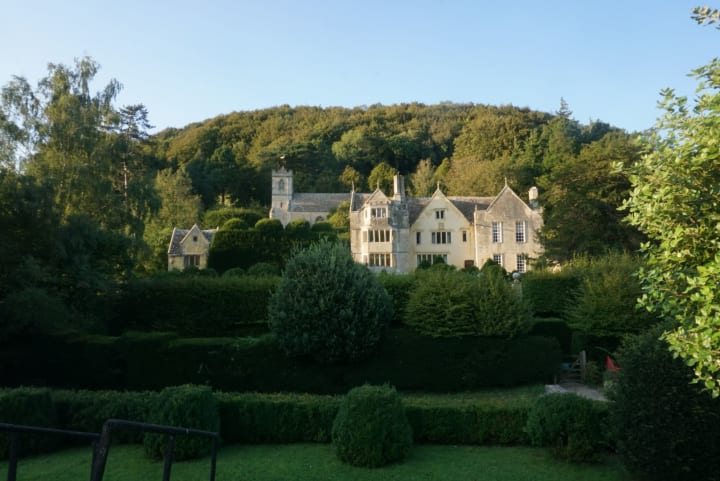 If you find yourself on Cirencester Road then you're in for a surprise. The hilltop location is home to Old Minchinhampton Golf course, on which cows freely roam between May and October. This is an extra challenge for golfers to avoid and drivers potentially at risk from golf balls or cows it seems. It is quite a sight to see an Aberdeen Angus perched atop a mound on the course. I didn't manage a photo due to traffic and timing, so here is one of some ducks crossing a road nearby and one of the many glorious sunsets we witnessed.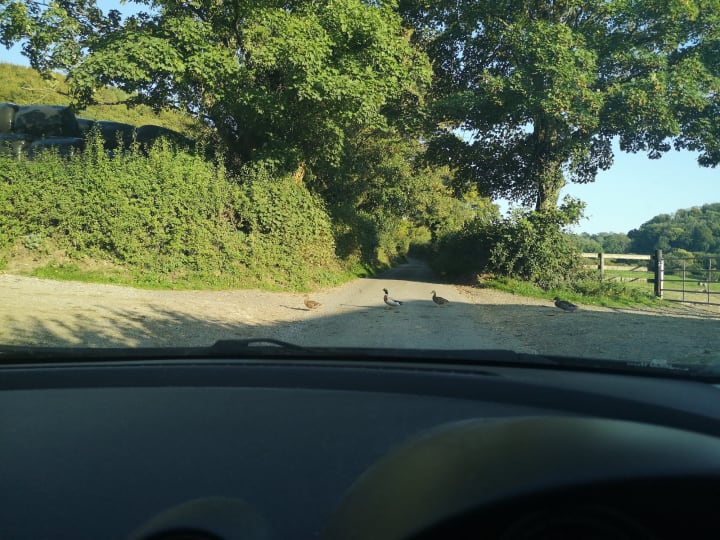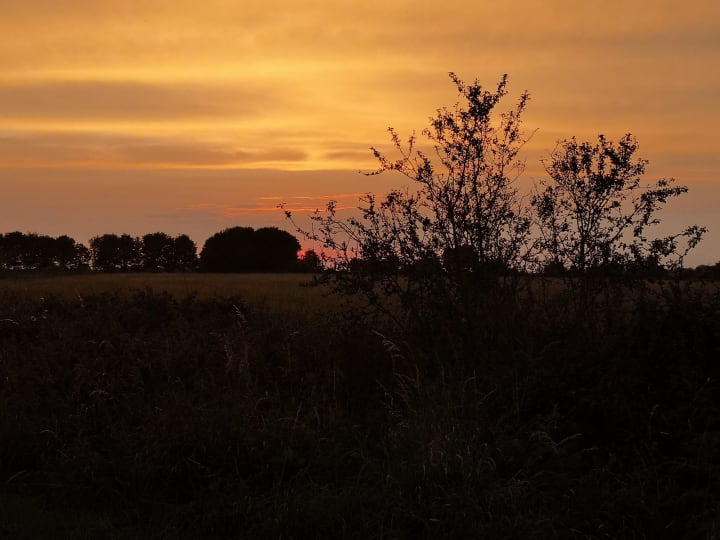 6. Painswick Rococo Garden
The UK's only remaining complete Rococo garden can be found at Painswick, where you can explore beautifully manicured gardens with quirky features, and views of the countryside around every corner. Admission is £9 but as with many attractions under current safety measures, you need to book ahead online.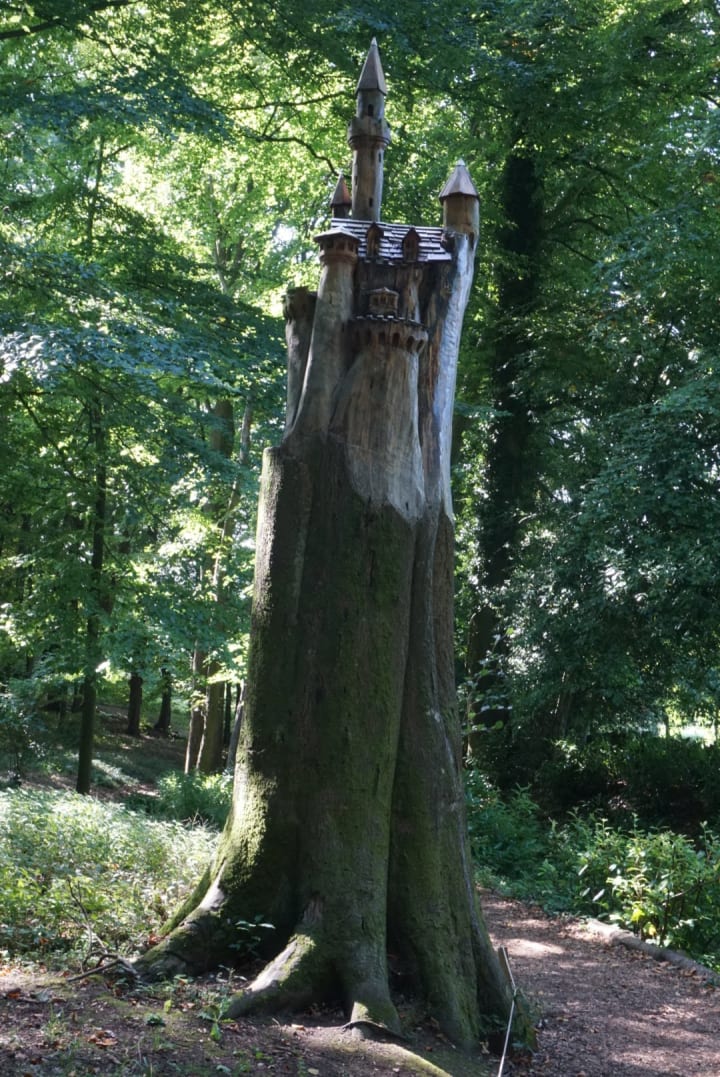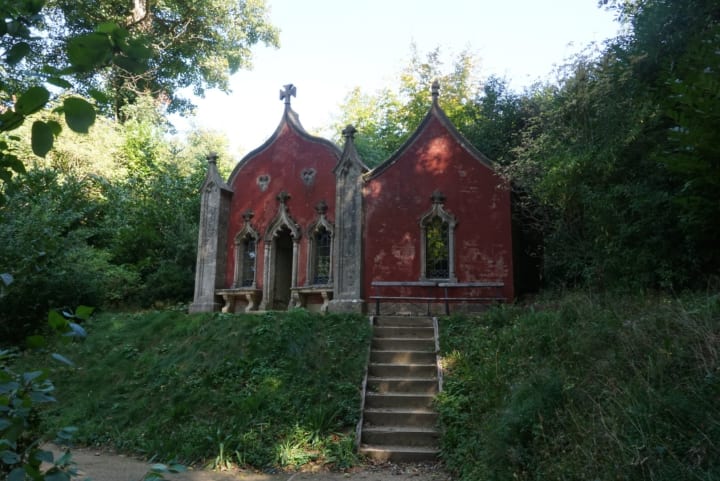 7. Bourton-On-The-Water
Under an hour's drive away is the well-known village of Bourton-On-The-Water. A little too well-known perhaps with the current pandemic, as social distancing was a little trickier here. Often referred to as the 'Venice of The Cotswolds', this is a delightful place with the River Windrush running through it and little bridges running across. Things to see include the 1930's model replica of the village, Birdland Park where you will find a variety of exotic birds, a Yew hedge maze, The Cotswolds Motoring Museum and where 'Brum' – a 1990s kid's TV programme, was filmed. We found a place for lunch, slightly off the main thoroughfare and quieter – Bakery on the Water, which is a small artisan bakery where we sat in their riverside garden.
8. Stow-on-the-Wold
Travelling to Stow-on-the-Wold, I noticed a pub called The Golden Ball. I couldn't help but wonder if David Beckham had something to do with it. It is, as it turns out, believed that the Beckhams were inspired to buy their current home at the nearby £27 million manor house on the Abbotswood Estate, after seeing The Golden Ball Inn. Another notable pub is The Porch House in Stow-on-the-Wold , which is thought to be the oldest inn in England, built in 947 by order of the Duke of Cornwall. The town is not short of places to eat, with pubs, restaurants and tea rooms in and around the market square.
9. Lower Slaughter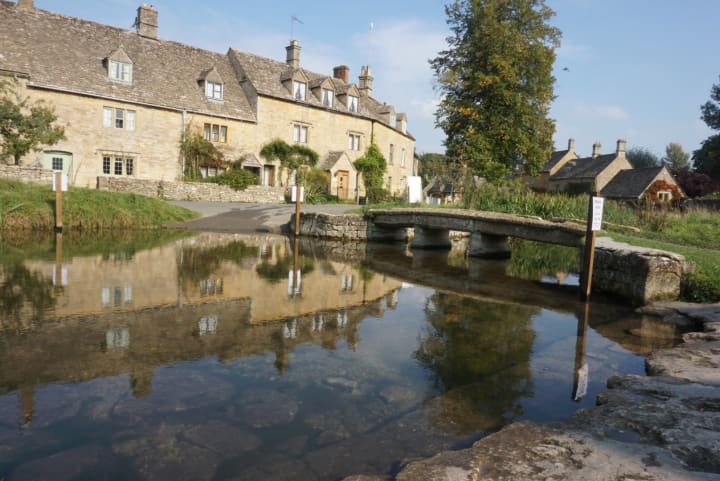 My favourite village in The Cotswolds was Lower Slaughter. I realise the name doesn't sound like things will end well but "Slaughter" is derived from "Slough" meaning wetland. The village is small but perfectly formed with pretty cottages, a water mill, a small mill museum, and a 13th century church, along with The Slaughters Inn and The Manor House both with picturesque outdoor areas in which to dine al fresco. It is not surprising perhaps that Lower Slaughter provided the location for Highbury Market Square in the 2020 film, Emma.
10. Chavenage House
Much closer to Stroud is another Emma film location, Chavenage House in Beverston, which featured as the neighbouring estate to Hartfield – 'Randalls'. The 16th century house also made an appearance on TV series such as Poldark and Lark Rise to Candleford. Pre-booked group tours were available when we were there. Visitors will be welcome again in 2021 but please check the website before planning a visit.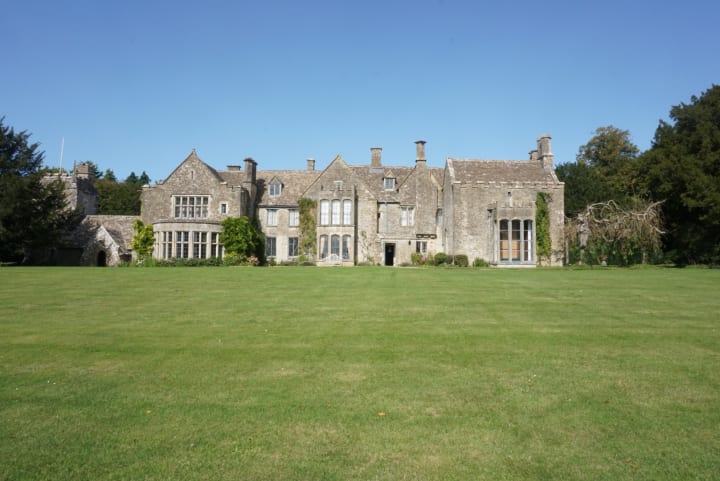 11. Lacock
Lacock is a village three miles from Chippenham and is yet another with that quintessentially English charm that has not gone unnoticed from the big and small screen. This National Trust village has appeared on Harry Potter and the Half Blood Prince and the TV series' of Downton Abbey and Pride and Prejudice. Lacock is home to a 13th century abbey set in Victorian woodland grounds and the Fox Talbot Museum, which celebrates the accomplishments of William Henry Fox Talbot – a resident of the abbey who invented the first negative created using a camera. A little touch, which really emphasised the local and unique charm of this village was the various items and produce left out in front of houses or on the pavement for passers-by to purchase simply using an honesty box. The image here captures the tempting jams and meringues on offer.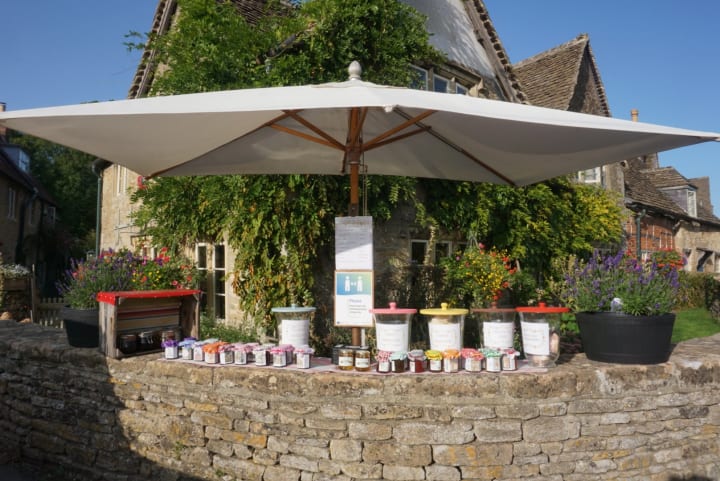 12. Bibury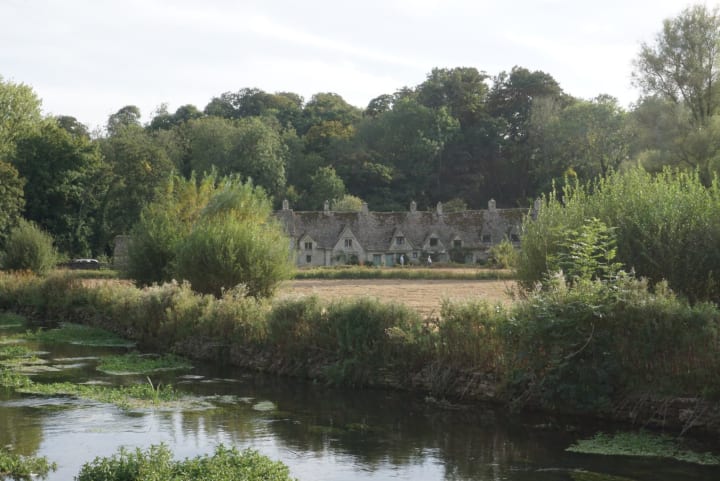 A close second favourite to Lower Slaughter for me was Bibury near to Cirencester. There is a storybook feel to the place with the River Coln running through the village, little bridges across and the cottages of Arlington Row providing the background. These are a row of 17th century weavers' cottages and one of the most photographed sites in the country. It seems apt that Bibury was chosen as a location for the fantasy film Stardust and was once described as "the most beautiful village in England' by William Morris. You will also discover a trout farm and restaurant where you can catch your own trout, in addition to other eateries such as The Swan Hotel Bar & Restaurant with its delightful courtyard for warm days.
There is so much to see in The Cotswolds that I would have been more than happy with another week to visit all the places I wanted to. I look forward to returning and experiencing the indoor charm of the cosy pubs, tea rooms and castles next time.
For all attractions do check their websites before visiting for opening hours, seasonal openings and the latest COVID-safe practices.
europe
Business Development & Research Manager at Official Tourist Board for Liverpool City Region, UK. Previous experience in Destination Marketing including content and copy.
Host Travel blog : cravedifferent.com which I am looking to develop.
Receive stories by Laura Ockenden in

your feed