The Korea-Before-I-Die Tour
A photo essay on a homeland tour of South Korea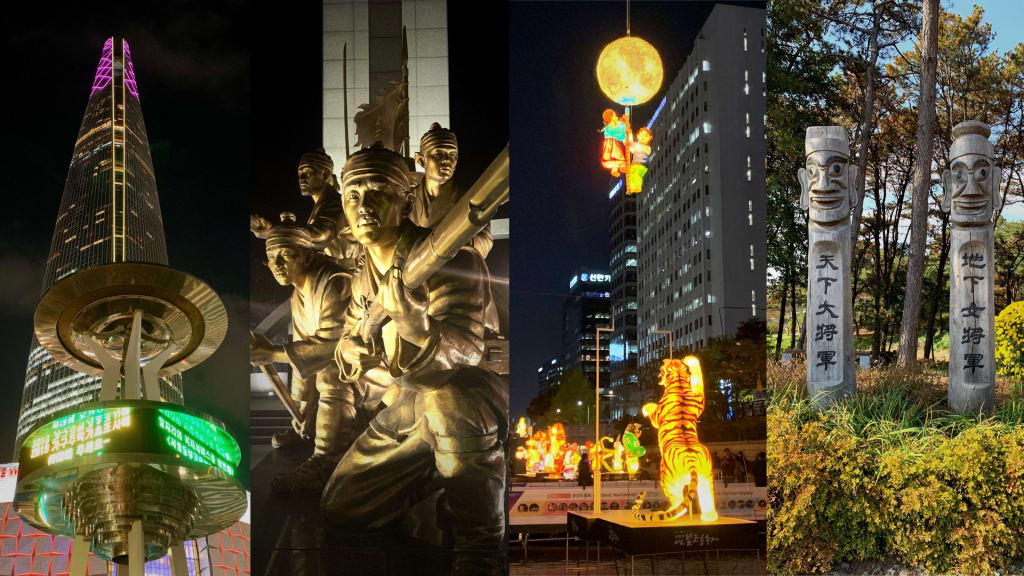 Modern meets traditional in South Korea
Field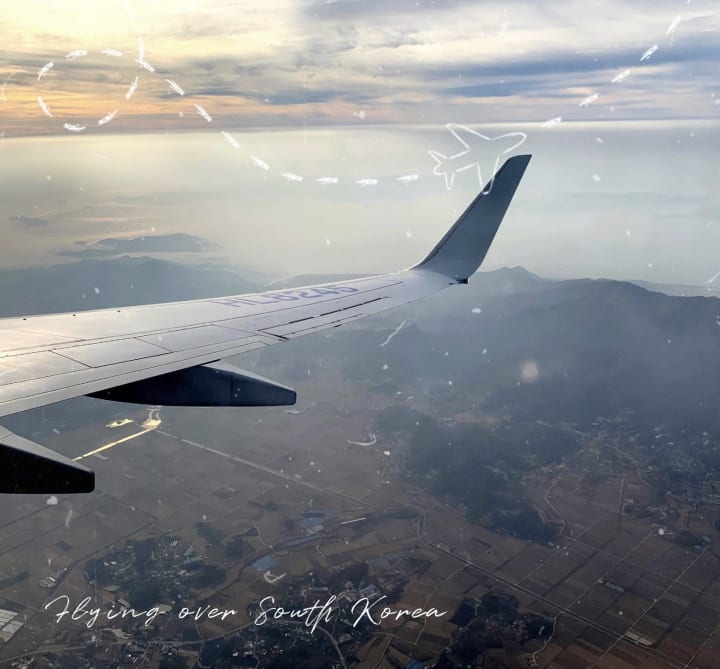 In late autumn, the land in Korea is neither green nor brown but a golden yellow.
In America, the flaxen fields of wheat or corn may come to mind but in South Korea, it is golden and chartreuse fields of rice.
It had been twelve years since I last visited Korea but this time, I came with a foreigner's mindset.
Even though I was Korean, I knew from experience that fitting in on the outside would never be enough.
Worse yet, I would find myself bound to a kind of law of attrition.
Whatever Korean culture or social custom I thought I knew would be invalidated by all that I didn't. I would be judged not because I didn't know the language but because I did.
Every fumbled word, or blown accent would be duly marked and noted.
But it was all I could do to remind myself that I was only a visitor here and no sense of entitlement or American privilege would ever save me.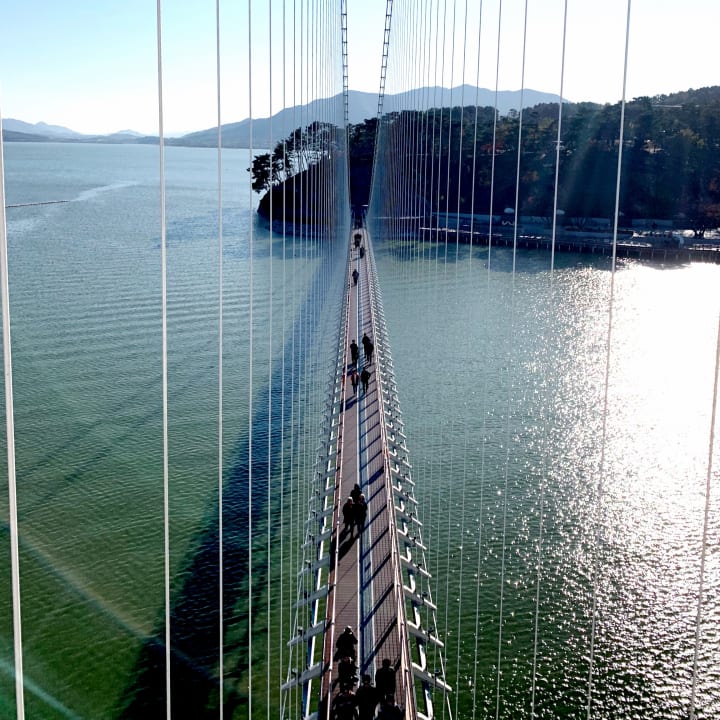 A little over a year ago, my mother made a firm commitment to visit South Korea after her retirement.
It had been nearly two decades since she last set foot in Korea after her own mother had passed away. But she had an older brother still living in her hometown and a younger sister closer to Seoul.
So it was convenient when our local travel agency started peddling a "Homeland Tour" or what I joked as the "Korea-Before-I-Die" tour.
It was billed as one of those trips of a lifetime for aged Korean-American retirees with lots of money and time to spare. The package included exploring famous landmarks, staying at five-star resort hotels, and sampling the local cuisine. But the real attraction was the chance to discover Korea anew after so many years spent abroad and to visit a country that many had long forgot.
The itinerary was an ambitious one; nine nights and ten days of touring the whole country and a stint in Jeju Island before some of us returned home, and others stayed on to visit friends and relatives.
I was in the latter group and it would be another five weeks before I could go home again.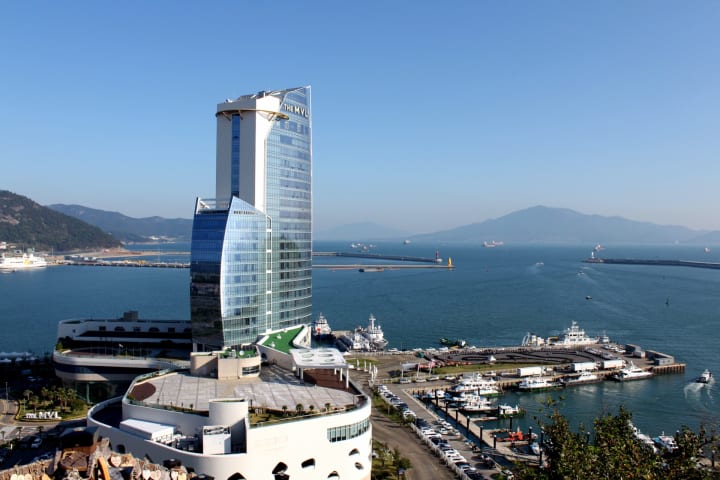 Rice
Maybe it was no coincidence that we started our tour in Songdo about twenty miles southwest of Seoul.
Songdo is a fairly new city built on reclaimed land from the Yellow Sea and didn't exist the last time I was there.
It is also largely a technocratic experiment.
Songdo boasts over 20 million square feet of LEED-certified space, a network of international universities, and most curiously, a pneumatic waste disposal system. It is also the first 'Smart City' of its kind to be developed inside Korea.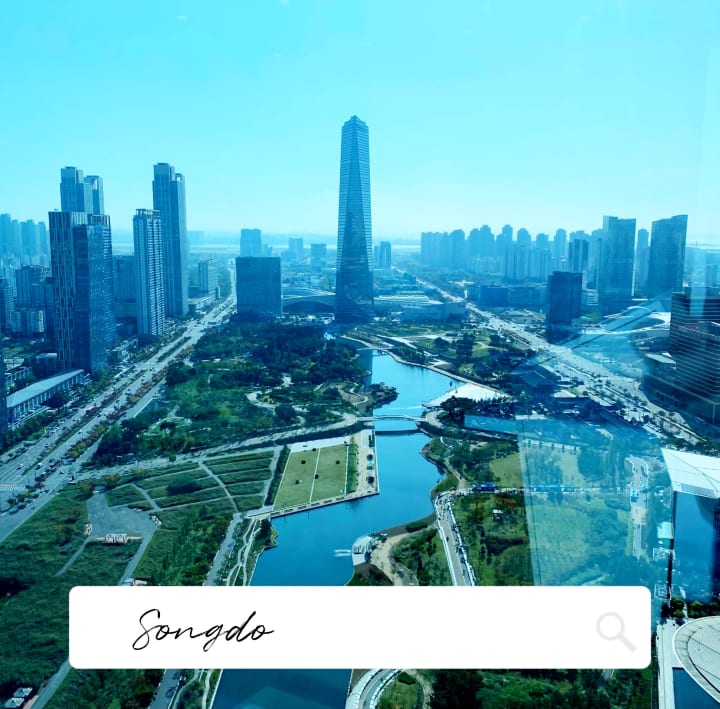 But for all its eco-friendliness, corporate monuments line the central square. More amusement park than urban greenspace, Songdo is an integral part of Korea's IFEZ (Incheon Free Economic Zone) initiative and in many ways, the direct result of high-tech infrastructure.
As our tour guide pointed out each landmark, there was almost always a famous reference behind it: Songdo's "Central Park", or Songdo's "Venetian Waterways", and POSCO Tower which was much too reminiscent of Freedom Tower in New York City.
This would become a familiar theme throughout the remainder of our trip, city after city: Ansan's Moon Observatory resembling Seattle's Space Needle, Tongyeong's Mural Village emulating LA's Arts District, and so on.
Much later in Seoul, I would ascend Lotte Tower which wasn't Lotte Tower at all but a near replica of London's Shard.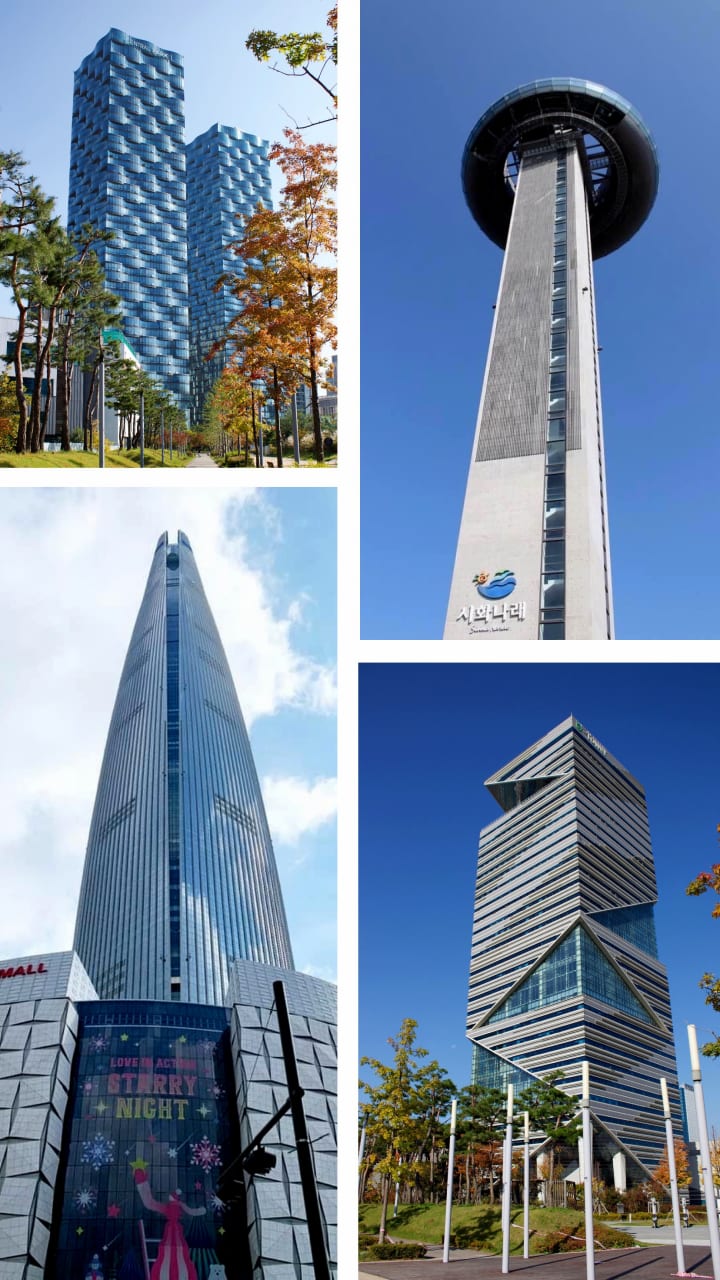 They call these "homages" but this hearkens back to Korea's imitation culture from the '90s; a matter of not pride, but frankly, chagrin.
I related this information to my friends and relatives. My mother was of course defensive, it was enough for her that South Korea was even capable of such grand architectural feats. When I complained to native Koreans about it, they were hurt by my assessment.
I once heard a tourist refer to South Korea as "dystopian" and I didn't quite make the connection.
But after visiting Songdo, I could see what he meant.
Because in a way, Songdo isn't merely "high-tech"; it's still conformist and consumeristic — it is a whole city, commodified.
You see, the city of Songdo makes you forget that Korea is still a country built on rice.
In fact, Songdo makes you forget that you're in Korea at all.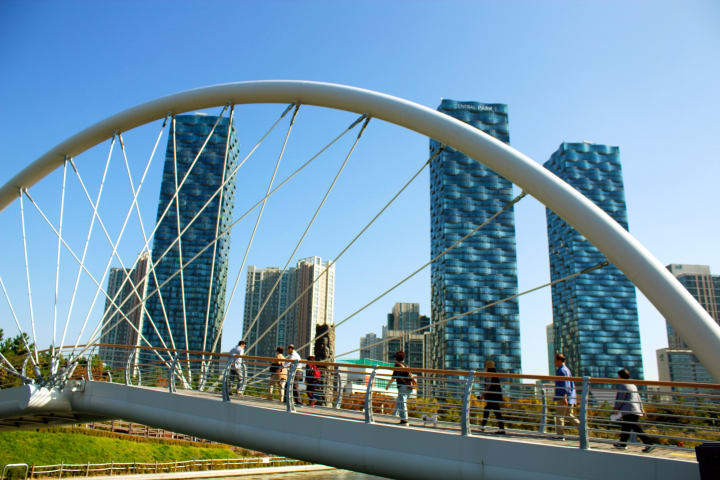 Land
There is a repertoire in the landscapes of Korea.
Unlike the varying terrain of America, Korea is an undulating pattern of mountains and valley towns. The only break in the rhythm happens when land meets sea in coastal cities outfitting the shores of the Korean peninsula.
A tightly connected network of bridges and tunnels conjoins East and West and interstate highways traverse the length between North and South.
Outside of Seoul's city limits are smaller cities which are alternately rural, or suburban.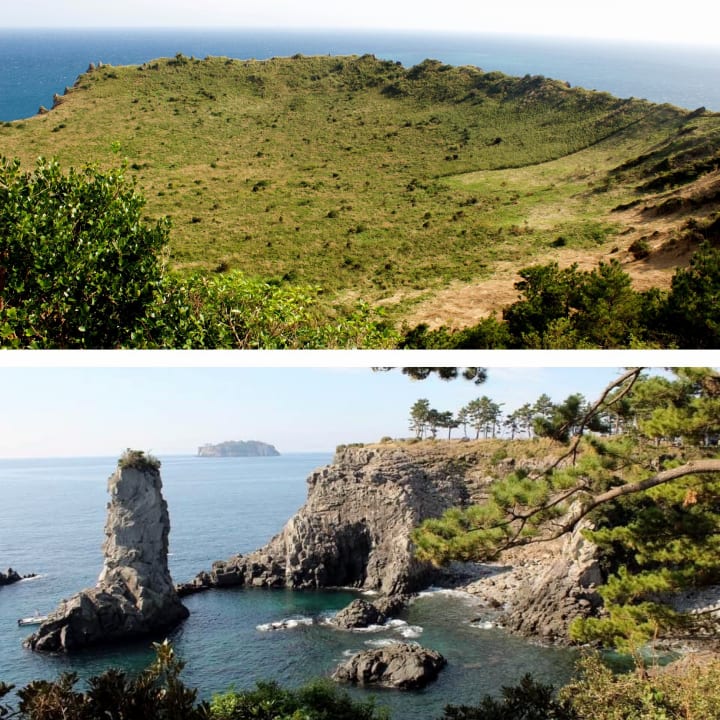 It's fair to say that all my friends live in Korea's capital city of Seoul.
I half-jokingly refer to them as "Seoul Snobs" because life is lived not in South Korea but only in Seoul.
Even though the whole of South Korea is smaller than the state of Florida, few have made the trip to other major cities much less the rural parts of the country.
When I was last in Korea, one of my close friends brought up the power of ki or the energy that runs through South Korea's rich and fertile soil. Land bordering natural waterways are especially precious, imagine picking up a fistful of dark, nutrient-rich dirt.
That's "ki".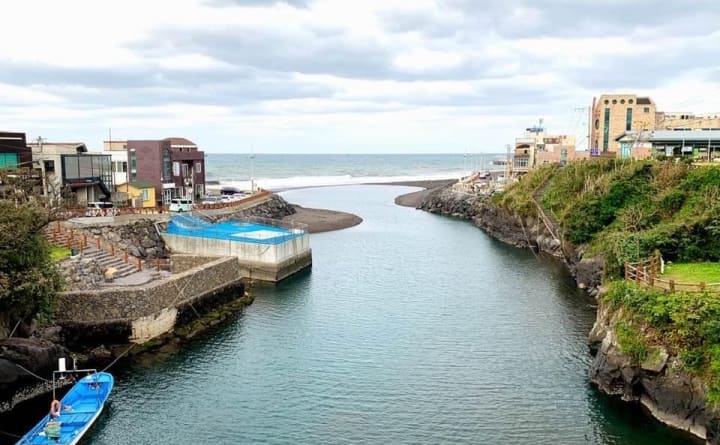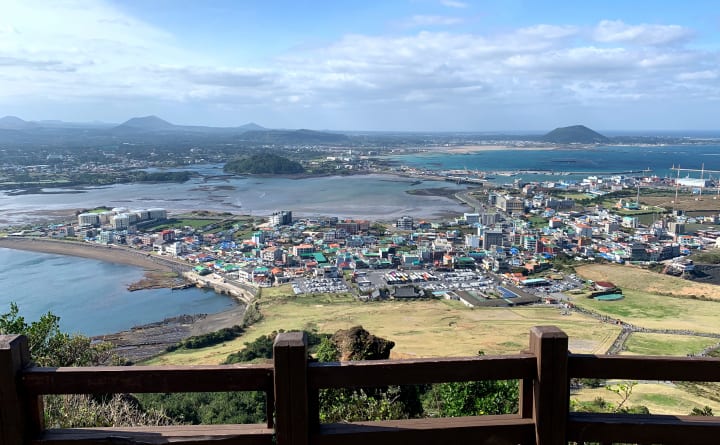 The Korean word toji doesn't necessarily translate into the word "land". Rather, it is comprised of the two Chinese characters for "dirt" and "earth". Hence, the more accurate translation would be "dirt of the earth".
This quality was not lost on our tour group as we were instructed to take off our shoes and ascend a mountain path on our bare feet.
Our guide put it as receiving "nature's foot massage".
It felt more like nature's acupuncture with the small pebbles stabbing at my toes.
I couldn't help but quip, "I can feel the mountain ki flowing into my feet!"
One of the couples overheard me and fell down laughing because they knew exactly what I meant.
Countryside
When I was last in Korea, a student of mine once told me that the "Countryside will always be the countryside."
What he meant by this was that rural areas in South Korea would never change.
On some level, I agree with him because country folks in Korea are stubborn as fuck.
They are set in their ways, even more rigidly so, because they are a dying generation.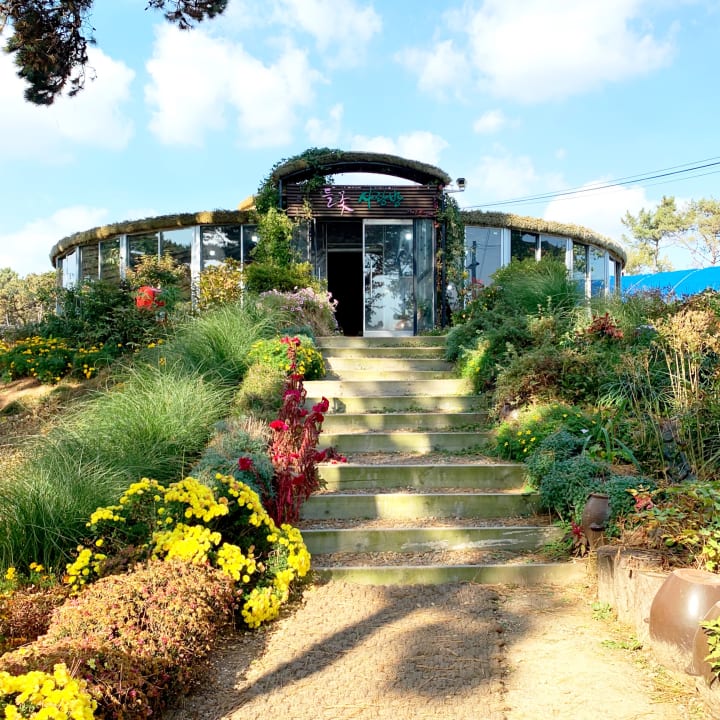 Some of my most vivid childhood memories are from my mother's hometown.
Now that I think back, it was such a different time then.
South Korea was still under a military dictatorship, and struggling to catch up with the rest of the world.
I remember joining my cousins in walking the sanded paths of the countryside and meeting women balancing large earthenware jars on their heads along the way.
We were so innocent then, just children playing in the dirt and climbing hills. In our corner of the world, there was no pressure to get into Ivy League schools or work at Fortune 500 companies. No fancy European cars to covet or designer shoes to buy. No relationship goals or popularity contests.
Just some kids riding bicycles looking to score some candy.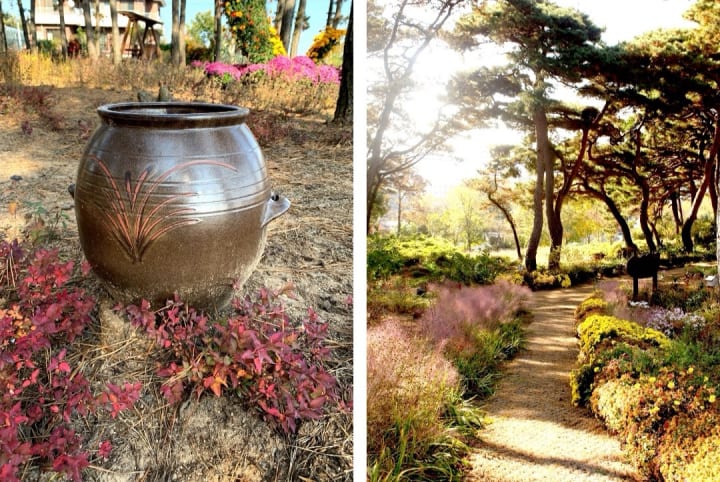 Now buildings and urban development have completely transformed the landscape. The rice fields that once dominated the land in former times are now paved over with public parks and recreational areas. High rise apartments pierce the silhouettes of snowcapped mountains and the once vibrant outdoor markets are only a shadow of their former splendor.
The houses that do remain are little more than rundown shacks.
Walking around my mother's neighborhood, she pointed out her childhood home and her best friend's house which were both decrepit and in a state of serious disrepair. Some of the backyard trails I once walked many years ago were now closed off, and the hills I used to climb converted into private tombs.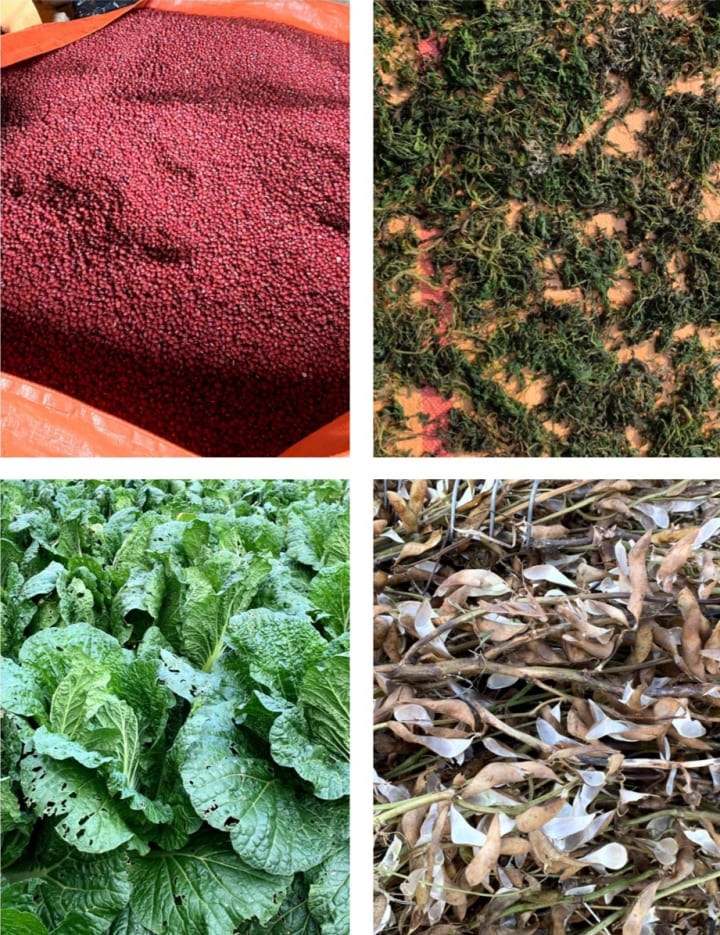 It must've been disappointing for my mother who no longer recognized her hometown.
After so many years abroad, it's not easy to become a stranger to your own community.
But perhaps it's also selfish to expect the countryside to change so little.
Especially for my mother, who had changed much.
Bond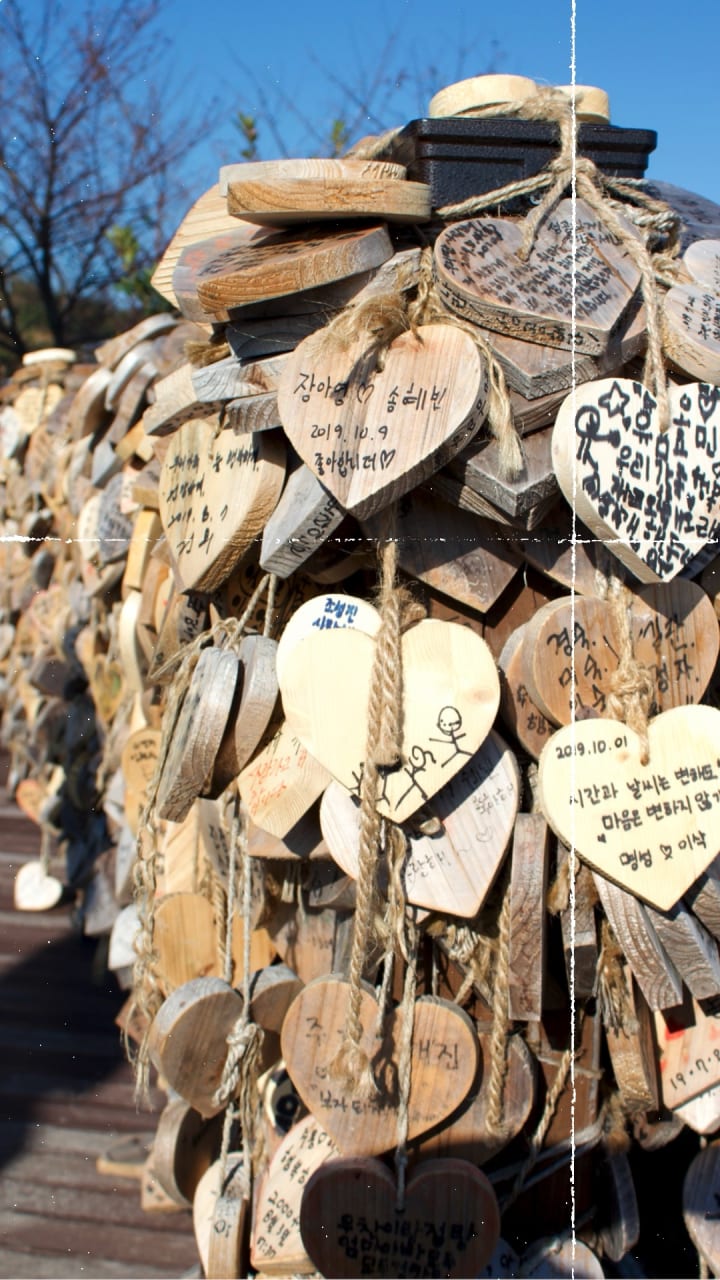 My mother and I both shed tears when we crossed into my father's home province.
It was painful to not have him there.
At times, I could almost hear him whispering to me on the bus, explaining things along the way, or pointing to something nostalgic.
Lonelier still was what little memory I had of him in Korea.
The only father I ever really knew was the one who insisted on buying John Deere or treating himself to a coffee at Starbucks. A man who bought all his shoes from Kohl's and relished his McDonald's breakfasts.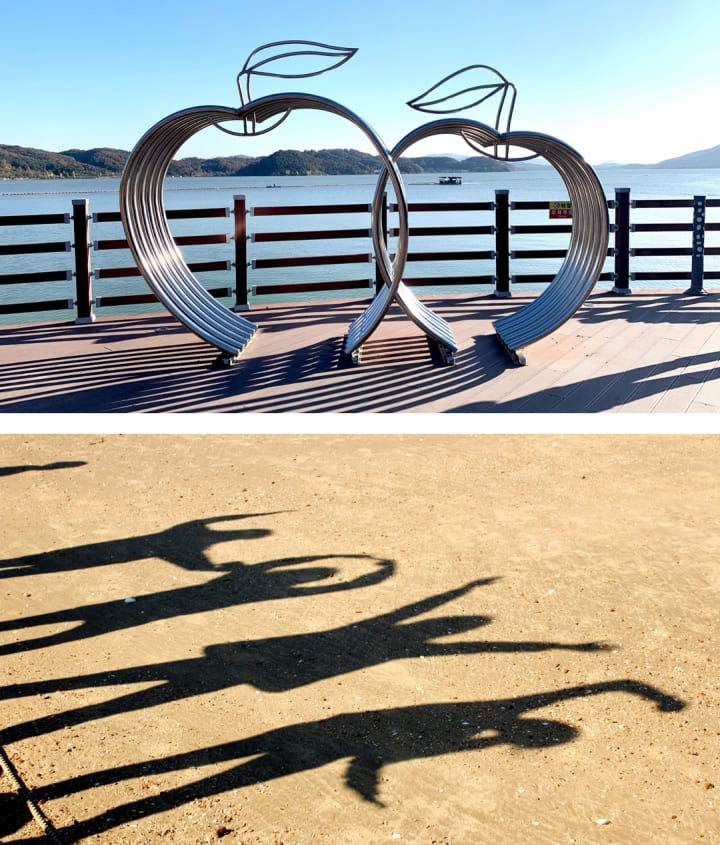 It never occurred to me that although my father's heart was always with us in America, his spirit had never truly left Korea.
To my surprise and heartbreak, I saw him again in the faces of my aunts and uncles who came to greet me. I heard him through the locals who shared his native dialect. And I felt his legacy when I stood on ancestral ground.
Living an ocean apart must never be easy.
We say our farewells telling each other to "Please stay healthy" and "We will see each other again soon". But we know on both sides that these are convenient lies.
We know that it is more likely that we will never see each other again.
For Koreans who live so far away, the only real family reunions happen at funerals.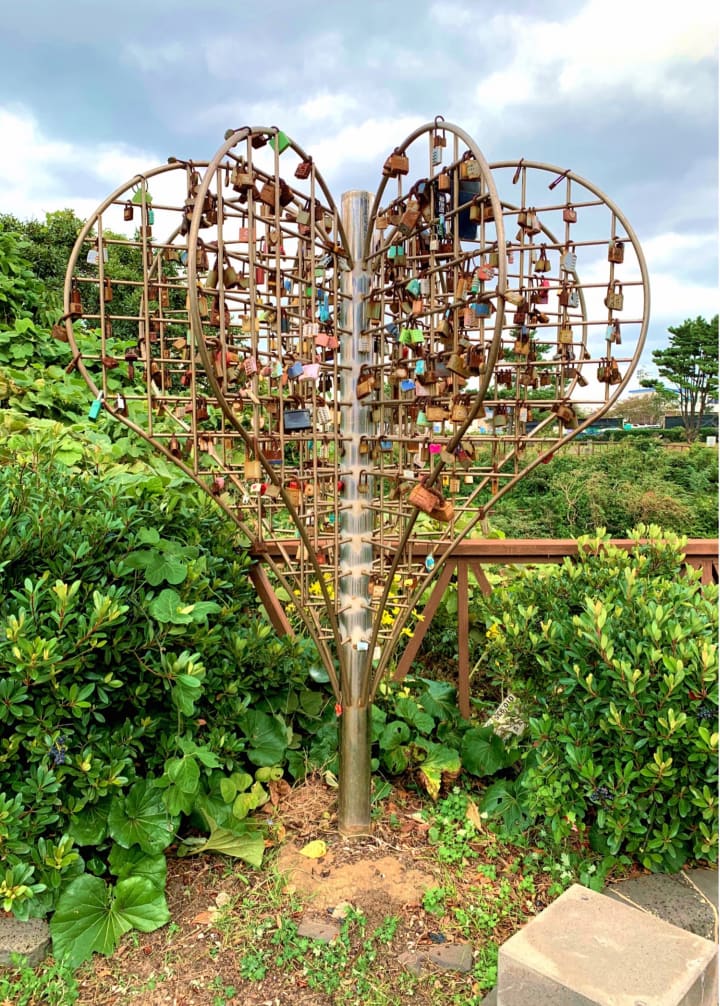 City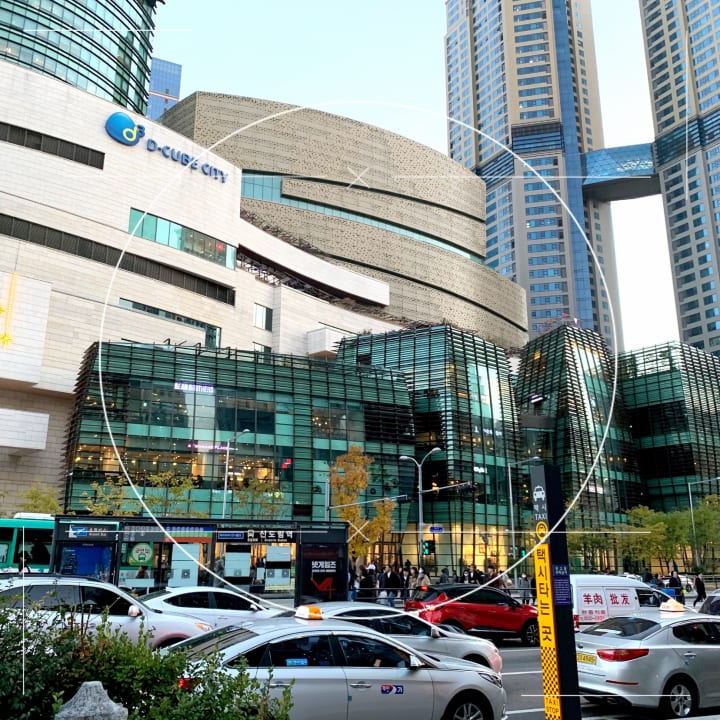 In Korean subways, people don't walk.
They run.
I could hardly believe it when one evening during rush hour, I saw large swaths of salary men and women running after their trains at breakneck speed.
It's not something you see often in the States, people in suits don't sprint in subways no matter how late they're running. It would be considered improper, uncivilized even to commute like that from work.
But in South Korea, such is the mantra of city life.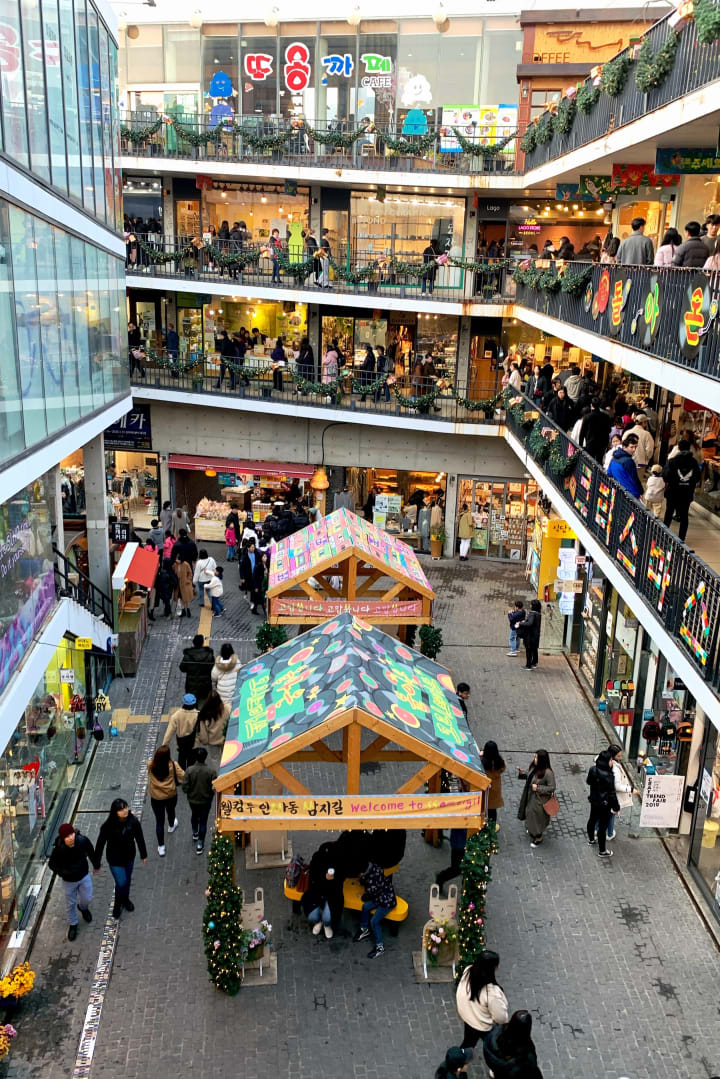 Otherwise, the streets of Seoul are certainly very trendy.
Teenage dancers perform in public squares, and busker festivals are a regular thing. Consumer culture also operates at fever pitch with flourishing night markets, retail megaplexes, and late-night bars and restaurants.
I can see why Westerners become so enamored.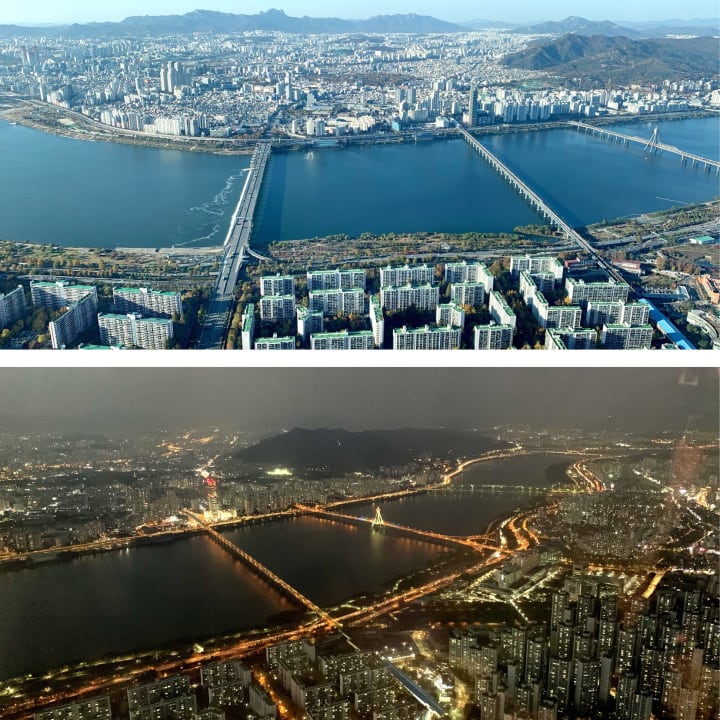 Oddly enough, the hipster phenomenon was also in full swing.
A college chum texted me to meet her at a local dive bar, "It's super hipster!"
We were in one of the most popular spots in Seoul where men hobnobbed in Hush Puppies and women sported bold coral lips.
On the menu were Japanese highballs and Australian grass-fed beef.
Months earlier, California-based Blue Bottle Coffee heralded the opening of their new franchise in Seoul with lines that stretched three hours long for one glorified cup of espresso.
Suffice to say, my friend and I opted for coffee and dessert elsewhere.
In truth, I much preferred green tea.
Culture and Society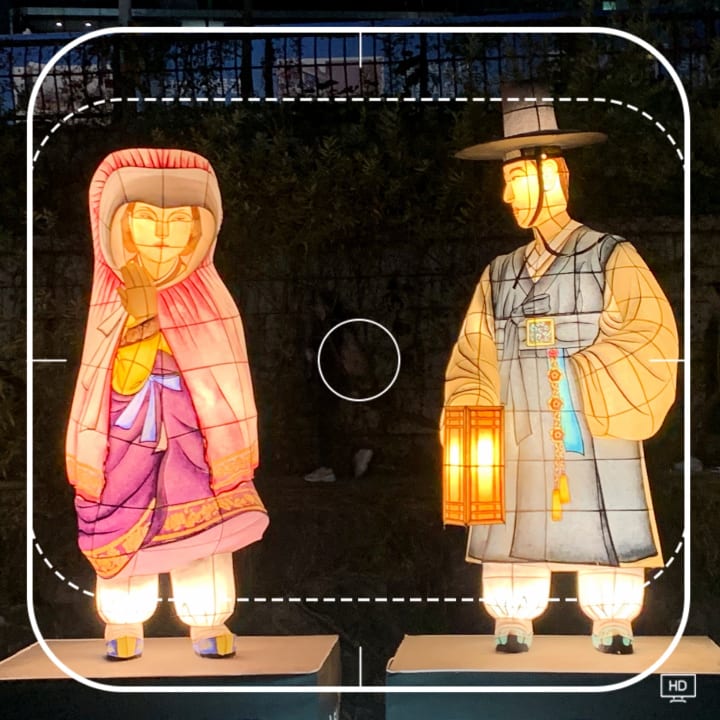 At times I wondered if our tour guide was a feminist (father of two young daughters, and caretaker to his ailing mother seemed to suggest so).
I felt the tour inordinately focused on the unsung female heroes of Korea —historical poets Shin Saimdang and Heo Nanseolheon, and the martyr Ryu Gwan-sun from the Korean independence movement.
South Korea was just coming out of its own #MeToo movement with mixed results. On the one hand, growing awareness of gender discrimination was bringing women into the spotlight but on the other, gender conflicts were also on the rise.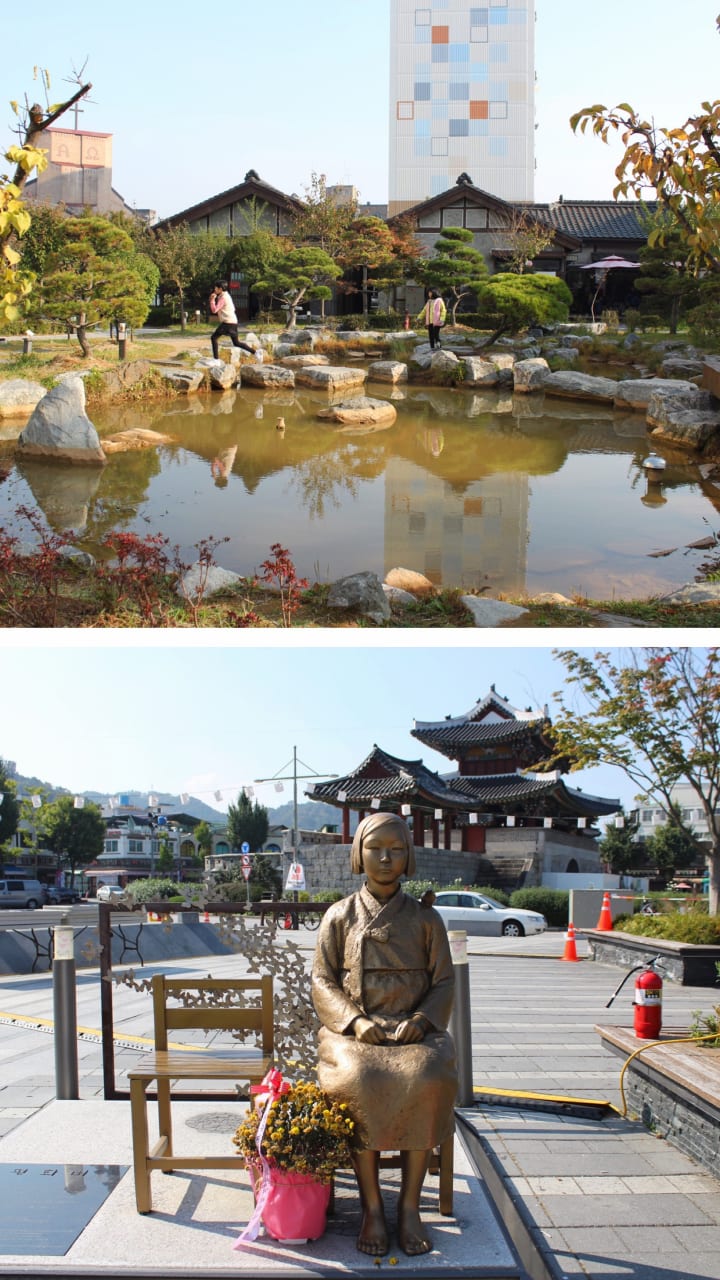 One thing people don't realize is that most of Korean culture and society is based on Confucian paternalism. It's not conformist culture per se, more that life has to be lived "in bounds" and any deviation from the norm would be strongly discouraged.
This is perhaps best reflected in South Korea's rigorous education system.
I witnessed this firsthand as I watched my cousins get shuttled back and forth from evening cram sessions on top of their regular extracurricular activities.
It also wasn't uncommon to see them staying up all night to study for weekly tests or high school midterms.
One of my cousins was even excused from seeing me because he was "in seclusion" studying for his college entrance examinations.
I initially mistook the meaning.
It sounded more like he was training to be a monk.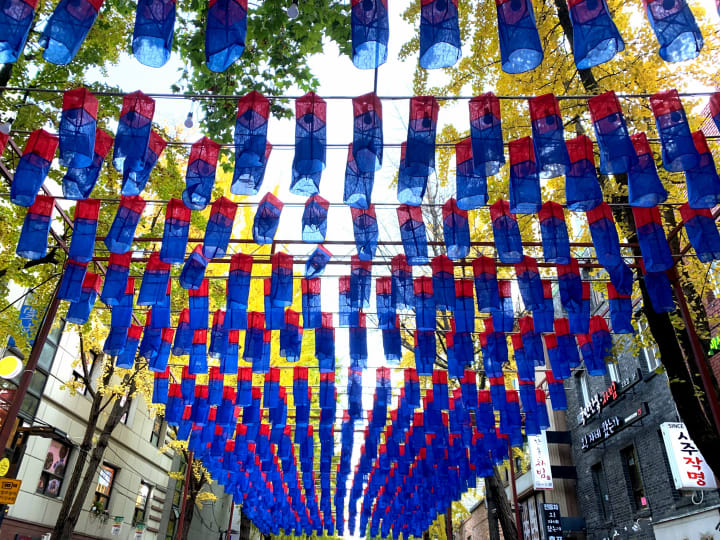 Homecoming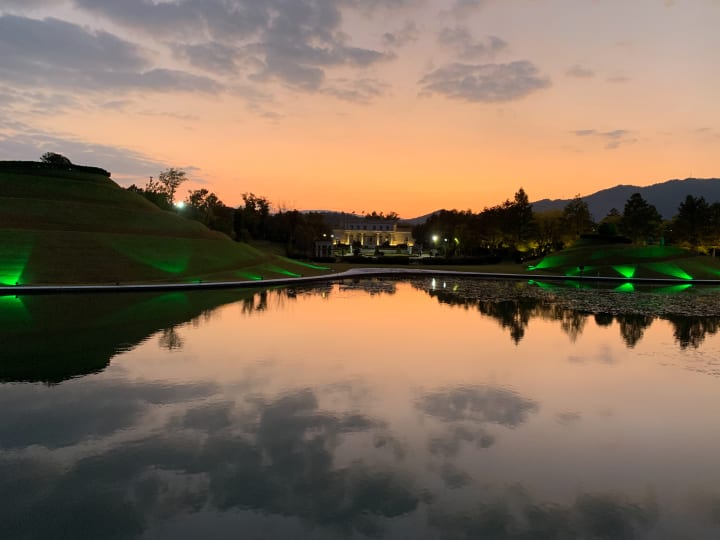 During the Asian financial crisis in the late 1990s, it was Korean immigrants living in the United States who sent millions of American dollars back home to help their struggling friends and family.
Likened to the Great Depression, the Asian economic meltdown sent the country into a nationwide panic. Many South Korean workers were laid off while others went completely bankrupt. In desperate need of hard currency, the South Korean government went so far as to solicit its citizens for gold to stock the national treasury.
For those who were lucky enough to have family overseas, many Koreans came with their palms in their mouth asking for cash infusions to save themselves from financial ruin. Even wealthier relations who may have formerly looked down on their American counterparts were now completely at their mercy.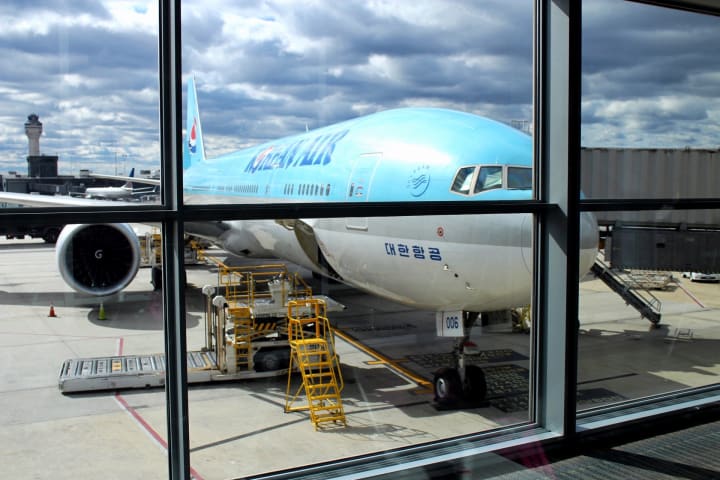 The Korean-Americans did not disappoint.
When push came to shove, many of them dug into their savings, took out private loans, or sold off their assets to aid South Korea's capsized economy.
My own father had done the same, second mortgaging our house to support his relatives back home.
In the crisis's aftermath, it was estimated that Korean-Americans provided close to 20% of the capital to pay back South Korea's foreign currency debt.
And for that, their contributions did not go unnoticed.
Moved by the deep love and sacrifice of their former countrymen and plagued with a declining birth rate, the South Korean government rewarded their efforts by offering to repatriate them, granting them the full legal rights and benefits of a Korean national as if they had never left.
This was the story we were left with by our tour guide, and it was on this requiem to the past that our homeland tour concluded the same way it began.
Not with a "Thank you" or "We'll miss you" but the best goodbye anybody could ever wish for.
A welcome back home.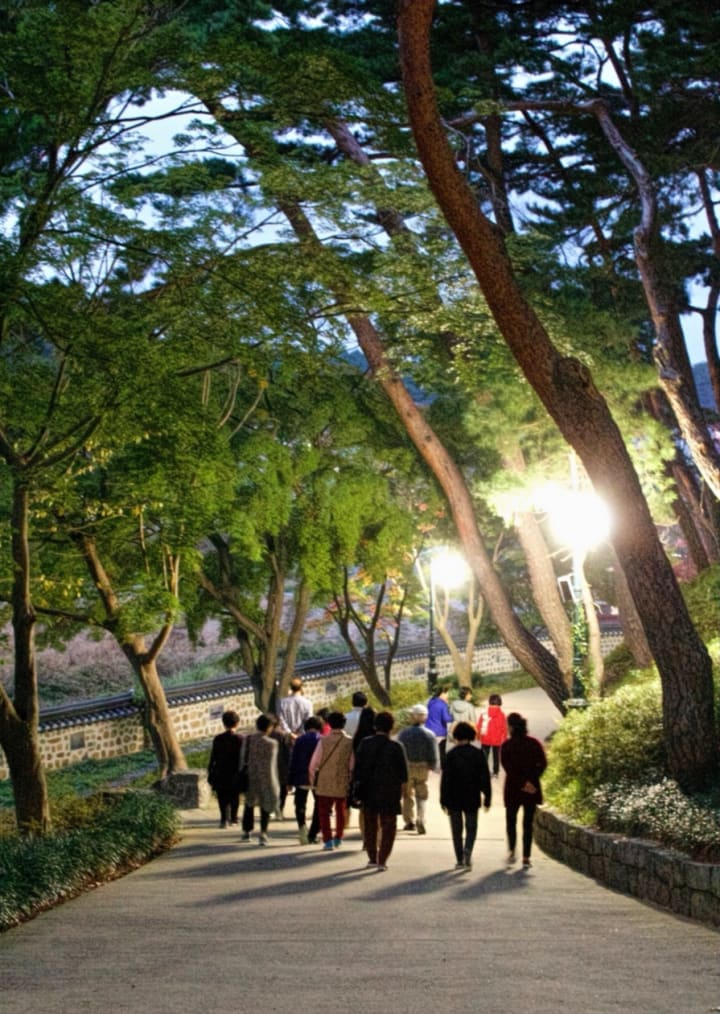 Special thanks to Top Travel and Daone tour agencies for the experience of a lifetime.