The Joy of Mini Vacations
A Weekend in Watkins Glen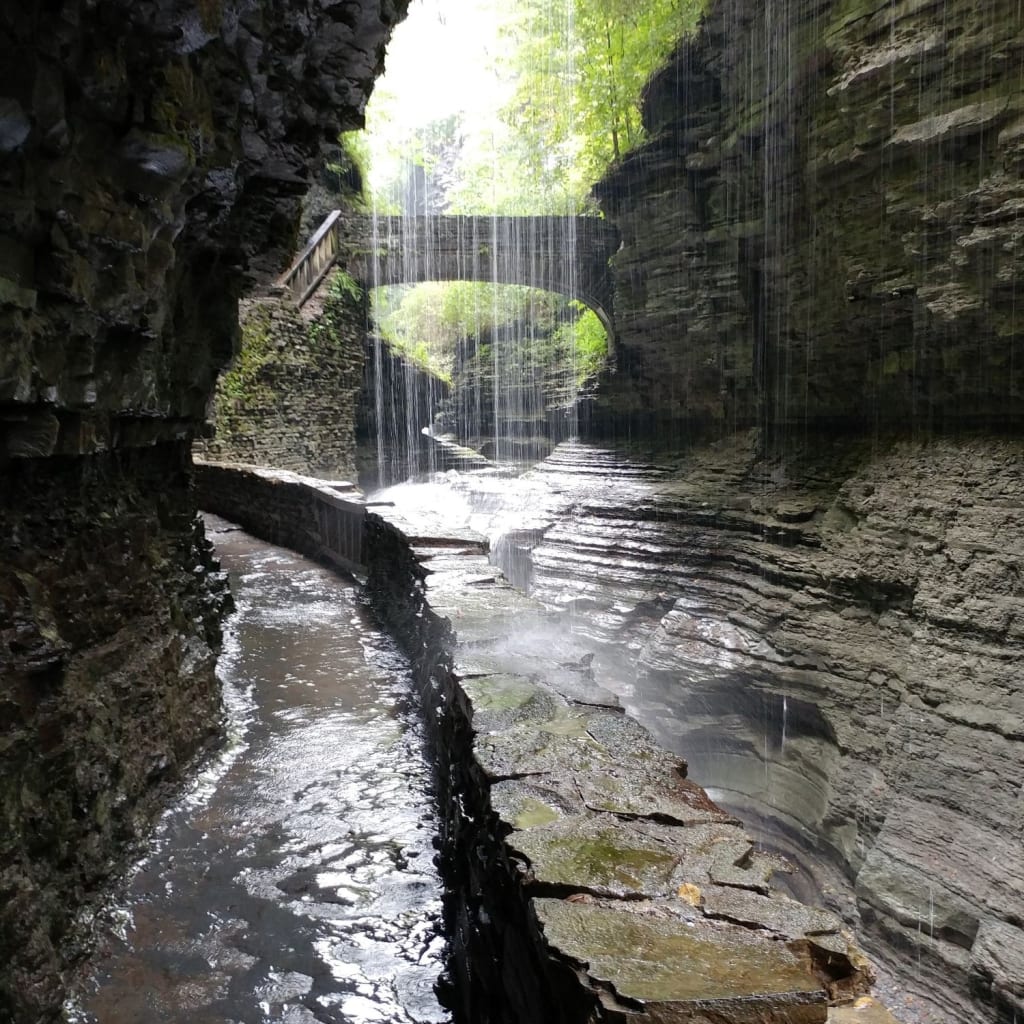 Some vacations are long, epic adventures, but others are short, quick escapades that thrill and leave you wanting more. The trip I took to Watkins Glen, New York has solidly secured the highest ranking of the latter. We spent two full days there, the first exploring a beautiful gorge with striking waterfalls and fascinating rock formations and the second meandering slowly through a portion of the finger lakes.
The Gorge
We decided to camp at this park because of how stunning it claimed to be. We were not misled. Multiple trails follow Glen Creek, some high on the edge of the gorge that allow travellers to look down, but the trail that I would recommend is the Gorge Trail. With more than eight hundred steps, the trail climbs down into a deep chasm carved by years of running water and then back up. The striations in the walls tell the story of ages passed and are beautiful to behold.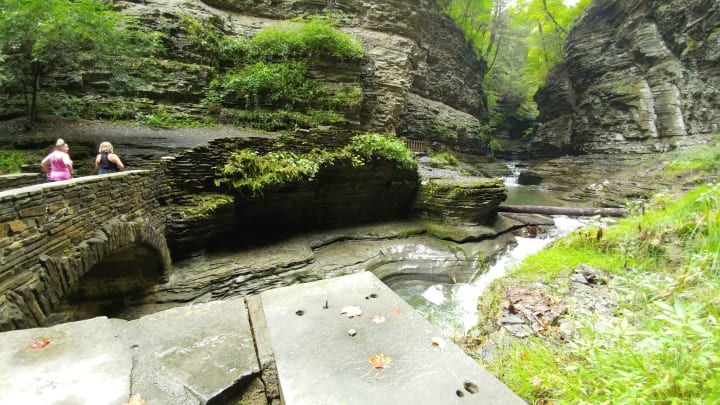 At the main entrance, you can walk through man carved caverns that once allowed water to flow to a flour mill's water wheel. Once you emerge from the tunnel, the real treat begins. The towering cliff walls and flowing waters create a truly picturesque scene. Multiple waterfalls and pools of water dot the nearly two miles of Glen Creek within the gorge. The 200-foot walls are truly awe inspiring, and the area is so diverse that it supports different eco systems. Some areas are so damp that they almost feel like a rainforest while others support drought resistant foliage. Placards line the way, informing you about the different features of the gorge.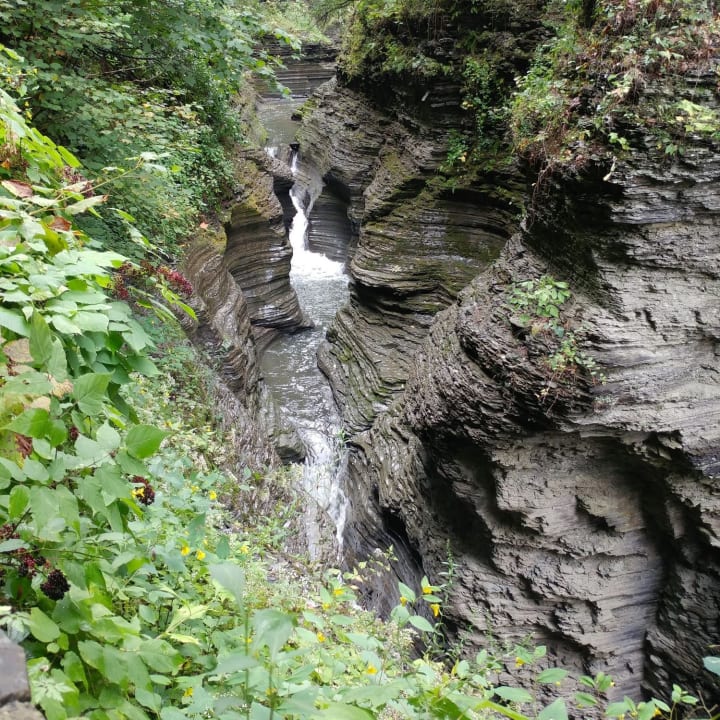 My only complaint about the entire experience was that it was so short. If we had had a third day to explore, we would have returned and taken in more of the natural splendor, but alas, we only had two, and day two we devoted to…
Finger Lakes Wine Trail
There are guided tours and paid excursions that take you through the wine rich region of New York, but we elected to merely pick up a map and start at the first winery we saw.
Before I get into those details though, I would like to give a disclaimer to those reading this that may dislike wine: before this trip, I didn't like wine. I had tried some of the standard fare, and I had had some that I found tolerable, but I wouldn't pay for wine when there were more delicious liquor concoctions out there. This trip changed my mind. We tasted several types as we visited various wineries. That variety allowed us to find wines that we enjoyed there and in the future.
Our first stop was Castel Grisch. There I fell in love with my first wine: Seneca Dream Red. A semi-sweet red with flavors of strawberry and grapefruit, it delighted my tongue and I began to be truly excited for our day exploring wine country.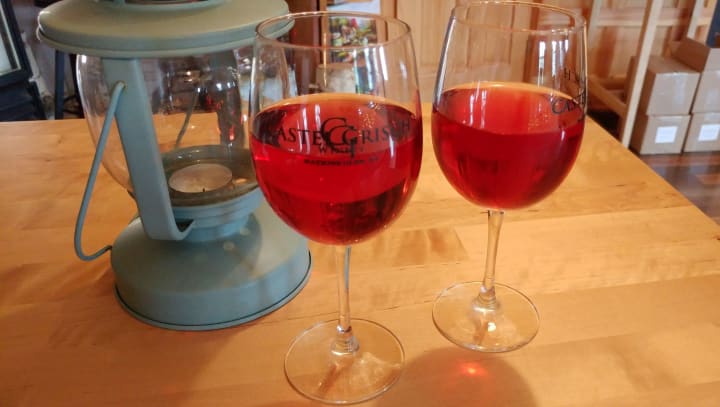 Lucky for me, my boyfriend was the designated driver. By the end, I was more than a little bit tipsy, but also thrilled by our purchases. We had travelled around, visiting multiple wineries and creameries; most only a few minute drive from each other. My tastes became more and more defined until I could easily identify which wines I knew that I would like. They generally pour them in flights, four to six wines that they group into tastings. Magnus Ridge winery topped my list. They pair their wines with cheeses for their flights and we couldn't resist picking up multiple bottles of a deliciously sweet red wine with hints of strawberries and, of course, the strawberry chardonnay cheese with which it paired perfectly. Scrumptious!
It was also my first time visiting a creamery. I love cheese. I can't deny it, and any cheese lover should visit at least one creamery. I tasted herbed and spiced cheeses, the smoothest goat cheese I've ever had, and simply decadent sharps and milds.
This is the vacation that I wax romantically about the most. When people tell me that they enjoy wine or waterfalls (or both!), I bring up Watkins Glen. As far as vacations go, it was fairly inexpensive and the impact has been long lasting. While I now live in South Carolina, I dream about going back to Watkins Glen and seeing the beauty of the landscape and tasting the delicious wine and food again.
Remember to check out the chainmaille shop and see what's new!