The Geography of Costa Rica
Some people believe that Costa Rica is an island. .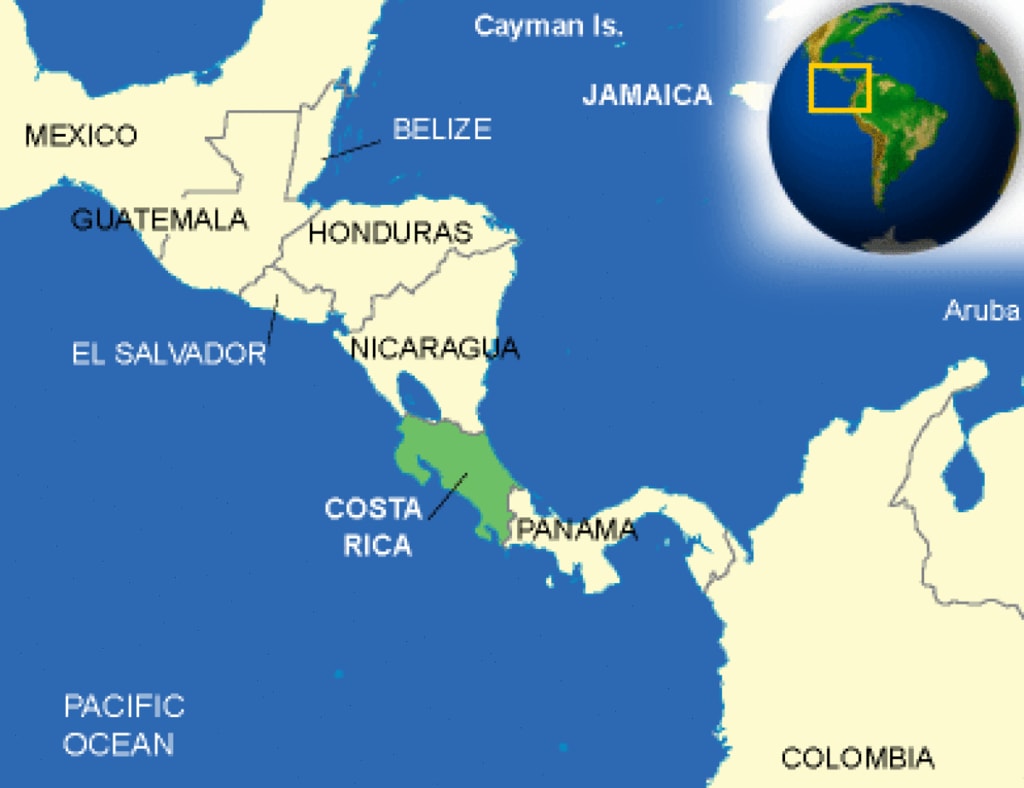 A perfect location. . Surrounded by ocean. . Filled with biodiversity!
Costa Rica is a tiny, mountainous country located between the Caribbean Sea and the Pacific Ocean. . Nicaragua is to the north and Panama is to the south. The coastal areas are made up of beaches and mangroves. Moving further inland, it becomes immediately mountainous. . the Talamanca Mountains divides the country into eastern and western areas. These mountains average a few thousand feet in elevation, though some peaks are much higher. The higher-altitude mountains often ascend into the clouds, creating a beautiful, cooler cloud forest habitat. The tallest peak in Costa Rica is "Cerro Chirripo", which is 12,533 feet above sea level. Costa Rica is also home to many volcanoes. . only five are considered "active". There are many streams, rivers and waterfalls, but only a few lakes. Lake Arenal is the largest and of course, is located in front of the Arenal volcano.
Costa Rica is as diverse as it is beautiful. Costa Rica's geographical features include over 200 active and extinct volcanoes, steep mountain slopes, tropical beaches with sand ranging in colors from white to rose to black. There are large tracts of primary and secondary rain forests, dry forests, mangroves and cloud forests, swamps, wetlands, rivers, a few lakes and dozens of waterfalls. There are only three climates on Earth that are not in Costa Rica: tundra, snow and desert.
To understand why Costa Rica terrain is so rugged and mountainous, one has to understand what happened millions of years ago. Costa Rica was formed as the Caribbean tectonic plate pushed up against the Cocos plate continually for about 50 million years forcing the Central America isthmus to be raised off the sea floor. This is why the active volcanoes in Costa Rica are found along the mountain range at the tectonic rift. This runs from Southeast to the Northwest. Costa Rica's high mountains were also a result of the many volcanoes. When these volcanoes erupted, they pushed two tectonic plates against each other, creating the high mountains surrounding what is now called, "the Central Valley".
Costa Rica originally formed from a band of underwater volcanoes. Over years of erupting and growing in height, they eventually broke the sea surface and continued expansion.
Over millions of years of erosion and movement, a land mass connecting North America to South America was formed. This made animal and plant migration possible from other countries. Exotic wildlife and lush species of flora and fauna came from both from the north and south resulting in Costa Rica's extraordinary biodiversity. More than 25% of the country's territory is protected and consists of national parks, reserves and refuges, where it's biologically diverse riches are preserved for many generations to come.
Costa Rican geography features nearly 800 miles of coastline. The Pacific coast is more mountainous. . it makes up about 80% of the coastal land. The Caribbean coast is a quarter of the size of the Pacific and features long stretches of sandy beaches. The Caribbean is highly humid with lower ocean tides and features swamps and mangroves. Along the Pacific coast, there are high cliffs rising from turquoise lagoons, high-tide variations, rain forest to the south and dry forest to the north. The Pacific Coast has two large, lush peninsulas reaching into the ocean. The Nicoya Peninsula is in the northern area and the Osa Peninsula is in the southern zone. Osa is home to the abundant rain forest wilderness called, "Corcovado National Park.
Costa Rica is a tropical country. It has several different micro-climates throughout the entire country, thanks to the vast variations in elevation. There are only two seasons. . the dry season and the rainy season. The dry season (summer) is from December through April. Temperatures can reach up to 95 degrees on the coast. In the Central Valley, temperatures stay mild, usually between 70 and 85 degrees. Temperatures can fall below 50 degrees on the highest mountain summits. The rainy season is from May until November. The mornings are hot and humid. Around 2:00 pm, the rains usually come! It rains off and on through the afternoon and evening. Some parts of the country, like the Caribbean coastline, experience random rain showers all year-round. The Pacific coastal areas are dry most of the year.
You're invited to visit our websites at: www.costaricagoodnewsreport.com & www.costaricaimmigrationandmovingexperts.com
Also, please enjoy our over 1,700 episodes of our "Costa Rica Pura Vida Lifestyle Podcast Series". We are found on all major podcast venues, including iHeartRADIO, Spotify, Apple Podcasts, Google Podcasts, Radio FM, Anchor & many more. Here's our link: www.anchor.fm/costa-rica-pura-vida
About the Creator
Costa Rica is a magical place. Since November, 2002, when I first visited this country, I have been in love with the people, the culture, its biodiversity, the food. . everything about it makes me happy! Now I share my excitement with you!
Reader insights
Be the first to share your insights about this piece.
Add your insights