The Bumpy Road to an Unforgettable Winter
Uprooting my life to move to Canada and hoping luck had my back.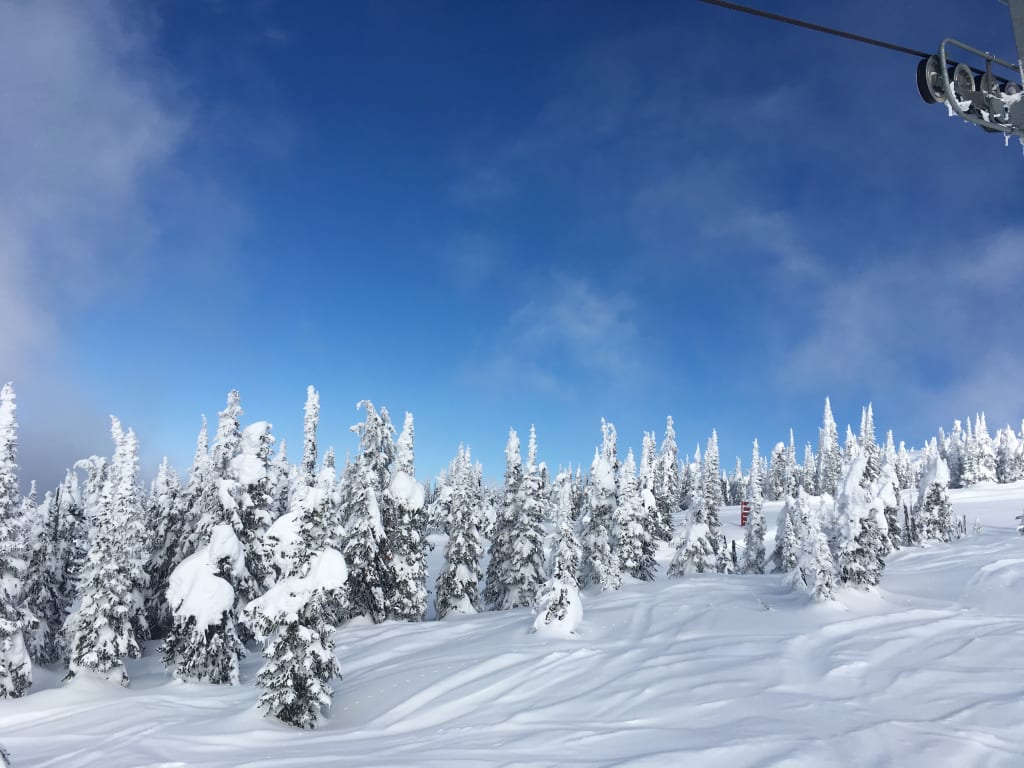 Since moving to Canada, and traveling around in general, I've had a lot of people contact me asking how I went about getting to the places I have, and applauding my courage to do so, which I find so bizarre, because it is something everyone can do, yet so many don't. Because of this, I wanted to share my story on how I got to this beautiful country, and hopefully it will motivate more people to leave their comfort zones, see opportunities where they might not, and explore. Firstly, I want to warn you, it may not be a carefree ride, you may encounter bumps and turns in ways you never thought imaginable, but a part of growing and traveling is taking everything as it comes, and always knowing that it will work out for the best.
I first started my journey to Canada with the idea of meeting up with my on-again-off-again boyfriend, Alex and our mates Neesa, Nathan, Demi, and Josh who were already in Canada. They had been planning to go for months, but I turned down the idea as I was in a secure career, saving money to pay off a new loan, studying online, and didn't really have a desire to travel to Canada. Being 21, I thought I was doing the right thing, ticking off those systematic "adult responsibilities."
Time passed by, and it got closer to my friends leaving, they were all getting excited about their travels, constantly talking about which ski hill they wanted to move to, the cost of their flights, comparing and researching travel insurance, whilst I sat there ignorantly thinking that I was making a good decision by staying at home. One week until Alex was to leave, being the first of the group—a slow work day for me led to looking at jobs on the website for the chosen ski hill they were going to go to, Big White in British Columbia, Canada. Being a full time Visual Merchandising Supervisor, I was very surprised to see a Visual Merchandising position open on Big White, I then thought to myself "I'll just apply, if I hear back, maybe it's fate"—well didn't that 10 word sentence change my life. I did hear back from the job, now four days until Alex was leaving, I had a Skype interview at four AM in the morning with the manager of the retail store, and she was thrilled with my experience, and said that if I could get my visa within four to five weeks, the job and staff accommodation along with it, is mine. I honestly had no idea what I had just done, but I knew I was going to give it my best shot. This sudden burst of motivation and anticipation engulfed me for the weeks to come. I told Alex, my group of friends and my family. I was scared to tell my parents, but the amount of support that I received off them was astonishing, and so humbling. I never once took their support for granted, and that is something that had made my first international travel experience so rewarding.
Alex had now left for Canada, and we were officially in a long-distance relationship. Two weeks had passed and I had told the rest of my friends, family, and two work places that I was expecting to leave in four to six weeks depending on my visa. A lot of questions from my friends and colleagues were asked:
"How long are you going for?"
"A ski season, six months" I replied.
"Are you going there for Alex?"
"No, I'm going for myself, it's just a bonus I have him and friends there," I retaliated.
"How much money have you saved?"
"Probably not enough" I snickered.
I was beginning to feel that a few people around me had no faith that I could do it, but then again, I had a lot of friends who were enthusiastic for me, if not more than me, both reactions inspired me to work harder to make this successful. Neesa, Nathan, and Josh had left, joining Alex in Vancouver whilst I was still at home waiting for my visa, getting very impatient and nervous. Minimal communication was had with my to-be manager on Big White with regards to the progress of my visa, seeing as there wasn't much to report on. Another two weeks passed, the last member of the group, Demi, was now in Canada, and my predicted day of resignation from my career was looming with no real idea how long I was going to be jobless for before I got accepted. On top of that, my car wasn't getting any sale bites, and the sudden realisation that I don't like winter, I have never snowboarded, and I don't own anything for the Canadian climate dawned on me. "What am I doing?!"
Friday October 28, 2016, I'm driving to work when my phone dings, being the reckless young driver I am, I grab my phone and read the notification lighting my screen "Your application has been updated"—At the time, having a cracked phone screen I couldn't do much whilst driving except use Siri. I called my Mum right away
"MUM! Where are you?! What are you doing?! Drop it. I NEED YOU!" I was screaming in the middle of peak morning traffic.
I then, very painfully slow, and with many many internal screams, tried to instruct my mother how to log into my Canadian government profile, navigate through the numerous pages she has to open and passwords she has to use, for her to then, after 10 minutes, say, "Do you want the good news, or the bad news?"
"GOOD NEWS MUM FOR EFF SAKE!!"
I couldn't sit still, my SUV sized car was feeling like a hatchback by every waiting second.
"Am I going?! Did I get it?!" A silence that felt like five minutes passed.
"Yes you got it!" My stomach dropped like it had only done from a large rollercoaster, when you're so nervous, but excited that your emotions don't know what to do, so all I did was cry.
I was now the girl in the parking lot crying. As soon as I got off the phone to Mum, I messaged Alex and my friends in Canada, and told them that I would be joining them soon; I messaged my best friends that were in Australia, and shared my news. I ran into work, approached my assistant manager and confirmed, that the following Wednesday would in fact be my last day at work. The next few days were a whirlwind. That night I had booked my flights for the following Saturday, paid for travel insurance and one night's accommodation at my destination, Kelowna in British Columbia, Canada. Luckily, the following Monday was a public holiday, so I had a day off work. Saturday, I was at my second job working my last shift. Sunday I was shopping with Mum for everything I needed—jackets, socks, power outlets, hand warmers, toiletry bag, passport holder, ordered Canadian money, and anything else I might have forgotten. Monday, I spent the day at the beach having my last surf for who knows how long, and Tuesday I was at work, Wednesday was my last shift and my farewell dinner with all of my colleagues, Thursday I spent the day packing my bags and deciding which coloured tee was favoured over my other coloured tees, and Thursday night I had my farewell dinner with friends and family. Friday I spent mostly hugging my cat, dog, brothers, and parents, whilst finalising my packing, checking my several lists, and counting down till tomorrow morning.
Saturday, the fifth of November, slightly over a week from finding out I had my visa; I was escorted to the airport by Mum, Dad, my best friend Alyssa, and her Mother (my second mum, and my mother's best–friend) Carolyn. The goodbyes were hard, but I was too excited to begin this crazy adventure—an excitement only felt by leaving your home country for the first time. 26 hours, two delayed flights, 13,468 km, and I finally arrived in Kelowna, BC. Alex picked me up at the airport. A long, tearful embrace with the boyfriend I successfully dated long distance for the past six weeks was exactly what I needed after the drama of flying in the dingy little 30-ish passenger Canada Air airplane for the last hour-long leg from Vancouver to Kelowna. I had feared for my life in that propeller powered shell, and being reunited made me feel grounded once again.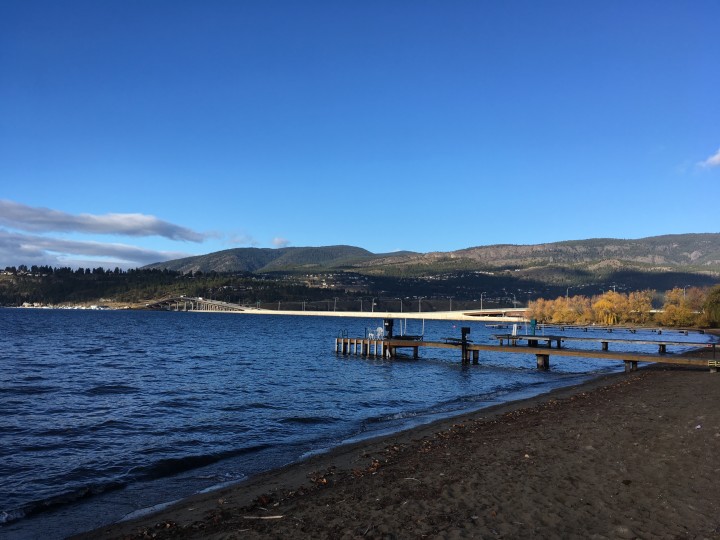 The next day and night was a blur. Jet lagged, cold, constantly tired, and being in an unknown city wandering around, whilst Alex worked on the van we were to travel in for the week ahead, was a surreal experience. Once everything was good with the van that we later called Wolfie, (being that we were a Wolfpack, and it was our leader), Alex and I set our sights for the Rocky Mountains of Alberta. The following week was filled with ups and downs, and that's not just a comment on the shape of the Rockies. We saw a lot of gorgeous places just driving from stop to stop, camping in information centre car parks, and cooking anywhere whenever we got hungry. Canada truly is a gorgeous country, and seeing it from a van, being able to wake to a sunrise casting soft light on snow-capped mountains is truly a sight everyone should see.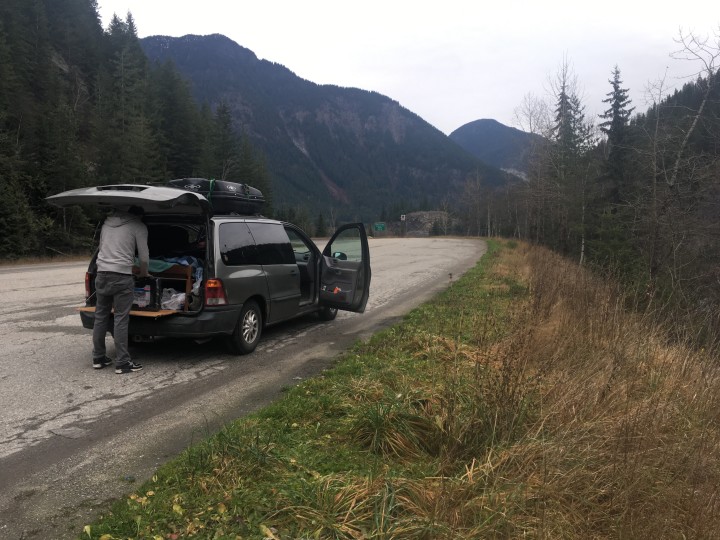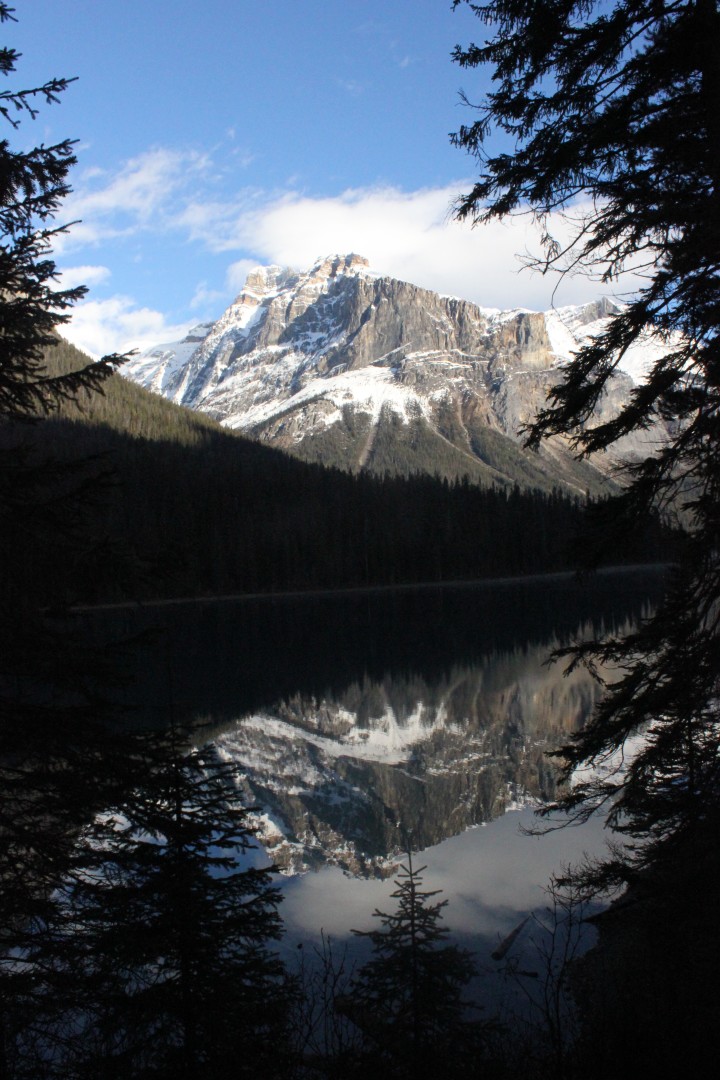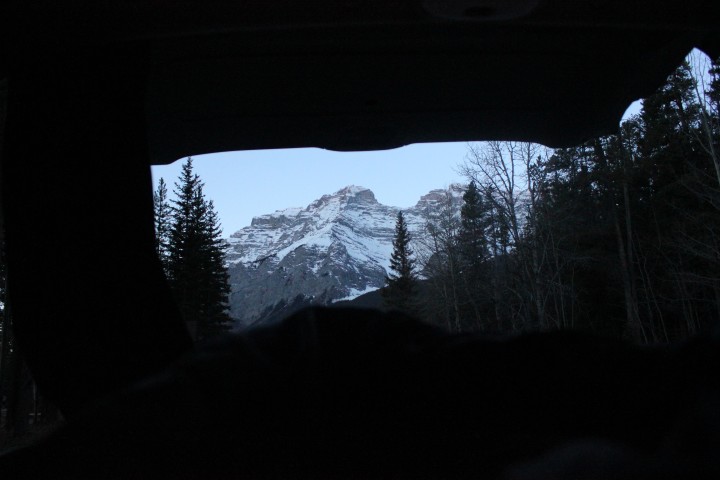 Van life wasn't all happy sing a-longs and good sleep though, there was tension, and it built quick with every poor camping choice, hangry remark, or lack of sleep filled snaps. Our end goal was Big White, where our friends had already moved to for the pre-season of winter, which we successfully got to by the one week mark of living in the van. Seeing familiar faces again was a relief, and sleeping in a normal bed brought a much-needed wave of refresh to my attitude. After a weekend on Big White, and the world's worst hangover from a shockingly high altitude that I was not used to, it was time to think about my life in Canada seriously. I decided to return to Kelowna Samesun Hostel, and Alex stayed on Big White with our friends, which was probably the best choice to salvage our relationship. Booking a few nights at the hostel, I was thinking this is where I'll stay whilst I get my accommodation on Big White sorted. Little to my knowledge, my manager to-be had hired someone else for the Visual Merchandising job, and only after I emailed her, did she feel the need to share this know-how with me. So, I'm sitting in a hostel, only knowing one or two people I had met a little over a week ago, not feeling confident in my relationship, and knowing I had no job and no accommodation to rely on, I truly did feel isolated and alone. What a time to prove my strength and perseverance.
I applied for every job imaginable on Big White, and eventually I heard back from a housekeeping job, knowing Alex didn't have a job either, I mentioned his name, and in a few days time, we would both have interviews. I applied for every housing position I could find, but with no luck, I decided to extend my stay at Samesun, and paid for a month. Days had passed and I had started forming some great bonds with people at the Hostel who lived there semi-permanently like myself now. My roommate John became a close friend, and it became natural sharing a room with others, but living in a six-person dorm, you don't really have the luxury to not be okay with it. We commented on the people who would come into "our" room for one or two nights, calling them random names once they had gone, because we both had no idea who they were. Frequently people would move in for a night, sleep 21 hours, and then leave again. I made an effort for the people who were there longer than two nights, whilst John was set on only putting in effort for people over five nights. There are only so many times you can have the same conversation with different people. It was time for Alex, and my interviews on Big White, and much to my relief, we were both successful. If only everything was looking up like the prospect of winter on Big White—a few days later, following a day or two of silence, an unusually awkward encounter, a nonchalant discussion in the hostel, followed by bitter comments on Facebook Messenger, the relationship with Alex was over via text. By this time I was stubbornly independent, and didn't want this hiccup to de-rail my perseverance. I was now looking at life differently. I was in a new country, I had new friends, I got myself a new job, and I could do this by myself! A new outlook! Unlike my first night alone at Samesun, I was now siting in a hostel, knowing eight to ten people I had met a little over two weeks ago, feeling very confident in myself, knowing I had gotten myself a new job, and was working hard for accommodation. I truly did feel empowered and liberated. My family and friends back home were shocked, my mother reassured me that it was okay to come home, as if I might be embarrassed to go home with my tail between my legs, because a boy didn't like me. No. I grasped onto this opportunity to learn something new. The support of the not-so strangers at Samesun was amazing. This little community of travelers was nothing like I'd ever experienced, all being a stepping-stone in each other's stories, yet such great friends for right now.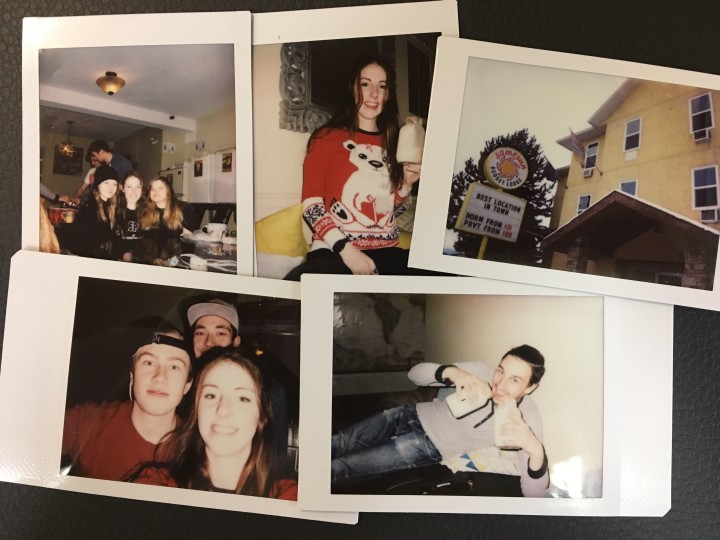 It came time for me to move onto Big White to begin my new job. I still had no prospect of a house, and so my amazing friends helped me. I stored my bags at Josh's house, made a bag of clothing I needed daily, and lived out of that whilst sleeping on Neesa and Nathan's fold out couch in their microscopic apartment that already slept four. I hated being a burden to their patient housemates and them. I'd wake every morning at seven, packing up the sofa so Jamie and Jessie could have somewhere to sit whilst eating their breakfast, and so the couch wasn't blocking the fridge. I was appreciative of the hospitality, but was determined to find my own home away from home—please do not do what I did. Do not go into a ski hill lifestyle thinking that all will be fine and dandy without set accommodation. Do prepare yourself, or at least find some amazing friends like I had that will help your sorry, cold ass, and give you somewhere to crawl back to after a night out. The combination of trying to beat the competition to find a bed, starting a new job you know nothing about, being around a very recent ex, still trying to study whenever I could, and surviving in temperatures you didn't actually think existed was definitely not the Canadian dream I had signed up for when I left my perfectly good queen sized bed in my perfectly warm Australian house, but there was a light at the end of the tunnel. I had finally found a place; after two weeks of couch surfing, I was now the tenant of… A single bed, above an unwelcoming couple in a bunk bed, in a guy's living room, paying $500 a month, with no Wi-Fi or television.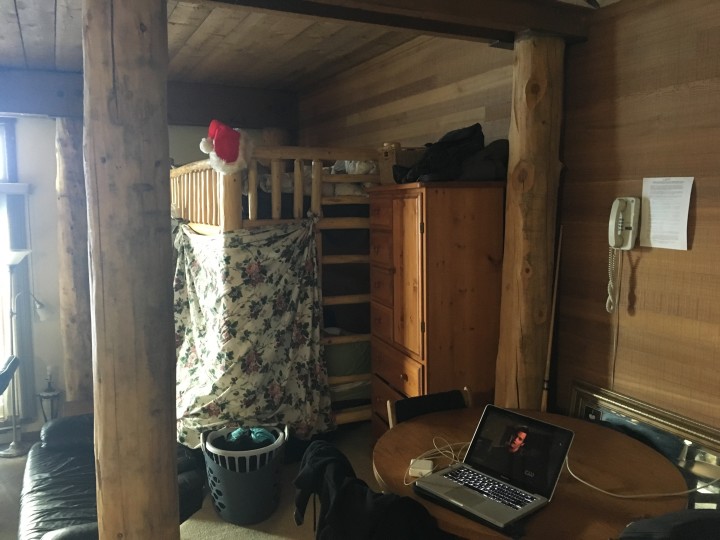 The fact that this was my life looking up, surely shows that I was having a rough start to my winter season. But, in true independent woman style, I stuck to it. I had a lot of fun meeting new friends at work, learning to snowboard, and letting my wild 21-year-old, single self do her thing. During the days when I wasn't working, or had no one to snowboard with, I found myself in my apartment watching TV on my laptop, or in the village stealing free Wi-Fi, so I could contact home and send a few messages. I was feeling very isolated, anxious, lazy, depressed, and homesick. I needed to get out of this apartment, and back to my newfound happy, positive, bubbly self. For the month of December I tried hard to spend most of my time at my new and old friends' houses, whilst also trying to avoid negative talk of and interactions with Alex, and also keep myself focused on progressing with my snowboarding. Christmas had come, my first white Christmas, and my first one away from home—was an amazing time. I had friends all around me from all different countries—Germany, Wales, Ireland, New Zealand, and of course Australia. We made a feast that sent us into a food coma that only Christmas dinner can do to you.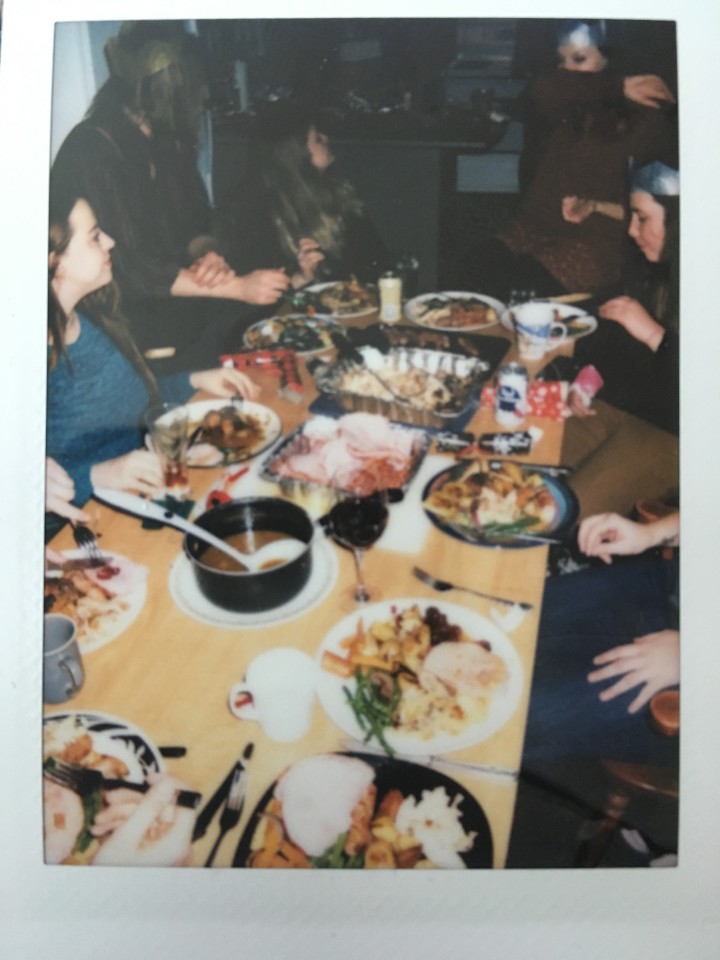 I instantly felt uplifted again, and was slowly getting back to the mindset that I worked hard to achieve. I will find a new home! And I did. December 31, 2016. I was excited to see a house finally, and meet with some people to hopefully impress them enough, so they'd let me join their abode. A nervous and quick chat with Brett, the only one home, was done and I was on my way to bring in the New Year with high hopes of a new home.
January 1, 2017. A loud and wild New Year's had come and gone, and after scraping myself off of my friends couch, and showering away the night, I made it home to sleep the first day of the year away, waking in the afternoon to what I thought was still apart of my dream. A message from Brett reading, "Hey Cassie, I'm so sorry for making you wait! If you're keen to have us we would love you to move in"—And that's when my Biggie journey skyrocketed to the amazing, wholesome experience I had been promised back in October. Having a home wasn't the only thing setting me back, but it was the disconnection I had felt whilst not having one, but to be fair, that time also let me work on learning about myself. Moving into this new house though gave me a sense of family that I didn't have since leaving Australia, and from then on, I felt more like myself than I had ever before. I created bonds with people I never thought I would, I pushed myself out of my comfort zone, I found passions I never knew I had, and I used any negative situation as a lesson. It definitely wasn't all snow-covered sunshine and rainbows for the rest of the season—I was the poorest I had ever been, sometimes not having a proper meal for days, and eating anything I could find at work for breakfast. There was constant drama when living on a ski hill with an ex, you heard his business even though you didn't want to, and you were positive those same friends were probably telling him yours. All the while I fell sick for what felt like months at a time. But honestly, I'd do it all again for the pure joy of knowing that I can.
You can put yourself in a new country, with no clue what you're doing and survive. I'm no longer staying in Canada for six months; I'm now on my eighth and don't plan to leave until my two years is up, and I'm sure, between now and then, there will be more turns and bumps in my plans that will test me. Hell, right now I'm couch surfing in Banff, and living out of my Jeep, but I know that this is only temporary and that I will gain something from this eventually. Take no shit, do no harm, and you will be rewarded, you just have to take the first step. Apply for the job, attain that visa and just go.