The Blue Atlas Project Brings Aid to Devastated Abaco Island
And one woman's rite of passage to becoming a sailor.
Photo by Andrew Gober
Kali Kirkendall walks to the stove in her underwear, spins the knob on and brings a blue flame to life beneath the kettle.
The sailboat sways with the rhythm of the ocean as she hangs onto the counter and props the Aero Coffee Press between various heavy items stacked together in the sink so it doesn't tip over. She pours the boiling water through the press then steps back to her bunk and layers on clothing to stave off the 4 a.m. chill.
Steaming hot mug of coffee in hand, she makes her way up the starboard side stern rail and sits down. The boat is on auto pilot so Kali watches the wind, watches out for other boats, and looks to the sky. It's her quiet time. Her coffee time.
She's on the the early morning shift crossing the middle of the Mediterranean Sea on a 38 foot Salona Sailboat.
It's just me and the stars. No birds. No bugs. It's surreal. Drew sleeps below deck after the first night watch.
A star shoots across the deep black sky littered with a million twinkling orbs. A swell of awe washes through Kali leaving goosebumps on her arms. Fathomless calm black liquid, enough to swallow the universe, buoys the tiny speck of a boat making it's way south to the Canary Islands from Croatia.
She watches Venus rise on the horizon and glances at the journal beside her, but can't bring herself to put a pen on the page. It's been one of the most important years of her life. And the most undocumented.
Kali and her friend Drew were invited to transport the sailboat in July of 2020 from Croatia to the United States.
Their only previous experience on the sea together was moving a small boat up the eastern seaboard. They learned the hard way that sailing the Mediterranean Sea in the middle of the summer is not a good idea.
It took an incredibly long 24 days to cross. In a sailboat you need wind to move you. In the summer, on the "Med," there is no wind. The boat moved on the current like a canoe on a pond…and at just about the same speed.
For Kali, this journey across the ocean is a rite of passage to becoming a sailor.
She acquired her own sailboat in early 2020. She is using this transport from Croatia as an opportunity to cross the open sea and learn how to sail big water.
Her ultimate mission — to bring aid to Abaco Island which was extremely devastated by Hurricane Dorian on September 1, 2019.
The eye of that hurricane made landfall for days over Great Abaco with maximum sustained winds of 185 mph making Dorian the strongest hurricane on record in the Bahamas.
A few years ago her life was calm but, "Calmness isn't inspiring."
Humanitarian activism, adventure, movement, and more than anything else -freedom - suits Kali. In 2015 she went to Nepal a few months after large earthquakes rocked the country.
It was there she dreamed up and created The Blue Atlas Project, a non-profit organization that provides infrastructure for food systems in disaster-stricken areas. She wanted to be of service, to do something.
Kali and Drew made it to the Canary Islands, depleted and exhausted.
The constant lack of sleep convinced Kali they needed another set of hands on deck for the next leg to the Bahamas.
She flew her friend Bastien in from France. He came aboard and they set sail the day before Hurricane Paulette was on the radar.
Satellite images of the building, spiraling storm flashed across Drew's phone weather app daily as they tracked Hurricane Paulette to the south.
Bastien was on deck and Kali sat across the table from Drew down below, "I wonder how Paulette is doing? Have you checked on her?"
Kali referred to the hurricane as you would a long-distance friend.
Called her by name as she paralleled their 17 day journey. They docked in Bermuda 24 hours before Hurricane Paulette slammed into the island — just enough time to batten down the hatches.
Eventually, they reach the United States amidst a record number of hurricanes ripping across the Atlantic that season.
They safely drop off the boat to it's owner. Kali goes home to recalibrate.
Home is docked in Florida - her 34 foot sailboat in dire need of repair. She doesn't care. She smiles and takes stock. That's my propane, my stove, my little map station that I turned into a desk, my tools and equipment…I can take my home anywhere.
She shakes herself out of her reverie, because that boat won't go anywhere until she redoes all the electrical and plumbing.
After a brief respite, she works like mad getting her boat seaworthy and organizing the aid project for Abaco Island.
A grateful, worn-out smile lights up her face. Her friend Michael Robb, the third on-site team member of The Blue Atlas Project, arrives to help her sail from Florida to the Bahamas.
The boat has different ideas and strands them in Key Biscayne.
They both have to learn how to fix the cutlass bearing underwater to prevent the vessel from getting hauled out to land for repairs.
Doing it themselves saved thousands of hard-earned dollars. Once the repair was finished and found to hold, she sailed fast.
On Great Abaco Island in the Bahamas, Kali wastes no time meeting with volunteers.
They plan setting up a training center on a piece of land donated to The Blue Atlas Project by local, off-the-grid Abaco Neem Farm. Very little food is grown on the Island due to poor, limestone-heavy soil. The farmers who do grow have been amending the soil for years, and are still struggling.
The Blue Atlas Project, with the help of community member Michael Dillon, brings inexpensive DIY hydroponic and aquaponic solutions to families who want to grow food.
They are helping transform disaster into a sustainable future opportunity.
It takes a lot of dedication, grants, volunteers, outreach and education to make it happen.
Once the project is up full speed ahead, the goal is to train local Islanders to build out small scale systems, working towards larger scale plots to achieve food independence on the Island.
People who have returned to Great Abaco after evacuations are still in deep struggle.
It wasn't just the 185 mph winds that nearly leveled this community. A 23 foot surge overtook the Island flooding homes, destroying businesses, and wiping out grocery stores.
In October 2020 electricity was restored — over a year after the hurricane hit. Most people relied on generators, or went without. The emergency food relief system put in place immediately after the disaster is still in place, even now.
There is still such a great need.
90% of homes on the Island were destroyed or rendered uninhabitable. Cars driven around the Island have no windows or lights and there are dents in everything.
Boats jut up in the harbor half-sunk and other boats, tossed willy-nilly inland across the Island, teeter in strange places. Docks are gone with only their bones of concrete pilings left standing to remind locals of the days tourism ruled here.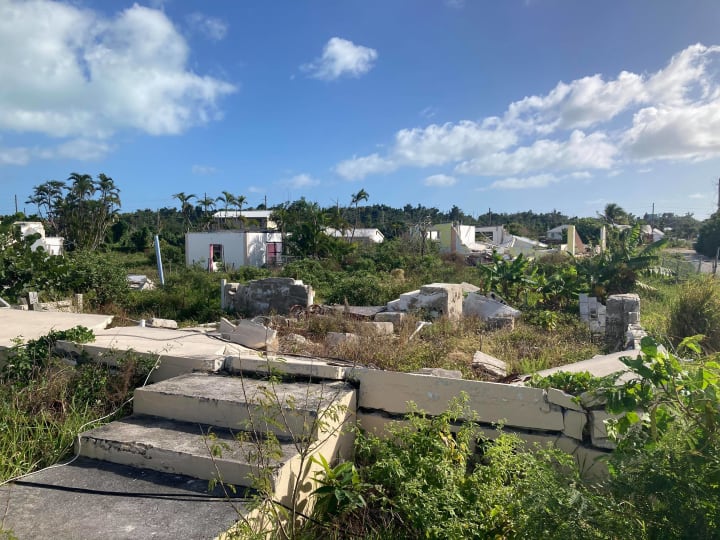 The willingness to eat what can grow seasonally in any area is always an evolution.
There are challenges beyond growing food to creating food independence in a place that has relied largely on imported goods to survive. One small vegetable farm on the Island tried to set up a CSA, but the locals responded with, "I don't really want that in my box, can I get more of this?"
The Blue Atlas Project wants to facilitate educating people, teaching them how to eat what they can grow themselves. Even if it means different kinds of foods on the table than they are accustomed to.
It's a long road on a small Island where people are very traumatized.
No matter where you go, you cannot get away from seeing and reliving the destruction every minute of every day.
Kali and Drew walk the streets near Marsh Harbor.
They pass boarded up skeletons of houses, boats thrown askew inland, and countless foundations with no home at all. She says hello to a woman who lives here and they strike up a conversation.
Kali is creating a Blue Atlas YouTube channel to document their journey and the recovery of this place. She asks the woman standing next to a pile of rubble, "Would you be willing to tell me about what happened here?"
The woman looks blankly at them for a moment, then emotion wells up and shadows her face as involuntary tears flood her eyes. The woman's hands begin to shake, and her voice cracks, "I don't think I can."
Kali turns her head and looks out across the endless beautiful ocean she calls home.
Sun sparkles on calm waters and her eyes rest on the sunken boat in the harbor.
Her own emotions swell to the surface and she rides the current. Soon she can dream of the next crossing, the next adventure out beyond the horizon.
Right now she stands witness before a pile of rubble and a broken woman. Her mind is clear, her heart is tranquil and stormless. I know I'm exactly where I'm supposed to be.
✺ ✺ ✺
Click here to learn how you can support The Blue Atlas Project.