The Betsy Hotel, Miami Beach, Illuminates Literature, Art & Music.
Boutique Luxury Hotel, Miami Beach, Florida, USA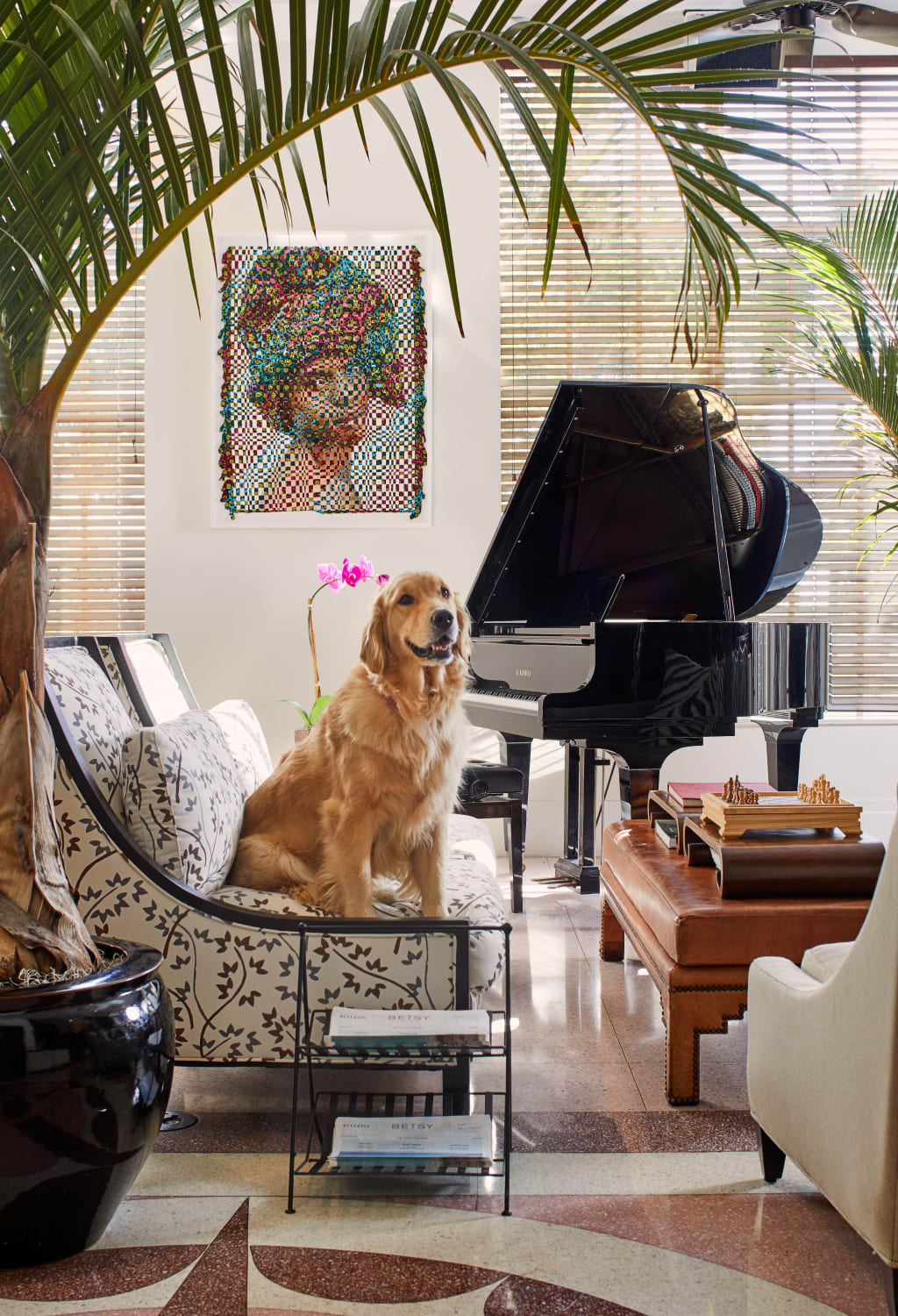 The Betsy Hotel, Lobby chair with Canine CEO
The Betsy Hotel is a luxury boutique property on the iconic street, Ocean Drive, in Miami Beach. The building's architecture is Floridian-Georgian. Completed in 1942, used as a barrack for the Air Force during WWII. In 1970, it was listed on the National Registry of Historic Places.
The hotel is at the top end of the South Beach neighborhood on 14th Street. December 2016 marked the debut of The Carlton Hotel. The owners purchased the property, located directly behind The Betsy on Collins Avenue. A unique architecture structure, the ORB, bridges the two historic hotels. The addition of The Carlton has expanded the property to 130 rooms and suites.
The family owned property is a work of love for Jonathan Plutzik and his wife Lesley Goldwasser-Plutzik. Jonathon is the son of famed poet Hyam Plutzik. A three-time finalist for the Pulitzer prize. Throughout the hotel there are unique personal elements. You may see an image of Hyam Plutzik's book of poems in the elevator. Above The Alley Restaurant is the Poetry Rail. Carved into the rail are the poems of 13 Miami poets. There is a selection of curated library books in every room and a Library available for guests. The Plutzik family has truly created a place for artistic inspiration. The door is always open to writers, artists and music enthusiasts.
The Writers Room at The Betsy Hotel offers a residency program to creators. There is an application process and those who are accepted will be awarded to stay in the Writers Room, free of charge.The room is outfitted with a desk donated by the Hyam Plutzik Centennial Committee. The program has hosted over 1000 writers since its inception in 2012. In exchange for the residency, the creators are asked to complete three tasks during their stay. 1) Write a piece about their experience for the Blog. 2) Donate a signed publication for the Writers Room. 3) Introduce their work at one of the hotel's community events. Currently the program is paused but plans to return in the summer/fall of 2021. For more information contact: [email protected]. Click here to view the Blog and Journal.
Public spaces are more than waiting areas. This is The Betsy Hotel philosophy. Guests and visitors will find a community of literature, art and music. Some evenings the lobby hosts jazz and opera entertainment. Throughout the year there are poetry and literary readings . Owner, Lesley Goldwasser-Plutzik chooses the music playlist. She is the curator for the property and handles all the artwork. If you decide to visit, check out the walls, it is an impressive collection. While there, I couldn't help but notice the Beatle and Hollywood icon photographs. All are available for purchase.
As quoted, The Betsy Hotel offers their guests an atmosphere of "relaxed elegance". It's a perfect place to wind down after experiencing the energy of Miami Beach. A luxurious home away from home. If you're planning a visit don't pass up this boutique hotel. Either stay in one of their gracious rooms, eat in their restaurants, or stop in for a drink. You won't be disappointed.
Rooms
Classic Standard | One king or two double beds.
Superior King | One king bed | Overlooks Courtyard Pool and Atrium.
Superior Pool View Double | Two double beds | Overlooks Courtyard Pool.
Superior Balcony | One king or queen bed | balcony| Atrium or limited view.
Deluxe King Balcony | One king bed | Terrace | Atrium View.
Deluxe Ocean View | One king or two double beds | Ocean views.
Suites:
Classic | One king or two double beds | Separate living/entertaining area | Atrium or limited view.
Superior Pool View | One king bed | Separate living/ entertaining area | Overlooks pool and courtyard.
Superior Double Balcony | One king bed | Separate living/ entertaining area with sofa. bed | Indoor and outdoor entertainment space | Two balconies | City and Atrium views.
Royal Ocean View | One king bed | separate living / entertaining area | Ocean views | Walk-in closets.
Skyline Level Bungalow | One king bed | Separate living/ entertaining area with queen sofa bed | Indoor & outdoor entertainment space | Oversized wrap-around terrace accessible from living area & guest room | City and Atrium views.
Skyline Penthouse & Terrace | One king bed | Entertaining area with baby grand piano | Indoor / outdoor space with kitchenette | Oversized wrap-around terrace | Atrium and Art Deco District views.
Restaurants and Bars:
LT Steak & Seafood. New American Restaurant by Chef Laurent Tourondel. Fusion of international flavors. Menu.
The Alley. Chef Laurent Tourondel's modern trattoria. Located in the alley under the Poet's Rail. Spent a year perfecting the pizza dough. Menu. (please check with hotel directly for opening date)
Lobby Bar. Featuring Betsy Rosa Draft Beer. Created for the Hotel. Named after the Canine CEOs Betsy & Rosa.
In room dining.
Rooftop Pool. Full bar with food service.
General Information:
Dogs are welcomed. One time fee of $150.00. 50% donated to animal rescue and SPCA.
The hotel is easy to maneuver, and there are 4 elevators available to guests, limiting personal contact and wait times.
Writers Residency on pause during Covid-19.
Spa Services - Available in guest rooms or dedicated Spa rooms.
Rooftop Pool.
Courtyard Pool.
Room Service.
Fitness Center with private training sessions available in the center or on the beach.
25,000 square feet of public and event space.
Weddings & Event Planning contact: [email protected]
Displayed art is available for purchase.
Sustainability:
Founding member of Miami's Beach #PlasticFreeMB.
Restaurants use locally sourced ingredients.
Organic cleaning supplies.
Spa products are plant based paraben free.
Eco conscious appliances.
Actively takes part in community programs.
If you enjoyed this article, visit my blog: ConsciousTraveler.CO to learn more about sustainable luxury tourism, boutique hotels, travel tips and trends and unique tour experiences.