Guides
The Best Spots in Cincinnati
Restaurants & Things to Do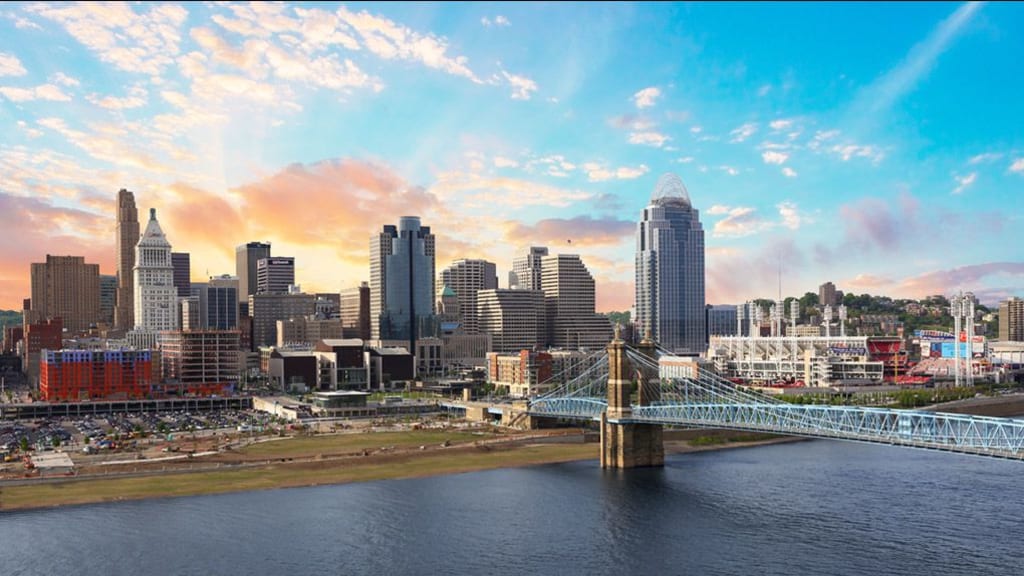 Photo taken by WCPO. Isn't she a beaut!
Hi readers! We all want to get away, take a long vacation to Australia or backpack through Europe. Although I and as well as many others are big travelers, we don't always have the means to do so—whether that be money, time, transportation, company, etc. I spend quite a bit of time exploring my backyard (and backyards close to me) and take short day trips visiting each one. I highly recommend doing this and you'll be surprised at what you find. I will definitely make posts in the future as I share my favorite spots in these cool places I've gotten to explore.
This post however is about my home city and why it's so special to me. I hope that someday you'll visit and explore it just as I have or if you do happen to reside in the 513, take some time and get to know what lives in it!
First Stop: Breakfast. We can't skip that? It's the most important meal of the day! Sure you could get breakfast at Dunkin Donuts or Ihop but try branching out!
Here are my favorite breakfast spots and their locations:
Taste of Belgium:
Over The Rhine
Rookwood
Findlay Market
Clifton
Downtown Cincy—The Banks
Get some of their lunch options too! Their chicken and waffles are the best.
Sleepy Bee Café:
They also have great lunch options too!
Sugar N Spice:
Echo:
Maplewood Kitchen and Bar:
Again, check out their lunch options too!
If you enjoy juices like myself!
Rooted:
The acai bowls in Oakley = HEAVEN IN YOUR MOUTH.
The Weekly Juicery:
Things To Do:
If you feel creative check out:
Let's Go Doodlin' located in Anderson
Choose a piece of pottery, paint it however you please, then pick it up a week later once it's finished!
Cheers to Art located in Madeira
This place is awesome because it's step by step direction which helps if you struggle with your artistic side. Plus they have a nice wine/beer selection if you are 21+!
OR purchase a canvas/paint and head to
Ault Park
Eden Park
Washington Park
Sawyer Point
Friendship Park
You could also grab a blanket and food and have a picnic!
Some Other Cool Art Spots:
Contemporary Arts Center located in Downtown Cincy
Cincinnati Art Museum located in Mt. Adams
21c Museum Hotel located in Downtown Cincy
Some Cool Spots for Shopping:
Ohio Book Store in Downtown Cincy
Kismet near East Price Hill and in Over The Rhine
MiCA 12/v in Over The Rhine
If you are looking for a restaurant for a nice dinner date with your significant other or just a group of your closest friends:
Nada, in Downtown Cincinnati
THE BEST MEXICAN FOOD EVER. If you go definitely try their blueberry lemonade…. it is amazing.
Incline Public House, East Price Hill
My favorite dish from them is their chicken n waffles!
Wood fired pizza!!! It's the best.
Another great place if you are looking for pizza.
Terry's Turf Club, Linwood
Make sure you go at the right time… there's hardly ever any seats, it's THAT GOOD. The burgers are HUGE.
Once an old fire station! Very cool vibe, located in a friendly/cute town, and also.. wood fired pizza!
AMAZING SUSHI.. affordable too!
After dinner comes dessert…. Here's some fun places for that!
Bonbonerie near East Walnut Hills
Macaron Bar in Over The Rhine, Loveland, and Hyde Park
Aglamesis in Oakley
Hello Honey in Downtown Cincy
Loveland Sweets in Loveland
I want to share my favorite coffee spots but if you know how much I love coffee and shops then you'll know that I should probably keep that for my next post because it'll be a lot! But that's not terrible?
I hope you enjoyed reading this and you decide to check some of these places out if you haven't already!
Talk soon, xo.