The Beautiful Beaches of Costa Rica
What a way to spend a day here in paradise. .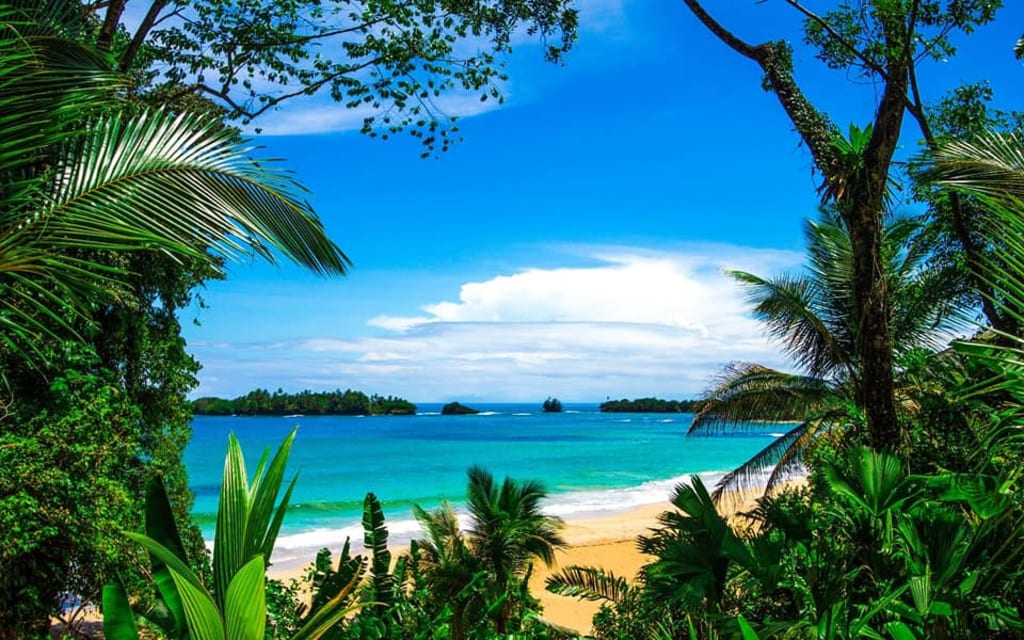 With over 800 miles of coastline, our beaches are one of our best assets!
Costa Rica is a cozy little country. . tucked between the shorelines of the Caribbean Sea and the Pacific Ocean. With such an expansive shoreline, the beaches of Costa Rica are diverse, with varied personalities. Every beachgoer will find something amazing. . a beautiful white-sand paradise lined with palm trees, volcanic black sand or naturally-rugged beach coves surrounded by tropical rainforest. My favorite beaches are on the Southern Pacific Coast. There are actually rock formations, cutouts and open caves to explore! From huge, all-inclusive beach resorts to untouched shorelines, there's an ideal beach setting for everyone. It is indeed one of our best assets here in one of the happiest countries on the planet!
So many cool towns associated with the beaches here. Coco, Dominical, Jaco Beach, Manuel Antonio, Tamarindo, Samara, Puerto Viejo. . just to name a few. Before you visit Costa Rica, be sure to Google, "beaches in Costa Rica" to find out which area fits your personality perfectly.
Costa Rica's beaches offer something for everyone, from gentle swimming holes to huge breaks, perfect for those seasoned surfers. Some of the nation's sandy coasts are protected habitats for nesting sea turtles, while others are a part of our dozens of national parks and wildlife reserves. These guarantee pristine conditions and superb birding. Costa Rica is in the pipeline of many of the migratory birds coming down from the cold north every August and September!
If you're one of those travelers who prefers total relaxation, the beaches of Costa Rica have something for you as well. . miles and miles of sunny shoreline, shaded by palm trees. Add a good book to read and you're certainly set for the entire day!
Here's just a few of my favorite beaches to whet your whistle and get you excited about visiting. .
Playa Carrillo was recently voted the 27th most beautiful beach of the world. It is easy to see why, with its lovely, pristine, white-sand bay, lined with coconut trees. Carrillo is proud of what it has to offer its guests!
Playa Tambor is located in the Nicoya Peninsula, in the province of Puntarenas. It is set along the large and quiet Bahia Ballena, which means "Whale Bay", by a lush, green valley.
Coco Beach is one of the most popular beach destinations in Costa Rica. "El Coco," as it's affectionately called, is great for nightlife and beach hopping.
Playa Flamingo is simply irresistible. . beautiful with its brilliant white sand and turquoise water. Located in Guanacaste, on the Gold Coast of Costa Rica, it is also the only marina giving full service on the Central American Pacific.
Playa Samara is located in Guanacaste, along the 'Gold Coast' of Costa Rica, on the northern edge of the Nicoya Peninsula. This inviting and picturesque little beach town has a welcoming international community, with a relaxing atmosphere.
Playa Dominical attracts surfers from not only from across the country, but from all over the world. Tourists will enjoy the many activities available in the area. There are many surfing tourneys held here annually.
Playa Langosta is one of the most popular beaches in Guanacaste. It has become a favored spot for tourists who enjoy sunbathing on its stunning beachfront.
Playa Avellanas is a tropical paradise ideal for those who enjoy exploring roads less travelled. This is certainly an untouched oasis where you can truly experience the "Pura Vida" way of life!
Playa Potrero is a hidden jewel in the northwest area of Guanacaste. This rural town embraces the old-Costa-Rican-coast-villages style and can be seen as a tranquil spot away from other touristy places.
Playa Cabo Matapalo . . if you are looking to enjoy the pristine primary rainforests of Osa and all the untouched beauty and splendor away from the hustle and bustle, this beach is part of that special gem of a place. Playa Cabo Matapalo is a very quiet and begs for your visit. A lazy day ahead. .
We have just named a few here for sake of the size of this reading. However, keep in mind that there are dozens more beaches. Some are very well known and on many of our tourists' "MUST SEE" lists. Others are hidden, only discovered by those who either happen upon them accidentally or walk through a jungle setting for 30 minutes to finally reach a hidden gem. .
In future writings, we will share with you more intimate details about many of the beach areas listed above and more that were not discussed today.
Costa Rica is well known for its beaches and again, we invite you to visit and become 'one' with some of the most beautiful settings in the entire world.
Pura Vida. .
You're invited to visit our websites at www.costaricagoodnewsreport.com & www.costaricaimmigrationandmovingexperts.com
Also, please enjoy our over 1,700 episodes of our "Costa Rica Pura Vida Lifestyle Podcast Series". We are found on all major podcast venues, including iHeartRADIO, Spotify, Apple Podcasts, Google Podcasts, Radio FM, Anchor and many more. Here's our link: www.anchor.fm/costa-rica-pura-vida
About the Creator
Costa Rica is a magical place. Since November, 2002, when I first visited this country, I have been in love with the people, the culture, its biodiversity, the food. . everything about it makes me happy! Now I share my excitement with you!
Reader insights
Be the first to share your insights about this piece.
Add your insights