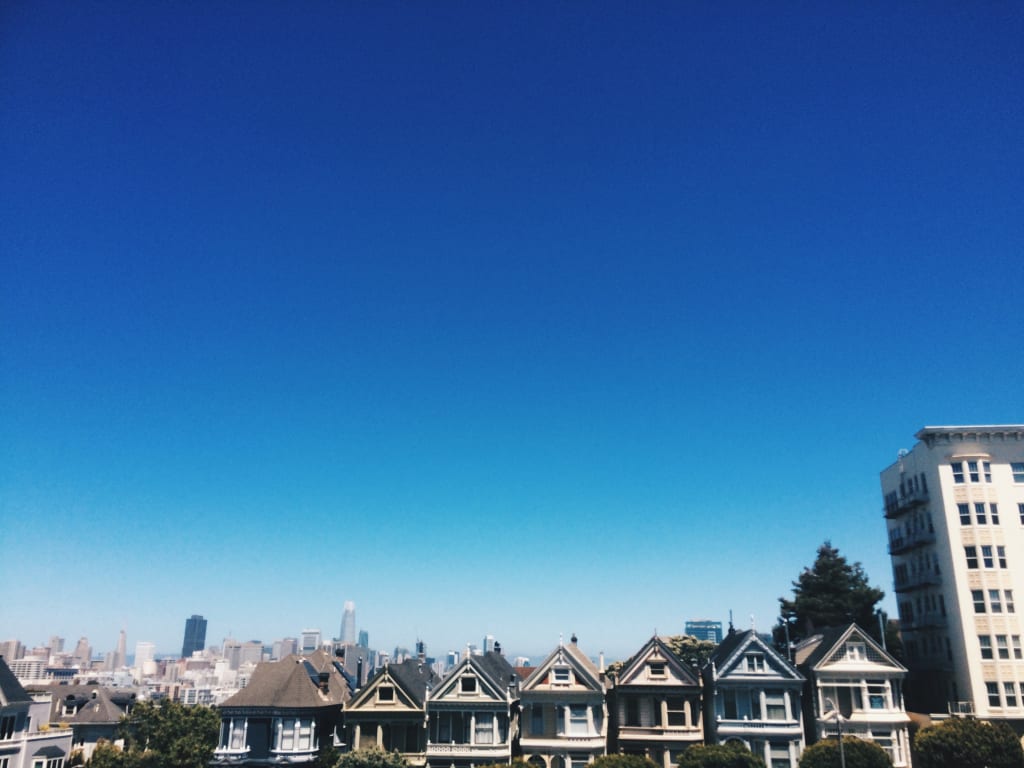 I have seen countless articles titled "How to do San Francisco in 48 Hours" and "What You Have to See in San Francisco." But, if you're anything like me, you feel like many of these articles are missing a big hint of what they all say they have: adventure.
I'm a true adventurer at heart. I love being a tourist, but I also enjoy feeling like a part of the community—I adore the little things. I thoroughly enjoy the tiny coffee shops, small bakeries, and the views that only the locals would know.
I don't know anyone who doesn't like San Francisco. You either want to live there forever, or you simply enjoy the few days you have—but you never seem to hate it.
Here is some advice for what you need to know to get the most out of one of the most unique cities in the world:
Stay more than two days. I arrived with my mom in San Francisco on a Wednesday at 11 AM and had the whole day to explore. We stayed two more full days and left Saturday at 11 AM. This gives you time to both be a tourist and feel like a local. Even though some say you can knock everything out in two days, it really doesn't allow you to truly see everything you want to.
Do all the touristy things in a span of one to two days (but do NOT do the Golden Gate Bridge in the midst of those). Pick one to two days to feel like a local (finding the coffee shops, bakeries, etc) and pick one to two days to feel like a tourist. In my true opinion, I would just say pick one day. Unless you want to stay at Alcatraz for five hours, or really love staring at the worlds most crooked street, there are really not enough touristy things to do for two days straight. Now, if you're going to do the Golden Gate Bridge (which we can all agree that you should), make sure you do it right. We rented bikes at 11 AM and biked all the way from Ghirardelli Square to Sausalito (we got back at around 7 PM). This included: biking parts of San Francisco you didn't know existed, seeing a ton of different views of the bridge, biking through historical parts of the city, biking the actual bridge (and trying not to run into people), biking downhill through mountains and the ocean (honestly one of the prettiest views ever—and you were rolling down the hills for like 10-15 minutes), and roaming through the town that felt like a little Italy. After the bike, you get to board your ferry with your bike, and they take you all the way back to Pier 3.
Stay in a VRBO or Airbnb. We stayed in a VRBO and it was so worth it. It truly made me feel like a local. It was located in a family-friendly part of Castro and was walking distance from all the local shops. It didn't at all feel like a touristy part of San Francisco—and it was so nice.
It is basically always cold. Don't think you can brave it out just because you are "typically hot." Don't do that to yourself!!! The weather is super nice if you dress accordingly.
Don't be fooled by the weather: BRING SUNSCREEN. It was freezing, but I was SO burnt. That sun still shines just as bright as it would at the warm beach.
Beware of how many hills there actually are, and don't think you can walk actually everywhere. The hills are real guys. They are real, and they are not few. We thought we would be able to walk everywhere, but you really can't. The touristy parts of the city aren't all together. The VRBO we stayed in was about 20 minutes from Ghirardelli Square, Alcatraz, Fisherman's Warf, and all the piers. It also required driving through the downtown area, which is not safe at night (it has an extremely high homeless population as well). The best thing to do is use Lyft. Many use Uber, but I prefer Lyft. The most I ever spent for a whole day was $40 (which is NOT bad considering driving is pretty hard there, you use many different drivers, and gas prices were like $3.60 per gallon). It is not worth it to rent a car. You are responsible for the well-being of the car, paying for gas, and paying for parking.
If you are wanting more...
Here's a lay-out of what I did each day:
Day 1: We arrived at the VRBO by 12:30 PM. We walked around the town and discovered many different hang out spots and breakfast places. We ate at Chloe's and spent $40 for two extremely large meals. We took a Lyft to the famous Full House (the ride cost $6 for a 15 minute ride). After, we walked about 30 minutes to Alamo Park. This is where you can see the famous Painted Ladies. It's a beautiful area to just sit and chill. Honestly, I would recommend bringing some headphones, friends, or a book, and just hanging out here for a little bit. You see people sleeping, walking their dogs, and hanging out with their friends—you really feel like a local. There is a coffee shop called The Mill very close to Alamo Park, and it has a nice "millennial" vibe to it. We took a Lyft back to the VRBO (which cost $5 for 15 minutes) and got ready for dinner. Close to Castro, there's a park called Dolores Park. It has a stunning view of the city, along with a lot of welcoming community. Many college age kids come there to hang out. We walked to the Yellow Submarine (a cute local sandwich shop) and discovered that there were more hills than we thought. After, we walked about 10 minutes to the Hometown Creamery.
Day 2: The touristy day. We had bought tickets for the 1:30 Alcatraz tour, but decided to start the day early and explore some other things. We went to Mr. Holmes Bakery and got the most delicious desserts and coffee. 10/10 recommend this place. On our way there, our Lyft driver took us to the ACTUAL "world's most crooked street" (that's the perk of using local drivers—they know the places to go!!). View link to know more. Mr. Holmes Bakery is about a 30 minute walk from Ghirardelli Square, so we headed there after. I would say the best time to go to the Square is at 11 AM and around 5 aM. At 11, you are able to enjoy it with few other people, and at 5, you are able to experience the community and "night-life" feel. It is a lot of fun. Also: you can save a BUNCH of money by refilling your water bottle at the "pure water fountain" by the bathrooms. We took a Lyft to the Alcatraz port, boarded the boat, and spent around two hours exploring the island. You spend a lot more time there than you would think. Plan accordingly. Also, it's SUPER cold there. We came back and had someone bike us ($15) to Fisherman's Warf. Honestly, it's a lot of money for a 8 minute ride, but it's one of those "once in a lifetime" moments—make the most of it. Fisherman's Warf is a very, very crowded area. It has a large shopping area (strip mall feel) and plenty of places to eat seafood. I recommend trying the Clam Chowder from any of the food stands (it's all the same—go with the lowest price). Make sure you look for the best deals at the shops. You can get the same sweatshirt at a different store for $20 instead of $25. Pier 39 is the next best place to go, especially if laughing is something you enjoy. There is a spot where you can sit and watch the sea lions, and I can PROMISE you that it is always eventful. We stayed there at least 20 minutes (and went back the next day). We walked about 30 minutes to the Hyde Street Cable Cars (you have to do them!!). The tickets were $7 a piece for a one-way (not bad). The line was long, but it's a once in a lifetime opportunity. The cars take you to Lombard Street (but beware that they might not stop unless you ask,) Chinatown, and a few more places. We got off at Chinatown and walked the ENTIRE Lombard Street (not just the "famous" part). Chinatown is not a spot I would plan to spend a lot of time in, unless you want to walk every street, visit the museum, and/or eat there. We walked BACK to Ghirardelli Square, (it's honestly one of my favorite places to hang out) and ate at the San Francisco Brewery (it has a fun feel, but not worth the money. It was about $42 for 2 people). We took a Lyft back ($20) to the VRBO.
Day 3:GOLDEN GATE BRIDGE DAY! I'm telling you, set aside a whole day to bike the city and the Bridge. We started it off with breakfast at La Boulangerie and had coffee and pastries. I do recommend this place if you want to have a simple breakfast in the town (not city). After, we took a Lyft to Blazing Saddles (the bike rental place). I recommend them 100 percent. They were super kind and the bikes costed $102 for a 7 hour day for 2 people. They give you a map on your bike (you also can rent an app) and show you how you can bike the whole city. Your legs will be in pain, but it's an unforgettable experience. The bridge is absolutely beautiful. Do know that there are a lot of people, so you may have to get off your bike at some point. The view is simply amazing. We biked to Sausalito (basically a "little Italy") and ate some AMAZING Italian at A Taste of Rome. After, we waited for a ferry (which DOES load your bikes on as well) and got back to the city. You are responsible for your bike the WHOLE day, so we biked every place we went after. We headed back to the sea lions until it started getting later. We got back to Blazing Saddles at 7:30 PM and they all cheered as we were walking in! We spent some more time in Ghirardelli Square and then we were done for the day (and completely worn out)!!
Day 4: We took it very slow this say, seeing as though we had to be at the airport by 12 PM. We got breakfast at Holy Bagels (super cute place) and coffee at a local shop next door. We walked the town a little more and spent time enjoying the atmosphere. We took a Lyft ($20) to the airport (which was a 30 minute drive) and were on our way back.
I definitely recommend San Francisco to anyone!!
Know that it can be pricey, but it is worth it.
It is not necessarily a good place for a family vacation, but it is great for a girls trip, friends trip, or couples getaway.