Ten Things To (Actually) Do In New York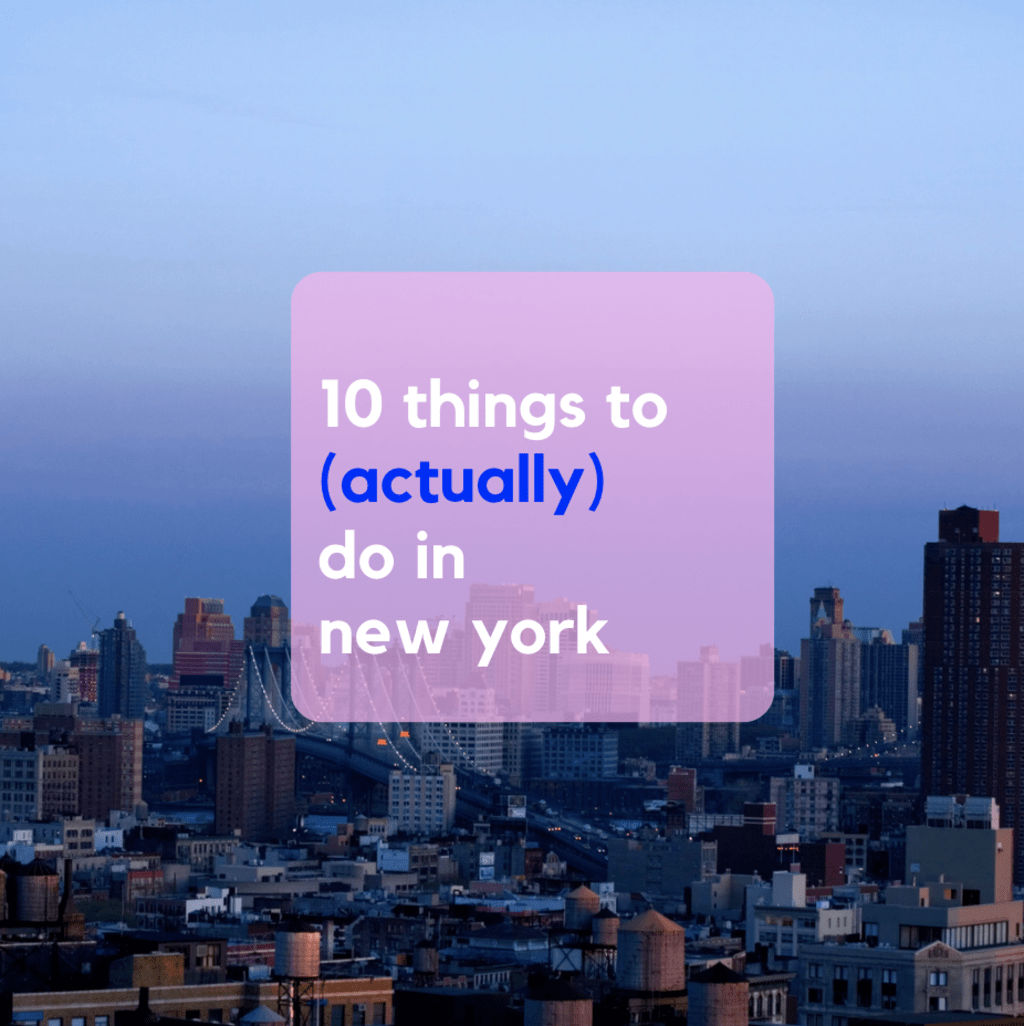 Having lived in New York City since I was five years old, it kills me when I meet people who say they don't like the city – I'm always convinced they're just going to the wrong places.
While the iconic sites are great to see once, they don't always give a feel for what the city is truly like for those who live here. For me, New York is less about skyscrapers and more about converted factories; less about nightclubs and more about rooftop barbecues; less about the catwalk and more about the bodega cats.
So in the spirit of sharing the city as I know it, I put together ten of my favorite places to spend time.
Pioneer Works
King's County Distillery
Veniero's
Rockwood Music Hall
Roberta's Pizza
House of Yes
Bethesda Fountain
Chelsea Market
The Cloisters
Juliette
Pioneer Works
This wide-open art space in Red Hook features works by cutting edge artists, with an emphasis on digital work and installations. They also host workshops and lectures throughout the year and provide studio and workshop space to rising talent.
If you make the trek to Red Hook, be sure to stop by Sunny's, a family owned bar that's been in business in the area since about 1890.
King's County Distillery
While King's County Distillery is a relatively young venture, it's housed in a 120-year old building on the Brooklyn Navy Yards. Try a cocktail with their handmade whiskeys and drink it in the back garden, where herbs grow around several picnic tables.
Veniero's
Established in 1894 by an Italian immigrant Antonio Veniero, this bakery is among the oldest in New York. With its original decor and expansive case of traditional Italian desserts, it speaks of "Old New York." Have a coffee and a cannoli before exploring the surrounding East Village. Be sure to check out St. Mark's Place, the heart of the legendary neighborhood, and the Tompkins Square Dog Run while you're there.
Rockwood Music Hall
As a musician, I was hard-pressed to choose just one music venue to include on this list. I chose Rockwood for it's small size and quirky lineup of independent musicians and small touring acts.
While it's best suited for acoustic, folk and rock'n'roll sets, up-and-coming pop acts have been known to play the venue as well, and bigger names frequent industry events hosted at the space as well.
The best spot is the table in the corner of the wrap around interior balcony. You get an unobstructed view of Stage 2 (the bigger of the two spaces) and a little bit less chaos than the main floor.
The neighborhood, known as the Lower East Side, is packed with trendy restaurants, but we like the more low key King's County Imperial for authentic Sichuan and central Chinese fare.
Honorable music venue mentions: Knitting Factory, Bowery Ballroom, Baby's All Right, Pete's Candy Store, Elsewhere, National Sawdust.
Roberta's
Roberta's is deservedly some of the most famous pizza in New York. In the heart of Brooklyn's hipster mecca, Bushwick, the pizza is fired in a woodstove in a converted shipping crate (which also houses a podcast studio). Ask for the off-menu Bee Sting and enjoy their flourishing outdoor space.
After your pizza, wander the area to see street art by the Bushwick Collective, or hop across the street to Syndicated for a boozy milkshake and screenings of classic films.
House of Yes
Like its Manhattan peers, House of Yes is huge, loud and packed on any given night. Unlike its peers, it's art-centric, queer-affirming and has acrobats dangling from the ceiling. Be sure to plan in advance to buy tickets for one of their signature weekend events.
If you're not up for a capital-n Night, try nearby 101 Wilson, Three Diamond Door, or the Well for a lower energy alternative with good cocktails. If you don't want to stray so far from your airbnb, the Lower East Side's Mehanata provides a more centrally located destination and an ice cage full of vodka.
Bethesda Fountain
While locals view many of New York's iconic sites as overhyped, Central Park is never a disappointment. Especially striking is Bethesda Fountain, where the eight-foot tall Angel of the Waters presides over the lake and terrace.
Stop by the Plaza Food Hall first for a sampling of the Upper East Side's favorite snacks and desserts.
Chelsea Market
Chelsea Market is a converted biscuit factory in the historic Meatpacking neighborhood of Manhattan. Now, it offers outposts of iconic restaurants like Sarabeth's with newer stars like Blackseed Bagels. It also has a wide offering of vintage and local shops and a bookstore.
Other must-sees in the neighborhood include the Whitney Museum, tons of prestigious art galleries, and the High Line. Grab a sandwich at Bottino and find a seat on the converted railway during off-peak hours to take in views of the Hudson river and ongoing architecture projects in the neighborhood.
The Cloisters
The Cloisters is an outpost of the more famous Metropolitan Museum, located in far northern Manhattan's Washington Heights.
During your journey uptown on the BXM10, you'll pass through neighborhoods of classic brownstones. But when you arrive at the Cloisters in Fort Tyron Park, it's a whole other kind of classic: the museum is built from four original European monastic cloisters, relocated to New York City from France and Italy. The oldest cloister at the site dates to 804 AD.
Once you get inside, the museum includes incredible collections of early Medieval art, as well as an original Gothic chapel transported from Austria and two beautiful gardens.
Although it's a bit of a trek, it's a great alternative to more famous cousins the Met, MoMA and Whitney, especially if you're a history buff. Plus, it gives you a chance to take in gorgeous views of the Hudson River and see a part of the city most tours don't include.
Juliette
Ask to sit on the roof at this modern French bistro in the heart of Williamsburg. Order a cheeseburger and french fries, and the signature Juliette Spritz. Then, spend an afternoon exploring this famous Brooklyn neighborhood.
For the best shopping finds, veer off Bedford Avenue towards the side streets, which are less dominated by national brands. A few great shops include: Catbird (jewelry), Leif Shop (home goods), and Baggu (known for their stylish reusable shopping bags).