Summer Travel Destinations
The best destinations to consider visiting this summer.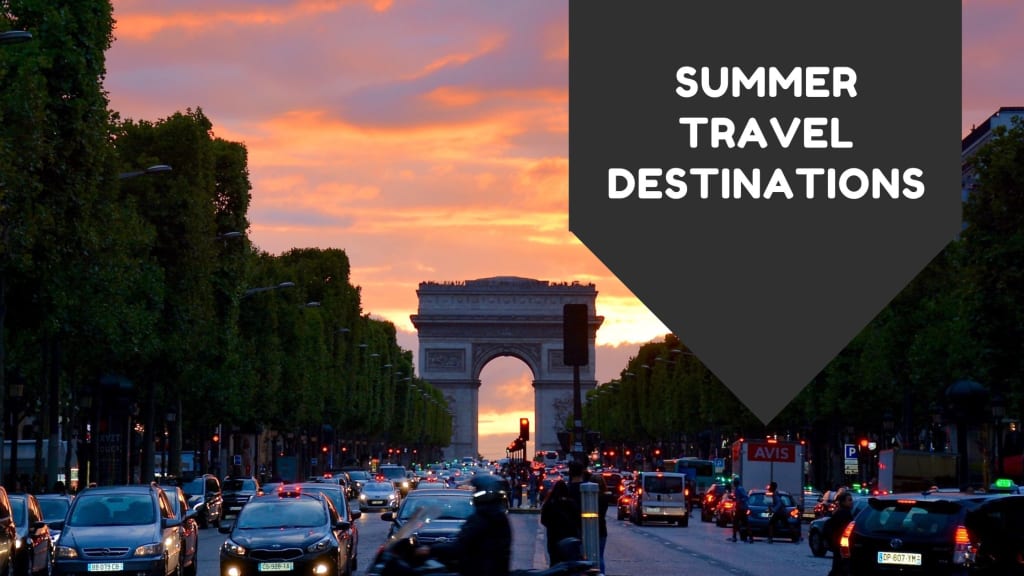 As kids finish school, many parents make summer travel plans. They want to pick something that brings fun and enjoyment while giving kids space to relax and spend quality time together. Some people enjoy outdoor adventures, while others prefer city life. For those looking to make exciting summer travel plans, here are a few top destinations worldwide.
Orlando, Florida
Orlando, Florida, is home to one of the world's most famous theme parks, Disney World. Disney World has something for everyone to enjoy, including exciting rides, themed parks, engaging shows, and food worldwide. Kids enjoy meeting characters from their favorite movies and visiting characters' homes too. Plus, with Florida's hot and humid summer climate, Orlando is a great place to explore the surrounding wilderness and visit the ocean.
Paris, France
For those looking for a romantic adventure, Paris is one of the top destinations in the world. It features gourmet food and modern culture, but it also is home to one of the most significant structures in the world, the Eiffel Tower. Families can enjoy the quaint heart of France by relaxing in a cafe or spending a night out in the town enjoying the city's theatre or shows.
Mackinaw Island, Michigan
Often an overlooked tourist destination, Mackinaw Island has plenty to feature during the warm summer months. Located in Lake Huron just north of Michigan's lower peninsula, this quaint and quiet island is accessible only by ferry or boat. Visitors can experience the island's beauty by foot, bike, or horsedrawn carriage on the island. Because motorized vehicles are prohibited from the island, the island keeps an "old-time" feel. The island features many unique places to stay.
Banff National Park, Canada
Located in the heart of the Rocky Mountains in Canada, Banff National Park is well known for its natural beauty and untouched landscapes. Banff remains remote because it attracts less attention than other national parks like Yellowstone. However, many excellent lodging options around the park feature charming amenities. Most of Banff has a mild climate during the summer, although some mountain tops may still be covered in snow.
About Anthony Bilby
Tony Bilby grew up in Europe and Germany. As a child, he spent much of his time with his grandmother and grandfather, affectionately known as Oma and Opa, who were non-English speaking Germans living in Denzlingen, outside of Freiburg, and Munich. As a proud Bavarian, Tony's grandfather was known to wear his traditional lederhosen as a young man. His grandmother, Oma, was from the Black Forest. This varied German background led Tony to speak a hybrid of various dialects, something between High German, Black Forest, and Bavarian.
Spending time with his German grandparents, his German mother, and his American father exposed him to the valuable elements of cultural interaction. By expanding his mind and broadening his horizons, Tony Bilby was able to develop strong communicative abilities, a good foundation for his later career in consultative sales. Interestingly, if his father hadn't traveled to Germany as a student and visited his mother's impoverished ghetto after World War II, he might not even be here today. Tony's international background allowed him to travel around the world. To this day, he has traveled far and wide, from Greece and Turkey, to Africa, the Caribbean, and the United States. Exploring more of Asia remains on his list of travels to come.
If he gets the chance to travel, Tony Bilby has his eyes on various places in Asia, like Bangkok, Thailand, and Singapore. Check out his blog to learn more about where he's been and thoughts on where he goes!
About the Creator
Anthony 'Tony' Bilby is the Founder and General Sales Manager at VegaTech Commercial Group. As an IT consultant, Tony brings a creative and solutions-oriented approach to sales.
Reader insights
Be the first to share your insights about this piece.
Add your insights