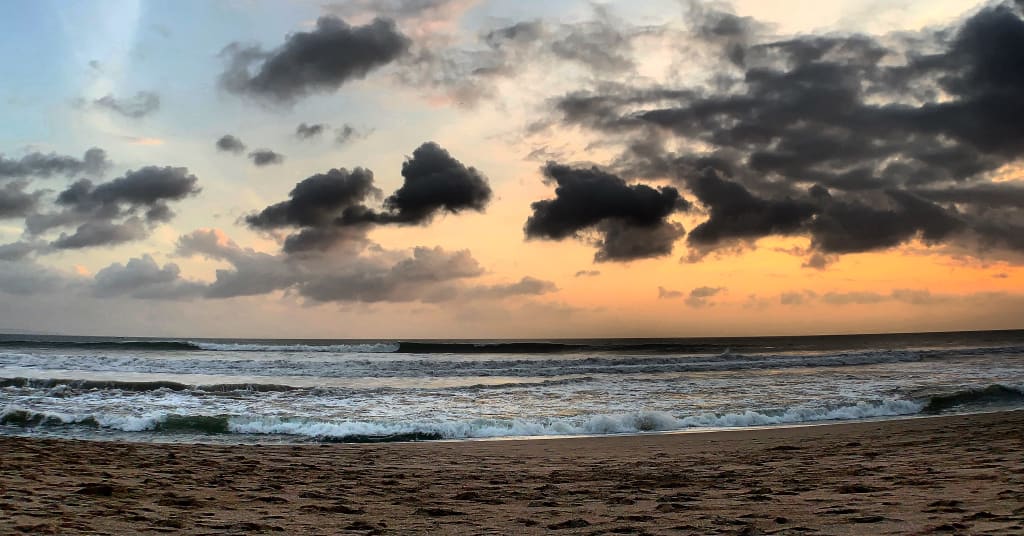 Soul Set
This photo was shot using an iPhone XR and the Moment Anamorphic lens. I tweaked the original using the auto feature in Instagram. Enjoy - jmaw
Throughout my Life, I have been drawn to the ocean, in particular at dusk. Just something about how it feels.
This photo was taken during the last peaceful trip that I took in August of 2019. The trip itself was a birthday surprise of going Bali for my girlfriend, a place she had always wanted to go, and something that I felt compelled to give and share with her. Honor those pulls when they manifest, because they come to us for a reason.
I don't even know if this is the best photo from there or that I've taken since but the vibe, the time of day, and what that represents to me, these all add up to the story I wish to tell.
It's truly wild to think about what Life's been like since we took that trip in August of 2019.
I was fortunate to get to travel a great deal this past decade of my life and actually took four other trips after this. Though not bad, as I said, the picture here and that time was the last peaceful trip I took.
The first trip after Bali was to Washington State, where my parents had moved from Hawaii to spend their retirement. I had a dream in September of 2019 that gave me the sense I needed to visit my parents. Though not that old at 72, Dad had been slowing down, and in the background of my mind, I wanted to spend as much time as I could.
Being there during that time and seeing some of the unexplainable changes in him was really heavy. It taught me a different side of love, the power of just being in the presence of someone you love and respect.
We'd get to see them again in November as we went to Hilo, Hawaii, where I grew up. My parents were in Hilo to visit my Grandma, Dad's Mom. It was pretty surreal man. At that point, she wasn't eating much and spent most of her days sleeping. When we walked in, she opened her eyes, smiled, waved, then went back to sleep.
It's funny, but I guess when you know, you know and I knew it'd be the last time I saw Grandma alive. The last time I'd see that smile.
In December of 2019, we'd return to Washington, this time to see my parents for Christmas, and also visit my girlfriend's Mom in the Bay Area for New Year's. I'll be forever grateful that she suggested we do that because it will be an unforgettable, albeit emotional holiday that I remember for the rest of my Life. From October to November to December, though Dad's eyes and smile were the same, the changes had continued for him.
In February of 2020, we had planned to take a trip to Hilo, Hawaii, my hometown. Grandma did pass after our last visit, shortly after we all left the Big Island in November and the February trip was originally going to be when we all got together to remember her.
But with the first reports of covid-19 starting to make the constant news cycle, my parents opted to stay safe and not travel.
Made sense.
Oh, the funny thing about plans changing...
On February 25, I got a call that I'll never forget. Pretty wild actually. Remember how I mentioned having a dream that gave me the sense I should go visit in the first place? Well the night before/morning of February 25, I had a dream where Dad said "I love you." Pretty lucky really and amazing if you think about it.
That was an odd day though. That dream set the tone for it but also in the week prior my Dad had been in and out of the hospital. I felt worried, each time seeing him in the months prior, the sense that things would never be the same grew stronger. That day, after a meeting for work, I went to a church at Fort Street Mall in Honolulu, entered a row of the pews, knelt, bowed my head and prayed.
I just prayed because in terms of how I felt, it's all I knew to do.
I don't consider myself a subscriber to any one religious tradition and what I believe is influenced most by my local and Hawaiian roots, in particular, the phrase, Aloha ke Akua - God is Love.
As I prayed, I asked for healing for all. I felt for Dad, as I'm sure what he was going through was not fun for him. I could feel the heaviness of all of it and I could only imagine how much greater it was for my Mom, who was taking care of him, dealing with her own feelings about all of it, and all the unknowns that come with all of that. Mom's amazing and her strength in all of this, wow, just wow.
But by the end of that day, Mom called, and I'll never forget how she told me "Dad's gone."
As you can imagine, that triggered the fourth and final trip I took since that peaceful escape to Bali. In my quick attempt to mask my pain with humor, I also joked that I'd never pray again as I took it all in.
The time getting to my Mom's from getting off that call to arriving was filled with a blur of numbness, shock, and laughter. My girlfriend was the Light in the Darkness, her own experience of losing her father, a guide when I needed it most. Shortly after we got there, we had the viewing, and though they weren't the first (nor the last tears) I cried, they were the heaviest because that's when the sadness really hit.
Through all of it, and maybe this is the healing part of it, I feel so lucky that I got to have the relationship with Dad that we had, but also for those last times of getting to be together. The dreams were cool and I appreciate them so much in the context of the spiritual aspect of life being that which I value most, but getting to see, smile, and laugh a final few times, along the way are even more special.
All of this happened to coincide when the then first covid-19 death occurred in Washington. The experience of Dad's passing and all that coronavirus has been, have been intertwined since.
And while this photo was taken before all of this, we've spent countless hours at parks, running, walking, and in the mountains, hiking, and doing our best at just being.
The vibe of this photo is the vibe I've been seeking outdoors to recreate as I grieve the loss. It's the vibe I hope to not only experience but to share with others as I feel for all of humanity as we wait for the sun to set on this mixed chapter of our history. A chapter where it seems like there isn't much Light left, Darkness is on the horizon, but if we allow, there's still just so much beauty to behold.
Soul Aloha All Ways. And Be Well Friends.