Solo In Sedona: Day 2 of 2
9/15/2021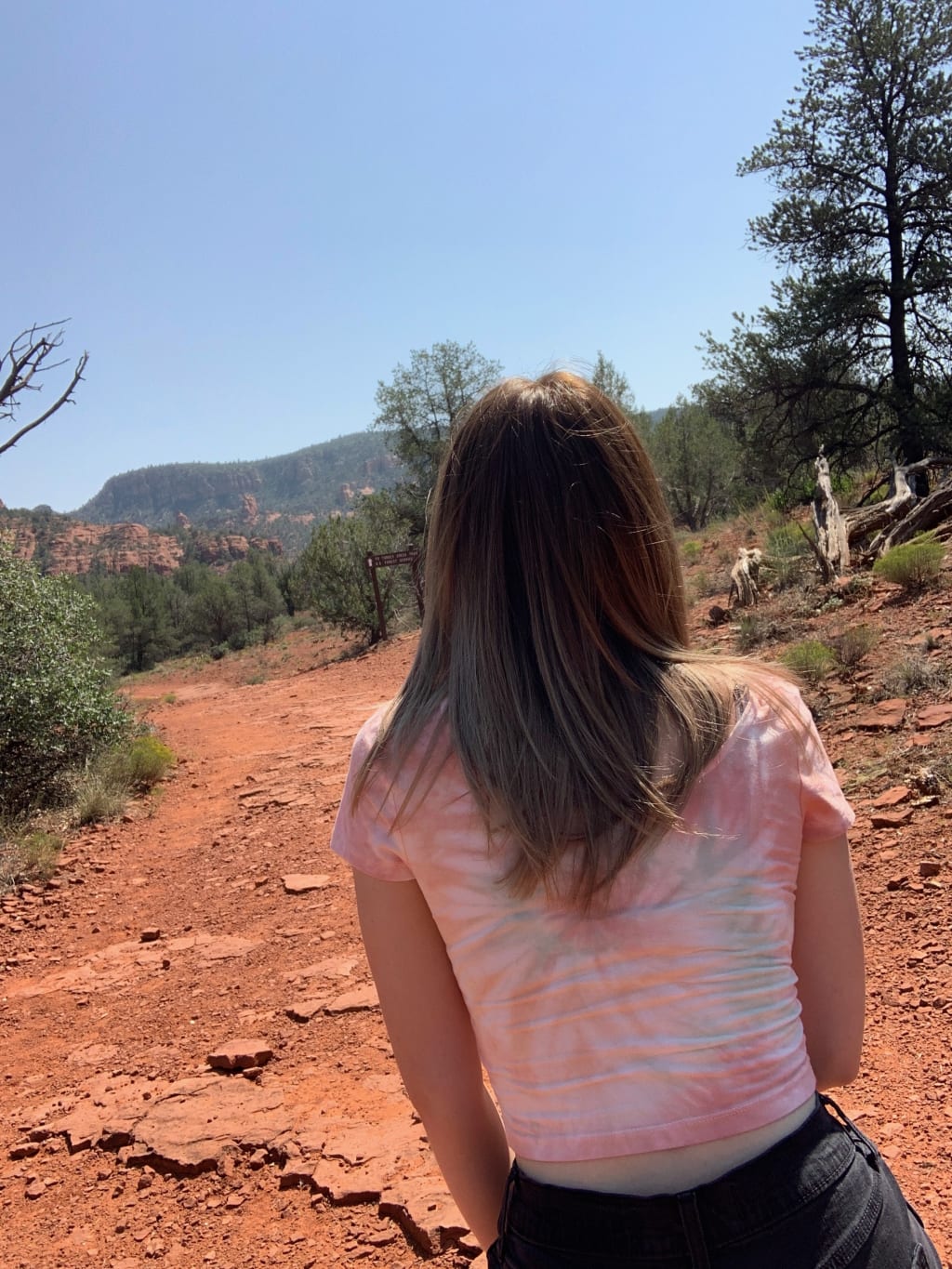 In September 2021, I went on my first ever cross country solo trip. I flew from Baltimore to Phoenix, then from there, drove from Arizona to California. It was one of the best experiences of my life, and it's about time I shared my adventures in detail. The first city I visited was Sedona. This is day 2 of 2. If you want to read about day 1, there is a separate post for that :)
My second day of Sedona got off to an early start. It was my last day there, so I wanted to pack in as much as I could with the amount of daylight that I had. I took that drive down 89A once again from Flagstaff to Sedona. It was just as beautiful as the first time. In fact, it was like seeing it for the first time all over again. I don't think I'll ever be over those red rocks.
Stop One: Red Rock State Park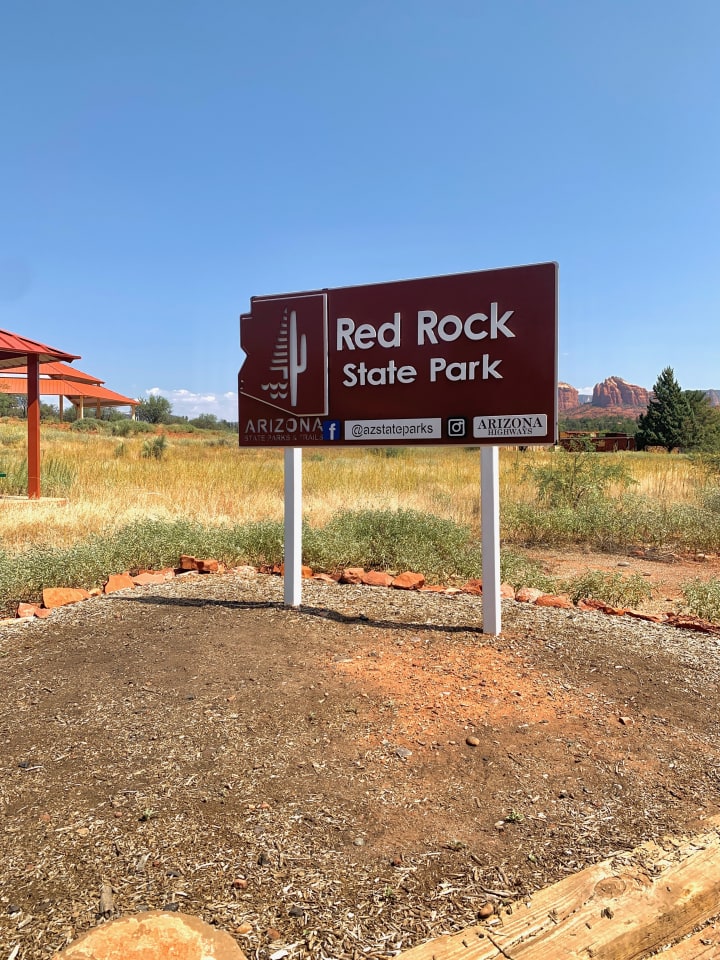 Like the Route 89A scenic drive, Red Rock State Park is usually one of the first things to come up when researching things to do in Sedona. With good reason too. I know for me, this place was on the very top of my overall travel bucket list. It's the thing that attracted me to Sedona in the first place. I really cannot put into words how excited I was to finally be doing this. Why I saved it for the second day, I don't know. That's just how things worked out. But it certainly gave me something to look forward to.
The park is located a few miles outside of central Sedona. The drive there is almost just as cool as the park itself. Lots of windy roads and hills though, so once again, remember to keep your eyes on the road while you are marveling at the red rocks. That was overall my biggest challenge for the entirety of the trip. There is a whole road that loops around the park and brings you right back to 89A, so don't worry about getting lost trying to find your way out.
Once you arrive, you will have to pay for parking. If I remember correctly, the parking fee is about $10. So not bad. Totally worth it with everything you are going to experience. They give you a brochure and a map of the trails, and then you're good to go. I was also given a very important piece of information, which I did not know before, and I would like to pass it along. This is not a drive through park. The only way to really see everything is by getting out of the car, and walking along the trails.
Now, I'm not big into hiking. I love a good walk on a trail, but I wouldn't call it a hobby of mine. So I got a little anxious when I was told I couldn't just drive around the park, which was my original plan. Yes, I know I mentioned that there is a road that loops around the park, but it's so not the same. Trust me. You'll want to get out and walk for this. If I can do it, so can you!
I sat in my car for about half an hour, wondering if this was still something I wanted to do. Thankfully, I was able to talk myself into it. I told myself sure it was a trail hike, but there were so many other people out, and if I just stayed on the path I would be fine. It was also the only way to see this place, so I said "screw it, let's do it" and finally got out of the car. After all, this was the number one thing I wanted to do in Sedona, and I could get some really amazing pictures that would make people jealous.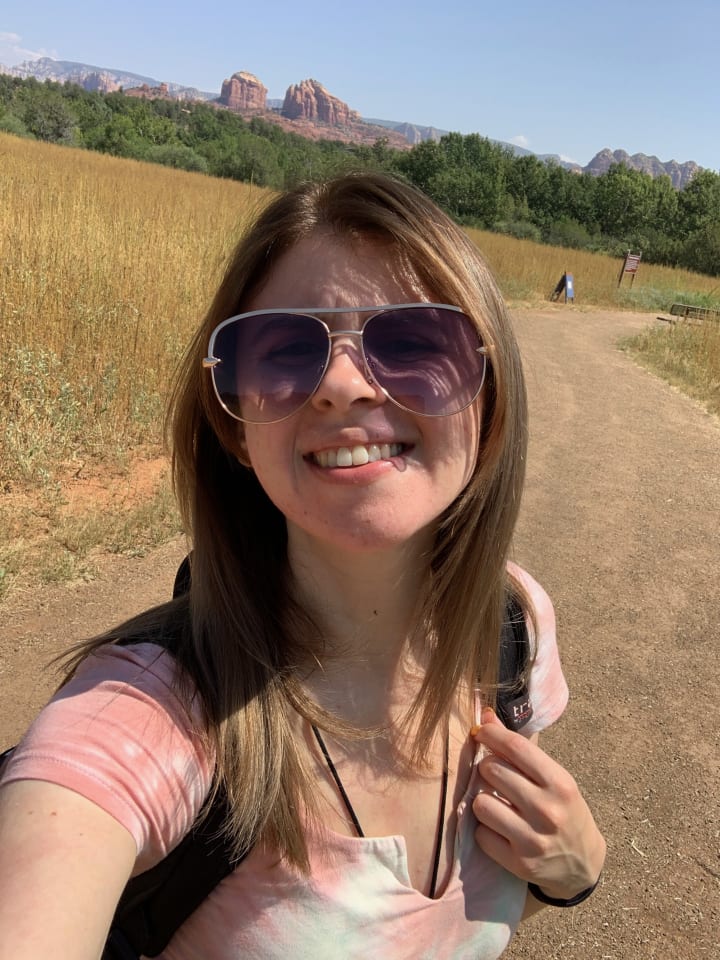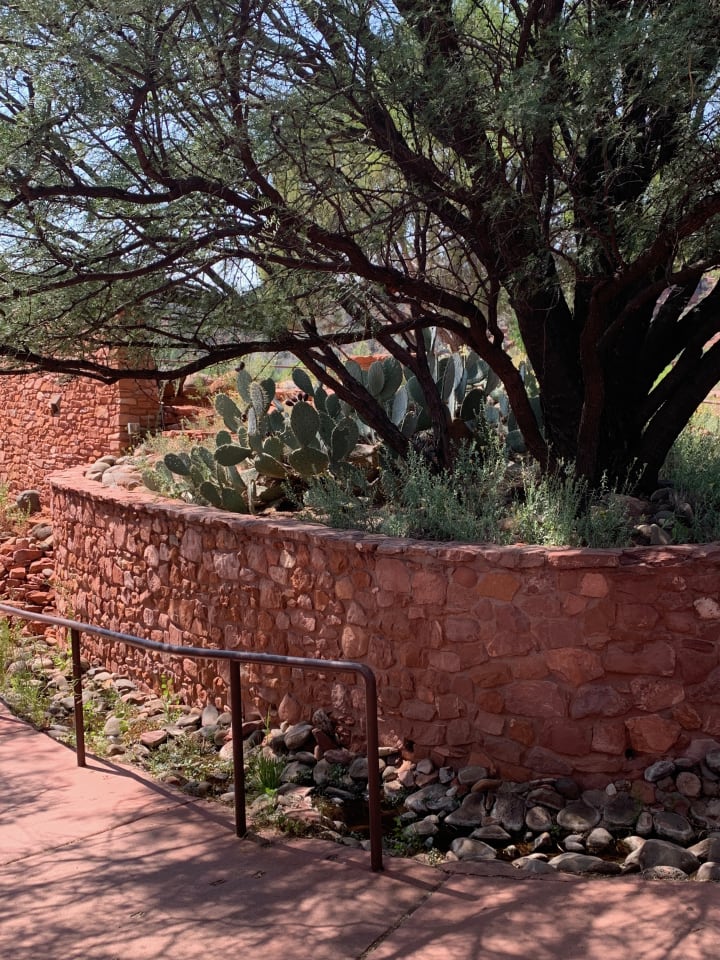 The trails are short, less than a mile one way. I ended up walking 6 trails: Apache Fire, Bunkhouse, House of Apache Fire, Rattlesnake Ridge, Smoke, and Yavapai Ridge, not necessarily in that order. You can do whatever order you want. The total amount of miles I hiked there and back was 5.8, which is something I certainly did not expect. I reached the top of a hill on my final trail and was like, "wow, I hiked 6 miles." It may not seem like much if you hike on the regular, or climb mountains and stuff. But I felt pretty freakin victorious. The trails, and the hike itself, were nothing short of amazing. I was tired, sweating more than I've ever sweat in my life, and beyond starving, but I loved every minute of it. Really, truly, the best way to see the park. You are smack dab in the middle of the red rock formations. Everywhere you turn, there's another one, towering over you. They're so big and you feel so small (if you're short like me, smaller than normal). I was truly in awe of it.
I'd say most of the terrain is pretty rocky, and a lot of it is uphill. But there are some paved paths that lead right back to the visitor center. I found the trails very easy to navigate, and didn't need to use the map I was given all that much. I just let myself wander. Luckily I never got lost. That's the beauty of staying on the path, and keeping signs giving directions toward the visitor center in sight at all times.
One thing I thought was really cool was how the ground was all red sand. There was one point where it was such a deep, vibrant red, I felt like I was on Mars.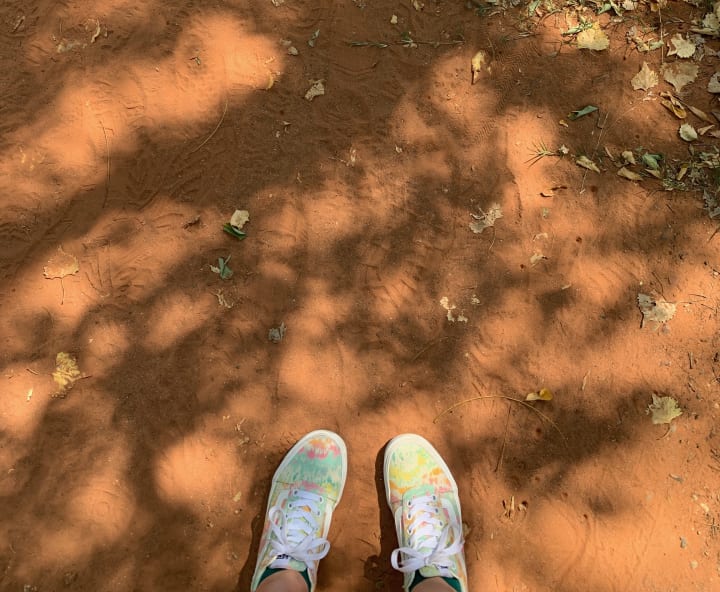 Overall, it was amazing. The hiking was so much more fun than I thought it would be. I kind of fell in love with it, and wanted to do more. I'm s0 glad I didn't let my anxiety get the better of me, and got out of the car, and walked past the visitor center observation deck. If I never did that, there's no way I could have gotten the full experience of somewhere I've wanted to visit for so long.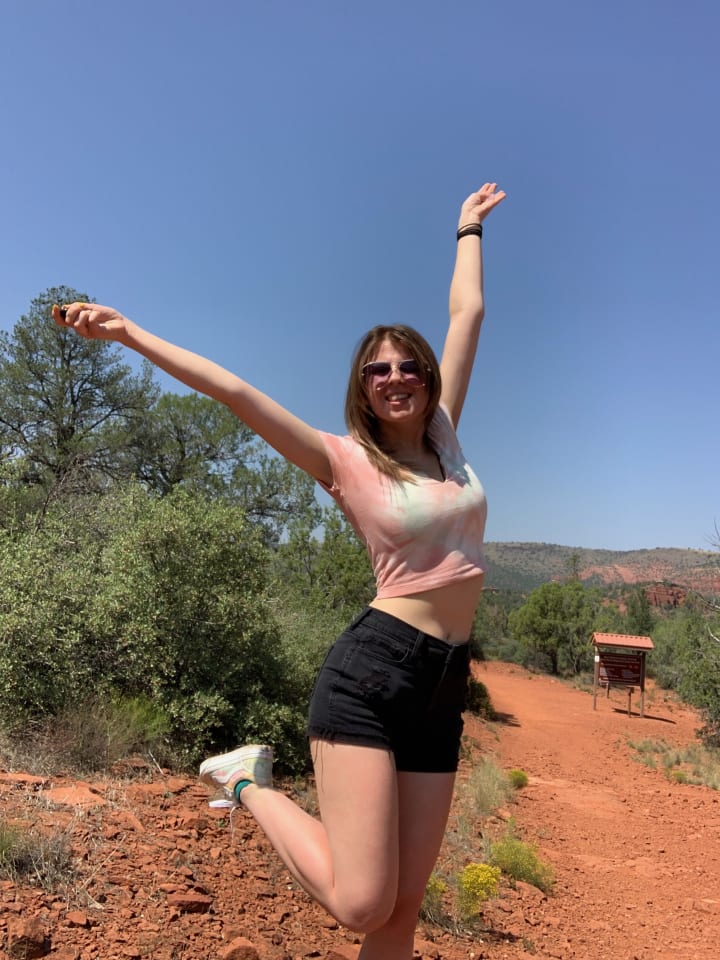 Stop Two: Hillside Sedona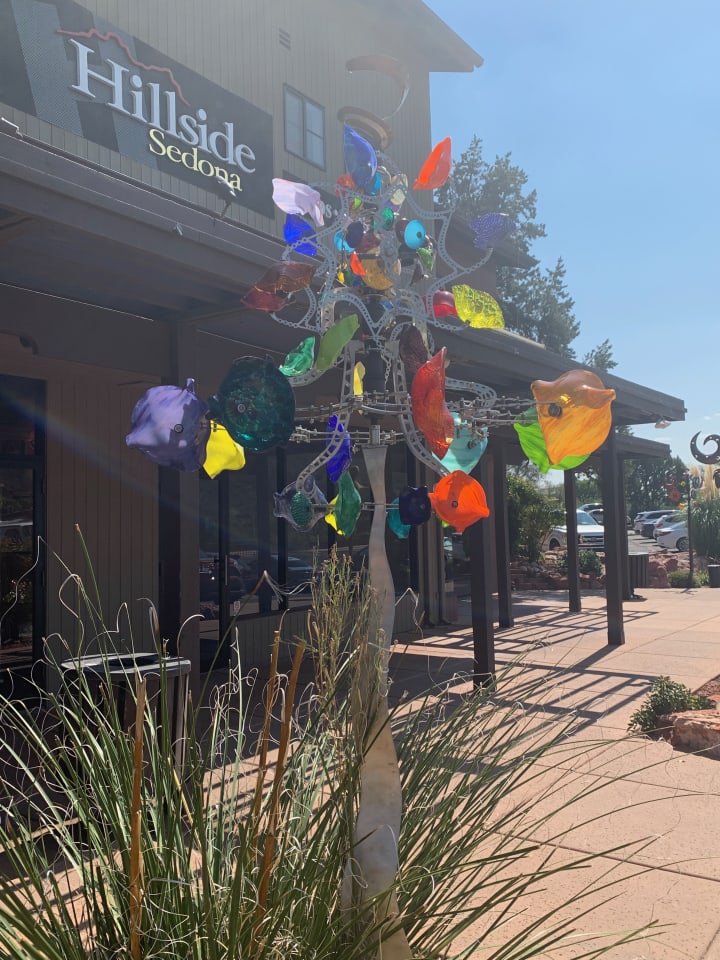 Once I was cool, dry, and hydrated after my 6 mile hike in Red Rock State Park, I decided to go do something civilized - shopping. Well, more like browsing, because Sedona is expensive. I had two other shopping centers on my itinerary for the day. The first was Hillside Sedona. It's located right on Route 179, close to Tlaquepaque Arts and Crafts Village (if you read my day one post, you know how much I love that place).
Now, Hillside Sedona isn't as big or as beautiful as Tlaquepaque. Most of the stores, I've never even heard of. The restaurants are very expensive. One thing I really wanted to do in Arizona was try authentic Mexican food, something a coworker of mine from Arizona strongly recommended as well. I found a restaurant in this center that had such a delicious looking menu, my mouth was watering. However, the thing that I wanted cost $23. So it was a no for me and I ate somewhere else (but I'll gush about that later).
Pricey stores and restaurants aside, Hillside Sedona is definitely still worth checking out. Like Tlaquepaque, it has its fair share of fountains, plants, and bronze sculptures, which were all beautiful. There was also some quirky and colorful artwork out front, which I thought was cute. Overall, not much to do here in terms of shopping unless you have money. But definitely stay for the overall beauty of it. Plus, you get a really good view of the red rocks, if you aren't sick of them by now.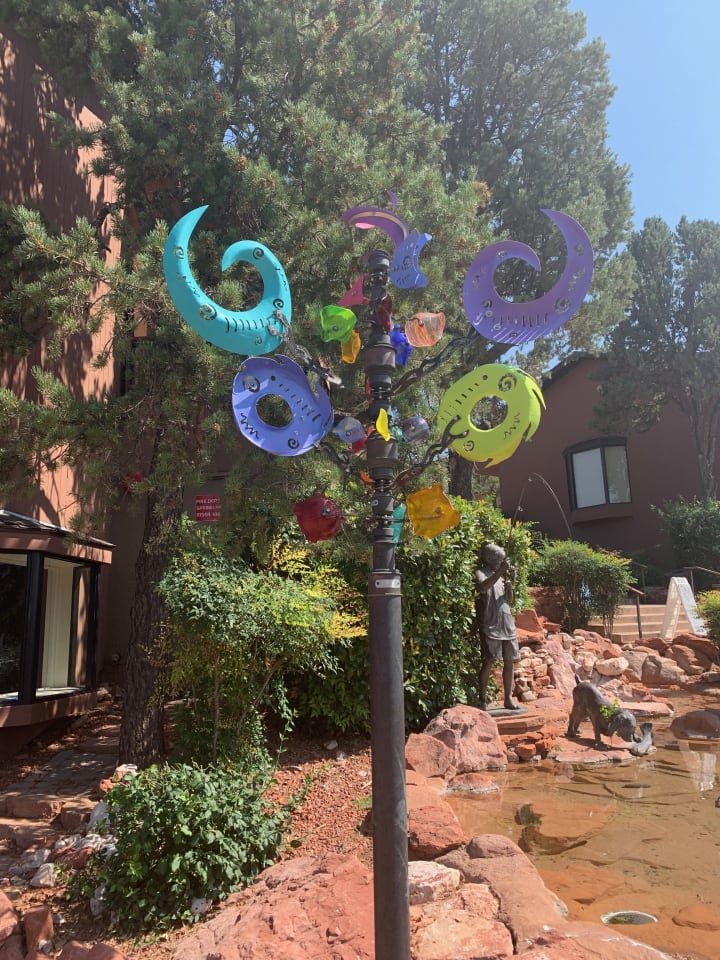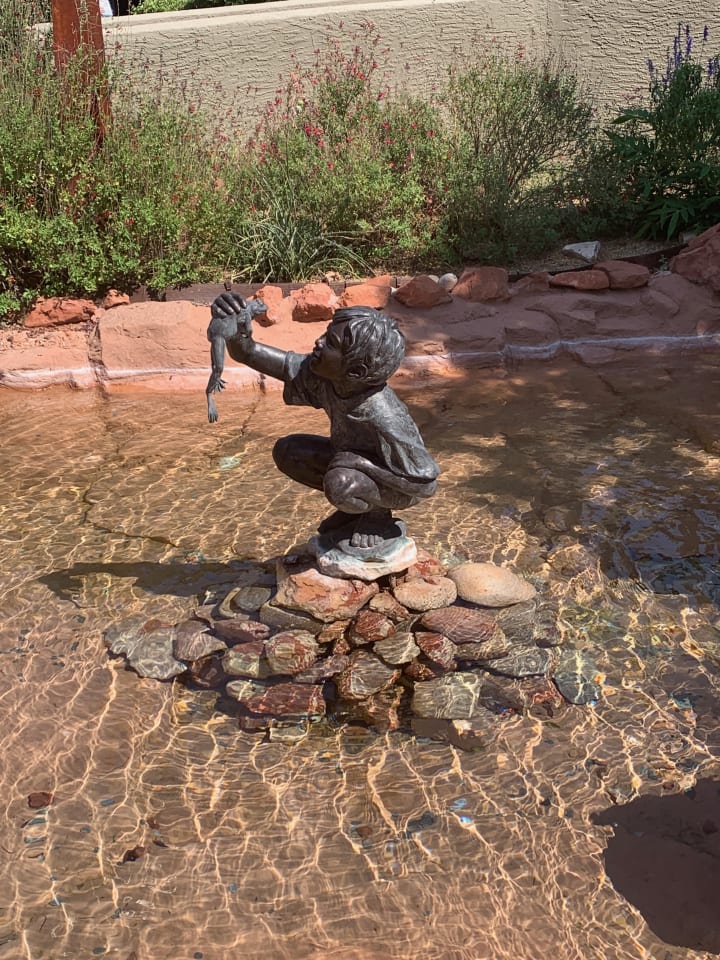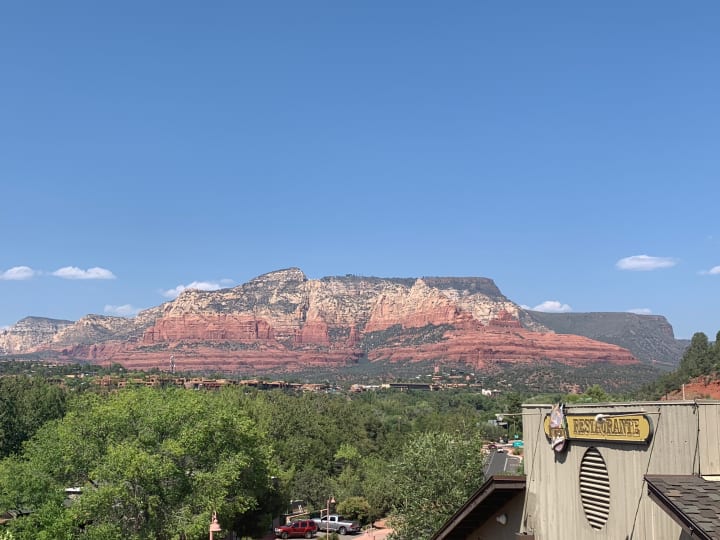 Stop Three: Hyatt Shops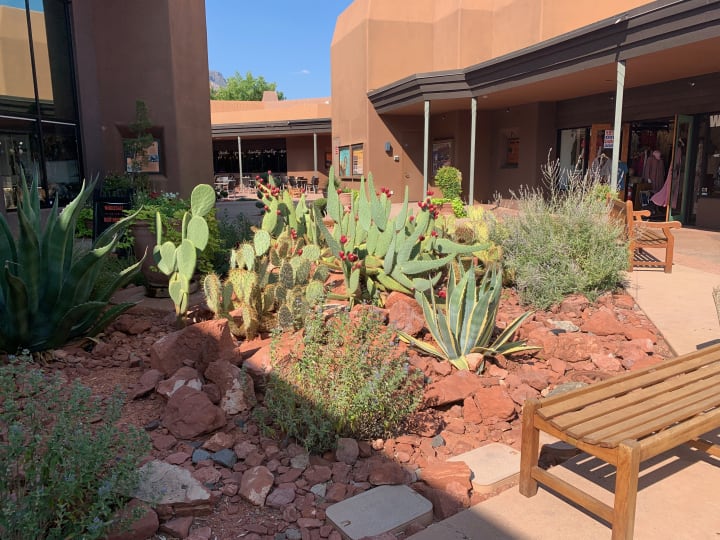 After finishing up at Hillside Sedona, and doing the Route 179 scenic drive again (because why not?), my final stop of the day was the Hyatt Shops. Another open air, somewhat expensive shopping center. If you haven't figured it out by now, I like going to malls and stuff to just walk around.
This one is a little more secluded - on top of a hill, hidden behind a wall, only fully visible from higher ground. It took me a while to even find where to turn into the parking lot. This place, in my opinion, has more to offer than Hillside. It's slightly bigger, more spread out, and way quieter. There weren't many people around when I was there, which made it pretty relaxing. There are also plenty of places to sit in the sun and just take it easy for a while. I was still pretty tired from the hike earlier, so I definitely took advantage of all the sitting. The views, of course, did not disappoint. It's probably the best I've seen right in downtown Sedona. Lining the walls are pictures and stories telling the history of Sedona and the surrounding area. I read through as many as I could find, and learned a whole lot. I thought it was a really cool thing they had.
I continued to wander around and finally got something to eat. If you are ever in Arizona, I highly, highly recommend Wildflower Bread. I had one of the best, maybe even the most delicious and freshest salad, and the bread was fantastic too. It was the perfect replenishment after all the walking and climbing I did.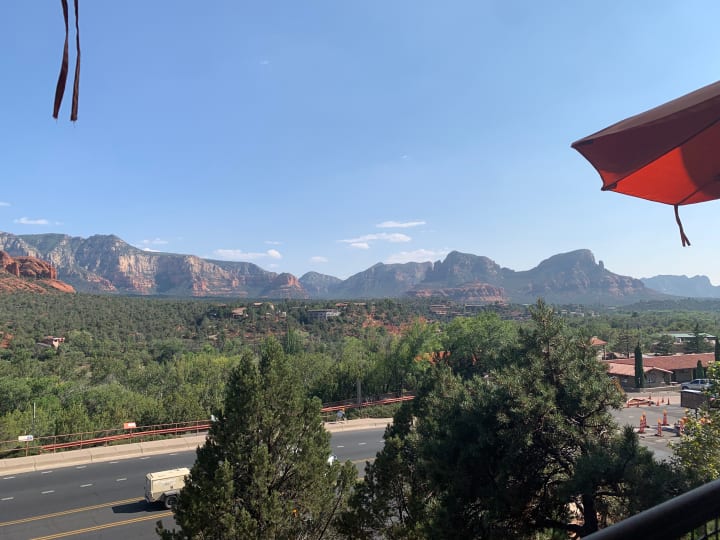 Once I finished, I did one more lap around, and decided to call it a day. It was still pretty early, but I was exhausted, and I wanted to at least get back to Flagstaff before it got dark. I also had a long drive the next day - two hours to Phoenix, where I'd spend the next three days, another hour and a half to Tucson that evening, where I'd be going to a concert, and then back to the hotel in Phoenix. So I really needed to rest up.
I took that Route 89A drive for the last time with Sedona in the rearview. It was bittersweet. I had an incredible time in Sedona, so I was sad to be leaving. I don't know when I'll see it again, but I will definitely be back someday. But it was time to move on to bigger, brighter, and much hotter places. If there's anything I regret, it's not checking out Flagstaff more. I've heard some cool things about it, and driving along some of Route 66 would have been fun. But that will be a separate trip of its own that I will take someday, and it gives me a reason to come back!
The sweet part was that I still had so much of this trip left. More cities to explore, and more cool stuff to see. I couldn't wait to see what would happen next. It was still only just the beginning!
Well, that's it for day two in Sedona! Hopefully you're still having fun following along with me! If you are, hit that like button because I crave validation. Also look on my instagram @wonder.thestreets if you want to see more pictures from the trip, and my other adventures. Keep an eye out for my posts about two out of my three days in Phoenix: the next part of my trip! I should have those up soon!
solo travel
just here writing whatever thoughts come into my brain and giving them a place to go