Snowball
Networking with Spontaneity
It's three PM on a Friday and I find myself at Clark's Market in the Aspen Downtown core. I've got a guitar in the back of my Honda CRV and I'm passing time. This is the second time that I've been invited to play at the networking Snowball event in Aspen, Colorado. It happened randomly before and it's not disappointing that flow again. I know the world is in abundance as I pass a car into town earlier with triple eight's on its license plate. I snap a picture and send it to my fellow friend whom interprets everything metaphysical. She instantly texts back "full of abundance" and I smile. The world is in flow at the moment. It's 5:30 PM and I park my car at the Gazebo park right across from the Molly Gibson. Those two spots have held music nectar in the past and so I reason, why not again? I leave the guitar in the back of the vehicle and stride the Aspen Main Street corridor. There's a fresh feeling to a settled in Friday afternoon. It's one of those moments where the "walk" lights change to walk as I approach the cross streets, there's no pause here and now. I reach the only gas station left in Aspen and then feel that it's time to turn around. The time is approaching six PM. It suddenly occurs to me that I haven't frequented one of my favorite shops in Aspen for a while. "The Flying Emporium" has a cheery welcome sign and I take a left and immediately feel the draw in, "Yes, this feels good." Shae is a long time friend, fellow neighbor and is the creator of the place. Inside various fantastical trinkets adorn a cozy enclosure and I scan my eyes looking for a warm fire in a fire place as it gives off the feeling, but I know has never had one and never will. I think that, a fireplace would ruin this space. I reason, but I search for the reason that my mind has come to this conclusion while I meet the cheery new souls that I find myself with. The Emporium is one of those places where you just might pick up a mug or pen or eat a chocolate and get the inspiration to write a song. My friend Casey comes out the woodwork and little by little I realize this is one of the many Snowball locations. I'm in the place to be and chocolates are shared, which bring on stories as well and people follow and we meet.
John is the guy who has asked for my presence in a short email that popped into my inbox earlier in the week and up to this point I have gone only on flow feeling to get here and we're traveling by Flu Powder probably? I meet Peter in the store and soon it is revealed that Peter is a good friend of John. Moments later, Peter gives me John's contact and I get a text from John that says that I'm "on the path and to keep flowing." Soon, the energy beckons us on to the next Snowball location and so we say farewell to Shae and her store of magical wonders and spontaneous happenings and proceed willingly into the evening. I now have a group to follow and so I do.
Smooth Drinks and Conversationalists at an Aspen Location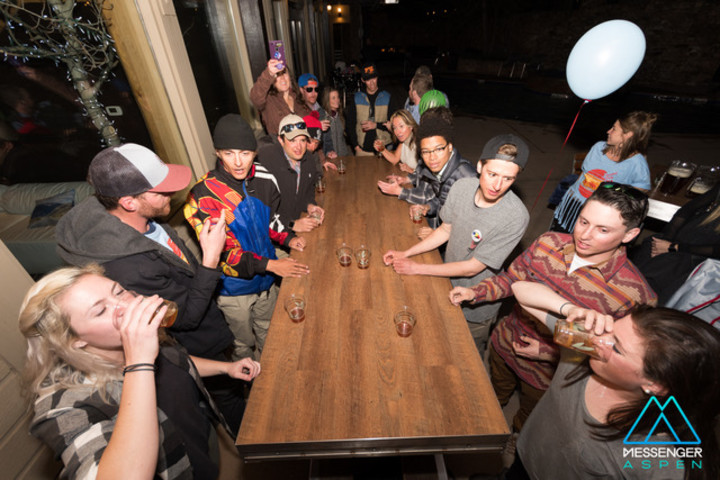 The next location is a remote gallery with a cute dog, dancing people, and a college Ping Pong drinking setup. In this way, I find myself back in Boulder, Colorado at a college party and the keg is included only we are not in Boulder, but in Aspen at the moment, I think? Soon the next location is revealed and we branch off from the other trail setters. The next place is aptly named "DJ's House." We don't know if it's a place where a DJ could live or if the man's name is DJ or if DJ is in fact a store. I think of my good friend DJ at this point back in Carbondale setting off creative fires of her own and ruminate at the connection, "coincidence, I think not." Let's be realistic, and center on the point that Aspen is not a big place! And furthermore, I have lived here my whole life and so it would seem that I am quite aware of every nook and cranny in this small international nook and cranny of the world. Snowball naturally holds to true fashion however, and soon I am surprised. We are given an address and this leads us to some top level art galleries. I start scanning the brick wall for loose bricks because at this point that could be an entrance. The only explanation I can reason with at this point is that there is a secret room, which we must find and in this way we do eventually find DJ's House. A steep ascending staircase through a hidden trap door reveals a comfortable study where exotic art paints onto the comfy white walls. I'm given a beverage by the man whom calls himself DJ. It is soon revealed that he is the keeper of the history in Aspen and has published many books about this. He wears a hat that fits the study and soon we're all sitting around the art in a circle sharing songs and music with a guitar. Soon the next Snowball location is revealed.
John with John Posing in One of the Many Snowball Locations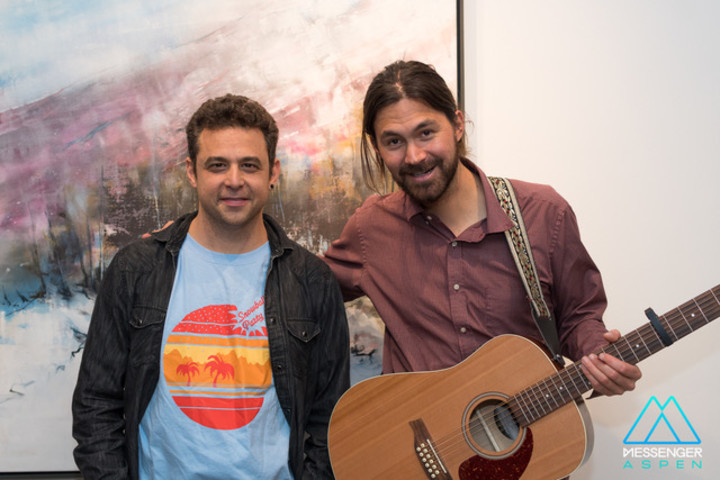 The next place turns to be the location of the Marble Distillery's new Aspen location, which is naturally placed in the womb of the Grand Hyatt Hotel. This is a stark contrast to the other Carbondale location to which I've been accustomed and that lies cozily fitted in on Carbondale, Colorado's main street. It's the place where music has flowed before as good local bands often have been accommodated in the space. All the Snowball's convene here in the new Aspen location on this particular evening and they have taken their own paths to get here and it is then that shots are dispersed to a gradually growing crowd. From here, the story gets a little hazy. I do not partake in the shot festivities as liquor has always been a mute point for me, but the energy divides up and spreads out. Overall good times are shared, connections are met and another successful rendition of the 2nd Annual Snowball Event glitters into a slow spring night sky. We just hope you join next time if you can find it and if it's meant to be. The next location is unannounced, but we were thinking Tokyo?
activities