Shaking Things Up — Whitewater Rafting in Columbus, Georgia
A college town that is definitely worth a look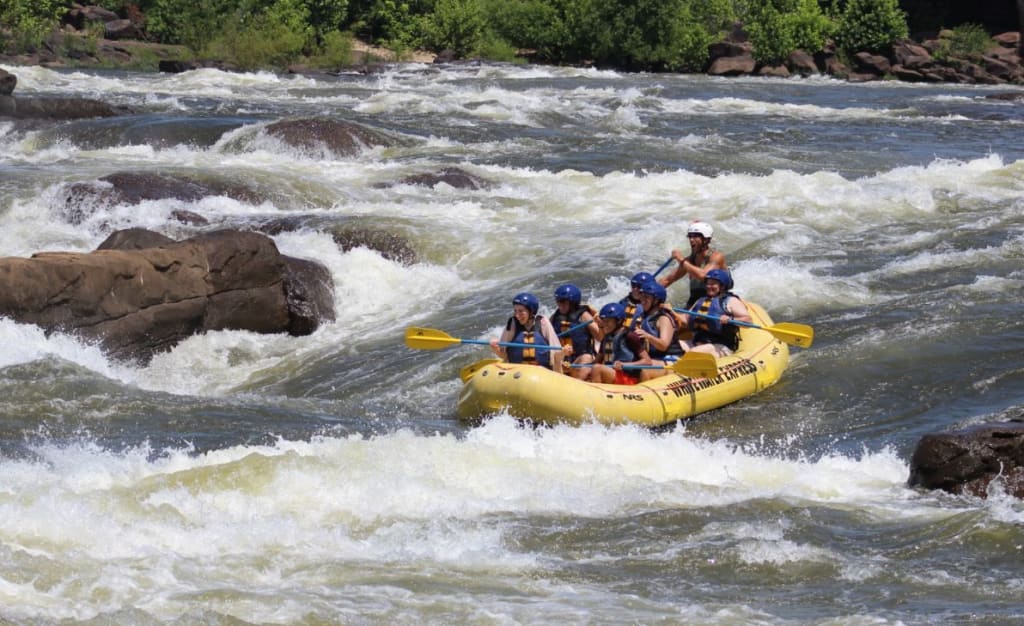 Author's photo.
We have been packing up our truck with kids and dogs and driving from Louisiana to Massachusetts for over a dozen years. Everyone knows the routine and everyone has a spot. It's a complicated, three-day trip with a wonderful payoff — two months of floating in the Atlantic Ocean, spending time with friends and family, and lazy days gazing out over the bay in Hull, MA.
When the Summer of 2020 rolled around we had dilemmas to face.
First of all, with the pandemic, we did not want to spend the necessary two nights in hotels or eat in restaurants. Secondly, we had recently been found by a new pet and making a spot in the truck for another creature seemed impossible. Lastly, my wife's elderly mother always flew to meet us at some point during the summer, and putting her on a plane was suddenly out of the question.
There was one other complication. The pet we added to our menagerie was a cat and one of the dogs, Oprah, was obsessed with eating the cat. When this kitten first wandered into our yard and hijacked our hearts, the chihuahua/pug mix went into primal mode. Kitty Boy has grown since those first days and continually reminds Oprah that he is well aware of her intentions and that any advance in his direction is not a good idea. She abides.
We answered our quandaries by doing something we had talked about off and on for years — we bought an RV.
That first summer of travel in the RV went incredibly well. Being able to drive all day, nap in a proper bed in between turns at the wheel, and less than a half-hour to park, eat and be ready for bed had us over the moon. With a separate bedroom, the animals were successfully separated and safe.
After a year of isolation and virtual school, we were ready to make the trip in the RV again but this time wanted to shake things up a bit and for some reason, white water rafting came to mind. When a coworker, unprompted, told me I should make a stop in Columbus, Georgia, on our annual trip from Louisiana to Massachusetts, I took it as a sign. She was back from a few days there for a wedding and was touting all sorts of wonderful things about the place. When she mentioned whitewater rafting, my ears perked up and I did a Google search.
Columbus, Georgia, is a college town so it has a bit of that college-town vibe: young, open-minded, and fun. "Built into a historic area alongside the Chattahoochee River, CSU's downtown campus houses the College of the Arts, student housing for more than 400 and about a dozen different buildings, including some of the finest performing arts facilities in the country. The campus adjoins the nation's largest urban whitewater course, a zip-line, and a 14-mile riverside walking/biking path."
The riverfront and surrounding downtown area are full of wonderful restaurants and a splash pad for the kids. The walking/biking path adjacent to the river offers stunning views with many places for picnicking or just hanging out and the whitewater rafting is world-class.
"The whitewater rafting section of the Chattahoochee River is a dam-released river with a typical release schedule of milder, lower flow in the morning and wilder, higher flow later in the day." With the city controlling the flow, you can choose your experience from "classic" to "carnage". We opted for classic. The two-hour trip was a combination of thrilling rapids and a calm scenic river run.
According to our guide, Guru, the Chattahoochee river was suffering terribly until around 2012 when the city of Columbus decided to do something about it. The wildlife along the river was dying and the river itself was polluted and at a standstill due to dams previously installed by various industries. The dams had been abandoned when industry declined and Atlanta had been dumping sewer in the river for decades.
After suing Atlanta, Columbus had the money to not only restore the river and its wildlife but to make it a tourist destination as well. Dams were blown up and the river was engineered creating a handcrafted rafting experience that is slated to host the world kayaking championships next year.
After each rapid, the current delivers you to an area of relative calm so that if you happen to fall in or your raft flips your guide has a chance to pull you back into the boat away from rocks and boulders. This was especially comforting to those in our party who were a little afraid to raft. Just remember "nose-up, toes-up" and you'll be fine.
The area is rich in history as well. The last battle of the Civil War was fought on a footbridge that still spans the Chattahoochee. During that battle, John Pemberton acquired the saber wound across his chest that led him to invent Coca-Cola. He was searching for a way to get off morphine, which he had become addicted to as a result of his injuries. John Pemberton was a brigadier general in the Confederate Army and a pharmacist.
We only spent a couple of days in the area as this was a stop on a much longer journey but a quick internet search reveals that there is plenty more to do in Columbus than just whitewater rafting. Here you will find an area rich with history, good food, a myriad of museums and performing arts, and just about anything else you can think of. Columbus, Georgia is definitely worth your attention.
As far as the actual drive to Columbus, that day's drive turned into a three-day adventure riddled with mishaps and catastrophes. Within the first 30 minutes of the drive, we lost a hubcap. After turning around to look for it without any luck we had a blowout about 300 miles in. We limped off the interstate and spent the night between two 18-wheelers while Tropical Storm Claudette rolled through the area. Silencing my phone to the tornado warnings in your area I said a prayer and went to bed.
Back on the road the next day after getting the tire fixed, we came to a standstill due to a horrific accident that made national news. We spent 10 hours on the interstate counting our blessings for a decision to finish a half-eaten tuna fish sandwich. Woken by our son at 12:20 a.m., we drove four exits to find an empty parking spot at a truck stop.
Finally reaching Columbus the next day, we set up camp at F. D. Roosevelt State Park in Pine Mountain, Georgia, located about 30 minutes from Columbus. This wonderful state park offers stunning views, well-marked hiking trails, a beautiful lake for fishing or boating, and a clean, well-kept campsite providing us with a relaxing backdrop from which we could recuperate, shake things up a bit, and head off for the rest of our journey.
family travel
I am a mom of two wonderful children. A life partner of 28 years. I am interested in the common thread that runs within and between all living creatures, including humans. Trying to find that sweet spot where joy meets living.