Senior Single Female Alone in Iceland
Baby Bloomer Travels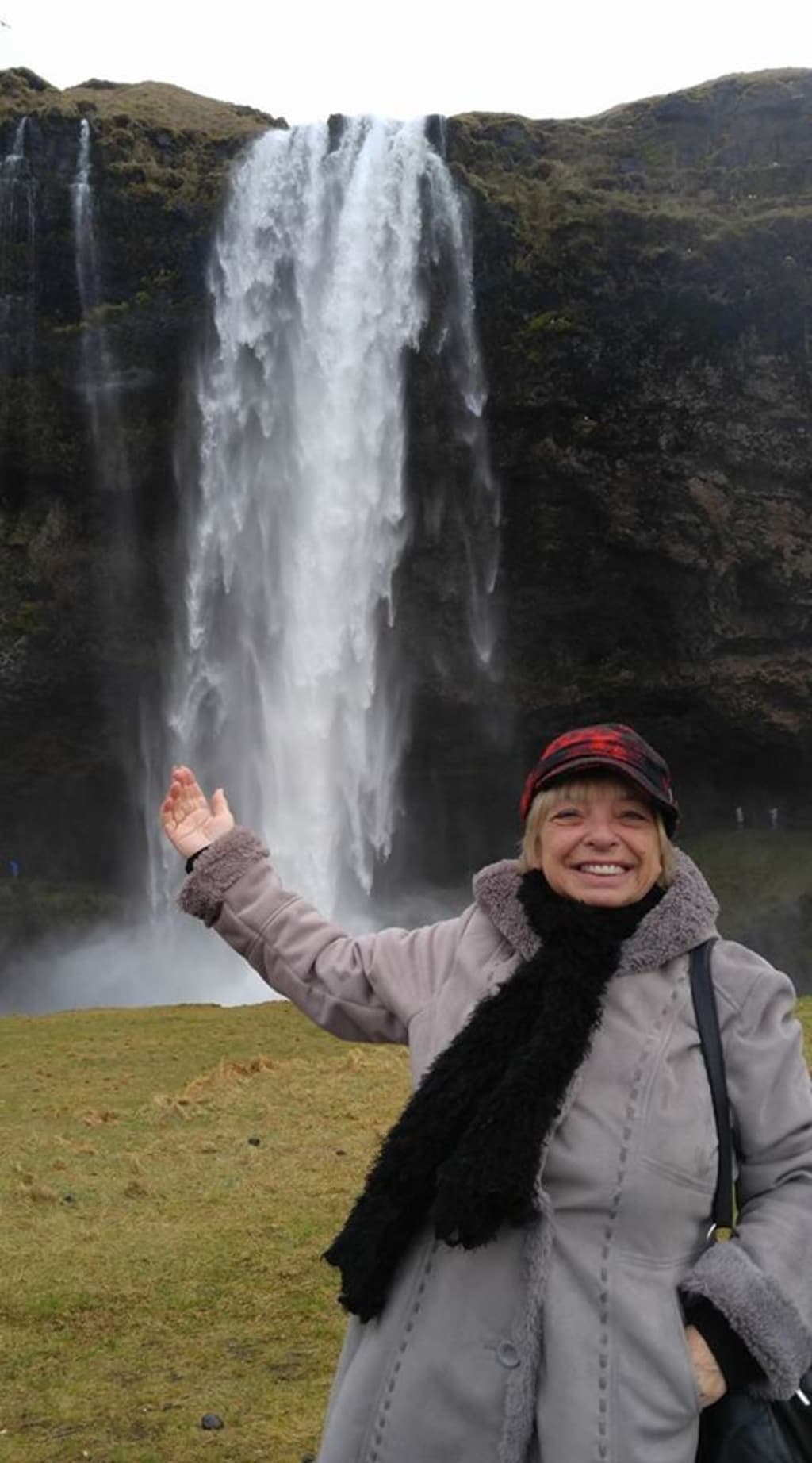 My solo travels have mostly taken me throughout North America; but this last trip stretched my independence and my endurance. I was originally intrigued when several months ago I saw an online mention of airfare to Reykjavik from Los Angeles for $200. Wow, I cannot fly anywhere in the US for that price, so I made a mental note. Of course, by the time I had decided that I would venture to Iceland, the price had doubled; but it was still an unbelievable deal. I booked one week in Iceland at the Radisson Blu Saga Hotel including airfare for $1500.
Packing for this trip was a bit of a challenge. Los Angeles was a warm 75 degrees, and I thought I would look a little silly at the airport with my heavy fur lined suede coat and my ugh boots. I remembered the students I taught who wore ugh boots with booty shorts when the temperature was 90+, and they thought it looked cute. Well, forget the booty shorts; but I wore my boots and carried my jacket (made a great pillow). I was flying WOW airlines, which I had never heard of and I found It was a plane of impressive size –that sat over 300 passengers. This super budget airline charges $3.00 for a bottle of water and $12 for a sandwich – both of which were necessary on a 9-hour flight; other menu items as well as drinks are available for a (hefty) price. Tip: bring your own food. This is when I should have had a hint of prices to come.
Arriving in Reykjavik to a temperature of 25 degrees around 2pm, I purchased tickets for a "shuttle" to my hotel and boarded a standard sized bus, which I found out, was not taking me to my hotel but rather to the main bus station where we switched to a mini bus based on our hotel's location. FLYBus is the main transportation for shuttles, adventures and excursions, a pretty well run, but time-consuming, system for getting tourists to their destinations.
The Radisson Blu Saga hotel, known locally as Saga, is modern, clean, and very friendly. A few blocks from the center village and seaport marina of Reykjavik, it is in a great location. The Saga hosts a bar, free breakfast buffet, a lunch and dinner buffet and a small bar menu. Reasonably priced hotels are plentiful and the most popular are right in the center of the city. There are lots of churches, museums and art centers to explore, many within walking distance.
I was introduced to the extreme Icelandic prices on my very first night in the country. I am always excited to try new foods in new locales, so the buffet at the Saga seemed a good choice. $65.00!!! Now I am not a "food prude" regarding price or menu…it just seemed a little excessive…especially after I saw the array (or lack of) food choices. I have since learned that fruits and vegetables are rare in Iceland, most produce are grown in greenhouses and potatoes are one of few locally cultivated vegetables.
Seafood is plentiful, including fermented shark (hakari) and minke whale. Did not touch the hakari, which I discovered is shark fermented in urine; but I did try the minke whale and would never try it again. Mollusks and cod are ubiquitous and delicious. The most popular meat is lamb because most residents earn a living as farmers and during the summers, there are about 800,000 sheep on the island…an island with a population of 332,000 humans.
Ultimately, my love of food was diminished by choices and prices. I did not pay less than $65 for a dinner and most dinners are buffets (smorgasbords) so I could not walk in and order a salad. The famous Icelandic hot dog is good; but for $15, I think I can return to a good ole New York City Sabrett "dirty water dog".
Dining aside, it is the amazing landscape and topography of Iceland that make it a once in a lifetime adventure. I scheduled several excursions and all were worth the money. As anywhere else, most adventure tours are $100 and up and it is on these tours that I met and traveled with visitors from all over the world.
Together we visited glaciers, volcanoes, countless waterfalls, lava fields, wild horse pastures, wool factories, geysers, hot springs, churches, and searched for the ever-elusive Northern Lights. One could be entertained and amazed for days exploring Iceland. Extreme tours also available include snowmobiling, whale watching, horse riding, snorkeling, exploring ice caves, glaciers and breweries, as well as a specially designed "Game of Thrones" adventure.
My biggest disappointment was that I did not get to see the Northern Lights. The tour company expects that result occasionally and guarantees a free return search for two years. I ventured out three nights in a row and saw nothing. Be prepared for an hour-long bus ride at 10pm and then 3-4 hours watching the sky with about 400+ others. Bring warm clothes, a blanket, hot coffee or cocoa and of course your camera/phone.
In contrast, though the landscape and topography were impressive, my trip to the famous Blue Lagoon was the highlight of my trip. The geothermal waters generated from 6500 feet underground at a temperature of about 102 degrees has become a tourist destination since the early 90s. The blue water from a mix of silica, algae, and minerals, boasts countless health benefits and provides electricity for several surrounding communities. The entire pool of water regenerates itself every 40 hours, so it is very clean.
Entry prices vary from $55-95 per day and may include drinks and facials as well as rentals of towels, slippers, robes. Average tour to the Blue Lagoon including transportation and standard entry to the spa is $115.
As a single, senior female traveling alone, Iceland was a safe, friendly and exciting destination. There are many activities for every interest and ability. Be prepared for lots of walking, cold weather, amazing sights and exorbitant prices.
I have been told that I can see the Northern Lights from Washington state; I think next time I search, I will stay stateside.