Searching for the Old Star Wars Sets in Tunisia
If you're a dedicated follower, full of facts and figures about the Force, then you might already know that all the scenes set on Luke Skywalker's home planet of Tatooine were filmed on location in the deserts of south Tunisia.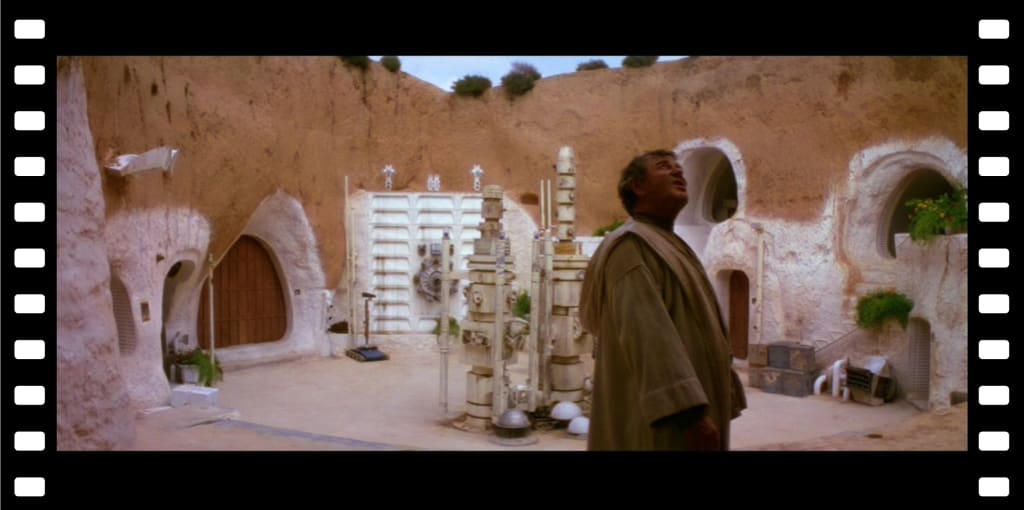 In addition to being a favourite film location for the likes of George Lucas, much of Monty Python's The Life of Brian was shot here, as was The English Patient. However, it's easy to see why this eerie, otherworldly landscape with its unique architecture and bizarre buildings could capture the imagination of a director looking to depict an arid, alien planet.
And this is the perfect time of year to visit. Not only is the temperature much more reasonable – it's still sunny, just not as hot or humid as the summer months, but the hotels, markets and tourist attractions aren't overcrowded with thousands of others all trying to do the same thing.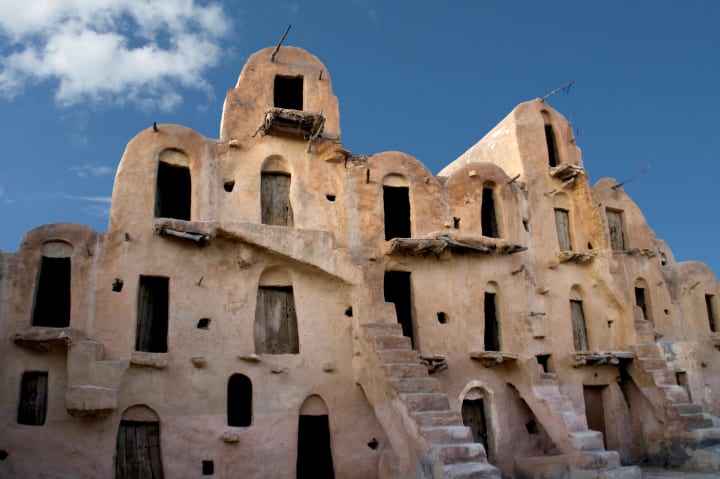 The numerous locations used for different scenes are dotted around the sands of the northern edge of the Sahara, some close together, others a few hours drive apart. But one of the most impressive is a place called Shubiel Gorge, or more commonly referred to as 'Star Wars Canyon'.
This particular site was used many times from different angles: this was where R2D2 was kidnapped by Jawas, where we were first introduced to Obi Wan Kenobi as he rescues the unconscious Luke Skywalker and even where we first set eyes upon the spectacle of Mos Eisley spaceport from the rocky peak. The entrance to the canyon is also where Luke and Obi Wan stumble upon the slaughtered Jawas and their shot-up sandcrawler, providing the imperial troops with the final link that ultimately leads them to the Lars family homestead.
George Lucas was such a fan of Shubiel Gorge that he filmed there again four years after Star Wars in Raiders of the Lost Ark, which he co-wrote and co-produced. The scene where Indiana Jones threatens to blow up the ark with a rocket launcher while it's being carried to the chosen site to be opened was filmed here.
A truly devoted fan armed with either an iPad or even printouts of screen-shots might be able to pinpoint the precise angle and spot from which these scenes were filmed. But even if you're not quite that obsessed it's still good fun.
The entrance of Shubiel Gorge is flanked at its highest point by the marabout (sacred tomb) of Sidi Bou Helal and it's located near the village of Kriz – also known as El Mahassen. There's no public transport out here, and there's a little off-road driving to do – so a four-wheel drive is recommended.
Exploring the canyon gives a genuine feeling of being somewhere totally barren and bereft of any vegetation or even civilization. The only reminder of the western world here is the occasional pile of trash disappointingly left behind, in a small cave or cavity by previous, less environmentally conscious Star Wars fans on a similar pilgrimage.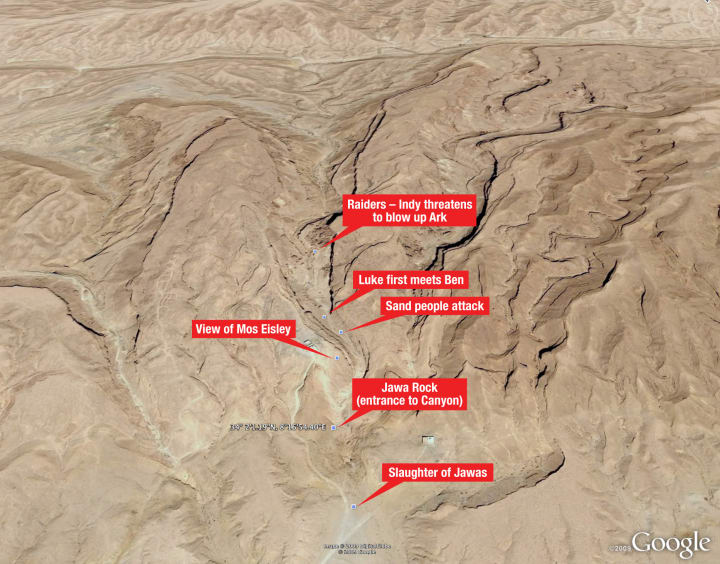 The eerie and overwhelming silence may only be punctuated by the distant cow bell-like sounds of a goat herder leisurely ushering his minimal gathering through the rocky pass. Should this happen, you'll more than likely find yourself with a tour guide whether you like it or not. Unlike most tour guides however, this one doesn't offer any insightful information or answer questions, in fact he won't speak a word of English, except, "Ah, starwars" and for the most part he'll just saunter along with you. So, more of an accompaniment than a guide, but in his eyes he's providing an invaluable service…and hoping to supplement his meagre income at the same time. Bless.
George Lucas was clearly influenced by this people and places of this arid land when he made his first Star Wars film. Not only is there actually a town called Tatauine, but many other villages found here share similar names to locations within the sci-fi saga. You might also notice as you drive through pockets of primitive settlements, after the sun has set and the temperature drops a little, that many locals dress themselves in a hooded cloak-of-sorts that bears an uncanny resemblance to those worn by Jedi knights.
From Shubiel Gorge it's only a short drive to across the fringe of the desert to the set of Mos Espa, near the salt flat Chott el Gharsa, along an isolated sand road. Here is what's left of a set used in the filming of The Phantom Menace. Standing alone and abandoned in the desert sands, it's a curious combination of fibreglass, plywood and old pipes. The igloo-like buildings are now filled with the discarded rubbish from previous visitors and the surging CGI crowds are replaced with a shuffling sea of Bedouin salesmen offering stuffed camels and strange-looking souvenirs.
A few miles northwest of Tataouine, lies the rural town of Ksar Hadada, an ancient Berber village. Within this settlement is an odd and uniquely shaped structure called a ksar, which is a fortified grain store. It's now a hotel called Hotel Ksar Hadada and this provided the setting for slave quarters in the Star Wars prequels.
Driving down to Matmata only takes a few hours and here you'll find the Hotel Sidi Driss, the sunken courtyard of which was the set used for Luke's childhood home. Much of this set still remains intact from the late 1970s and within this troglodyte dwelling is a labyrinth of passageways and sunken rooms. You can enjoy a beer or a coffee and even sit at the same table where Luke and Uncle Owen talked about "staying on one more season". Accommodation here starts as little as $20, although it is pretty basic.
The locals will try to offer any assistance they can, however, be prepared to be hassled by them. They mean no harm, but they can and will cross the line of personal space in an effort to try and sell you just about anything, from trashy trinkets to tours of the town. As you drive through the smaller villages, local children will actually try and flag your car down to sell you items or ask for money.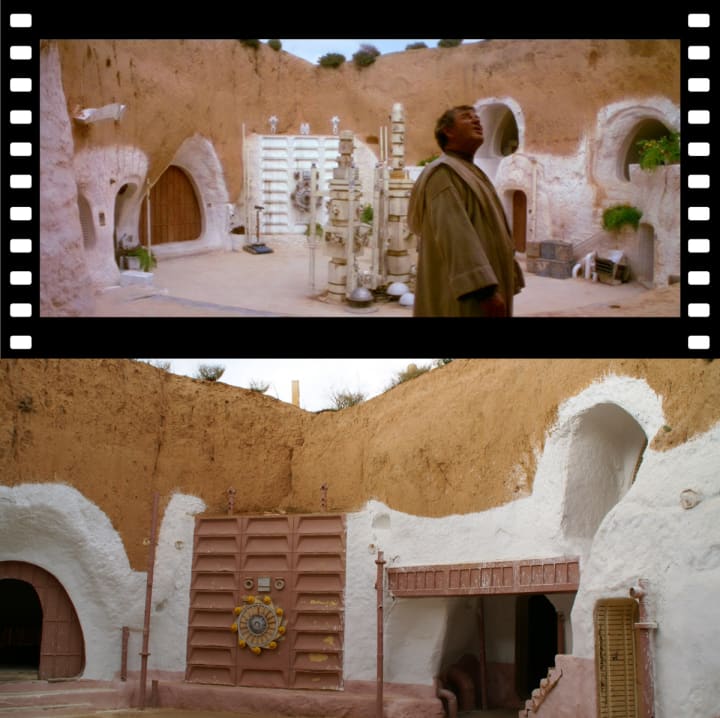 Most of the old sets are in semi-dilapidated state of disrepair, but considering they are over 30 years old, minimal maintenance still means they are recognizable to the most dedicated of Star Wars disciples. This fleeting claim to fame really represents the entire tourism industry for this removed region of the country and upon the sight of visiting westerners, the locals jump at the opportunity to capitalize on their small, but significant contribution to cinema history.
Hotel El Mouradi in the settlement of Douz and is a good base for exploring the Star Wars sets. Double rooms are available from $85, including bed and breakfast. Alternatively, Hotel Diar el Barbar is about 1.5km up the Douz road in Matmata and is the nicest hotel in the area. It includes panoramic views of the desert and an outdoor pool. Prices are very reasonable, but vary slightly on season.
The Tatooine Star Wars experience can be enjoyed as a dedicated short break or incorporated into exploring more of this North African country. The bigger cities, including the capital Tunis, are scattered along the south eastern coast and the desert region where the old sets are located can be reached from here in around seven hours drive. Of course, this option also offers the chance to take in Tunisia in its most rural state.