Seal, Berries, and Uushuqs
An Arctic Boating Experience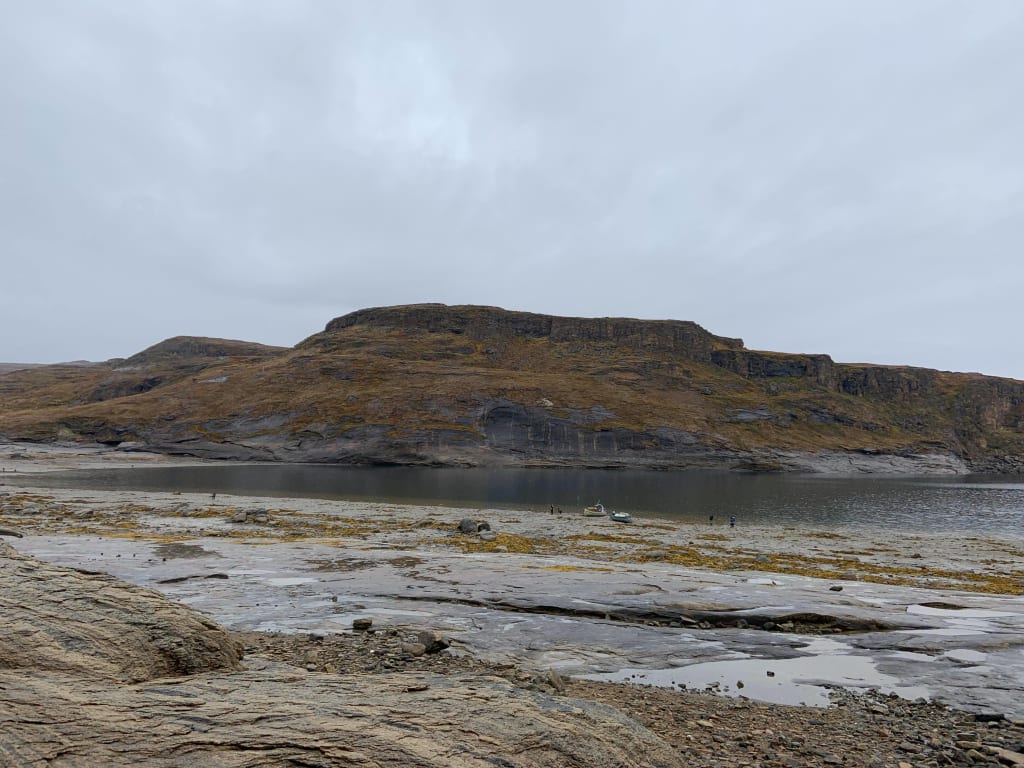 September 2019 near Kimmirut, Nunavut
Before you decide if you're ready to test these waters, you might be asking yourself this question:
What the heck is Uushuqs?
Well, for your entertainment along with everyone else's, it's a penis. Or a clam. Basically, a clam that looks like a penis. And yes, you do eat it.
But before I show you the picture that you're possibly giggling about (clam penises), I have to tell you a little story about the time I went boating with some cool people in the Arctic.
Getting Ready
I received a text from my student's mom on Friday evening that I would be picked up around 6am the next day to go seal hunting. Unsure of what to pack, I simply asked.
"Pack some snacks"
That seemed pretty basic, but what did I know?
So, come Saturday morning, I grabbed a few granola bars, some jerky, and water. I also brought along a lighter because you never know when you might need fire. Also, I found it quite chivalrous to offer a light to those who need. I dressed in a semi-warm hoodie, jacket, snow pants, crocheted hat, my big ass clunky ugly boots, and my seal skin mitts. I figured it wouldn't be too cold so early in September.
Wrong.
Anyways, I had never gone boating like this before, unsure of literally everything that was going to happen. Nonetheless, I was excited to go seal hunting even though I had never actually seen a seal (alive) in person. I also had never fired a gun, let alone held one.
Getting into the boat was fun.
Remember those big ass clunky ugly boots? Lifesavers.
There of course was no dock nonsense. It was just rock, sand, water, grab a hand and get hauled into the boat. Luckily my boots were taller than the water level so I didn't get wet feet.
Then we were zooming off.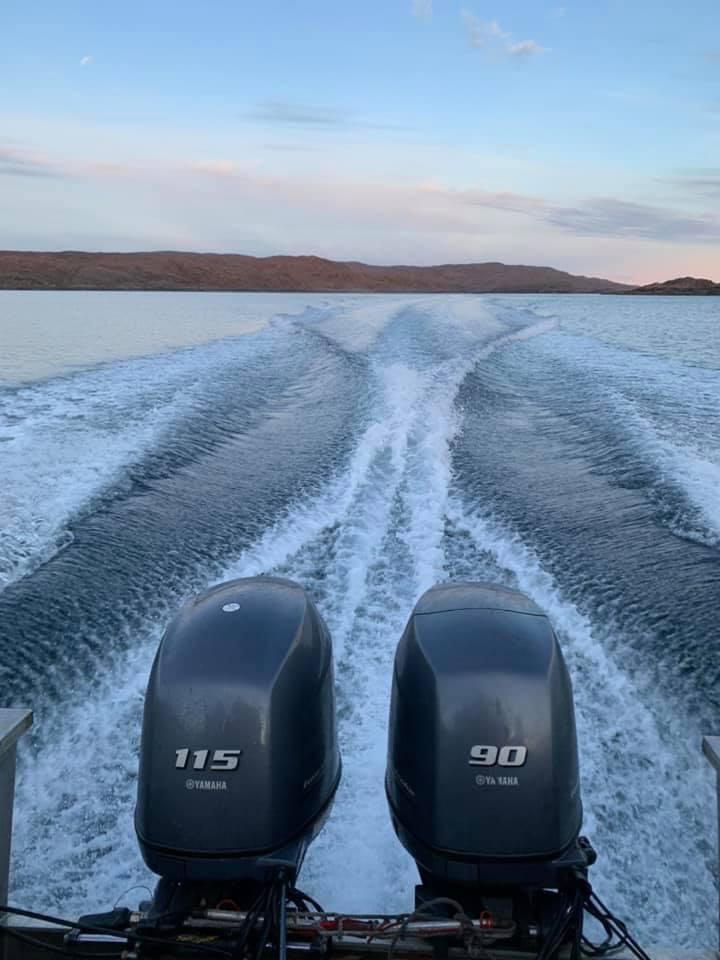 It's A Lot Colder Than I Thought (Shhh)
The water is truly magical, and I have always been drawn to it. We rode out into the open waters surrounded by mountains and beautiful sky. After about a half hour, we made a quick stop at a completely random patch of land that had one lonesome cabin. Someone had to pee.
We then started boating around some areas looking for seals. Nothing.
It wasn't too cold yet as we were still around areas that had land blocking some wind, but I was quite glad I had worn my seal skin mitts; waterproof and warm.
Some of the boaters wanted to be dropped off at another completely random (to me at least) area to go uushuq/clam digging and berry picking, so we headed in that direction. While approaching this "clam digging treasure island" someone spotted seal. I personally, had no idea what or where to even look. And suddenly someone asked me to pass over the rifle so they can take a shot.
As previously mentioned, I've never held a gun. It was heavier than I thought. Also, when the person set up to fire, I was right next to them. Furthermore, when they fired (and sadly missed the seal), I was right next to the rifle and a bit in shock. The shot was so loud! For those of you laughing, I'm glad you're smiling. I was too; at my naivety and excitement!
Anyways, the others soon got restless after the seals disappeared and we went to drop them off so they could go uushuq digging. When we hit land, some quickly joined another group already there digging in the sand, while others swiftly climbed the hills to gather crowberries. They're delicious in muffins.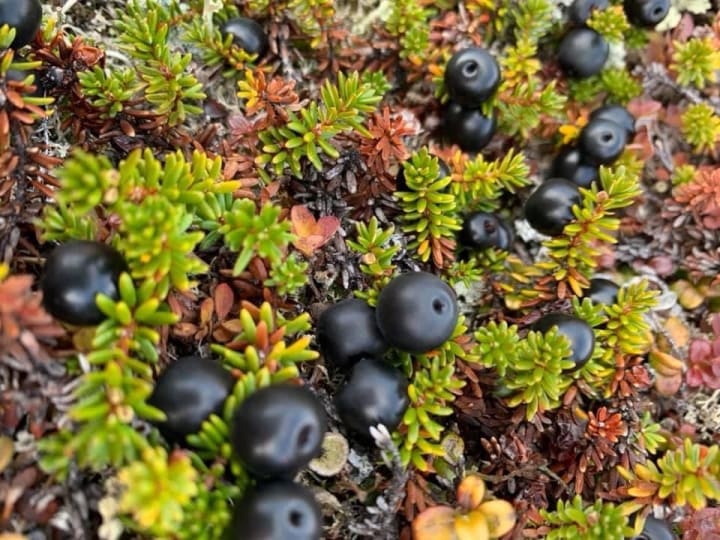 Out On the Open Waters
I was asked if I wanted to join the others on land, but no. I wanted to go seal hunting.
So, my student's mom and her cousin Sim (I believe), headed off in another generally random direction. But this time, we hit the vast open waters, past the seemingly endless mountains. Basically headed out towards the Hudson Strait for those with a map. It was stunning. I even saw my first iceberg up close. This lonesome iceberg in the "summertime" was massive. I was stunned by its starkness.
We sailed on in the icy waters of the arctic in search of seal. They knew what to look for, but I was busy being amazed at the beauty of it all. I was also kind of freezing... but you can't tell anyone that! I didn't want to be that qallunaq (white person/foreigner) that got cold and then wanted to go home. We had already been out for four or five hours, and it didn't seem like anyone was heading home soon. I was more than okay with that, I wanted to freeze out- I mean stay out, for as long as possible.
Sadly, the waters got too choppy, and we ended up heading back towards the berry/uushuq picking group. But the ride was an experience I won't ever forget. Good conversation, beautiful views, and a rush to remember!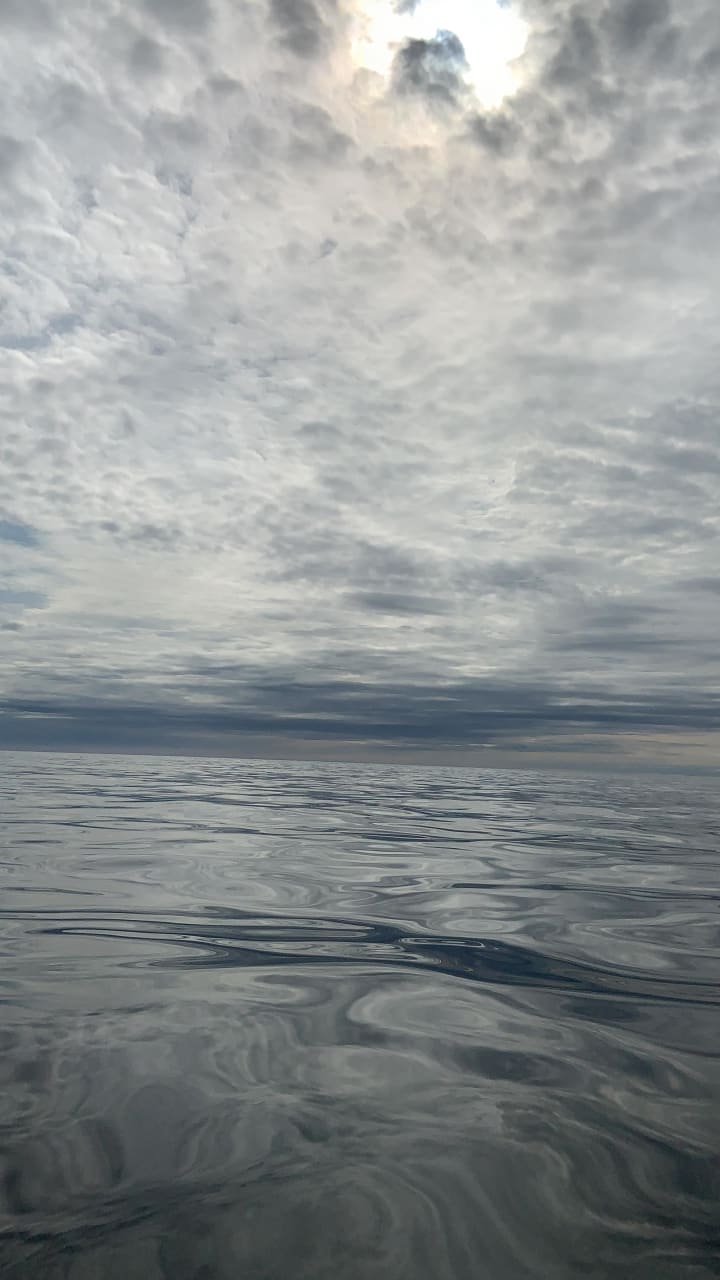 Uushuqs and Crowberries
After returning from the unsuccessful seal hunt, we settled on the shores where everyone was diggin' and pickin'. It was nice to see some familiar faces and meet some new ones. Everyone kept asking if I was cold, but I had adjusted. And now that we weren't sailing across choppy waters at decent speed, I wasn't as chilly. But it did start raining.
Did that stop anyone? Nope.
Everyone sort of went along with their own business, many were digging in the shores with their bare fingers or shovels, getting at as many clams as they could. And boy, did these clams look funny. There's a reason they're called uushuq- penis.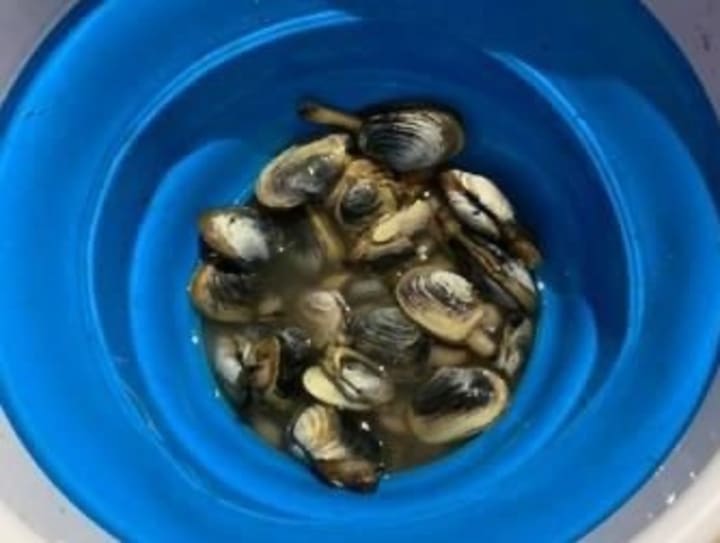 They're basically a nice fat clam with a squishy penis-looking part sticking out! You sort of crack them open, peel off the skin, or "clam condom" as we joked, and then eat the inside??
I'm not really too sure to be honest... they kind of prepped the clam for me because I didn't even know what to make of it! It was... weird tasting, not going to lie. But super funny.
I went berry picking instead of clam digging because I figured I'd eat more berries than clams anyways.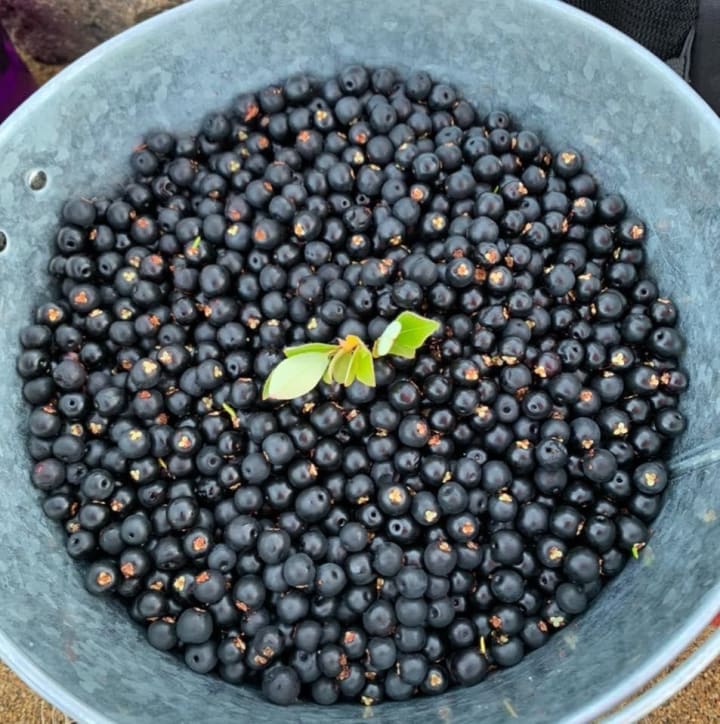 Berry picking was so peaceful.
I'm not sure how long we were on the land, but everyone was off in their own worlds. The rain was barely noticeable honestly. I was too focused on picking berries and admiring the beautiful rock formations. Most of the berries were the black crowberries, but there were also red ones, and the tiniest and sweetest blueberries. Those were harder to find, but totally worth it.
All I remember thinking, was that I was so calm and at peace. I don't remember thinking about any problems or things I had back home to do. It was pure serenity.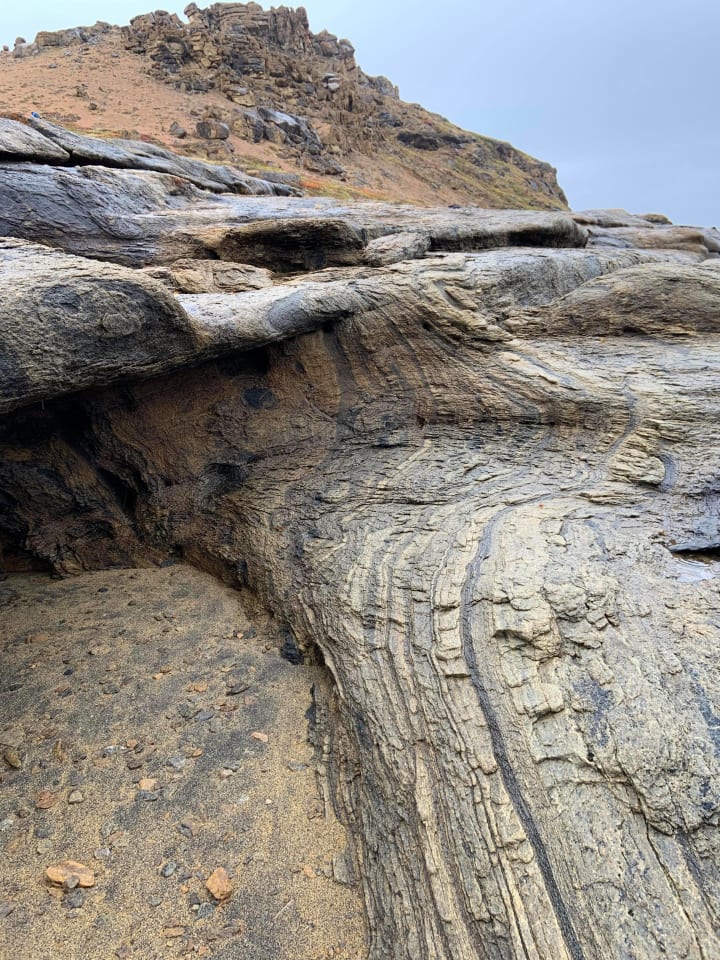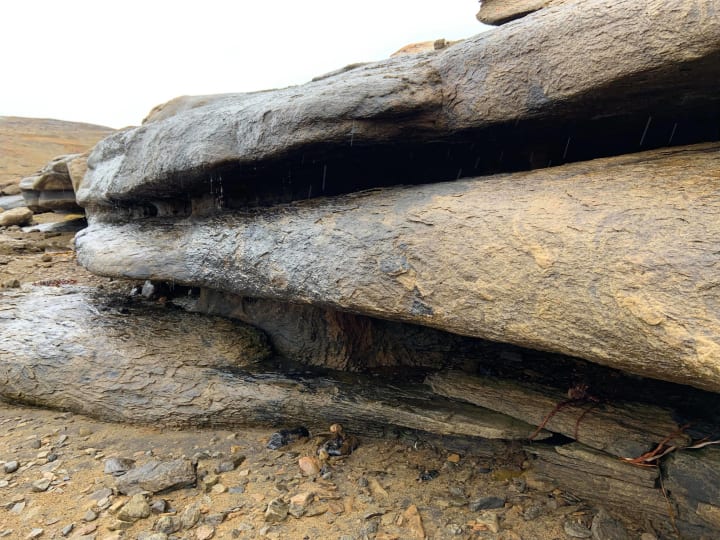 Home Time
I'd say it was probably around 3 or 4pm already, and we were getting ready to head home. It was raining a lot harder, and I was not so warm and peaceful anymore. My inner furnace was out of coal and I may have started to shiver a tad due to being damp from the rain. Damp clothes and a speeding boat ride, not the greatest combination.
Basically they had me hide in the little shelter in the boat right next to the Coleman stove that they lit for me (and to make hot tea). I did kind of feel bad that I couldn't sit out with everyone and chat, but I knew that heating my body up was priority. I may love the cold and have a high tolerance for it, but I also know when I need to make smarter choices about my health!
And soon enough, we were pulling up to the shore of town and were all dragging the boat back onto land. It was already creeping towards evening.
I was super excited and thankful for the incredible trip. And as we were all piling up the truck to head home, one of my students and his family had buckets full of Arctic Char that they were giving away! I got a nice sized fish, had my little container of berries, and we headed home.
I am forever grateful to the people who were part of that experience, and I don't think I'll ever forget the excitement, peacefulness, and beauty that I experienced that day.
ᓇᑯᕐᒦᒃ / Nakurmiiq / Thank you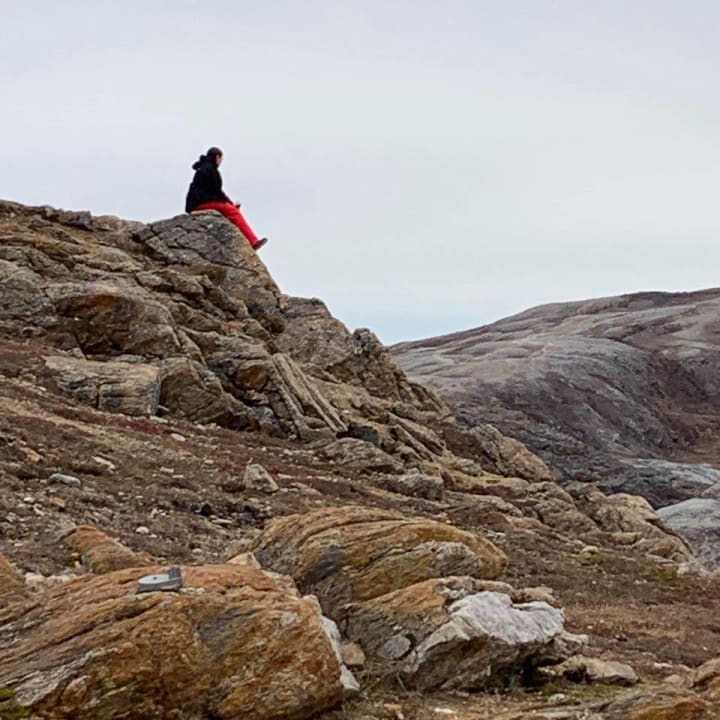 Reader insights
Outstanding
Excellent work. Looking forward to reading more!
Top insights
Expert insights and opinions

Arguments were carefully researched and presented

Eye opening

Niche topic & fresh perspectives

On-point and relevant

Writing reflected the title & theme
Compelling and original writing

Creative use of language & vocab

Masterful proofreading

Zero grammar & spelling mistakes

Easy to read and follow

Well-structured & engaging content

Excellent storytelling

Original narrative & well developed characters
Add your insights