Scilly: Britain's Mediterranean-like isles steeped in myth
This remote 145-island archipelago is always sunny, lapped by azure water and rumoured to be where King Arthur is buried.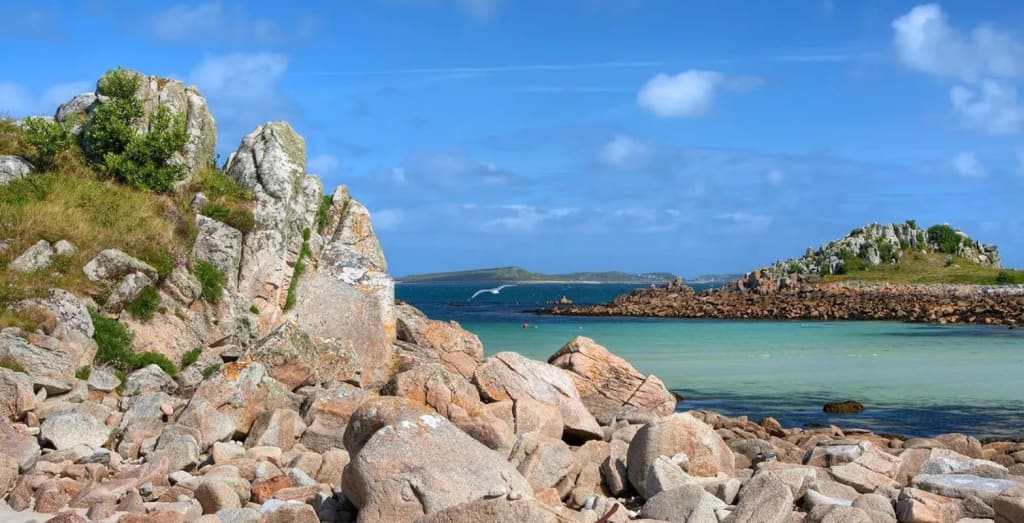 (Image credit: Andy Roland/Getty Images)
The mere mention of King Arthur makes most people think of Guinevere, Lancelot and the sword in the stone. But what about the Isles of Scilly? This cluster of islands 28 miles off Cornwall's tip is where some believe the legendary British king is buried, on the site of his final battle with Mordred in the 6th Century. That was in the mythical land of Lyonesse – a flooded country stretching west from Cornwall whose submerged peaks are believed by some to be the Isles of Scilly.
Scilly is an otherworldly, offbeat place
Indeed there are tombs on the islands that date back millennia, and these once-lavish chambers would have been more than fitting for a fabled chieftain. But the likelihood Arthur ever lay in them (if he even existed) is very small. In fact, the legend yoking him to Scilly is much more recent – it's the work of Alfred Lord Tennyson. The Victorian poet visited the islands on holiday with friends and was so smitten with the landscape, which he thought evocative of a simpler, pre-industrial time, that he co-opted the archipelago as a romantic backdrop when he dashed off his tribute to Arthur, Idylls of the King. This blockbuster piece of populist poetry brought the idea of Lyonesse to wider audiences, while simultaneously cementing its association with Scilly.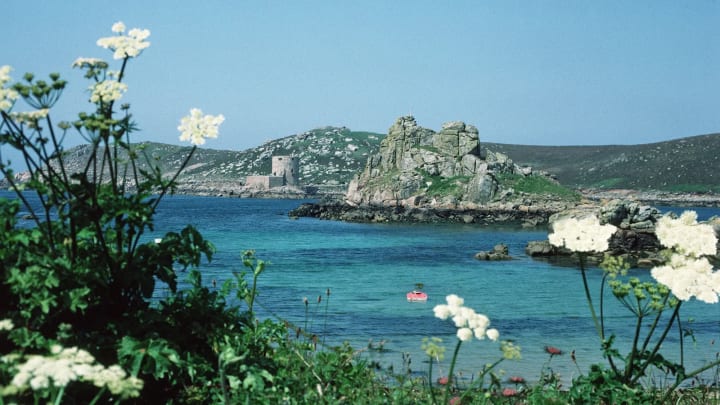 Frankly, it's a shame to know those stories are likely nonsense as you arrive in Scilly. Flying in, the 145-island archipelago resembles dribbles of pancake batter flicked haphazardly onto a hot pan – or in this case, the sea. The tiny, oddly shaped islands shimmer into view almost unexpectedly, hovering on the edge of the modern world, like a real-life Brigadoon. Indeed, ask most Britons about them, and they'll pause slightly, puzzled, before a flicker of recognition and a smile, much as you would remembering a distant relative you wish you knew better. And with good reason: Scilly is an otherworldly, offbeat place, somewhere it's easy to imagine, as Tennyson did, King Arthur roaming the hills.
Strolling around Scilly after landing at the airport is like stepping into not-quite Britain
Strolling around Scilly after landing at the airport is like stepping into not-quite Britain. Just five of its islands are now inhabited, though you'll spot relics of former settlements on several others. Outside one store there's a chalkboard on which the high tides and wind directions for the day are scrawled; after all, locals commute between islands by boat and need to plan ahead so they're not marooned by the tides. Most of the houses are small, neat old fishermen's cottages with tidy hedges in the front garden – not boxwood or yew, though, but supersized succulents that thrive, Triffid-style, thanks to the Mediterranean-like weather here. On Scilly, it's as if the rules and laws of the rest of the UK seem not to apply, or at least only with an asterisk or two.
That's certainly what Colin Taylor found when he moved here to be a policeman. Taylor stayed for almost a decade and wrote a memoir documenting his experiences, The Life of a Scilly Sergeant. In it, he wrote about run-ins with burglars who left fried eggs as their calling card, or a short-sighted horse that was wrecking local cars. Taylor discovered the islands much as Tennyson did, when he decided to visit on his honeymoon.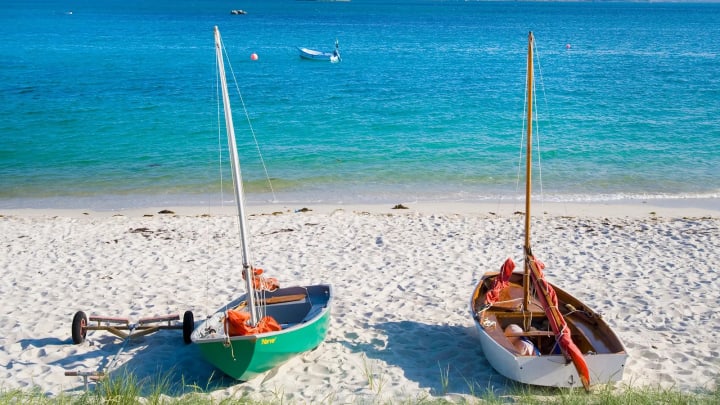 "I said, 'Let's go and find this mythical place which is Scilly'," Taylor told me. Quickly smitten with the quirky way of life, he moved here – only to find himself in an unexpected position: several close encounters with Prince Charles, when the heir apparent flew into the islands and Taylor formed part of the team tasked with guiding and protecting him.
Scilly – call it that, or the Isles of Scilly, but never the Scillies, or the locals will scoff – is part of the Duchy of Cornwall, a centuries-old fiefdom currently under the stewardship of the Prince of Wales. The Duchy supplies Charles with much of his personal income; in 2020, that was £22.2m. Those earnings include rents from almost every hectare of Scilly. Aside from a small patch of Hugh Town, the capital on the main island of St Mary's, a significant percentage of residents don't own their house outright, but rather rent or lease it from the Prince. To move, these people must petition the Duchy, explaining why they need more space, then wait patiently until a potential new home becomes vacant and is offered to them.
The locals, even in Hugh Town, don't bristle at the system, though. Mention Prince Charles to most and they'll shift slightly, lips tightening, ready to defend him against outsiders.
"People might say 'Bloody Duchy!'," newsagent and newspaper publisher Clive Mumford told me, sitting in his book-strewn study on the main street. "But I look at it differently. If all land and property was freehold, the whole place would be wrecked overnight. It's anachronistic, but it's a buffer against overdevelopment."
The fondness is mutual: Prince Charles visits most years and brought Princess Diana here several times, including a memorable visit with their young sons in 1989. Locals will still proudly tell you that paparazzi who hired boats to spy on the family found themselves taken out to the wrong islands by protective fishermen. This summer, when the pandemic nudged the Duke and Duchess of Cambridge to holiday domestically with their kids, they chose to return with their own children. William and Kate didn't stay at Charles' private home on St Mary's, though – Tamarisk, a cottage that is now available for rent via the Duchy – but rather at another of the Scillonian houses booked for the prince's personal use on a different island: Tresco.
Scilly has startling communalities to the Galapagos Islands
Tresco is yet another Scillonian anomaly. Rather than a single house, the entire island is on long-term lease from the Duchy to an aristocratic British family. They first took it over in the 1830s when the ancestor of the current leaseholder, Robert Dorrien-Smith, came here with a fortune and a mind to transform what was then one of the poorest corners of the British Isles.
"He was a philanthropist, and he was looking for somewhere he could try out an experiment, mainly with education, and wanted to find a community where he could rule it," said Richard Larn, the islands' foremost historian who also leads tours around the islands. That do-gooder, Augustus Smith, funded universal schooling for children up to age 11 on the islands – a first in England.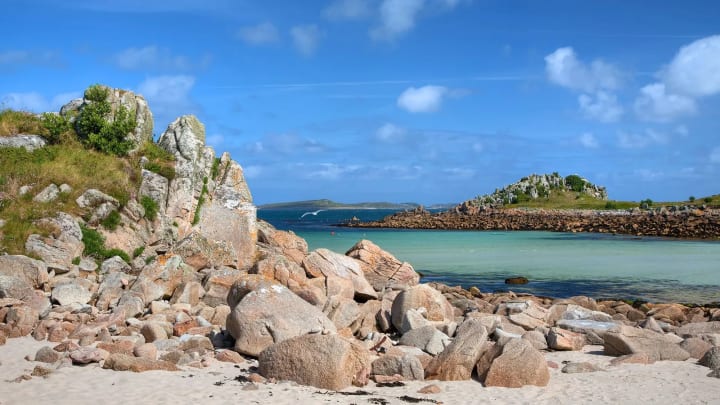 Smith had other interests, too, in particular gardening. Because Scilly's flora and fauna are cut off from the mainland, it has startling communalities to the Galapagos Islands, more than 6,000 miles away. The archipelago's isolatation has historically kept invasive animals, plants and even infections from disrupting the islands' equilibrium. (Indeed, the archipelago remained Covid-19-free until late September, when it detected its first – and so far only – non-lethal case). The highly endangered Scilly bee remains free from any of the viruses that threaten bee survival elsewhere and is one of several endemic species on the archipelago, such as the Scilly shrew (a sub-species of the lesser white-toothed shrew, thanks to its darker fur and unusual beach habitat, it's now often lumped in with that overall group). Native British red squirrels, which have largely been elbowed out by imported greys on the mainland, have a haven on Tresco, too.
"There are no predators, so they're quite tame," said head gardener Andrew Lawson as he stood in the middle of the Tresco Abbey Garden, surveying it proudly. The 17-acre oasis has been Lawson's turf for more than 30 years, and he works closely with the Dorrien-Smith family to maintain this ecological Eden of 20,000 plants from more than 80 countries.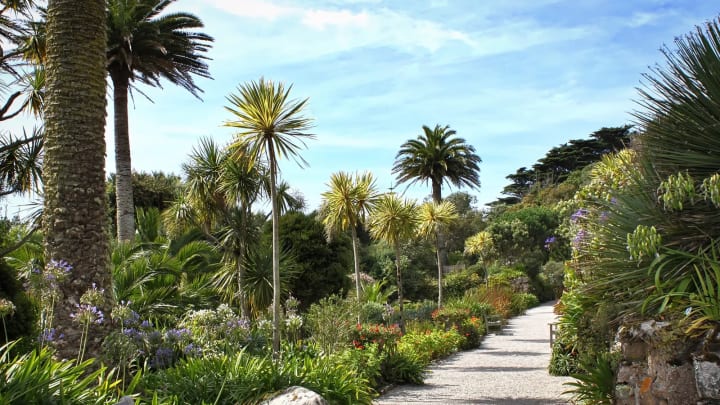 Lawson is tanned from those decades spent outdoors, his face lined from the sun – an unexpected danger in the UK, perhaps. But Scilly's weather is also quirky: relentlessly, un-Britishly sunny, it averages 7.6 hours of sunshine per day in July, almost two hours more than London. The weather pattern is the result of the warming winds that cause the North Atlantic Drift. This is the reason why Mediterranean-type plants are able to thrive on Scilly, but it also ensures that it's rarely frosty in winter – a boon for the Tresco Abbey Garden. If only this wind pattern had an effect on the waters here too; though bright blue and pollution free, pause before plunging in. Even on a hot summer day, expect them to be bracing, as they rush in from the Atlantic and remain ice-cold year-round as a result.
The weather, of course, has helped burnish the islands' reputation as a tourist spot; it also provided the archipelago's main industry before tourism boomed in the last few decades. Back in the late 19th Century, an enterprising local farmer sent some narcissus flowers to a London market in early spring – see, he said, how much sooner flowers bloom in Scilly. There was a frenzied positive reaction, which helped flower farms and bulbs became the islands' core industry for several decades. Even now, after globalisation upended the economics of that business, there are around two dozen flower farms still in operation – most of them on St Marys and a few on the northernmost inhabited island, St Martin's. Walk around St Martin's in the spring, as I did, and you'll see wildflowers peeking through the grassy slopes.
Close to St Martin's are the uninhabited Eastern Isles. Excavations have revealed that Britons called this tiny cluster of islets home in the Bronze and Iron Ages, and a Roman shrine has even been unearthed here, showing the length of habitation. Back then, though, these islets would have been far larger and likely connected to most of the other landmasses – much of what's now Scilly would have been a single, unnamed island in prehistoric times. They were separated only as sea levels rose; indeed, the harbour on the main island of St Mary's came into use after the waters rose again in the 1550s and made it viable for shipping.
Even now, during low tides, you can wade between several of the islands. Seeing that, it's easy to see how Tennyson was inspired to suggest Scilly was once Lyonesse as Taylor explained to me.
"On a really, really low tide, you can see for miles and miles, including all the jagged rocks and peaks that would normally be under the weather and the field systems and walls that vanished when they flooded," he said, "It's just like you've revealed an Arthurian, legendary world."
Reader insights
Be the first to share your insights about this piece.
Add your insights