Road Tripping Portugal
A Short Tour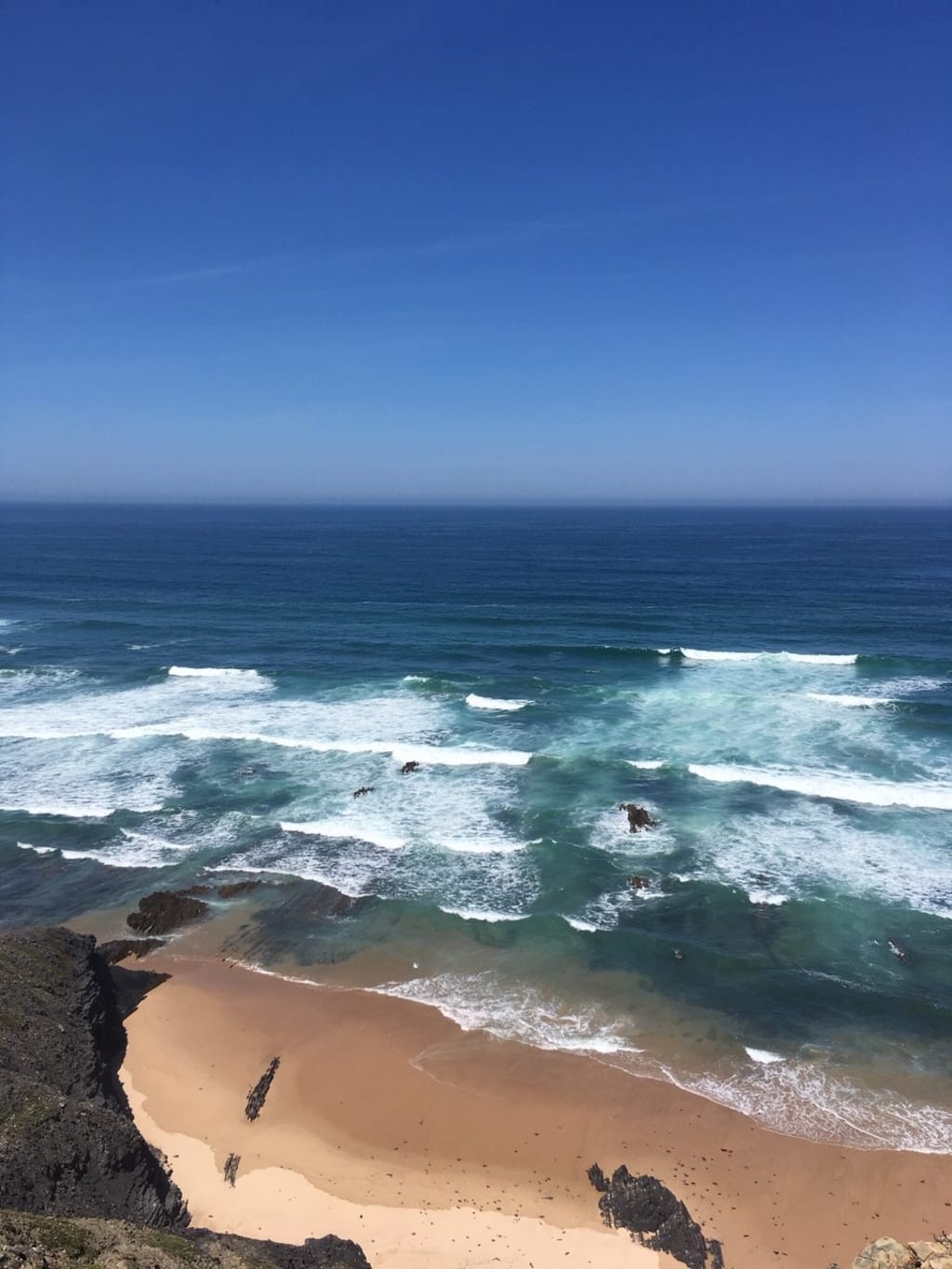 One country. Two weeks. Four friends.
So, three friends and I decided to road trip the coast of Portugal on our way to a girls holiday in Ibiza, we set off from Lisbon and left Portugal at La Raya—the Portuguese / Spanish border.
I only had one night and one day to explore Lisbon (which by the way is no where near enough time). During the night we visited the Bairro Alto area, also known as the party district—the land of four euro Mojitos, hen parties, stag dos, and music. If you fancy a drink and a boogie then this is the district for you, it's busy everyday of the week and is waiting for you!
During the day my friends gave me a mini walking tour of Lisbon, this consisted of visiting a pop up art gallery, viewing some of Lisbon's finest graffiti, downing a chocolate liqueur shot (apparently they're very popular all over Lisbon), and ducking in and out of various one off trendy shops. Lisbon would be the perfect city break with there being so many things to do and see, I'll most definitely be going back soon!
It may be worth mentioning we were trying to do this trip on a budget, so we only ever camped or stayed in hostels.
After leaving Lisbon we headed south bound towards Grandola and found a cheap little campsite called Camping Gale next to a beach. The campsite itself was beautiful, in the middle of a pine forest, which meant it was perfect to hang out our hammock! The following two days were spent lounging on the neighboring beach and getting severely sunburnt so I can't speak for much of the area itself—the beach however is quiet with golden sand and sea that is the most beautiful shade of blue.
Next, we drove down through Odeceixe, here we found a huge beach with hidden river behind the sand dunes, a perfect spot to go looking for crabs and fish. The river itself is so shallow you can walk for miles down it without the fear of going further than waist deep. We then drove through Aljezur, stopping only to pick some oranges and then continued down to Sagres—a town famous for surfing.
In Sagres we stayed at a hostel called the Funky Monkey and managed to bag a little caravan to sleep in, a welcomed change from camping. As we didn't get into Sagres until the evening we decided to treat ourselves and ordered a pizza from Bossa Nova, I have to say it was bloody tasty! The combo of a yummy pizza and a great nights sleep on a bed left me feeling awake and re-freshened the following morning, this was just as well as we joined the daily 9AM yoga class on the roof! Whilst in Sagres we of course had to give surfing a go, so we hired some boards for the afternoon and gave it our best shot, I can now see why the town is so great for surfers—even on a "calm" day I found the waters pretty hectic so for any pro surfer the beaches must be a dream!
After several days in Sagres we hit the road again, this time heading for Lagos, I was very excited about visiting Lagos I had heard good things about the place and heard the nightlife was meant to be great. We set up camp in Camp Trindade, a conveniently placed campsite in the center of the town, I recommend this campsite to anyone that cares more about location than anything else. The camping grounds looked pretty rough and there were clearly a lot of drug deals happening in our neighboring shacks, but if you can look past this the location is great and there are loads of friendly camp dogs! My hunch about Lagos had been correct, it was a great town and probably my favourite place on the road trip! We actually arrived whilst they were hosting their annual medieval festival, which consisted of lots of little stalls, selling everything from food to incense sticks, to daggers—something for all the family! Naturally, we tried out the nightlife and I have to say I really enjoyed it, we visited several bars and ended in a club, and although I don't remember much of the night the bits I do remember and the people I remember meeting were great—I'd love to go back there in the future!
Our big activity for Lagos was sea kayaking, we booked in our spots and off we went! I imagined a kind of relaxed kayaking trip among the little hidden beaches and enjoying the scenery... oh no, how I was wrong! By the end of the three hour tour my arms were pulsating and I'd gained some blisters on my hands, it was however all worth it. It was great fun trying to navigate around all the rocks and under natural rock arches. At one point Tansy and I even got stranded on a beach and had to get a helping hand from a kind stranger to get us back into the water again! When we did eventually stop we were given the opportunity to do some snorkeling which was great fun, we didn't see anything too exotic, but it was pretty cool seeing some shoals of fish. The kayaking costs between 25 and 30 euros generally, but it may be worth looking online at the different ones to see what suits you best.
A sad goodbye was said to Lagos before we moved on through Loule to Faro. For a bit of context, before flying to Lisbon to start the roadtrip I was actually in Loule volunteering at a dog shelter called Animal Rescue Algarve, so as we were passing through the town we decided to drop into the shelter and do some dog walking for the afternoon. The shelter is a truly wonderful place and holds just over 80 dogs, if you ever find yourself in the Algarve then I really recommend going and doing some dog walking for the afternoon, it's a free and feel good activity (and the puppies are always super cute!). We reached Faro later that afternoon and checked into Well'Come! to Algarve Hostel, a cute little hostel tucked away in one of the main streets of Faro—with the average price of 11 euros a night you can't really complain.
We set off out in search of food, this was the first time treating ourselves to nice food and beds since Lagos, so the choice of restaurant was very important. Faro does seem to have its fair share of restaurants, so whatever cuisine you fancy you should be able to find here. We ended up in Hamburgueria, this is a burger joint found across Portugal and I'd had the pleasure of eating at one in Loule several weeks before, the place offers a great selection of burgers with a vegetarian choice of course. If you're looking for a quick, easy and fairly cheap meal this is definitely the place for you, the burgers are tasty and come with chips and dip (the dip is to die for I'm in love it with it!). Following our meal we decided to try and find some bars and perhaps even a nightclub, but sadly the nightlife in Faro isn't particularly great, or at least it wasn't when we were there—this may however have been because we were there out of season. Before we knew it we were back at the hostel and fast asleep, ready to move to our last spot in Portugal.
Our last stop was in Monte Gordo, around 15km from the border, we camped in a placed called Parque de Campismo Municipal. The following day we packed up camp and tried to decide on one final activity before leaving the country, we turned to Google for advice and thankfully it paid off well. We ended up going to a waterfall / lagoon in Tavira and words can't describe the beauty of it. The waterfall had dried up, but the lagoon was very much still there, the was water a beautiful blue/green colour with lots of little fish swimming around in it, a huge rope swing dangling from one of the nearby trees waiting for any daredevils to give it a go. It was picturesque, situated in the middle of a forest, the water surrounded by greenery—the other great thing about the place was that it wasn't overcrowded, there were exactly the right amount of people there, meaning no one was fighting for a go on the rope swing, the lagoon remained pretty empty and the entire place still had a beautiful serene feel to it.
That evening we crossed the border into Spain and said goodbye to Portugal, a truly beautiful country. I can't wait to go back one day.