Road trip to San Francisco during the Covid-19 lockdown
What was it like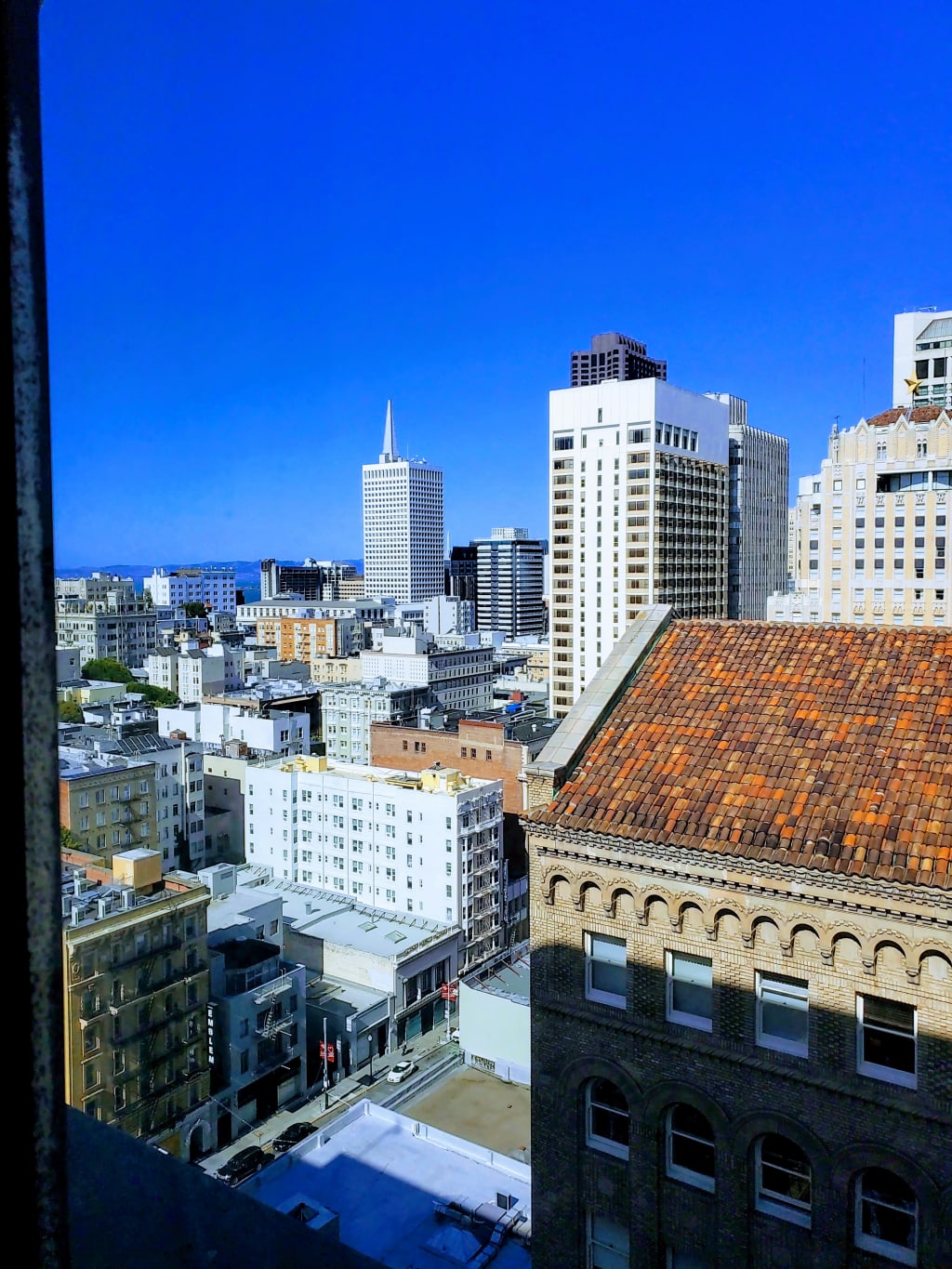 View from the hotel
I never thought I would ever feel nervous about taking a road trip to San Francisco and what it would be like to stay in a hotel during this time. There were a few reasons for this trip and valid reasons. How do you prepare for a trip like this? In the first step, don't forget the mask and sanitizers!
Our first stop was at a rest stop. You would think with the social distancing and wear a mask would apply at a rest stop. About half the people there were either wearing a mask or not. Thank goodness I was only there for a quick stop and we were on the road again.
The next stop was Harris Ranch BBQ for food and gas. This place has good food. The area has stickers for social distancing, but again, it is another place where some people are wearing masks. I got a hot dog while my mom got the tri-tip sandwich. Both sandwiches were amazingly delicious. Thank goodness there were picnic benches under trees spread apart—perfect spot to eat our lunch. The only problem it was windy, so for someone with allergies, it doesn't go well.
Of course, we had to get gas—one of the other reasons we like stopping here. The gas station is on-site. While pumping for gas, I saw a sign I can get 3 lbs of mandarin oranges when you purchase 10 gallons of gas. With the long trip, I already knew I'd be getting more than 10 gallons. I turned in my receipt for 3 lbs of mandarin oranges. It was worth the effort. They were delicious.
Before heading into San Francisco, we checked a developing town, Pleasanton. It's about an hour away from San Francisco. You can tell it's a newly developed area. I actually wouldn't mind living there. The town has enough places to hang out with a lax vibe. At least that's what it appears. The best part, it doesn't look too congested.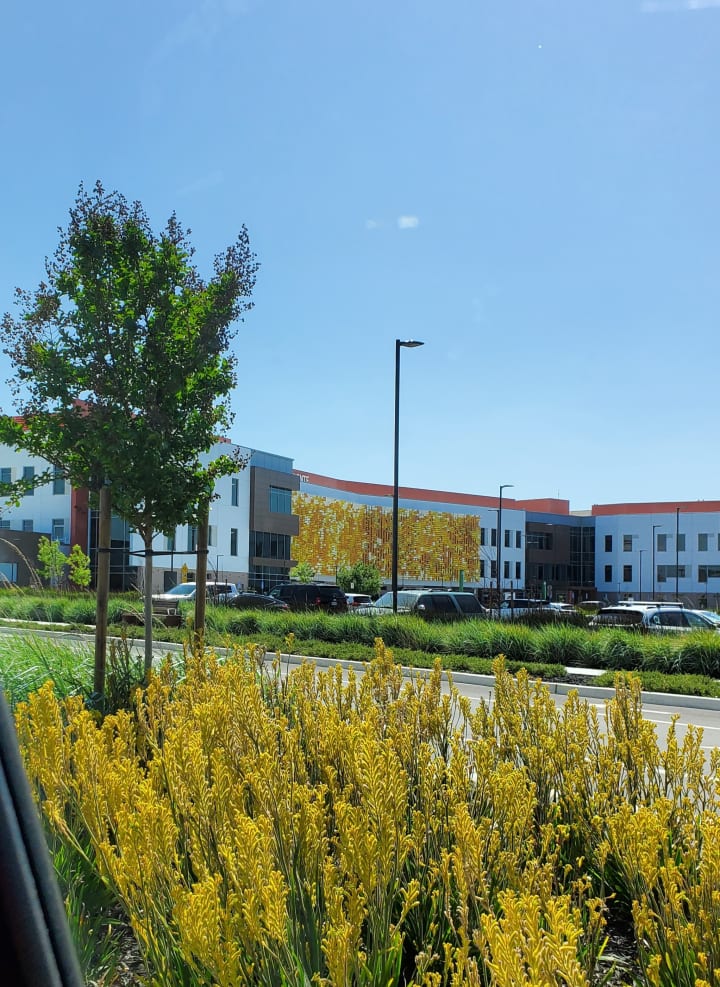 Upon arriving in San Francisco, the traveling time to get there was quicker than usual. There were fewer cars than average. So our timing to get there was pleasant and less stressful.
The streets on a Friday afternoon usually are bustling in San Francisco. When we arrived, there were a few cars and people on the road. It felt like we arrived in a small town and not the middle of San Francisco.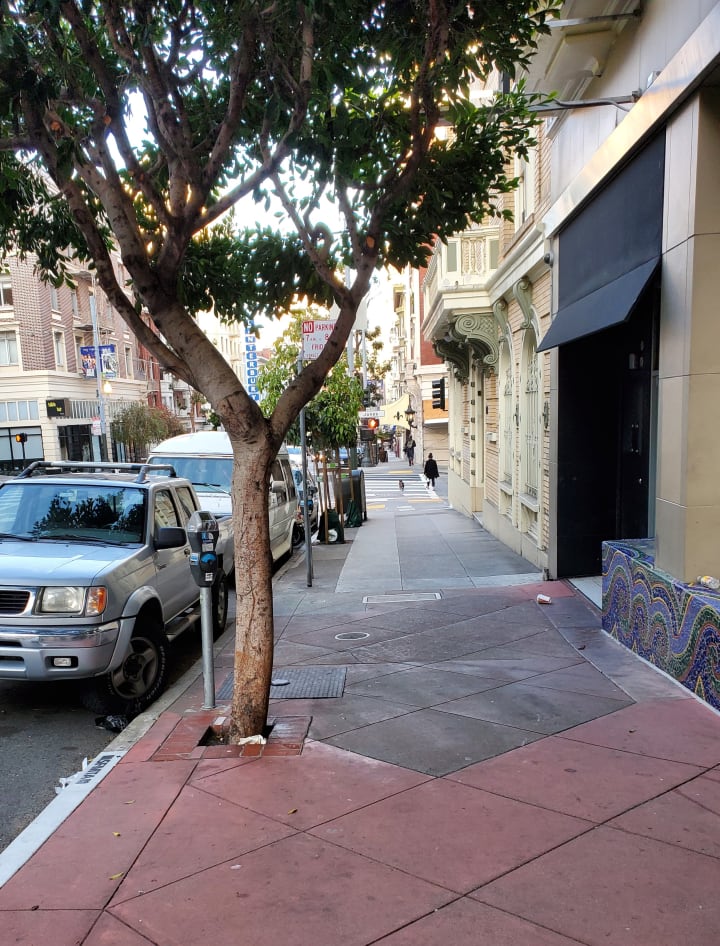 The hotel we were staying at was JW Marriot Union Square. Because of the lockdown and strict regulations, the hotel was operating at minimal staff. Regardless of the situation and no valet service, the staff was excellent. They made us feel comfortable, especially for extra security. No one was allowed into the building except the guest.
Generally, at a stay, we go to a restaurant to eat; however, since the restaurant isn't available for dining in, we had limited options. The hotel only provided room service or carried out orders from their restaurant. The first night we did room service. For lunch, we tried Yelp. And for dinner, we tried Postmates. It wasn't too bad.
For Yelp, we ordered from Miss SaiGon. I wasn't sure how it would work with staying at a hotel. But there was a system that seemed to work. They made sure it would be as contactless as possible. The person who delivered the food text us to let us know it arrived. We'd go down, and there was a table for deliveries.
Postmates, it was slightly different. We ordered at Ushio Ramen. The person who delivered our food called, and I went down to get our food. They were there to hand our order.
The overall experience during the time the city was locked down wasn't bad considering. I will admit, I wasn't sure what to expect with the trip. I think everyone is trying to stay as healthy as possible while being safe.
About the Creator
Not a typical writer, however, decided to try it. I'm now writing often for here and my own website as a blogger. You can check out that site as well. https://bubblestraveladv.com
Reader insights
Be the first to share your insights about this piece.
Add your insights