Reflections: The 'S' Man of Harlem
MY TRAVELS AS A HC CONSULTANT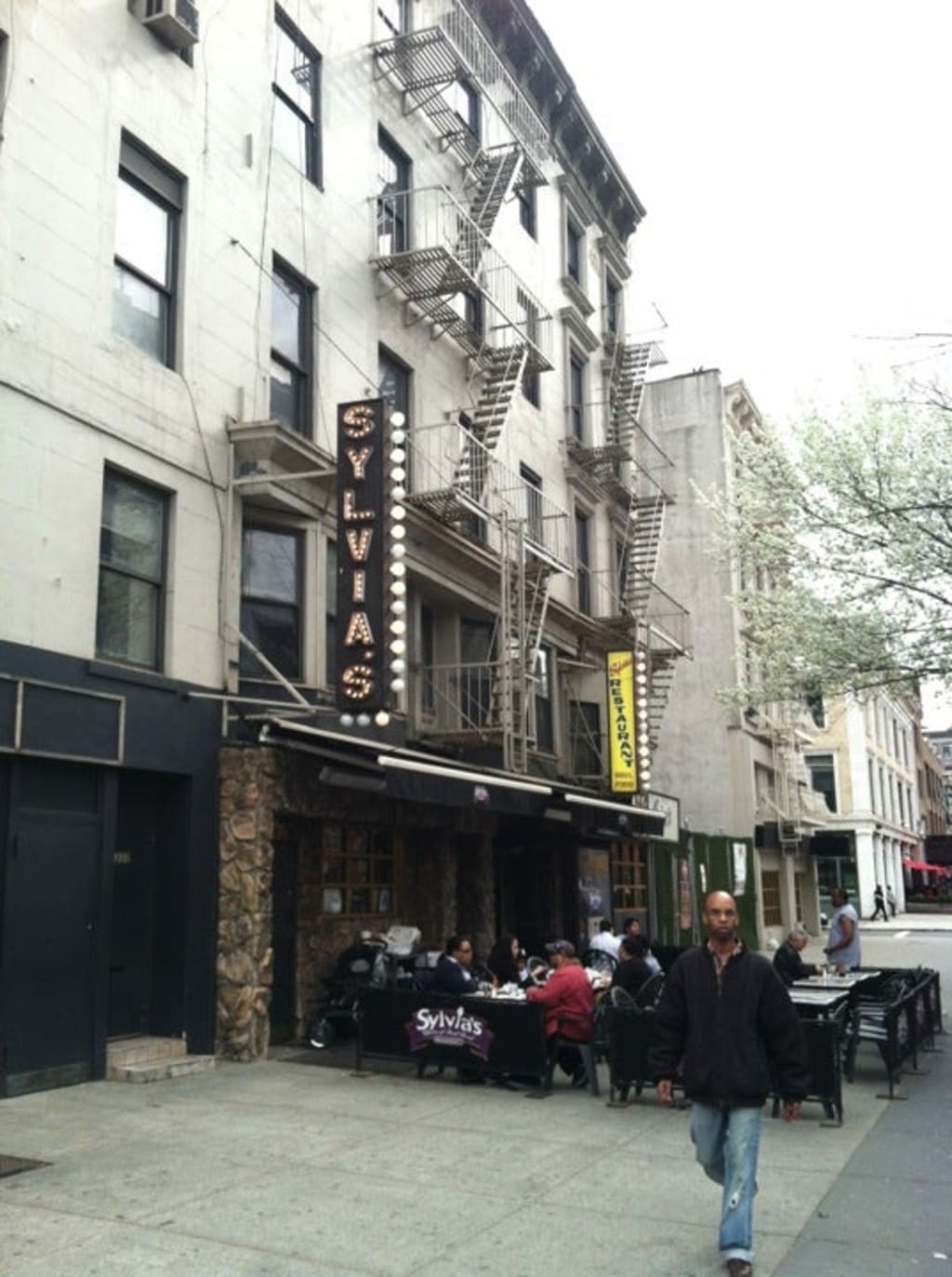 I don't have a photographic memory, but my brain does take permanent snapshots of events/experiences that affect me deeply. Then I remember them forever.
The summer of '89 I was on a work related project in Bridgeport, CT, a place that had a very strange vibe I to this day cannot identify. So, I limited my outings there but lived for the weekend when a colleague and I would ride the train into Harlem, only a 35 minute ride.
Our first stop was the world famous Sylvia's Restaurant where the Soul Food and atmosphere was especially satisfying to us. My friend Gina and I always chose a table by the window so we could people watch and were never disappointed; Harlem-ites are the coolest and most colorful folks you ever want to see. From the address on Malcolm X Blvd, you would see Hip Bruthas and Fly Sistas and everything in between all parading right before our eyes. Gina, a beautiful, tall Texan, was not easily impressed, but me, I just drank it all in.
I always made the mistake of filling up on the cornbread which tasted like cake, and I ended up being too full to finish my meal as they served generous portions. I had the waiter pack it up in a to go carton and it tasted even better the next day in my hotel room.
Afterwards, we would walk around and sight see, as we were actually in the belly of the beast, and I, being a Cali Gurl, just inhaled everything. I bought so many Afrocentric outfits in the shops because there was nothing like that where I lived in Visalia.
I usually was on my own, but it was so nice to have a traveling buddy on this particular project. It allowed me to relax and enjoy myself more, not having to always be on guard.
We were on our way back to the train station located on 125th which always brought to mind the Blaxploitation movie, Across 110th Street circa 1972. I could hear Bobby Womack singing the title song of the same name… Nostalgia at its best.
We walked in front of a tenement looking building that I did not remember, and there in the doorway something I definitely did not remember. I stopped in my tracks.
In the doorway, a young black man possibly in his thirties sprawled across the steps, but something else was not right.
Gina had not yet realized I had stopped and kept right on walking.
I could not move as I realized the young man's body was distorted and in the shape of an 'S'… how is that even possible, as he looked to be quite tall? My mind went into overdrive trying to reason it out… did he not have any bones? I surmised he was unconscious, and most likely an overdose, examining his crusted over eyes and mouth… he was someone's son.
"PeeCee what the Hell are you doing back there? We're gonna miss our Train, the last one to Connecticut."
Gina walked back to me.
"We have to call somebody, he might still be alive!" I nudged his hand with my foot.
"Ugh a Crackhead! Someone will find him… let's go."
I couldn't just leave him there, so I called 911 on my cell phone and gave the address as best I could. The unconcerned voice on the other end 'said' they would send help.
I was quiet on the train ride back. Gina gave me the side eye but did not comment.
To this day I still think about that young man, the image just as clear as the day I saw him.