Reasons Why a Passing Alien Family Should Spend Some Time in Birmingham
And There Are a Lot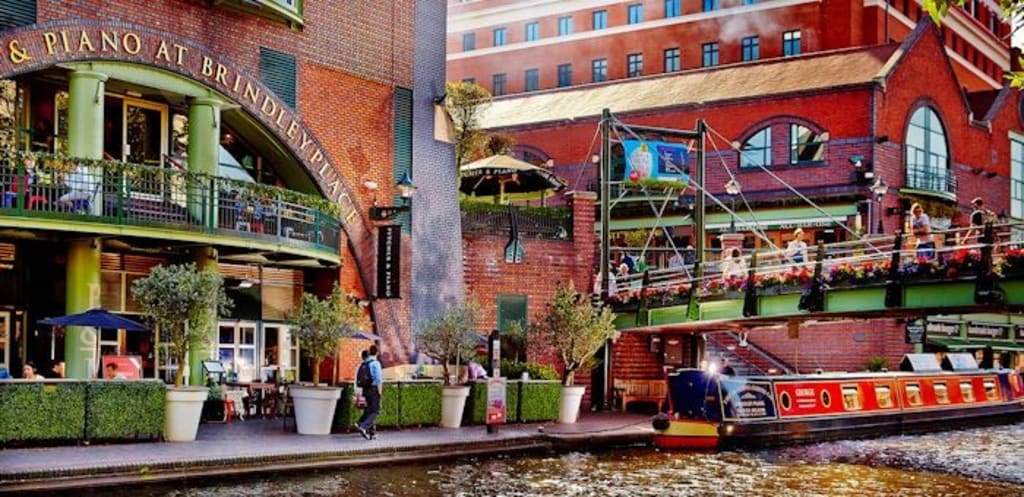 Brindley Place, the very best part (thank you Google Images)
Perhaps one day in a distant future, an alien family might stumble upon our wonderful planet. Perhaps they were off on their travels and Papa Alien refused to use a SatNav despite Mama Alien insisting, and thus their unintentional detour to our home planet. If they had time whilst on their journey—maybe a weekend to spare—and wanted to see what Earth has to offer, then without a doubt I would point them straight to my very favourite place, Birmingham, England. There are some absolutely breath-taking places around the world, but if The Alien Family happened to bump into me whilst I was taking selfies with my cat in the garden, and asked me where I'd recommend, then (after screaming and passing out because there are aliens in my house) I'd say Birmingham, every time. Because Birmingham has my heart, it is my heart.
It's my home.
AND HERE IS WHY IT WILL ROCK YOUR (ALIEN) SOCKS OFF.
Grand Central
The best way for TAF (The Alien Family) to get from my house to the city centre is via the train. Which means they will begin their tour of Birmingham by arriving at New Street station. With one effortless trip up the escalators, they will be welcomed into the world of Grand Central. Et viola! If the aliens can breathe, then their breaths will be taken (because it's such a breath-taking place, you know?). With a collection of elegant and well-known shops, enticing food-stalls and an abundance of Brum-loving people, they could easily spend their whole weekend within Grand Centrals (posh-airport-like) walls. There's something for everybody; a John Lewis for Papa Alien and his obsession with Earth microwaves, a Paperchase for Mama Alien because who doesn't love Paperchase? And enough eateries to supply milkshakes and churros and burritos and burgers and cupcakes and more for the Kiddy Aliens. WHAT MORE COULD YOU WANT?
The Bullring
After filling up on all things Grand Central (which could take hours), it's time to head over to the Bullring. With the sleek walk-way connecting itself to the station, TAF can admire even more wonderful shops that line their way into the heart of TSCOASC (the shopping centre of all shopping centres!). Now it's important to note that you do not need to love shopping to love the Bullring. Trust me. Again, it has something for everybody. With two buildings and three floors (one of which is underground, ooooooh) and a shop for literally everything, there is inevitably going to be something to catch their eye (or three eyes). Mama, Papa and Kiddies alike, there's the Disney Store, the Apple Store, KRISPY KREME, and free handouts of pretzel if you time walking past the stall right. And if you love food, you'll love the Bullring. Whether it's inside the building or scattered around it, there's a never-ending list of places to eat (come for the German Market and then we can cry with happiness whilst you hold my Nutella crepe as I eat my bratwurst). After many hours of shopping, wandering up and down the length of the Bullring and taking hundreds of selfies with the brass bull, it's time for TAF to have some lunch in Bham. Be it Bella Italia, Café Rouge, Wagamama, a (beautiful and exceptionally cheap) Wetherspoons or even a McDonalds on the ramp, whatever it is they'll love it. And if they don't, they're wrong.
The Birmingham Hippodrome/NIA/NEC/REP/ICC
One sure thing about Birmingham is that there is always something to do (and apparently we like a good abbreviation). After a fantastic selection of lunch possibilities, as the (non-existent) English sun begins to set atop a beautiful evening in Brum, there's only one reasonable thing for TAF to do next. And that's to grab a fancy t-shirt from off their spaceship and take themselves to a show at the Hippodrome. Or a pantomime at the REP theatre. Maybe even a classical music performance at the ICC. Or maybe a comedian, a concert or a concert that's just really funny at the NIA. (Let's not forget ComicCon at the NEC where the aliens will blend in really well). Whatever they pick, whether it's Matilda the Musical, Aladdin, Michael McIntrye, or Maroon 5, they won't be disappointed. It's nothing short of the West End in London—except you're less likely to be seated next to the Queen. You could be seated next to the Weasley twins, though!
The Mailbox
Depending on the time of their show—or depending on how much aliens consume in comparison to humans—there's nothing better than going for (another) exceptional Birmingham meal. Adventuring a short walk over to the Mailbox, you will be greeted by places I imagine the Real Housewives of Beverly Hills often prefer to dine. Another handful of elegant shops lure you in as you make your way through to the other end, where the canal will be waiting, hand-in-hand with Strada, Miller and Carter, Zizzi's and more. I might have mentioned it before but there's something for everyone. And if they end up eating too much, it's okay! The canal is right there, ready to catch some alien vomit.
Brindley Place
Perhaps the best part of Birmingham (and there's a lot to choose from), is Brindley Place. Where the canal—lined with quaint barges—flows peacefully alongside another beautiful selection of eateries, bars and even the NIA. It'll be getting darker by now and after an undoubtedly jam-packed day, there's nothing more suitable than sharing a few cocktails next to the canal. Fairy-lights twinkle as they hang, delicately draped over the bridges connecting either sides of Brindley Place. The still water, reflecting the moonlight, lights up the Alien Family's face as they sit and laugh about the age restriction on alcohol whilst their alien kids are getting drunk on woo-woos. I don't know about you, but it's beginning to sound a lot like pre-drinks to me. Which means….
Snobs
….SNOBS! Whilst there's too much choice for a night out in Birmingham (including Pryzm, Indi Bar, Popworld and a lot more) there's no question as to where I'm sending them to end their day in Bham. Snobs, all day every day. Or more specifically, Wednesday, Friday, and Saturday. It doesn't matter what planet they're from, everybody loves a bit of "Stacey's Mom" whilst wedged between students with VKs. It's a place for lost souls, for birthday divas, for people that want to fall in (alcohol-induced) love. It's a place for everybody, aliens included. So, Mama and Papa, don't you worry about getting the kiddies in. I doubt anybody is going to turn away an alien, I.D or not. And when you start to feel a little tired, take a wander up to the top floor where you can take some fab selfies with a wall of faces and admire the Birmingham view in all it's glory from the balcony. What a way to end the night!
To be completely honest with you, there's a multitude of reasons why Birmingham will capture your heart. The list is endless. The very best way to discover all these wonderful things is to try Bham out for yourself. It won't let you down, I'm sure. So go on, gather all your friends, both aliens and human alike, Brum is waiting.
And so I would like to thank The Alien Family for exploring my home and leaving a little piece of their aliens hearts to it. Might I recommend one more thing for your space-flight home; if you're looking for some in-flight entertainment, then there's one thing perfect for you. Peaky Blinders. All you need to know is that it's set in Birmingham and you'll fall in love with it. Trust me. When you see Cillian Murphy's face, you'll understand.
Lots of Brummie love.

Emily Wilcox
I am a writer. I imagine in a parallel universe I might be a caricaturist or a botanist or somewhere asleep on the moon. But here I am a writer, armed with an astrophysics degree, a Paperchase pen and a half empty box of biscuits
See all posts by Emily Wilcox →