Quaint Is Just The Beginning
A Party Town Hides Behind Seaside Charm In Portsmouth, New Hampshire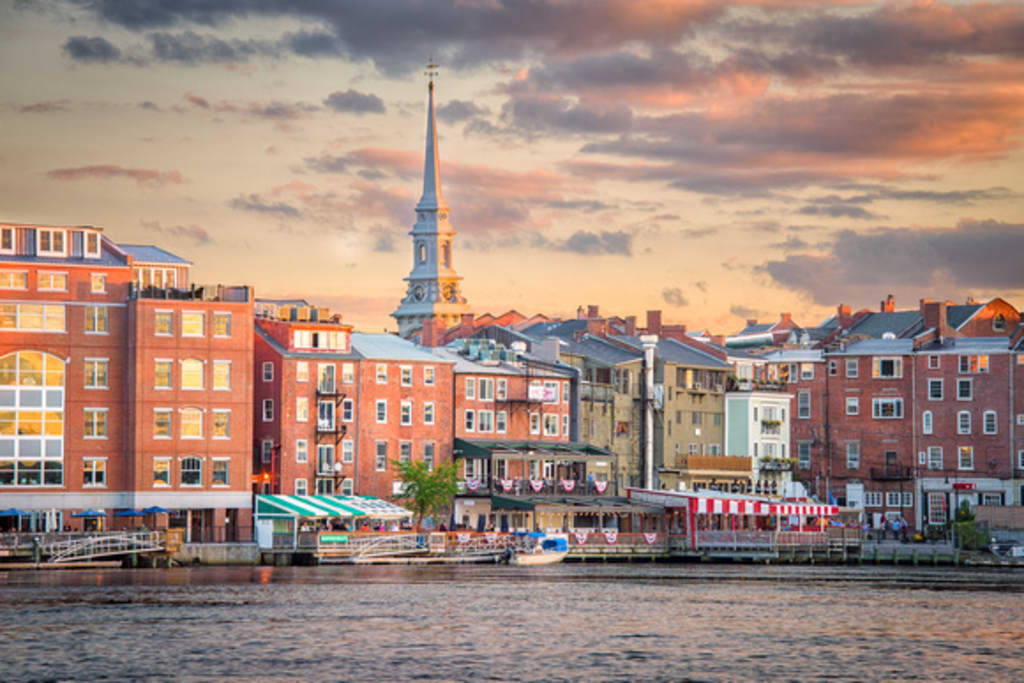 The Decks- America's Greatest Drinking Spot
Portsmouth usually attracts a certain type of tourist. They are seekers of picturesque sunsets, salted air, ice cream, a quaint town square, maybe a boat ride up the Piscataqua. And it's easy to see why. Portsmouth has all of this in spades and if you were to just spend your time downtown and staring at the water, you'd have a pretty good time. But you're not coming just for sunsets. I know you're not. You know you're not. You want the bar that slings the best cocktails, the townie dive that hosts shameless karaoke, maybe a game of pickup sand volleyball and a sunset hike. You're an adventurer, a young, open eyed traveler who knows that behind corners and down side streets is where the real party is. Any seaside town that's been around for almost 400 years has some serious layers to it. Let's explore some of them right now.
Like moths to the flame (and the rest of the tourists) you will inevitably be drawn to downtown Daniel and Market Streets, two picturesque thoroughfares of local shops selling everything from hand rolled cigars sold by Hemingway's ghost to the cheesiest, most legit focaccia bread in New England. You can spend all day on the main drag checking out the Portsmouth Brewery (great ambiance, good beer, okay food), eating absurdly tasty burgers at The Goat or visiting local legend Don Gorvett's art studio. By the way, if you have the means, I highly recommend picking one of his paintings up. Mint?
So knock the main drag out first. Get there in the morning and do your window shopping, eat your brunch, then get onto the real show. And the real show, by the way, is never more than a twenty minute walk or a $5 Uber. Portsmouth is the perfect size for a one day stay. And the first place you should check out for some local flavor are The Decks, whose bright canopies you can see in the picture at the beginning of this article. The Decks, located on Bow Street downtown, are legendary. Imagine your best friends owned their own restaurants right on the water and they opened their private decks to the masses. That's exactly the vibe you'll get from any of the six decks and their restaurants, but the must try, absolute local go-to is Harpoon Willy's. Don't let the gruff old men with their cigarettes scare you. One friendly word and you'll be throwing back the bar's famous 'Poon Juice with them (1 plastic cup is all you need) in no time. And if you are lucky enough to get a spot by the water, you might even move in. The views of tugboats and bridges and sunsets are truly spectacular.
Once you've had your fill of seaside drinking, you'll probably be hungry. Porstmouth is home to over 100 restaurants, many of them Michelin ranked and affordable. My favorite is Moxy, an American style restaurant specializing in seafood and meat and veggie and just about everything. It's located just one block from the decks so you can stumble there with ease. It's classy, it's inexpensive, it's delicious. Make a reservation if you really want to get a seat! But if you're in the mood for something more relaxed, hit up Flatbread Pizza, a great local chain serving wood fired pizza out of a massive open oven. Or, head to Geno's, an often overlooked, classic chowda house on the water that's been around for over 60 years. If you're looking to impress or are obsessed with oysters, The Franklin is it. It's classy, sexy, dimly lit and they have The Best Fries In Portsmouth. It's impossible not to order them again and again.
Still have room? Good. It's time for another beer and some cocktails. Portsmouth has ten breweries and about 100 bars. But the non-negotiable best are Earth Eagle Brewing, where the bartenders will give you some world-class sass just steps from downtown, as well as Liar's Bench, the best brewery you never knew you needed, a 20 minute walk from downtown in an old muffler shop. And if you want the best cocktail and bar food in Portsmouth, it's The Wilder every day of the week. Open till 1am (a rarity), their cocktails can't be beat, the huge space is airy and inviting and the bar snacks are inventive and so cheap. Only a fool would pass this place up.
Land is great. I love land. It's done me well and is where all of the booze are. But if you're looking to get on the water at any point during your stay, which you absolutely should, hop on a Portsmouth Harbour Cruise- they leave about every two hours from downtown (and you can bring a six pack and some local cheese, too). Don't like boats? Take in the water from Prescott Park, a 10 acre oasis on the water with theater in the summer and ice skating in the winter. You'll think you died and went to Stars Hollow.
There's no right way to do Portsmouth. This is the Live Free or Die state and we really mean it. You can jump off of pretty much any bridge and go swimming almost anywhere. You can rent kayaks, sailboats, use the town pool for two bucks or hike the local trails. Like so many places, look away from the center (but not too far, Porstmouth is wicked small). Walk down the alleys, go into that tiny bookstore, see some live music at The Press Room. The key in this town is to go everywhere. Rain, snow, sun, it doesn't matter. You can have a great time here any time of year. Just get out there and walk the streets. You can spend a week just gawking at the houses and exploring the parks. Or, you could hole up in Daniel Street Tavern (D Street) and drink like a local with a bad habit.
However you spend your time in Portsmouth, you'll be glad you came. It's literally impossible to have a bad time here. Except if you don't like fun. Then you'll be miserable.
See you soon!