Preparation for Chadar Trek
Chadar Trek is one of the toughest treks as it requires trekking on the frozen River Zanskar in the winters.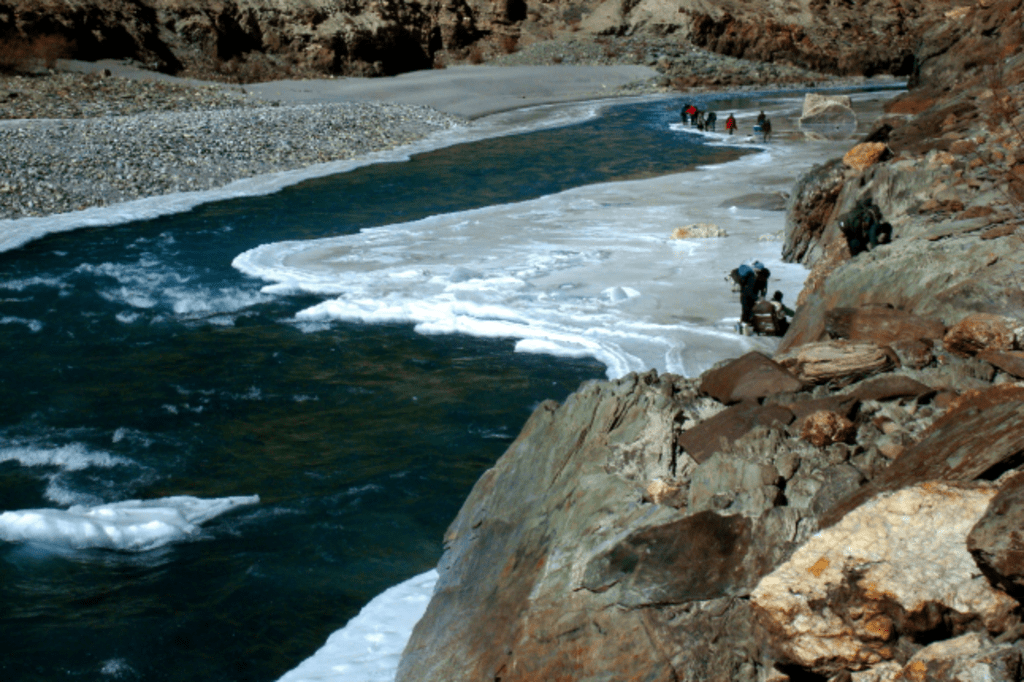 The temperature ranges from -15 degrees Celsius to -30 degrees Celsius. Also known as the Frozen River Trek, this trek has its difficulties, as most of all the temperatures are way too much for human tolerance. However, if prepared wisely, one can take up the Chadar trek easily and enjoy it as well.
Essentials to carry for the trek
Insulated bottle—An insulated bottle that can be sealed tightly is a must to carry water. Any other kind of bottle would lead to the freezing of water.
Hot water bag—To carry a hot water bag is another essential as it would help you tolerate the extreme temperatures as and when required. You can keep inside your sleeping bag and get comforted by the warmth.
Trekking Pole—A trekking pole can be extremely helpful to trek along or climb steps and rugged elevated terrain.
Sleeping Bags—It is recommended to carry specifically two sleeping bags. One is to be used as the main sleeping bag and the other one is to be used as a lining bag.
Extra clothes—Extra clothes are very essential for the trek. Extra gloves, cap, etc. must be available as they may be required in case the already worn one gets wet or spoil by any chance. Also, you must have all your extra clothes packed in plastic carriers.
What clothing to wear for the Trek?
While getting dressed for the trek, make sure to have layers of clothing instead of putting on something heavy. Layers of clothing lead to creating insulation which further keeps you warmer.
Put on a thermal inner layer, followed by a full sleeve tee-shirt, sweater, and finally a jacket which is both windproof and waterproof.
For bottoms, put on thermal pants followed by windproof and waterproof trekking pants.
For your hands put on woolen gloves followed by windproof and waterproof gloves.
Put on sports socks followed by woolen socks for keeping your feet warm.
To keep your face and head warm put on a balaclava followed by a woolen cap.
What kind of footwear you should use for trekking?
For Chadar Trek, snow trek boots are ideal but in case you do not have one or wish to purchase one you can also use normal trekking shoes along with gum boots. Normal trek gum boots are available at the local Leh market for a price of 300 to 400 INR. Gum boots are quite essential while passing through the frozen river patches that aren't completely frozen. Otherwise, normal trekking shoes can be used for the trek. Additionally, you can opt to use footwear having micro-spikes as it prevents slipping on ice.
Be mentally prepared
The temperature of Leh is extremely cold, and never rises above three degrees Celsius. Throughout the trek one has to survive extreme temperatures while sleeping, eating, walking, etc. The best way to withstand such chilly conditions is to keep yourself mentally prepared. Be strong and keep reminding yourself that it isn't too cold.
Be prepared to slip, fall and have shoe bites
Chadar Trek is all about walking on the slippery sheets of frozen Zanskar River. It is bound for you to slip and fall now and then. Everyone experiences slipping and falling while taking the trek. It's all part of the trek. However, you can try to minimize your falls by walking on the fresh snow. This leads to minimizing the chances of slipping and falling. But, thankfully such kind of slipping and falling doesn't lead to any serious injuries. Also, while walking in gumboots you can get mild shoe bites. These are quite common to happen while taking the trek. You can carry a first-aid kit and use the bandaids and ointments for the shoe bites.
You must see Reviews for any trip before booking any trip.